Creative offices / Global
Amazing spaces
A publishing nerve-centre in Madrid, a marketing consultant in Copenhagen and an art fair organiser in London. One thing they all have in common is the beautiful and inspiring spaces they work from.
01
SpainMedia, publisher
Madrid
Close your eyes and the cacophony of buzzing phones, laughter and the clatter of fingers on keyboards could belong to any editorial floor. But this is no ordinary newsroom. At the far end, steely-heeled fashionistas from Harper's Bazaar are inscribing trends that will ripple through the wardrobes of Spanish women this summer. The cool cats from Esquire are putting the finishing touches on this month's feature interview. And the straight-backed, eyes-forward writers from Forbes are busy filing copy on time and on target. The shared space they call home is SpainMedia, and the man ensuring this orchestra stays in tune is editor in chief, Andrés Rodríguez (pictured opposite, top left).
SpainMedia was set up in 2007, and has seen five magazines come into the fold (it also publishes travel journal ORIZON), culminating in the publication of over 600 pages each month. "If I didn't personally hire my own people this job would be impossible," Rodríguez says, as he guides me across the editorial floor, all the while approving layouts, re-scheduling meetings, and ticking off content. This is his castle. He built it and helped design it. Joining forces with architect Jaime López, Rodríguez converted a former stable for ambulance horses turned typography factory into a hive of creative energy spread across four levels.
The tiled floor was brought in from Marrakech, a canopy of Flos lampshades hangs from above, and the corrugated steel ceiling pays homage to Madrid airport's T4. The office lies in the shadow of the Reina Sofía gallery (often used for unorthodox business meetings), on a street that is home to some of Madrid's finest modern art galleries.
With so many interests crammed into one building, you might expect some occasional conflict. "I was a little scared about sharing the space," admits Rodrigo Varona, deputy editor of Esquire (pictured top, on the left with Forbes executive editor Javier Márquez). "But it's turned out better than I expected." Ramón Reboiras (above, seated) from Harper's agrees. "Sometimes it is demanding but ultimately we're all working on similar projects with the same rhythm."
They certainly have a positive story to tell, strengthening their readership amidst a struggling national media landscape. Rodríguez attributes this to being brave and having an optimistic editorial outlook. A workspace like this must help too.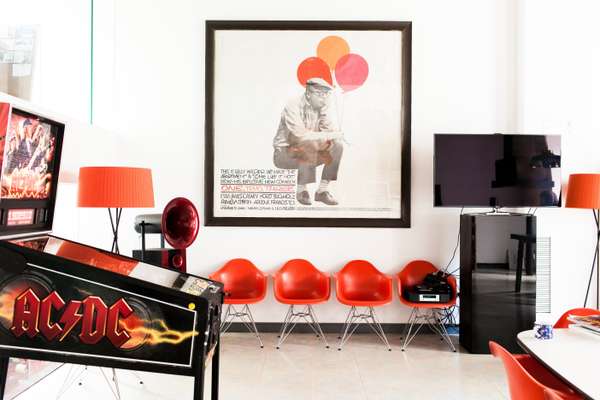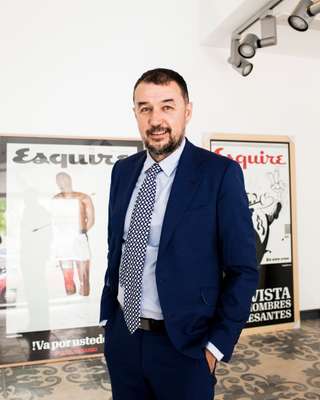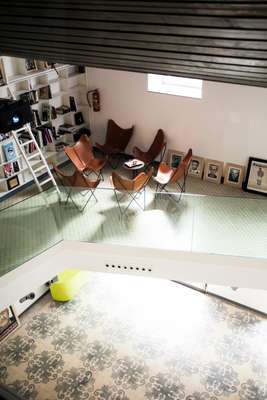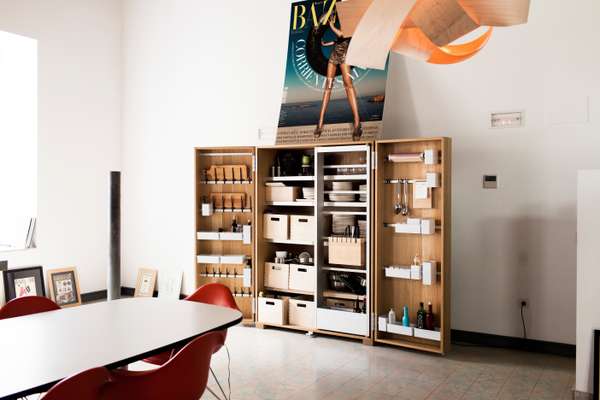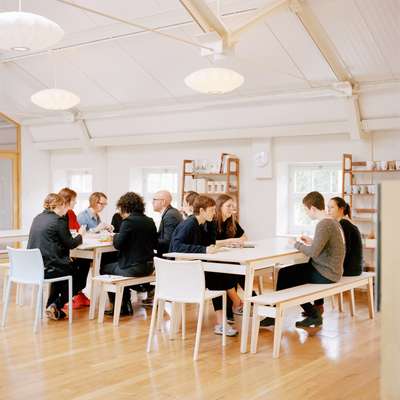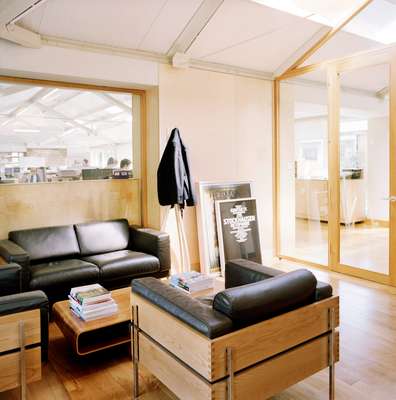 02
Mensch, marketing firm
Copenhagen
Architects from near and far make a special trip to admire the offices of communications and marketing consultant Mensch. Built in 1905 by Copenhagen's public telephone company, Kjøbenhavns Telefon Aktieselskab (ktas), they were redesigned by Mensch in 2010. "A lot of architects come here to look and they ask us if this was the original design," says partner Frederik Preisler. "It's not, of course, but it was important for us to respect what was left of the original features, or at least those that hadn't been torn out in the 1970s and 1980s."
The three-storey building, with its 5.5-metre-high ceilings is in the early 20th century skønvirke style (the Danish equivalent of Arts and Crafts), and built from red brick and granite: details emphasise the craftsmanship of the stonemasons, woodworkers and bricklayers who built it – their faces even feature on the exterior.
The building was once the workplace of around a thousand people. These days Mensch employs just 17 people in its 1,200 square metre third-floor office (Google is on the second floor). The offices are open-plan, with separate offices for the partners. "For us it really works to have this open [interior] landscape. It was love at first sight really. Even though it looks quite impractical, it works very well to have these smaller glass cubicles."
The partners designed the interior themselves with assistance from an architect. Furniture includes Danish classics, such as Hans Wegner "Wishbone" chairs in the boardroom and Poul Henningsen lampshades. Best of all, though, is the roof terrace, with views of St Petri church, one of the oldest buildings in Copenhagen.
Of the cost Preisler says that it was "expensive. But we thought that, if we are going to spend seven to eight hours of every day for pretty much the rest of our lives here, then why not make it as beautiful as possible."
---
03
Frieze, publisher, art fair
London
Frieze, the company for which life is a show of agenda-setting art fairs in New York and London and eight issues of its immaculate magazine a year, has made its home in a no-frills Victorian former schoolhouse in East London. An imposingly utilitarian red-brick exterior gives way to the tightly wound tiled stairways leading up three floors to Frieze's light and modern headquarters. The building nurtures inspiration now as strongly as it ever did.
"All the old classrooms are let to different companies," says deputy director Joanna Stella-Sawicka. "I think the benefit of being in this particular building is the creative community working here." From where we sit in a ground-floor hall surrounded by smaller work spaces, Sawicka can point to studios belonging to some of London's finest creative minds; accessories designer Katie Hillier is here, as are Turner Prize-nominated artist Goshka Macuga and celebrated Rochelle Canteen chef Margot Henderson, who darts past en route to her restaurant.
The converted bikeshed in the walled garden is the source of the homely aromas of roasted pigeon with beetroot gratin and pickled walnut and lighter dishes such as ham, butter beans and dandelion. "We're spoilt," says restaurant manager Alcides Gauto of their regulars. "We can see the very beginning of things; the ideas developing. You see it all." And the benefit flows both ways; the restaurant's catering arm, Arnold & Henderson, oversaw the vip section at the 2012 Frieze Art Fair in London.
Frieze, the building's biggest tenants, occupy the rooftop, once a playground. Quiet chatter from the 50 or so employees spills into a communal garden bounded by four purpose-built, spacious marquees. The Iroko timber flooring throughout the space is the choice of local designers (very local: they're on the floor below) Quinn Architects, borrowing from the reddish-browns of the surrounding buildings. In the 19th century the Rochelle School was part of the Boundary Estate, the UK's first social housing project. That sense of heritage and community helps civilise this corner of rampantly commercial Shoreditch. Frieze's rooftop sanctuary is barely visible from the streets below.
But the show goes on. Today, Stella-Sawicka is finalising the logistics of turning London's Regent's Park into a temporary art city this October, displaying work by more than 1,000 artists for over 60,000 visitors. She's also quizzing galleries such as New York's 47 Canal and Supportico Lopez in Berlin, fresh from exhibiting at Frieze New York. "It's really intelligence-gathering that drives the whole thing," she says. "The fair isn't only about sales. It's about visibility for artists who may not have an art market at this time."
Sawicka talks excitedly about Bucharest's Ivan Gallery, whose collection of 1960s and 1970s Romanian Conceptualist works is attracting attention from museums but doesn't yet have a strong sales market. "For a gallery from a fairly peripheral city like Bucharest, being in New York is a big deal. So how can we optimise their time there?" she says.
In an industry dominated by single-minded ambition and uncompromising values, Frieze is proving it doesn't hurt to make a few friends. And if they're your neighbours too? Even better.