Expo / San José
Expo 65 – Part 05: San José
When you land in Costa Rica your taxi driver will know the way to San José, it's just that he won't be entirely sure why you want to go. This is a capital city at odds with its peaceful surroundings – but arguably all the better for it.
To suggest that Costa Rica's landlocked capital is somehow different from the rest of the country is a woeful understatement. The country's tourism board would have you believe that the Central American nation of 4.7 million is all tropical rainforest and rugged coastal hinterlands. However, San José is very much a city, albeit one stepped across a vast mountain range amid the densely populated Central Valley.
This is a city with a Catholic urban core. Historic chapels abound, classically landscaped parks are never more than a few blocks apart and, yes, there are a fair number of unremarkable 20th-century concrete towers and the odd urban landfill. Yet while the city lacks the natural beauty that defines almost everything beyond the city gates, the spirit of pura vida finds its way into nooks and crannies.
Touching down at sparkling Juan Santamaría International, minutes from downtown San José, is a curious experience. Just past the bustle of passport control, hordes of dark-jacketed natives and gringo entrepreneurs clutch signs bearing the surnames of incoming holiday-makers. Tourists meet and are shuffled into pristine turismo vans, most emblazoned with the name of some fancy resort along the Pacific, or perhaps an inland retreat for the volcano-obsessed.
Those few bound for San José are left to fend for themselves in a lengthy queue for bright red 1990s sedans. Explaining to a driver that you're heading to San José and only San José ("What, not going to beach?") ultimately results in a moment of silence, though it's not long before San José's charms present themselves.
As you pass a peripheral village crowned with rusting corrugated rooftops, downtown San José is slowly revealed. In a land known for some of the strictest environmental protocols in Central America, San José's ever-present clouds of stifling diesel fumes are a sharp contrast to the usual image of Costa Rica, though it's a sure sign you've arrived in the country's economic heartland.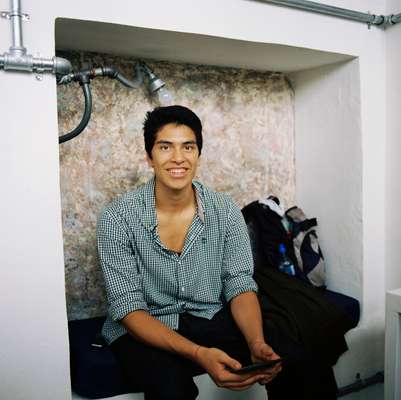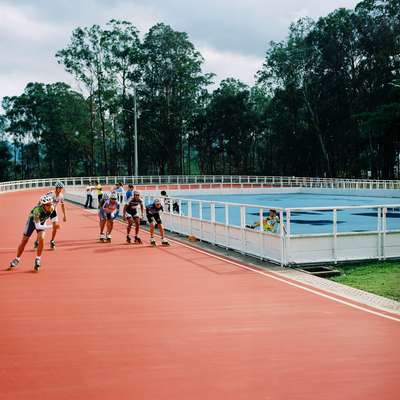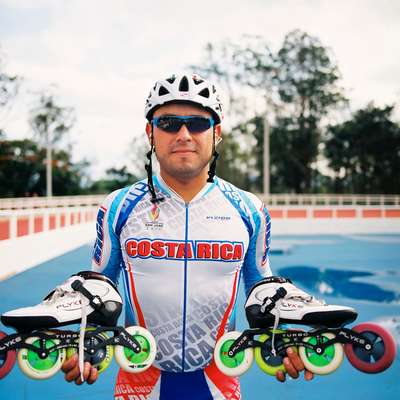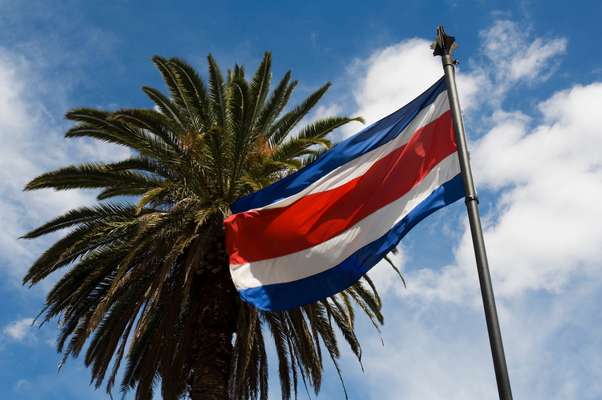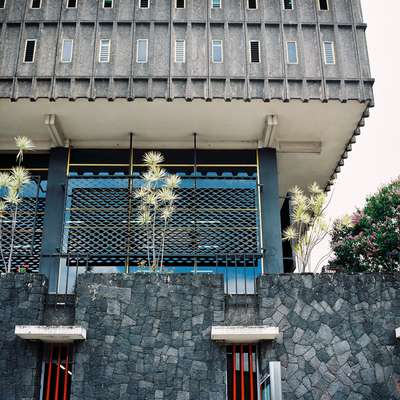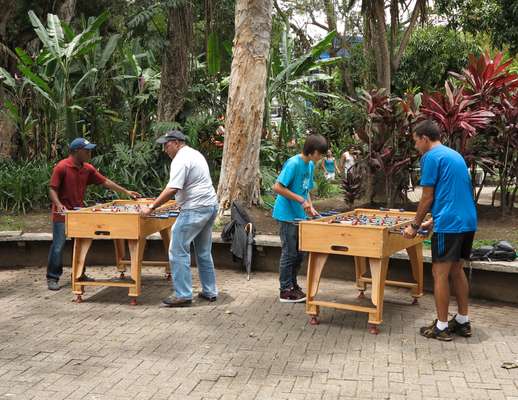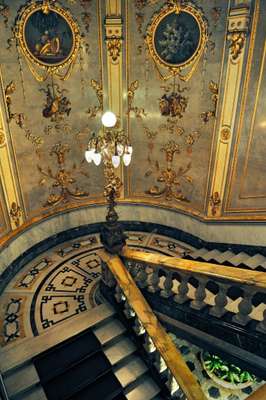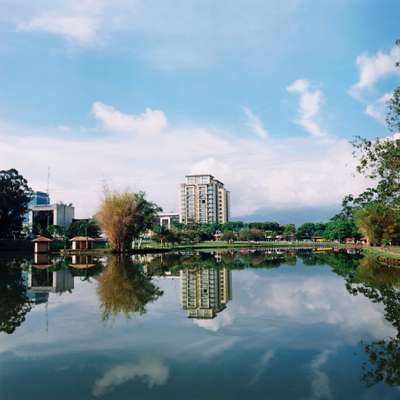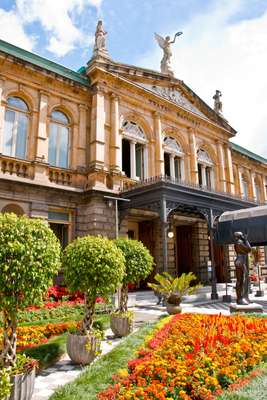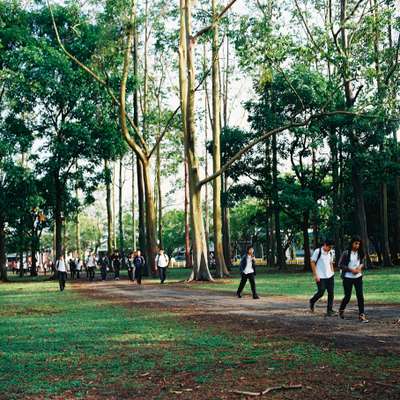 Near the centre of town, the 1890s neoclassical Teatro Nacional is not only the city's principle landmark but also testament to a time when a handful of Costa Ricans grew daringly rich from cornering the market for bananas and coffee. A banner outside reveals Prague's national ballet has arrived for a two-night spectacle; through the doors, an ornately stylised lobby is covered with gold leaf and laid out with a marble parquet floor. Overhead, an old Milanese muralist has created a mosaic recalling the country's glory days as it rose to become the region's dominant agricultural exporter.
A short distance from the National Theatre is the Gran Hotel de Costa Rica with its bright blue stucco façade, where one imagines "our man in San José" sipping a neatly shaken guara sour. Beyond San José's tiny tourist epicentre, a patchwork of urban villages offer a reprieve from the hustle of downtown. Barrio Amón and Otoya were once home to the city's well bred and while time has taken its toll, sprawling Victorian mansions give a historic sense of place. Steep, narrow sidewalks abut iron gates and tropical shrubbery reaches over the walls.
These historic districts are San José's best hope when it comes to fighting a generations-long shift towards the suburbs. "My parents would never come to Barrio Amón for a coffee," says 26-year-old San José native Monica Hidalgo as she reaches for her cup in the hole-in-the-wall Cafe-té-ria. "People left the city and went to the periphery – where you have space and a garden – and never came back."
There's a real sense that the momentum is shifting back towards the centre. Barrio Amón may have not yet fully matured as a hotbed of urban revival but a growing number of cafés, galleries and well-restored apartments suggests the area is on the up. Above Cafe-té-ria, part of the historic Edificio Jiménez building, a number of lofts offer a central place to live and it seems more and more of San José's young are attracted to this way of living.
Next door at eÑe there is a neatly selected range of clothing and design objects, and a collection of contemporary Costa Rican art. Liliana Tagini, the shop's Argentine-born owner, moved to San José 15 years ago after she and her husband grew disaffected with her native country's government. The political and economic stability offered by Costa Rica has brought a growing number of immigrants, many of whom come from Nicaragua and Venezuela for reasons not unlike Tagini's.
There is an undeniable grit to San José – congestion, prostitution, petty crime – that has pushed well-off families towards the city's edges for decades. Perhaps the best example is Escazú, the wealthy suburb just 15 minutes from town on a state-owned tollway. One of the wealthiest bits of Central America, this still-developing district provides a stark contrast to any apparent imperfections elsewhere in town.
It's in this alarmingly American-looking district that you'll find cima, the city's top hospital; Multiplex, the city's most exclusive mall; and much of the city's most expensive housing. The constant pounding of pneumatic drills suggests Escazú's fortunes are still rising, thanks in part to the country's thriving technology sector that continues to yield significant foreign investment.
San José's cultural core is also developing thanks to galleries such as Teor/éTica and the landmark Muséo de Arte y Diseño Contemporáno. San Pedro's University of Costa Rica is among the best universities in Central America, while continued foreign investment towards San José could see the city become the capital of Central America. While there's headway to be made in improving aspects of life here, one can credit the city for its rich urban pulse, lest the whole country drift off into the blissful slumber of pura vida.
Urban parks such as España and Morazán provide a break from the frenetic pace of the city.
Libros Duluoz is a charming little shop that gives a glimpse of San José's retail potential.
Taxi drivers somehow manage to navigate some particularly challenging street names.
Well-booked venues such as bar El Sótano are helping San José to become a culture hot spot.
There's something special about sipping a Tico Sour in the Hotel Grano de Oro's courtyard
---
What we'd fix: A more modern take on San José's famous gates would help beautify the city.