Swiss publishing / Zürich
News gatherers
The new offices for Zürich-based publishers Tamedia are creating some firsts for the company, such as the merging of print and online newspaper teams inside the first Swiss building to be designed by Japanese architect Shigeru Ban.
You'd think that a publisher choosing to build its new offices in wood might be making a statement on its commitment to paper. In fact this wasn't the impetus behind Tamedia's new building in the heart of Zürich, designed by Japanese architect Shigeru Ban, which has a visible timber structural skeleton – it just needed more space. It's a surprising building though, not just for its wooden structure. Ban has never worked in Switzerland and Tamedia's other buildings are unremarkable, scattered around Zürich as the company has grown.
Tamedia is one of Switzerland's older and more successful media groups. Seventy-two per cent of it is still owned by the founding family (it was established in 1893), one of whom is chairman Pietro Supino, who fell in love with Shigeru Ban's architecture after seeing his work underway at the Centre Pompidou-Metz. In 2008 Supino commissioned Ban to design the company's new office building. Today it is complete and, when monocle visits, the terrazzo reception floor of 100,000 individually laid river stones from Ticino in southern Switzerland are being polished in anticipation of the lucky 330 staff members soon to move in.
Christoph Zimmer, Tamedia's head of investor relations and corporate communications, was put in charge of keeping the many strands of the project together, ensuring the board, the architect, the contractors, the engineers and the builders were all talking the same language. Not an enviable task, but during it he discovered a hitherto untapped love of architecture. "Suddenly I'm noticing door handles everywhere I go," he says.
"Our brief was fairly simple – we wanted an open-plan office, a building that conveyed transparency inside and out, one that didn't look too expensive and one that promoted creativity," Zimmer says. "We let Ban come up with the design and hardly anything has changed from the initial design to the end of construction." For Ban's part he was thrilled at the idea: "Mr Supino told me he would like to give working conditions for his staff that were like being in a living room and this is why I chose a timber construction."
The new seven-storey, 8,905 sq m office sits next to Tamedia's current HQ on Werdstrasse and is connected with two new floors to another of their existing offices – a 19th-century building. It has used 2,000 cubic metres of Austrian spruce (around 3,600 trees) and it's not just the final structure that's visible. The construction technique was such that each axis had to be added at full height and slid onto the connecting beams, rather like a giant, wooden Meccano kit. "People would stop on their bikes and cars and take pictures," Zimmer says. Beyond the timber skeleton, the building is impressive as a statement of investment in Tamedia staff's work environment. It has been extraordinarily carefully planned. Supino's sister, Anna Paola, herself an architect and designer living in Zürich, did much of the interior design. Lighting is inserted between the pine axis beams, which softens any glare – no harsh strip lighting here. The flooring is by Swedish company Bolon and, though made of nylon, looks like Japanese tatami mats. Furniture is Swiss-made: Neos chairs by Wilkahn (with handy coat hanger incorporated on each for blazers), desks and low partition shelving by Denz and task lighting by Neuco. In the reception, Le Corbusier's lc2 Club chairs for Cassina will be paired with Shigeru Ban's Paper Tube seating and table series manufactured by local retail institution Wohnbedarf.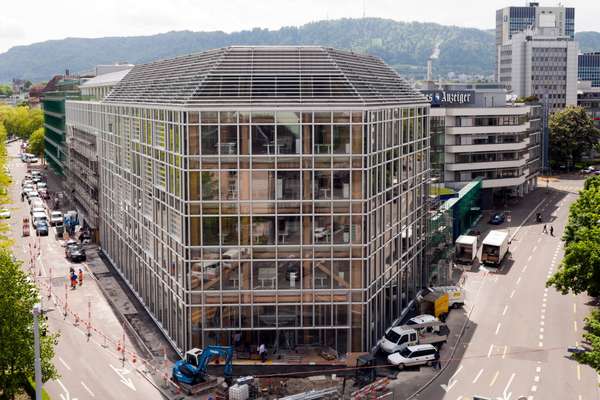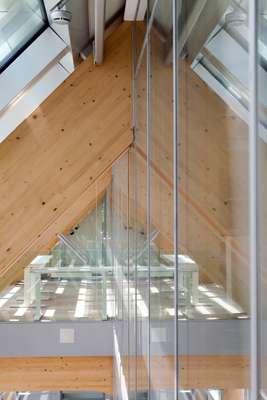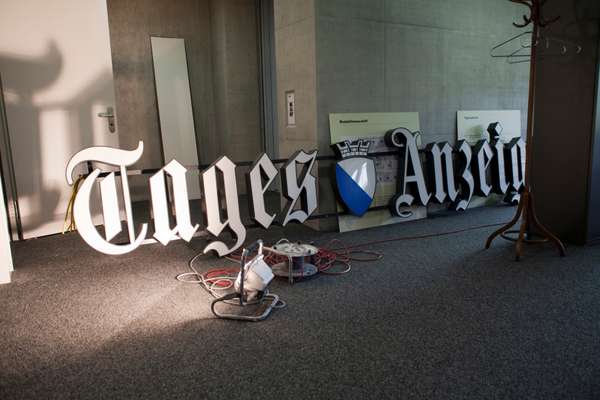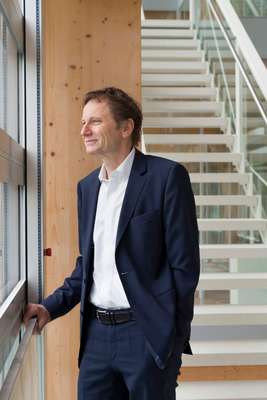 Nothing is a statement or unnecessary – everything is here for a reason. Windows can be opened in loggia areas on each floor facing the river to let fresh air in. A striking thing is the smell of the spruce. It's so nice not to smell hot laminate and synthetic blazers under stress. "It is the core conviction of the board that if you offer your staff a good working environment you will inspire loyalty and get the best from them," says Zimmer. It's a principle that makes such sense it's depressing that it's still a novelty. Does Ban think the tide may finally be turning on workspaces needing to feel oppressive? "I hope so," he says. "Just because it's work doesn't mean people have to be uncomfortable. I think I would work better in an office that feels like a timber home. I've heard that there's big competition among Tamedia staff as to who gets to work here," he jokes.
You could believe it and it's not hard to see why. For the unlucky staff who don't get to call the new building their home, there's a consolation prize in the shape of Tamedia's 2012 executive report, which has a very cute cut-out, pop-up cardboard version at the back, complete with trees and bicycles too.
---
For Ban's first project in Switzerland, and one of the tallest wooden constructions in Europe, he called on the services of two local experts: the timber contractor Blumer Lehmann from Erlenhof and the timber engineer Hermann Blumer from Waldstatt. The crack team had worked together on the Centre Pompidou Metz, and Blumer Lehmann was responsible also for the Nine Bridges golf resort in Jeju, South Korea. With more than 135 years of experience, there's little the team of 100 at Blumer Lehmann don't know about wooden construction. Certainly for Ban they were up to the task: "Working on this building was one of the best experiences I have ever had," he says.
---
The new office coincides with a shift in operations for two of Tamedia's flagship titles, both of which will be housed in the new building. 20 Minuten (the daily commuter newspaper) and the Tages-Anzeiger (Zürich's leading regional newspaper and Switzerland's largest subscription daily) will have their print and digital teams fully merged by August.
The double-pronged aim of streamlining news delivery across digital and print, while trialling a joint sales structure for both platforms will create more efficient delivery of news to the titles' readers – cited as paramount. But against a backdrop of falling print advertising revenues in Switzerland and a fragmented digital market, hopefully this strategy won't affect the high quality of editorial on which Tages-Anzeiger has built its name.
---
Q&A
Res Strehle
Editor-in-chief; Tages-Anzeiger
Strehle has worked at Tages-Anzeiger since 2007, first as deputy editor, then editor-in-chief. At the new building, both his web and newspaper teams will be put together.
What are the benefits of merging print and digital?
We hope we'll be able to deliver better content to a more appropriate channel and therefore give readers a better service. We will have a dedicated news team that filter breaking news into "A" and "B" – news to be broken in 10 minutes or one hour.
Do you worry the newspaper's quality might suffer?
No I don't. We've so far trialled the merge with the local section of the paper (Tages-Anzeiger is a combined regional and national newspaper) and it has worked extremely well. It will settle into what works for the individual – if someone needs time to think about an editorial that is fine. We are aiming to have three or four 'floaters' who work across both.
Have others been successful in this approach?
The New York Times and the Washington Post have a similar strategy, as does Die Welt in Germany.
And how is the advertising market for you?
Print has lost about 50 per cent of its advertising revenues in the past 10 years, but we still make good money. The online advertising market is very fragmented; the biggest growth is on mobile gadgets. We're not yet taking advantage but I don't know anyone who is.
tagesanzeiger.ch