Corocord / Berlin
String theory
The geometric playscapes of Corocord start off with hard labour and harder maths but come to life with a final, magic design element: imagination.
"I absolutely love ropes," says Torsten Frank, CEO of Corocord, a company specialising in building playgrounds with Spacenets, a type of rope invented by the business's founder, Conrad Roland, in the late 1960s. Roland, an architect from Munich, studied and worked with both Mies van der Rohe and Frei Otto, who designed the roof of Munich's Olympic Stadium. He constructed his first Spacenet playground in West Berlin in 1971; it immediately won design awards. "Most architects go from small to large," says Frank, who is not an architect but an engineer, from an industrial area of Berlin where Corocord builds its structures. "Roland went from large to small."
From the German capital's production facility, a 40-strong staff put together blue, red and black ropes, most 21mm thick (to "best fit the hand of a child," says Frank) that are hooked, clamped and pulleyed together in intricate formations on which children will play. In 2012 the firm opened another workshop in Brno in the Czech Republic, where 20 more workers connect miles of ropes to steel frames, turning them into the playgrounds that have made Corocord famous worldwide. They range from hammocks and swings to complex pyramids and domes – there are even multi-sectional bridges and masts that raise 14 metres high.
"We've grown steadily over the years," says Frank. "We've never had big jumps in growth but we've never had declines in sales." Orders from East Germany jumped after the Berlin Wall fell and sales went international in the mid-2000s. Corocord has gone from €5.5m in revenues in 2005 to building more than 800 structures a year worth over €10.5m in 2012. "One thing we never really had to do is advertise," says Frank, smiling. Most clients simply saw a Corocord playground and sought out the company.
International orders average 10 to 12 a week. Bestsellers include basic models as well as newer products such as the Rope Parkour, a course for children with bridges, ladders and connecting obstacles that foster strength and enhance motor coordination.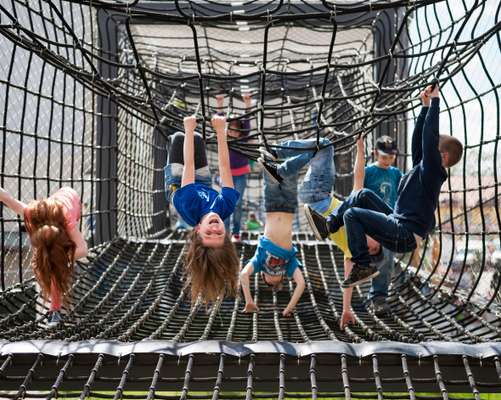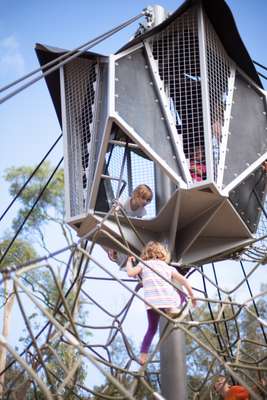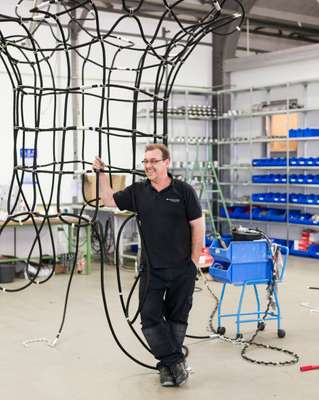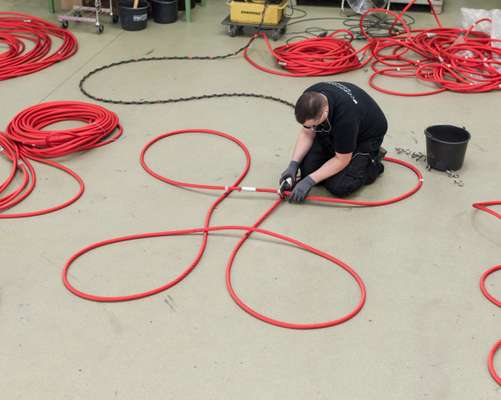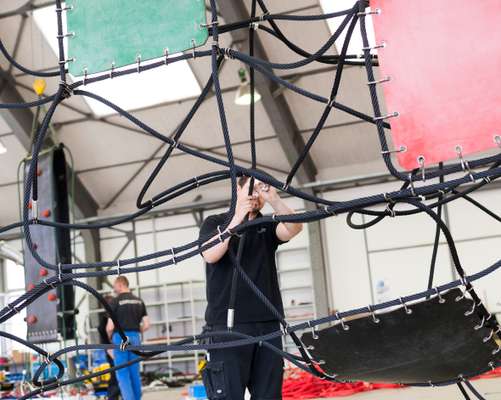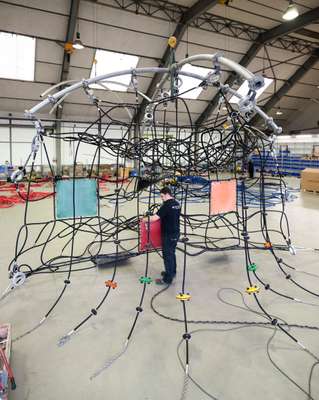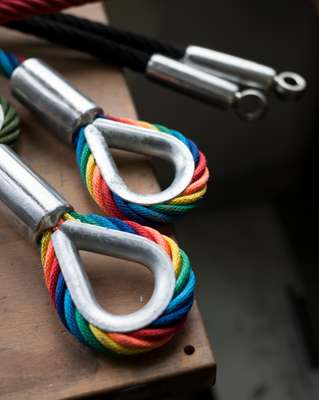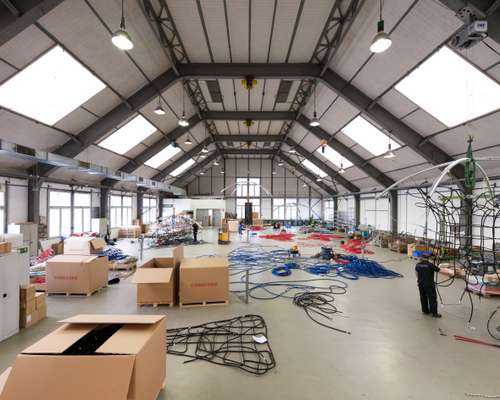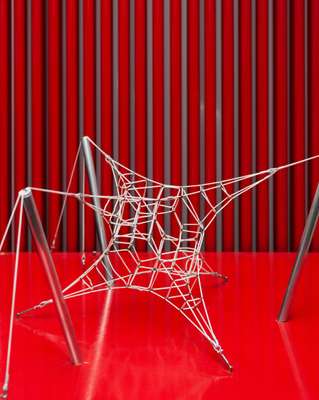 Many of the basic models – wild variations on pyramidal shapes – don't change much but they have come a long way from the original natural-fibre ropes that can burn or rot. These days, bearing ropes consist of six strands of synthetic yarn wound around a steel wire core and laminated for smoothness; ropes that need to bend are coreless and more flexible (a company in Hamburg that produces rope for the shipping and fishing industries makes them).
Every node is connected with precisely adjusted "S" clamps attached to stable aluminium swages. "Our team has developed special tools for each individual operation," says Frank as he takes Monocle for a tour of the factory. "Pride and many years of competence accompany each single product that is made in the large bright hall of the factory – with our special ropes, our connecting technology, our extensions and a lot of joy."
In the nearby meeting rooms Corocord's range of products appears in miniature, hanging from the walls and sitting on tables. Roland designed some of these prototypes by hand. Others are now done with Autocad three-dimensional software. Frank picks up one of the models and describes complex geometrical theories and shapes (the octahedron and its uses, for example). It might sound intellectually intriguing to an adult but when small children see the full-size objects in a real-life playground or schoolyard, technical specifications are the last thing they're thinking of. Without hesitation, they simply run up to the Spacenet and throw themselves into it; then they just climb all over it like little spiders, into the sky.
---
Berlin
KAiAK rope bridge installation
In 2007, the eastern Berlin district of Alt-Köpernick's art project KAiAK created a free-standing rope suspension bridge on an empty lot (pictured, p249, top). With Dutch architects NL, Corocord built a lofty climbable sculpture that has become part of the urban landscape and attracts climbers of all ages.
Brisbane
Skywalk
In Brisbane's "Skywalk" (pictured, p249, bottom) nets connect a group of cabins situated high up on masts with an elevated walking bridge that spans more than 16 metres. Berlin-based workshop manager Wolfgang Ebert travelled to Australia to assist the local assembly team.
Wiesbaden
Weltkulturen playground
Designed by Berlin-based landscape architecture firm Annabau and executed by Corocord, this huge pentagonal sculpture is based on steel pipes winding their way around an existing park. The pipes are spanned with nets; trampolines, a mesh tunnel and a slide help enliven a neglected part of the German city.
---
The word "Raumnetz" ("Spacenet") might sound extraterrestrial but it's simply a name founder and architects Conrad Roland gave to his original geometric playground designs, an immediate hit in the West Germany of the early 1970s. While the designs have remained largely the same with the exception of an increasing number of custom projects built to suit specific locations in collaboration with architects and landscape architects (even artists such as Rosemarie Trockel), the materials and safety specifications have continued to improve.
"Our specifications make sure that no child can fall through the ropes, or get his or her head stuck in the net," says Frank, as he displays objects that test net width and depth (spaces have to be large enough to let a child's hips and head through but not so large that the whole child can fall through). Ropes are coated with anti-abrasion material to prevent rope burns and playground designers adjust the ground underneath the nets for safety (sand and grass are soft enough to take a fall). Since 2008, the company has run a training "Seilakademie" to (literally) show the ropes to playground designers, landscape architects and installers.