Confectionary Expo / Hiroshima
The sweet spot
With each Japanese household spending thousands of yen a year on cakes and sweets, confectionery is big business in Japan and nothing in the sweet-tooth calendar is bigger than the National Expo.
There was no doubt about the stars of this year's Japanese National Confectionery Expo in Hiroshima: Kashinari-kun and Sweets-hime, a couple of two-metre mascots so popular they could only be photographed in the underground service area for fear of being mobbed.
Every pavilion at this, the 26th Expo (it is held, Olympics-style, every four years), had vast queues with waits of up to two hours for the chance to sample and buy cakes and sweets from all over Japan: 6,000 products, of which 2,000 were for sale. The estimated attendance of 800,000 looked conservative, a relief for the organisers who had spent ¥1.6bn (€12.1m) in public funds and cash from corporate sponsors on the event. They were also anticipating an Expo ripple effect worth ¥15bn (€113.5m).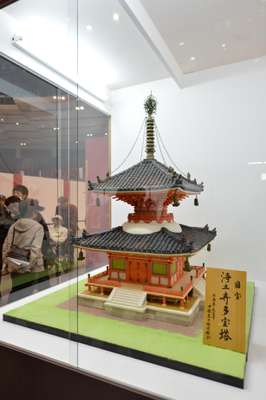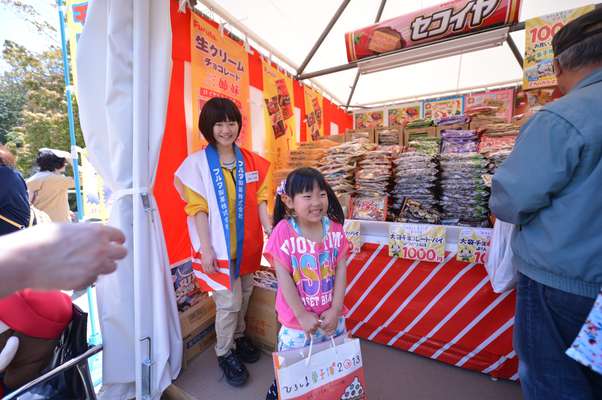 "It's a proud moment for Hiroshima," said event spokesman Daiso Hirano. "The fourth Expo was held here in 1921, before the war, so it has a meaningful history for the city."
The centrepiece was a 90 sq m, 1:15 version of Itsukushima Shrine, which took 60 confectioners a year and a tonne of sugar to create. This sweet masterpiece, a combination of yogashi (Western-style confectionery) and wagashi (Japanese rice-based confectionery) complete with boats, people and the famous red torii (shrine gate). This was also the venue for over 100 wagashi renderings of everything from camellia bushes to eagles. Visiting pensioners oohed and aahed over the staggeringly realistic ikebana displays while the schoolboys reserved their praise for the all-chocolate motorbike.
In the workshop area, ticket-holders had paid ¥3,000 (€23) a head to join a talk by French superstar chocolatier Jean-Paul Hevin. Also on the schedule was a hands-on carrot cake seminar run by Hiroshima-based bakery Andersen.
Every region in Japan has its signature confectionery; Hiroshima's is the momiji manju, a maple-leaf cake filled with bean paste. Every day 300,000 are made, requiring 4.8 tonnes of azuki beans. Mamoru Sakamoto teaches at one of Hiroshima's four confectionery schools. "Wagashi has a long history," he says. "It's very seasonal, doesn't use butter or cream and has a clean taste." The All Nippon Kashi Association says Japanese households spent ¥77,779 (€590) each on confectionery last year and manufacturers produced cakes, sweets, chocolates and biscuits with a retail value of nearly ¥2tn (€15bn).
At the Expo's Confectionery Dreamland, young sweet-tooths were going crazy for inflatable Pocky (sticks of biscuit and chocolate) and a chance to meet sweetie icons such as Fujiya's Peko-chan and Meiji's Karl Ojisan. Tomomi Ono, 27, was one of 10 "Sweets Ladies" immaculately turned out in cerise suits and hats who spent months promoting the Expo. "It's good for the city – it attracts attention to Hiroshima." And her favourite sweet? "I can't choose," she says tactfully. "I want it all."
The chewy White Rabbit Creamy Candy from Shanghai is much loved in China and Hong Kong, billed as a healthy alternative to milk. In 1972 Chinese premier Zhou Enlai even gave a bag to President Nixon during his historic visit.
Alpenliebe from Italy is a popular gift for Chinese New Year.
In Hong Kong, the gold-wrapped Ferrero Rocher still has cache.
Danish-owned Kjeldsens Cookies are also a well-received gift.
Sugus is sold on the strength of its foreign origins, meaning "Swiss candy" in Chinese.
Taiwan's Want Want QQ gummy is known for its quirky ad campaigns; it's so popular in China that "Q" is now slang for "chewy".