Sign-writers / Global
Way to go
The signs that enhance our cities come in a chaotic mix of shapes and sizes. But the craft of creating clean and inspiring text across formats as diverse as glass windows to paper lanterns falls to those with clear heads – the sign-writers.
01
Lynes & Co
Finding new in the old, Sydney
Decorative artist and designer Will Lynes (pictured) began his career working for a school friend's dad. "I spent 10 years doing decorative finishes," says Lynes. Residential projects called for Italian plastering and specialist paint finishes; there were also heritage works such as the Sydney Town Hall. "One of my first jobs involved flying to Scotland to paint a small castle," says Lynes.
In his spare time Lynes began painting and restoring old signs. "I became super interested in type and natural finishes and loved exploring the process of age," he says. Deciding to establish his own workshop, Lynes continued to research and train in artisan techniques. "I undertook training in England that taught me gilding – how to use gold leaf on glass, which is now my favourite technique." Travelling through the US also provides inspiration. "It is the best place to source old-style super-decayed signs."
Lynes and his friend Nathan Pickering are currently working seven days a week to meet demand for their services. Lynes & Co's clients range from local restaurateurs, bar owners and stylists to clients further afield including Brooklyn-based Colossal Media, the world's largest hand-painted advertising and mural company. "We tend to work a lot with designers and stylists who commission us for hospitality and high-end residential projects," says Lynes.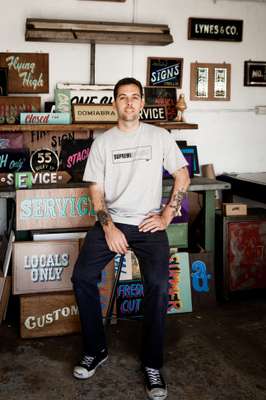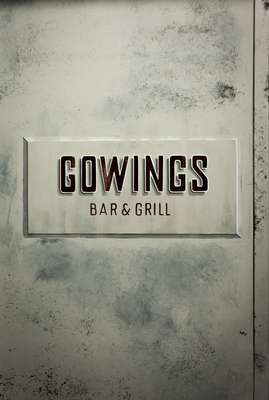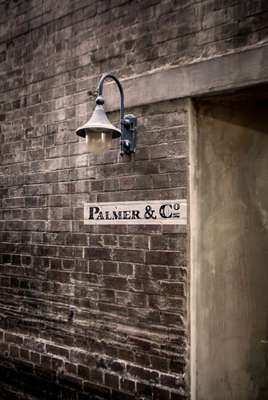 But he also goes it alone to present solo exhibitions around town. "A 'Same Day Dry Cleaning' sign can be art," he says. "If it's done well." —
lynesandco.com
Lynes & Co in Sydney and beyond
Parlour Lane Roasters coffee shop: "I painted this sign to look like it had been there for 100 years."
Mr Wong restaurant: "I work a lot with Sydney-based stylist Sibella Court, who usually gives me plenty of creative freedom," he says. "The restaurant had an old fire escape that needed to be filled, so we decided on a big bespoke mirror (which used more than 300 sheets of gold leaf) that reflected the period."
Fernside Coffee Shoppe, Redfern: "A mate of mine opened this café. When we arrived there was a huge, blank white wall that sucked the life out of the space. He gave me licence to create a rustic feeling in there."
The Old Library, Cronulla: "Some clients already have a logo and I just need to draw and hand paint it."
QT Sydney Hotel: "It was great be part of such a huge project that really focused on the history and traditions of the building [formerly Sydney's historic 19th-century Gowings department store]. I really enjoyed working on a project that favoured the time-tested craft of hand-painted signage that was so prevalent during that time."
02
Nick Garrett
Inspired by the pub, London
A native Londoner, Nick Garrett (pictured) came to sign-writing after graduating with a fine arts degree but his current trade runs in his family. His grandfather was a letter cutter and it was while nosing around his workshop that Garrett's passion for fonts began. Sign-writing for Watneys Brewery in London also helped. "The pubs were the bastion of high-quality sign-writing and now you see all sorts of businesses using the styles that pubs have always used," he says.
Gilding shop fascias brings him the most satisfaction. "I don't use gold paint; it tends to last three to five years versus around 20 years with gold leaf," he says. Contracting Garrett is a long-term visual investment. "Handwritten signs don't age, they antique," he says. He also explains London's subtle typographic geography. "Whereas Shoreditch took the working man's clarity of a bold Gill font, if you go west to Kensington you see more grandeur and serifs."
Sign-writing is a tradition Garrett wants to preserve. "I want to make London more beautiful – that's all." 
nickgarrettsignwriter.com
Signs of Nick Garrett in London
Love Hate: As tattoo artists, the clients had a strong idea of what they wanted in terms of design. After seven changes to the sign by the client, it was a labour of love for Garrett but well worth it in the end.
Foote's Music: This London musical institution was a treat for Garrett and allowed him to mix styles and elements to create something contemporary and in keeping with the genteel Edwardian surroundings.
Sylvanian Families: This was a challenging commission: it was hard to see how the font and logo of these tiny anthropomorphic plastic toys could be written into a London sign. Garrett went for a subtle interpretation of the font with a slight low-light and a decorative frame, giving the current logo a new feeling.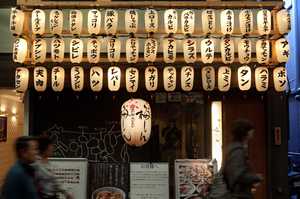 03
Takahashi Chochin
Traditional lanterns, Kyoto
Although it's a traditional craft, the Japanese chochin, or paper lantern, continues to function beautifully in the modern world. Lanterns are not only an aesthetic preference but also serve a practical purpose. They are still used as written signs all over Japan, everywhere from temples to restaurants, and make popular gifts for announcing weddings, new homes and newborn babies.
One of the best-known lantern makers is Takahashi Chochin, which was founded in Kyoto in 1730. Today this family business with a staff of 23 is run by the 13th-generation Yasuji Takahashi, a 79-year-old who has been making lanterns for 60 years.
The materials are simple – Japanese washi paper and bamboo, with an extra vinyl coating for lanterns that will be hanging outdoors. "Everything is done by hand," says Yayoi Maruyama of Takahashi. "We do all the manufacturing ourselves so we can meet customers' specific requests." Takahashi's craftsmen use a simple calligraphy style but can adapt to both custom and wholesale orders.
Aka chochin (red lanterns) are routinely used as signs for Japanese bars and restaurants. The busiest period of the year for Takahashi is June to October, Japan's matsuri (festival) season, when thousands of lanterns are hung as people take to the streets.
Takahashi is responsible for the best-known lantern in Japan, the giant 700kg red lantern at Kaminarimon in Asakusa in Tokyo. It made the first one in 1971 at the request of Konosuke Matsushita, the late founder of Panasonic, and has replaced it four times since then. Maruyama estimates that there are still around 10 lantern makers working in Kyoto whose skilled work is part of a longstanding city craft. "The light of a sign lantern makes people feel happy and relaxed," she says. 
chochin.jp
Top: Umeshin barbecue restaurant in Kyoto commissioned lanterns not only for its shop sign but also for its menu; each lantern describes a different item.
Middle row: Bunnosuke Chaya confectionery store, Mukadeya restaurant whose lantern reads "Kyoto home cooking", and Mamemasa – another haven of sweet treats in Kyoto – all use Takahashi Chochin signs.
Right: Yoshinori Kushi using bamboo to create the frame for a lantern at the Takahashi Chochin workshop. The whole process from design to completed lantern is all made by hand.
Bottom: Takahashi Chochin is a family business run by Yasuji Takahashi, a 13th-generation lantern maker; now 79, he's been making lanterns since he was a teenager.
04
Nizioleti
Time-tested classics, Venice
To navigate cities in the 21st century most travellers stare down at their smartphones or scan their car's gps to search for an address. However, popular apps such as Google Street View can't go everywhere. Take Venice, which the California-based search engine is yet to survey. For now the city's old-fashioned markers are a reliable way to find your bearings.
Known as nizioleti, Venetian dialect for "little sheets", the whitewashed rectangular signs painted on palazzos were introduced in the early 19th century. The origins of names identifying alleys, squares and passages reflects Venice's rich history: professions that set up shop in a block of flats ("street of the lawyers") or foreigners who congregated in specific neighbourhoods ("bridge of the Greeks").
Stencilled in black enamel on white plaster on the sides of buildings, the 5,000 nizioleti scattered across the city need constant upkeep. "The humidity in Venice takes its toll," says architect Denis Tommasin of Area Restauro, the firm restoring signs in the San Marco borough. Workers paint each letter by hand with the aid of steel cut-outs of the alphabet in Bodoni. The typeface is the authorities' choice to become the official font for the nizioleti in order to standardise the city's signage. 
arearestauro.it
05
Jeff Canham 
A new direction, San Francisco
Jeff Canham had his epiphany on a visit to New Bohemia, San Francisco's longest-established sign store. "I had never seen anything like it – I had to get involved," he says. At the time he was working as a freelance graphic designer but the next week he began an apprenticeship at the shop and eventually spent five-and-a-half years there. Today he runs his own sign-painting business from a woodworking studio in the western outskirts of San Francisco, near where he likes to surf.
His signs have an old-fashioned, Victorian feel to them, inspired in part by the city and its wooden homes from the 19th and early 20th centuries. Clients range from a Seattle tattoo parlour to a Tokyo clothing store and San Francisco's Stern Grove music festival.
"Even if you're painting the same sign over and over they're invariably different and inconsistent, I love all these human touches," Canham says. He's also selective about which projects he takes on. "I don't want to take business away from the people who taught me." —
jeffcanham.com
Carville Annex: Canham's sign was a wedding present for the owners of this art space in the Outer Sunset neighbourhood.
Needles & Pens: "I would ride past every day," Canham says. "I loved everything about it but they had a terrible sign. I thought I should just paint them one."
General Store: Canham has a long relationship with the owners of this shop, and even helped design their business cards. "They said to me, 'make whatever you think is appropriate.'"
Mollusk: The hand-painted signs at this surf shop helped inspire Canham to begin his apprenticeship, and he has since worked on Mollusk stores in New York and Venice, California.
Gravel & Gold: Canham produced a multicoloured bird motif for this designer store in the Mission district.