Japanese enamel / Tochigi
Glazing a trail
The enamelware coming out of the Noda Horo factory in the Kanto region of Japan hardly has time to sit on the shelves before it flies off them again. Meet the family firm that has forged a reputation for quality and creativity.
There's a good case to be made for doing one thing and doing it well. In the case of Noda Horo it's enamelware, or horo in Japanese. The company is run by Koichi Noda, whose father, Etsuji, started the business in 1934. Back then the focus was on making functional buckets and basins for hospitals and factories. Today, Noda Horo is still doing the basics but the bulk of its ¥850m (€6.5m) turnover is in enamel kitchenware, which has been a huge hit in Japan. The 60 employees have to work flat out just to meet demand.
Until 19 years ago, the factory was in Koto-ku in Tokyo. The head office and showroom are still there, staffed by various members of the Noda family – including Koichi's 93-year-old sister, Takako, who continues to work full-time – but production has moved out to two small factories in rural Tochigi. One factory is responsible for fashioning the steel, the other is where the enamelling takes place. "It's labour-intensive manufacturing," says Noda.
The enamelling factory is a cosy, ramshackle affair. The machinery is all Japanese-made but since there are now only a handful of enamel makers, it is no longer being produced. The equipment looks low-tech but is carefully maintained to avoid disruption to the tight production schedule. The raw materials – the steel and frit (glass shards that make the enamel) – also come from Japan. The plain steel pots and dishes are dipped in acid to clean the surface, washed and then repeatedly coated in enamel and passed through indirect heat of up to 850c. The Noda Horo name is then stamped on each item by hand and everything is given a once-over before being boxed up. The workers can make 1,500 to 1,700 pieces a day.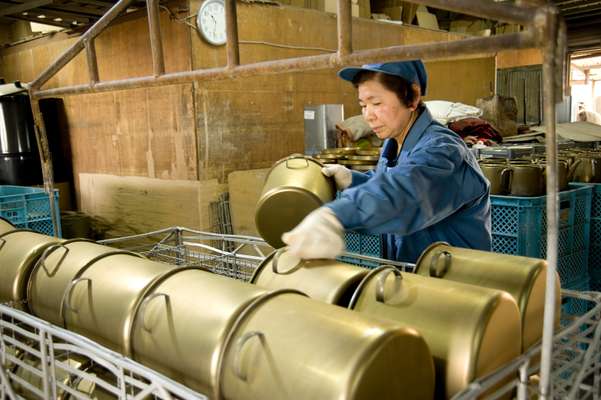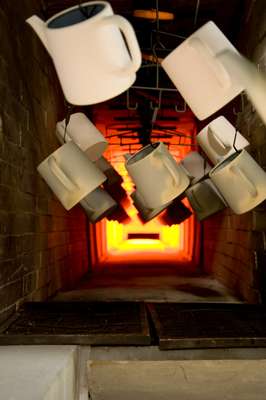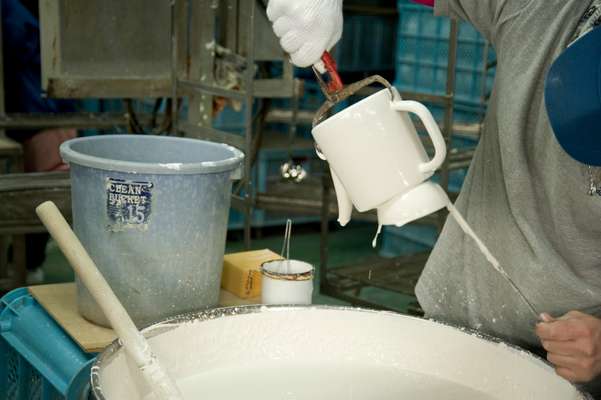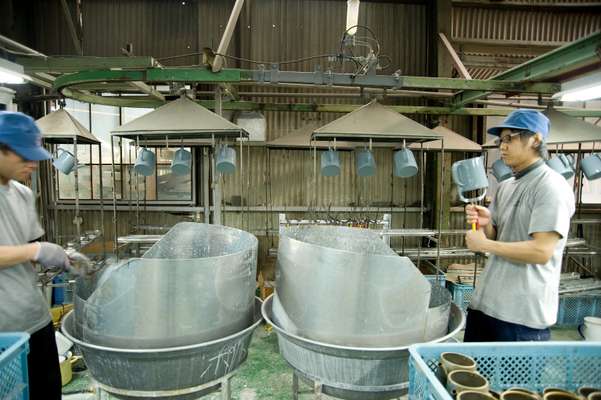 Enamelware looks pleasingly simple from an aesthetic point of view but the manufacturing process – the fusion of glass on metal – also creates products of impressive durability that last for years. Noda understands enamel production inside out (he started at the company when he left university in 1962) but he also has a flair for design. He has come up with some of the best new products, including the popular Pottle, a coffee pot that can sit directly on the stove. "It's no fun if it's just about function – there has to be beauty too," says Noda. "I always say to the employees, 'Let's make something that you'd want to buy'."
Noda's wife, Yoshiko, also works at the company. The bestselling White Series, which came onto the market in 2003, was Yoshiko's idea. She wanted to create a line of containers with interchangeable lids that could be used in the fridge or on the cooker. "The wholesalers didn't get it at first but women did," she says. "Anyone who cooks understands what it's about." Sales proved her right: the range quickly become a modern classic.
The design process is frequently a group effort. A sample is made, then everyone tries it out and talks about what they like or don't like about it. "I like to think we have an on-the-ground perspective," says Yoshiko. "We really think how something will be used."
Occasionally the company works with outside designers such as renowned kitchenware designer Komin Yamada but they keep the product line tight, only introducing a new item once a year or so. "We are at capacity already," says Noda.
The company has faced challenges over the years, including a brief flirtation with manufacturing in China and the move out of Tokyo, but Noda Horo is stronger than ever. "This is a proper family company," says Noda, whose sons Yasutomo and Jun work alongside him. "That's the reason we've survived."
---
1934 Company started in Koto-ku, Tokyo, by Etsuji Noda
1942 Factory closed during war
1947 Factory reopens
1962 Koichi Noda, son of the founder, joins the company
1969 Introduction of automated production line to carry pieces through the furnace
1976 Noda Horo launches homeware products for families
1988 Koichi Noda becomes president
1991 Noda Horo takes over two small factories in Tochigi prefecture
1994 Tokyo factory closes down
2003 Launch of White Series, overseen by Yoshiko Noda
2008 Pottle launch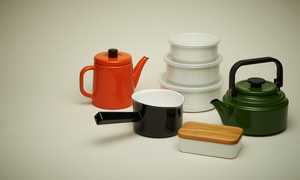 Pottle
Hybrid coffee pot and kettle. Designed by Koichi Noda with a Japanese colour range that includes kaki (persimmon) and sora (sky).

Containers
Multi-purpose containers from the White Series that can go from fridge to cooker.

Kettle
Product designer Fumie Shibata came up with the handle.

Pan
Has a pouring lip on both sides and an angled handle perfect for a firm grip.

Butter dish
Enamel base with cherry-wood lid that comes from the Shimanto river region.