Brunei on film / Brunei
Home movie
Monocle gets behind the scenes of Brunei's first-ever commercial feature film as local artists look to establish an indigenous movie industry to rival their Asian neighbours and make a splash on the international stage.
There is a loud thwack as the girl's foot meets Yasmine's face, then a collective intake of breath as she tumbles to the floor in a cry of pain. "Cut! Cut!" yells the film's director of action scenes, Chan Man-Ching – one of Jackie Chan's right-hand men for the past 18 years – as he rushes to Yasmine's side. Aides run over with ice for the wounded lead actress; extras hurry over to see what's happened; and the director of photography paces, worried. It's day 42 of the allocated 45 days of filming – just how long might the lead actress be out this time?
"I forgot to duck," whimpers Liyana Yus, the 20-year-old actress playing Yasmine, as she waits out her injury with an ice pack on set, which today is a university auditorium not far from Brunei Darussalam's capital Bandar Seri Begawan. "She was a bit fast, and I was a bit slow. At the beginning of filming, I was asked to wear elbow pads but didn't and I should have... my arms got bruised when we started our fight scenes."
Welcome to a day on set of Brunei's first-ever commercial feature film, a €1.5m movie based on popular local themes: love, family, action and drama. Yasmine tells the story of a high-school student who dreams of becoming a silat champion – Brunei's hypnotic and dance-like form of martial arts – in order to win the attention of the school's heart-throb, only to discover her initial goal has transformed itself into something much larger than she originally bargained for.
It's a synopsis nearly everyone in this Southeast Asian sultanate of 416,000 people can relate to, says the film's director Siti Kamaluddin, a tiny 30-something woman with a penchant for pink Dr Martens who created the film's concept and later wrote part of the script.
"Sometimes in life we do something and we might go into it for the wrong reasons, but in the end we discover the things we love," she says from her director's chair.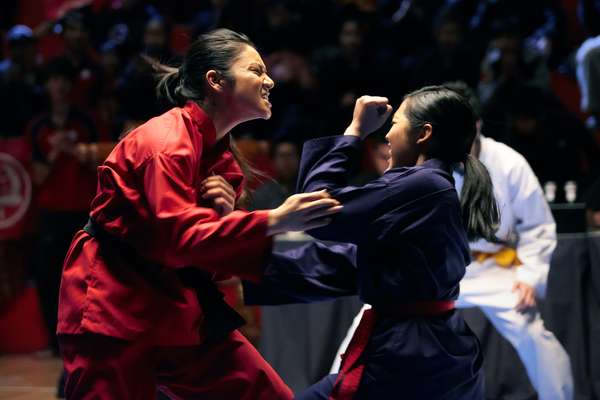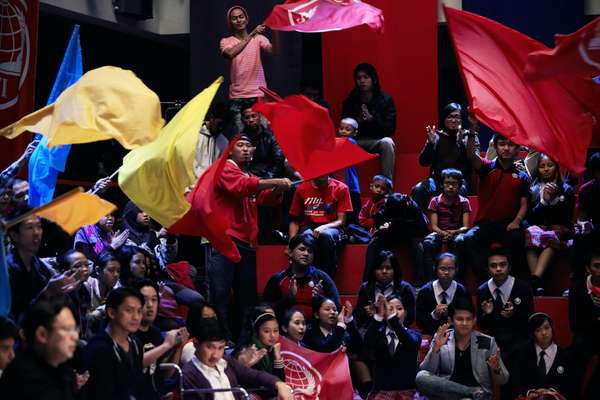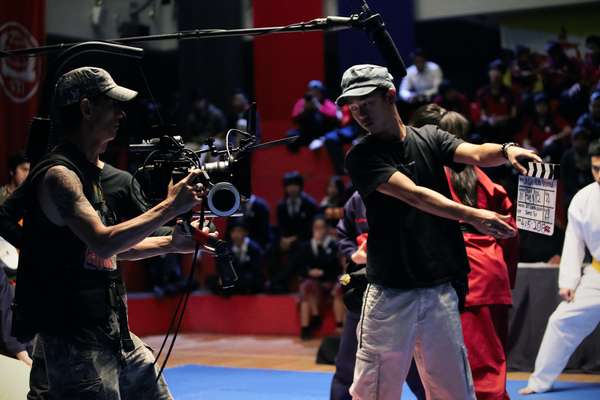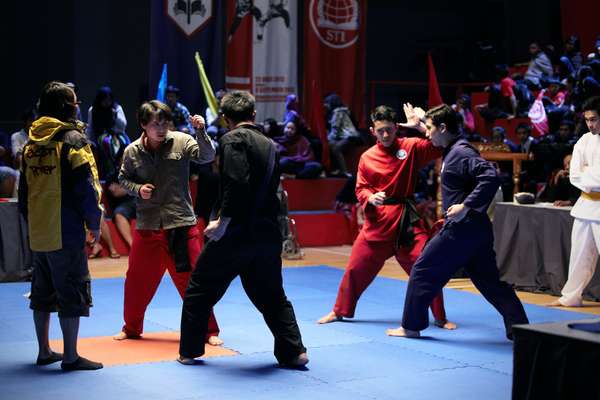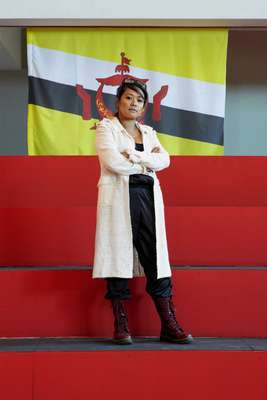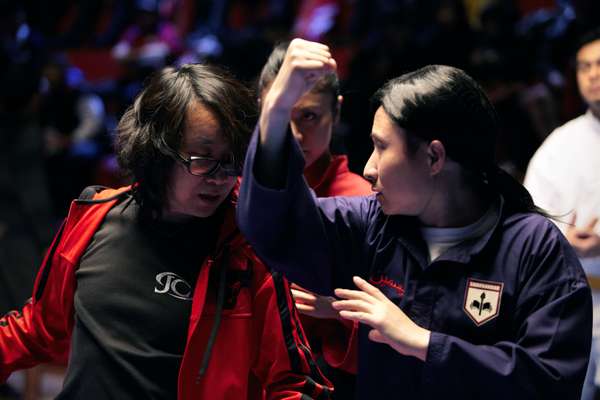 The last time a film was made in Brunei was in the 1960s – the Ministry of Religious Affairs produced it – with a message about living as an upright Bruneian. Today, it would seem – superficially at least – that very little has changed. Radio Television Brunei (rtb), the nation's sole television company, still rotates religious, educational and drama programmes alongside quiz shows and government campaigns on its five channels. And while Bruneians love going to the cinema, with absolutely no film industry to speak of the country's five cinemas that are scattered around this jungly and mangrove-rich landscape are awash with Hollywood blockbusters or Malaysian or Indonesian dramedies, with distribution courtesy of neighbouring Malaysia.
In part, that may be why Yasmine's logline, "Some dreams are worth fighting for", seems so fitting for the country's first commercial film. "We don't have much entertainment in Brunei but everybody loves movies," explains Siti, a UK-educated local who used to only dream of making a film about a teenage girl coming of age in her native Brunei. "It's one of our main [forms of] entertainment. That's what we do: we buy dvds and we go to the cinema to watch movies. And we eat."
In a country with the second-highest quality of life in Southeast Asia (Singapore is first, according to the UN Development Programme), Brunei's population is both extremely wealthy – the Sultan himself is worth some $20bn, thanks to the nation's rich oil and gas reserves – and, for the most part, deeply traditional. A former British colony, Brunei only won its independence in 1984 and has since amassed a reputation as a tax-free haven where the fun things in life – like live music and alcohol – have been banned. As a result, some locals argue, much of the country remains a mystery to outsiders, who know Brunei only as a tiny nation smack in the middle of Malaysia with low petrol prices. And that's what a local film industry could help change, says Siti's brother Khairuddin Kamaluddin – known as Din – who doubles as Yasmine's producer.
"There is no film industry here at all right now," says Din, smoking a quick cigarette off the set, allowing himself a 15-minute break from his usual 18-hour workday. "I want to showcase Brunei in ways that haven't been done before. There's no better way to do that than in a movie."
Siti and Din run Brunei's first film company, Origin Films, and Yasmine is their first feature film. Their experience comes from running their sister company, Origin Artistic Management, which has created adverts for some of Brunei's biggest corporations, such as Royal Brunei Airlines and Baiduri Bank. Making Yasmine has been a steep learning curve, says Siti, who notes that many of her actors, including Liyana Yus – in the title role – are first-timers, and stresses that nearly everything, from equipment to crew and talent, has had to be imported from abroad.
"The equipment is rented from Malaysia, the crew is mixed: our sound and audio department is from Indonesia, then we've got Hong Kong and Chinese crew for technical," she says, listing it all on her fingers. "The art department is from Malaysia but the head of production design is Australian. My DoP [director of photography] is Australian. Chan Man-Ching is from Hong Kong. We have talent from Indonesia and Malaysia. I'm Bruneian, my line producer is from Malaysia, and it's been a challenge getting extras. Normally you'd go to talent for this stuff but that doesn't exist here, so we have to do it all ourselves: advertising, calling schools, sending text messages."
Chan Man-Ching, a Hong Kong stunt veteran who worked alongside Jackie Chan in kung-fu movies such as Rush Hour and Rumble in the Bronx, has been working with Siti for the past four years in developing this film. He spends five hours a day with the actors training them in silat: three hours of martial arts in the afternoon, two hours of physical training in the morning, from running and swimming to push-ups and sit-ups.
"I'm so lucky I can make Brunei history by working on this film," he says, minutes after dropping to the set floor to complete 50 random sit-ups in between takes. "My name will be in Brunei history! No money can buy that. In all of Asia, almost every country has a movie that they use to promote themselves. Kung-fu, for me, seems the same all over the world. Punch, punch, kick, kick. But silat is different. I've been in Brunei for four years now, working on this project. This is my baby. This is the first step."
---
Silat is a martial art practised in Southeast Asia. An important aspect of Malay culture, silat in Brunei revolves around six core attack techniques and can range from bare-handed fighting to using daggers, swords or sticks. It is said to have historically helped Brunei defend its kingdom from intruders and is still taught in many schools.
---
Founded: 2010
In-house staff: 10
Number of current projects: 11
Working on: Co-production feature film projects with Indonesia, Malaysia and China
Claim to fame: Origin is Brunei's first-ever company devoted to making feature films
Scandals
Life for the royals was plain sailing until authorities discovered that Prince Jefri, the sultan's brother, had embezzled some $14.8bn (€11.2bn) while serving as finance minister. He owned over 2,000 cars, eight planes, hotels such as the Hotel Bel-Air, and paid Michael Jackson $17m (€12.9m) to play at his private birthday party. Jefri fled in disgrace in 2000 but has been allowed to return.
Population: 416,000

Made up of:
Malay: 66 per cent
Chinese: 11 per cent
Indigenous: 3 per cent
Other: 19.1 per cent
Faith:
Muslim (official): 67 per cent
Buddhist: 13 per cent
Christian: 10 per cent
Other: (includes indigenous beliefs) 10 per cent