Cameron Bailey / Toronto
Living at the movies
As artistic director for the Toronto International Film Festival (TIFF), Cameron Bailey watches 700 films a year. But with midnight meetings, hectic schedules and nervous producers, it's not all fun and games for Toronto's Michael Corleone...
"Artistic director, that's my title. Really all of it boils down to something creative at the end. I started my day this morning with a site visit for a venue that we're considering for the party for Canadian filmmakers during the festival. It's a party – nothing to do with making films – but because it's the Canadian party, how the space looks and feels makes a difference. We like to support homegrown filmmakers first. So I'm walking through thinking 'how can I make this the right environment for Canadian filmmakers?' Some might look at this from a purely logistical point of view but for me it's creative.
I see about 700 films a year and I probably watch on average up to 75 films a week depending on how close we are to the festival. In our office at the tiff Bell Lightbox we have screenings running interspersed throughout the day. Films are often not complete yet, but are still submitted to the festival. We've got nervous producers, sales agents and distributors at the other end of the line after we screen the movie to hear what we think.
Because we are an international film festival, phone calls and meetings are scheduled at ridiculously early or ridiculously late hours. I had a meeting at 23.45 recently, and that's normal. We have lots of meetings, it's a very big organisation with about 170 full-time staff and another 400 added to help us put the festival on. The core of people that I interact daily with is around 30. I have my right-hand, Kerri Craddock, senior manager of programming, who runs the selection process. Then there are all the programmers who watch all the films for the festival. I'd like to think of myself a little bit like Michael Corleone in The Godfather. I'm not loud, I'm not controlling, I don't micromanage. I'm the guy who sits in the room and listens to everybody and then makes decisions.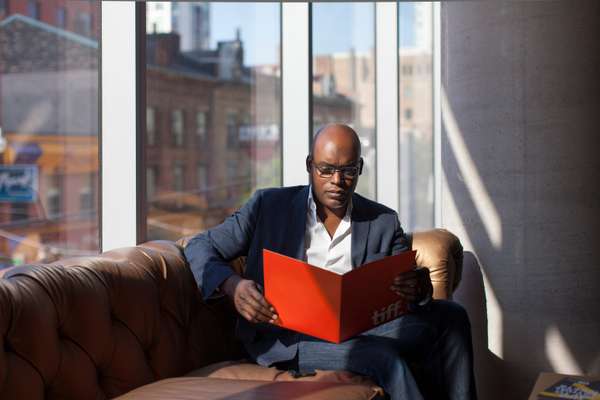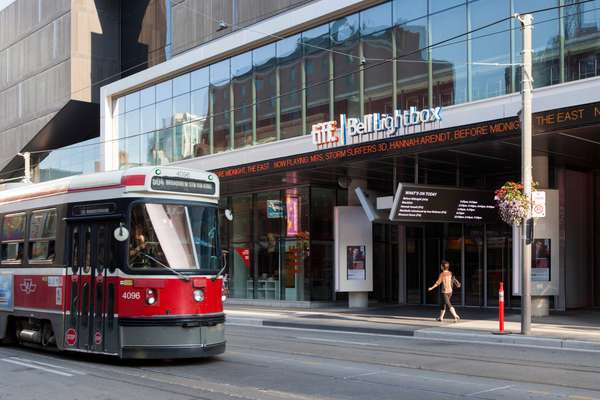 My fascination with film came about entirely by chance. I was an English literature student at University of Western Ontario. I thought I was going to be a journalist. Actually I did end up doing that for quite a while but when I was in my second year at Western, I took a course in contemporary cinema and it changed my life. It began with Jean-Luc Godard's Breathless and went everywhere but Hollywood after that. I got hooked. When I graduated I started as a film critic for Now Magazine, the weekly in Toronto. Later, I began reviewing for the [Canadian broadcaster] CBC.
My first job at tiff was programming Canadian films. That was back in the early 1990s when people like Deepak Mehta and Bruce McDonald were making their first films and I remember being very proud to get up on stage and introduce them. In 1995, I started Planet Africa. It's a programme devoted to films from the African continent and the African diaspora. I think of it as one of my biggest contributions to the festival.
We are showing about 280 feature films and 40 shorts this year. Canadian cinema is hugely important to everything we do. We're doing a big David Cronenberg retrospective this fall at the Lightbox. We also have a programme called Shortcuts Canada. That's where we first discover great young directors. A lot of our filmmakers – such as Patricia Rozema and Peter Mettler – were first introduced through their short films in the festival. We are a small country in terms of film budgets, but it's edifying to see features like Denis Villeneuve's Incendies and Philippe Falardeau's Monsieur Lazhar do so well.
I used to think of Hollywood as a kind of monolith: Hollywood this, Hollywood that. Then I started going to LA regularly to meet industry insiders. You realise there are all kinds of people. Some are good, some are terrible, but it's not a monolith. It's not a propaganda system that is being run by someone for some nefarious people either. It's a business but it's also a creative landscape where some of the most remarkable minds in the world are working right now.
The one time I remember being truly star struck was when I finally got to meet Jean-Luc Godard. He came to the festival – this was probably back in 1996 – and my boss Piers Handling introduced me to him. My French isn't great, it's functional. I did my best to converse with Godard in French but I was just mangling the language. I was very nervous. He didn't say much, but he was quite gracious. That was a big deal for me, because he was the one that got me into this work.
tiff seems to be growing. We have some interesting industry initiatives. One of them is the Asian film summit. It is a gathering of leaders from the Asian and the Western film industries trying to build bridges, create relationships.
The film industry worldwide is going to completely change in the next few years. If there is one recent key tendency it's the rise of Asia, between what's already happening in Indian cinema and in China, and what has already been happening for many years in Japan. That is really where the dynamism is."
TIFF 2013 takes place 5-15 September
The plot so far
Cameron Bailey's CV
1963 Born in London, UK
1967 Moves to Barbados at the age offour to live with his grandparents. Four years later reunites with his parents in Toronto
1987 Graduates in English literature from the University of Western Ontario
1990 Starts working at TIFF as programmer, Canadian films
1995 Launches Planet Africa, a programme devoted to films from the African continent
2007 Appointed co-director at TIFF
2012 Appointed artistic director at TIFF