Growing appetite / Global
Patrick Blanc
Patrick Blanc, the botanist who pioneered vertical gardens, eats his 'last meal' at Pershing Hall, a Parisian hotel featuring one of his stunning creations.
"As a scientist, trying to understand your subject is your only ambition. I studied the adaptation of plants in tropical rainforests and my ambition was simply to try and understand their way of life – how did they adapt to their environment? It's evolution: all things that appear in the living world are always in a process of transmutation. Some changes are OK, some are not OK. My life is exactly the same: I do many things but I don't always necessarily decide to do them. France has impossibly high taxes – but I'm still here! It has just happened like that.
I grew up in an apartment in the suburbs of Paris with my parents. No connection to nature at all but I did love aquariums and I had tropical fish. I'd read that plants could act as a biological filter, with the plants above the tank and the roots in the water. The plants grew and I eventually had to fix them to the wall of my room. I kept adding more and more – that was my first vertical garden. Then at university – at Jussieu in Paris – I studied botany. By 1978, I was already getting press because vertical gardens were unusual. My first major project was Cité des Sciences et de l'Industrie in 1986, where I'd been hired fours years before. Now I've done about 250 projects in Singapore, in Bahrain, in the US – everywhere.
My newest project is in Kuala Lumpur with Jean Nouvel, and it's a 200-metre-high tower covered with plants. It's a new challenge because of the height. I was also just in Japan, working on a Shinkansen station in Yamaguchi. We collected 115 different plants – that's just as exciting and just as challenging.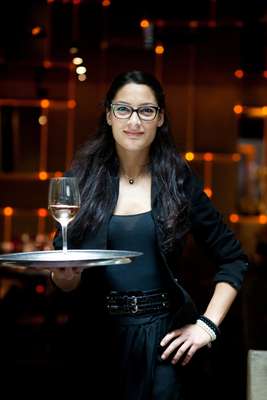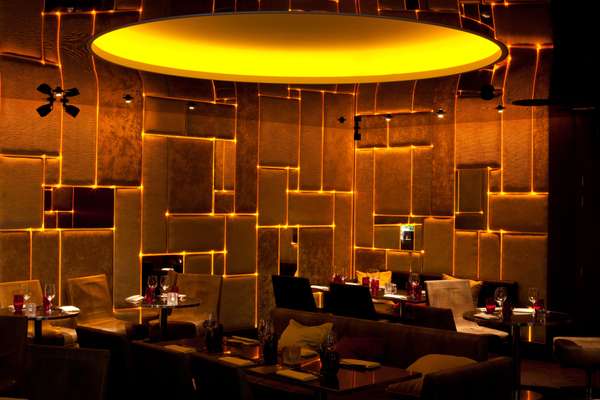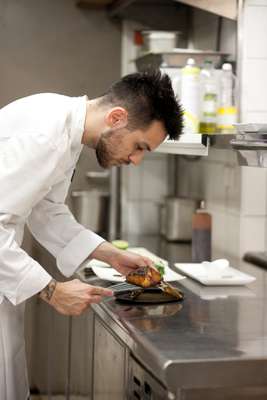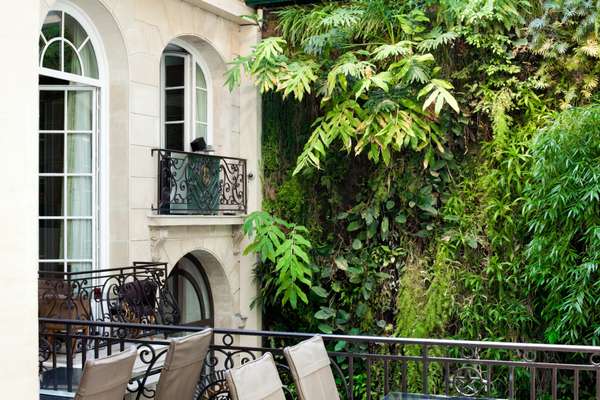 I don't think about ambitions. I started my life as a botanist when I was 12 so it's just been a step-by-step process. In evolutionary theory you could speak of genetic drift – but this isn't genetic, it's just a drift.
Why do we want these gardens? We all know what nature is but we don't have access to it in cities. But here in this restaurant, for example: when you look at this [vertical garden] wall, all of a sudden you are transported. It's psychological in that it makes people feel good.
I would choose to have my last meal at the Pershing because of this wall. I would want to be somewhere familiar – and when I say that I mean somewhere with plants!
In Paris, this is the one place where I could have a meal in a luxurious, lush plant environment. I wouldn't want to be here just because it's my own project. It's because I see that [points]: a shrub I collected on a bridge in the Western Ghats in India when I was driving with my partner, Pascal. And that, the one that's flowering: that's a plant I picked up from near Darjeeling. So it's not my work that would bring me here but my memories.
My three favourite ladies would be with me, though I've never met them: Edith Piaf, Zarah Leander and Eartha Kitt. It would be a pleasure to be with them to sing some songs; I love to sing. And Pascal? Not at my last meal – I already see him all the time."
---
Recipe: Tiger prawns in angel hair
Ingredients
16 fresh tiger prawns
500g angel hair pasta
6 sucrine lettuce hearts
honey mustard

For the tonkatsu dressing
1 onion
1 carrot
1 celery stick
50g olive oil
200g tonkatsu sauce
The method
Sauce
Wash, peel and slice the vegetables.
Sauté the vegetables in the oil.
Continue cooking, add tonkatsu sauce and then pass dressing through a sieve.
Prawns
In a saucepan, heat oil to 180C.
Roll raw prawns in angel hair pasta.
Fry the prawns until golden in colour, drain then salt.
Lay each prawn on a leaf of sucrine lettuce and add a small dollop of honey mustard. Serve with dressing on the side.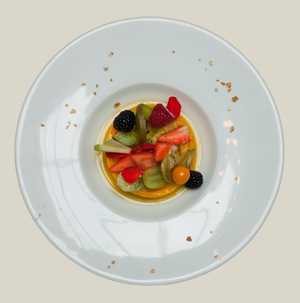 Botanist Patrick Blanc is the world's foremost name in vertical gardens, having developed methods that have transformed the façades of offices, restaurants, shopping malls and galleries on every continent – from Bangkok to Bamako, San Francisco to São Paulo. Blanc's working life is split between the National Centre for Scientific Research in Paris and lending his expertise to commercial projects. Over the years he has received awards from the French Science Society, the French Ministry of Research and the Royal Institute of British Architects among others; he was also given the prestigious Chevalier de l'Ordre des Arts et des Lettres in 2005.
Pershing Hall is a five-star hotel in the centre of Paris, off the Champs-Élysées. It was named after US general John J Pershing: he led his country's armed forces in the war against Germany from 1917 and made the 18th-century building his headquarters. Blanc's vertical wall in the hotel's restaurant was part of a renovation of the 26-room venue in 2001. It is 30 metres tall and includes over 300 species of plants.
To eat: The meal begins with tiger prawns in angel hair pasta, with tonkatsu dressing and sucrine lettuce. Next up is Blanc's favourite dish at the restaurant: caramelised black cod with red miso dressing and wakame salad. To finish, a simple fruit salad.
To drink: Côtes de Provence Pétale de Rose rosé (Blanc would refuse water at his last meal).