School: culture / Global
Space to think
From the socialist designs of modernist Havana to sharp minds surrounded by cutting-edge architecture in New York, plus a little bit of rural England thrown in the mix, we look at how art, music and philosophy are being taught in spaces that mirror their subjects.
1.
NYU Department of Philosophy
New York
It's a story that's perplexed a countless number of philosophy students. Mary lives her entire life in a black and white room where she can never experience any colour but grows up to become an expert on colour perception. She reads all about the subject, she's just never actually seen anything other than black and white. Eventually Mary leaves her room and experiences, for the very first time, the colour red. The question is: has she learned something new?
Mary could have lived here, in the philosophy department of New York University, jokes Professor Don Garrett one sunlit morning in his immaculate corner office. "Everything is black and white." The six-storey building, a former warehouse built in 1890, sits near the edge of Washington Square Park among the university's real estate herd. The philosophy department settled here in 2007 after it became too big for its floor in the Silver Center nearby. The dean of the faculty of arts and science met with professors and selected the architect Steven Holl to renovate the building's interior, citing the sensibility and philosophy in his work.
By chance, monocle takes the lift to meet Professor Garrett, chair of the department of philosophy. Opening the door to the staircase for the first time reveals a bright ray of warm, multicoloured light running from the skylight to the floor – yes, Mary did learn a lot when her eyes met the colour red. The geometrical steps with seemingly random treads and landings look straight out of an MC Escher daydream, resting against a brick wall coated with thick white paint. Daylight shines through the strips of prismatic film on the large windows, creating rainbows that stretch across the walls throughout the day.
Rushing down this Tower of Light, as Holl likes to call his staircase, a graceful phd student holds a cup of coffee full to the brim. Asya Passinsky started teaching her first class, aesthetics and the philosophy of art, last week and she explains that many of her students aren't interested in getting a degree in philosophy – they're budding artists hailing from the Tisch school next door. "They've been thinking about all of these questions on their own for a long time," she says. "They just haven't thought about them in this philosophical, rigorous way, so they're excited and really engaged."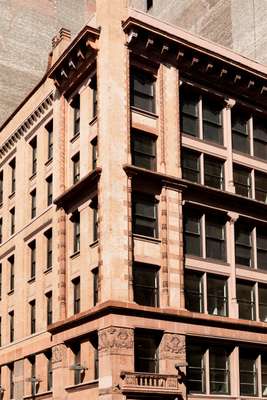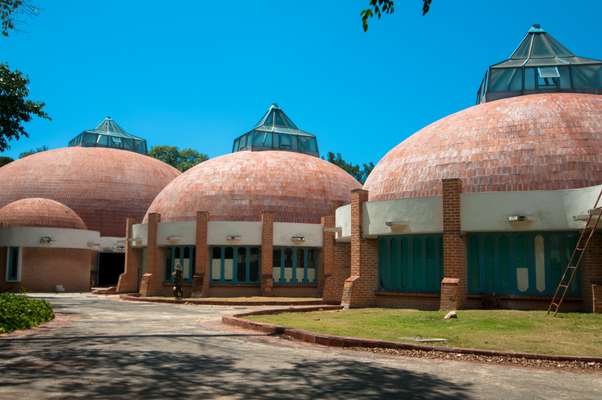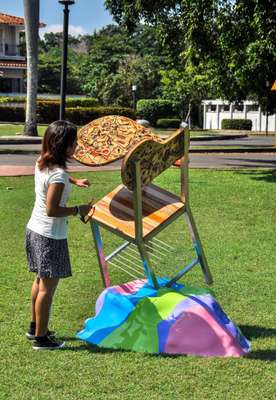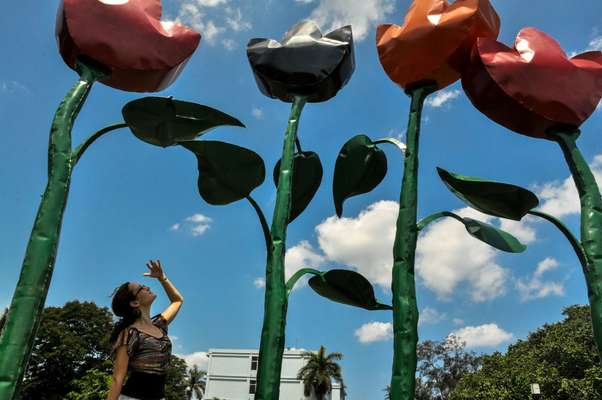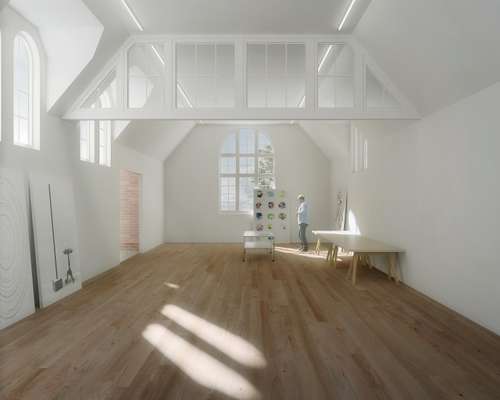 The philosophy department, considered by many as the best in the world, consists of 23 professors and 41 phd candidates. About 170 undergraduate students major in philosophy every year but for most nyu freshmen it's the first time philosophy enters their world, so many end up taking introductory classes as electives by curiosity. Some students end up choosing philosophy as their minor. In this respect, says Professor Garrett, the department is a great connector of people and ideas.
After showing off his finger puppets of philosophical figures in the cosy top floor lounge, he points out his favourite part: the corner doors that reveal a pantry on one floor and a meeting room on another. He's proud to say that his door handles are modelled on the ones Ludwig Wittgenstein used when he designed a house for his sister in Vienna. As our conversation nears its end, it transpires that he's thought quite a bit about the building's hidden meanings. "Black and white... True and false, right and wrong," he ponders with a smile, leaving the rest up to our interpretation.
The lesson: NYU's architects ensure questions are asked by the structure itself.
---
Built on the site of a former country club and opened in 1976, the Instituto Superior de Arte (ISA) is a puzzlingly beautiful collection of buildings that combines forward-thinking socialist ideals embodied in 1960s design, with an ageing, slightly flamboyant charm.
The network of brick walkways and interior patios and galleries that connect both the modernist and traditional (criolla) architecture that make up the faculties of music, visual arts and dramatic art, today also extend to the faculty of audiovisual communication (famca) and four teaching institutions outside Havana: one in Camagüey, two in Holguín and another in Santiago de Cuba. Among its 1,370 students, between 70 to 80 are from overseas.
Celebrated Cuban contemporary artist René Francisco graduated from isa in 1982, and has stayed on as a professor ever since. That blurring of hierarchy, with students keen to crossover to teaching, seems to keep the perspective fresh at isa. On campus, monocle meets Cuban composer-turned-professor of the tres (a guitar-like instrument), Enid Rosales. "I consider young isa graduates to already be artists and intellectuals capable of serving society professionally," she says.
isa.cult.cu
The lesson: ISA proves that a biennial isn't the sole showcase for Cuba's art.
---
3.
Fairfield International
Suffolk, UK
The work of UK artist Ryan Gander – ranging from sculpture to writing and installations – always pushes for engagement rather than simply reaction. Gander's plan to start an art school near his home in Saxmundham, Suffolk, is an extension of his need to share ideas.
Fairfield International should begin welcoming its first batch of six artists in September 2014. But while it may be an idyllic artists' escape just two hours' train ride from London, there's nothing self-serving about its ideals. Gander aims to help young, unknown artists become self-sufficient. The school will charge no tuition fees and will sustain itself via a range of investment plans, including sponsorship. "It seems logical that in an era when arts education seems solely for the middle and upper classes, that the main players in the art world invest back into promoting pioneering talent," he says.
fairfieldinternational.co.uk
The lesson: A realistic mix of tutelage and market nous will set Fairfield apart.