360° Building / São Paulo
Top of the pile
A city of 11 million, São Paulo is not an easy place to design a substantial residential building that affords both privacy and space. But with his award-winning 360º Building, architect Isay Weinfeld has done just that.
Outdoor space and privacy are two of the more prized factors in urban property developments and a new apartment block on the São Paulo skyline delivers both in abundance. The 360º Building is the work of local visionary architect Isay Weinfeld. His premise was to create a 20-storey structure that gave each apartment the feeling of living in a house with a garden, regardless of whether it was located on the ground floor or at the very top. The project is finally complete after five years of work, with residents due to move in soon.
The structure itself resembles a geometric corncob or a gigantic monochrome Rubik's cube, with generous space between each of the long cuboid apartments, almost as if you could swivel them on a central axis. The name 360º derives from the fact that each of the 62 units has a panoramic view of the city. To the east, apartments look out over the bohemian Vila Madalena neighbourhood; to the west, Jaraguá Peak; up to the north, Cantareira Ridge; and down to the south, Villa-Lobos Park.
Weinfeld's masterstroke was to include open balconies, which comprise around one-third of the total size of each unit, providing the feeling of a suspended house. "It is more than a balcony, it is a real yard," he says. They are fitted into the voids between the apartments rather than jutting out of a flat façade, as so many other architects have done in a bid to slap outdoor space onto an urban block. Inside, large windows follow the same pattern in the living room, bedrooms, bathroom and even in the laundry area, looking out over the garden and the city beyond.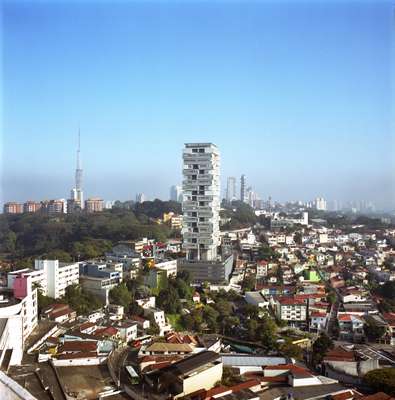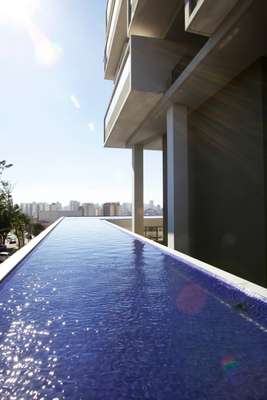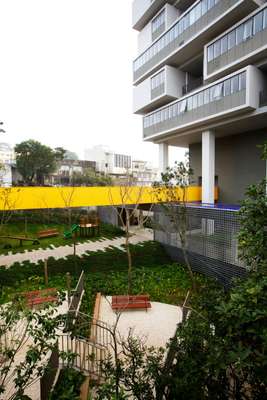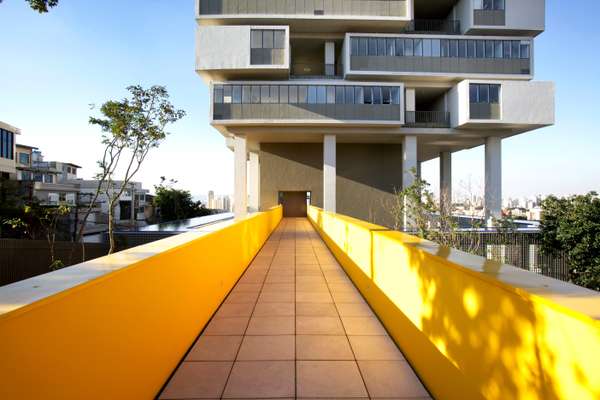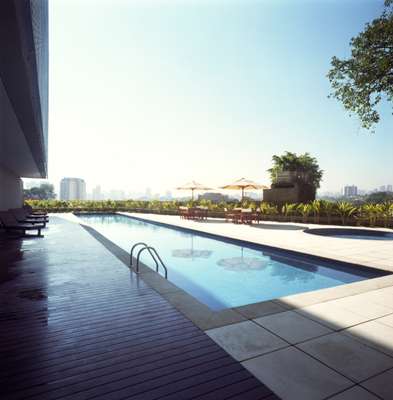 All rooms are adaptable, so that their function can be easily changed according to the resident's wishes. This even goes for the bathrooms and kitchens, with the building's hydraulic plumbing system allowing them to be located just about anywhere in the apartment. There are three options of floor plans: 130, 170 and 250 sq m, plus two penthouses of 445 sq m, each with a pool. All the units were sold while the bricks were still being laid. They ranged between €500,000 and €800,000 depending on the size, bar the penthouses, which cost around €1.5m.
In keeping with the 360º theme, the building does not have a main façade. It looks the same from every angle – a set of independent, well-balanced blocks standing on top of each other like a huge game of Jenga. It's this combination of engineering and poetic sensitivity that Weinfeld is so widely regarded for. There is a single entrance through a vivid yellow 30-metre walkway. Once inside, to the right there are three elevators serving all floors and on the opposite side a ballroom for communal use, together with meeting facilities. There is also a playroom, a fitness facility, a laundry, an office with computers and two open-air pools, one for children. Encircling the entire ground floor is a pond, which, together with an intricate latticework decoration (that conceals the garages), gives the effect of stepping into a different world as you cross the threshold.
The 360º Building is a feat of engineering. Although the entire supporting structure is much more complex, it seems that 10 lean columns support the entire building, which sits on a slope in Alto da Lapa, a bucolic middle-class neighbourhood of São Paulo. Brazillian developers Idea Zarvos, Stan, pdg Realty, and anfab undertook construction of the project.
The location and topography of the region were elements that stimulated and challenged Weinfeld, who is not a man to roll out a signature cookie-cutter solution to architecture. This attention to detail has already paid off for the architect, who four years ago won two prizes at mipim in Cannes. The 360º Building not only won best residential project but was ranked overall winner as well.
Alto da Lapa emerged in the 1920s as a working neighbourhood largely conceived by two British architects and urbanists, Barry Parker and Raymond Unwin from the City of São Paulo Improvements and Freehold Land Company. Nearly a century later and the location still bears the hallmarks of its original urban planning – there are extensive green areas, squares, narrow streets and comfortable old houses. It retains the feel of a small town in the middle of a city of more than 11 million people.
"It offers me the ease of being in a central area and the luxury of seeing the sunset behind the mountains. For just a moment I can forget that I am in São Paulo," says the publisher Luciano Ribeiro, one of the lucky owners of a 360º Building apartment. His 130 sq m unit has been decorated by Weinfeld himself and when it's ready, Luciano will move in with his wife and child. Like all of Weinfeld's projects – be it furniture, interiors or this, his biggest architectural project to date – the 360º Building is a unique, innovative, practical and beautiful creation. The amount of care and attention that has clearly gone into the design and construction is impressive and it is a shame that more urban housing isn't planned with a similar level of ingenuity and common sense. Let's just hope that the wisdom of the mipim judging panel might extend to city planners and developers, not just in São Paulo but the world beyond.
---
1952 Born in São Paulo
1975 Graduated from Faculdade de Arquitetura e Urbanismo of Mackenzie in São Paulo
2000 Wins the Rino Levi and Institute of Architects of Brazil awards for the Inglaterra Residence in São Paulo
2003 Hotel Fasano opens in São Paulo
2004 Wins best contemporary design at Decorex Fair, London, for his first furniture project: the Zezinho sideboard
2005 Opens his first international project, the Clube Chocolate store in Porto, Portugal
2009 Wins the MIPIM Architectural Review future projects award for the 360º Building in São Paulo
2011 Wins the MIPIM Architectural Review future projects award for the residential building OKA in São Paulo
2012 Wins the competition to build a residential building for the royal family of Monaco
2013 Launches the 360º Building, as well as a series of office furniture for Herman Miller