Ace Hotel London / London
Total hotel
The new Ace Hotel in east London is intended to not only meet the usual criteria of offering rooms for guests but also provide non-paying local-neighbourhood residents with a place to gather and creative businesses with some much-appreciated opportunities.
1.
The project
Ace Hotel London Shoreditch
The buildings on the border joining one urban neighbourhood to the next have two fates. Either they become landmarks and gateway destinations or slip between the cracks, passive places to speed past between one 'hood and another. Behind hoardings, on an interesting stretch of Shoreditch High Street in east London, a transformation is taking place whereby a former dead zone will emerge in September as a cornerstone. The old Crowne Plaza Hotel is being turned into the first Ace Hotel outside America.
The patch is interesting, not just because it's smack in the middle of gentrifying Shoreditch but because it connects London's Old Street (west) to the younger creative melting pot of Hackney (north and east) and the financial heart of the City (south). All of these areas are within walking distance and each has a role to play in the regeneration of Britain's economy.
The Crowne Plaza was a giant hotel that spoke to none of the tribes roaming these nearby neighbourhoods, despite servicing them for the past decade. However, one loyal guest was Alex Calderwood, the co-founder of Ace Hotel. He was happy to forego the more staid luxury of West End hotels in favour of a perfect location for work and play, even if it resulted in a less fancy breakfast. When the building came up for lease it seemed only fair that after 10 years of his loyal custom it should end up in his hands.
Calderwood's latest building is actually three: two were completed 10 years ago and the final one was finished just last year. For all of their nondescript anonymity they are a diamond in the rough for a hotelier – and not just because of their location.
"The bones are great," says Calder-wood. "There are 264 generous-sized rooms with sizeable bathrooms. The hardware is all in good order. There's plenty of space for meeting rooms and party rooms." He describes his approach to the transformation as a "surgical execution", a peeling back and baring of said bones rather than a cosmetic operation.
For anyone who has stayed in Ace Hotels' current properties in Portland, Seattle, New York and Palm Springs, you'll understand. The design is clever; industrial with character, honest with materials, attentive to detail and true to its location. It has fostered a cult following as a result, appealing as much to the moneyed hipster as the mobile businessman.
"Business travellers have changed," says Calderwood. "They are open to trying new experiences. So long as you can satisfy the fundamentals – wi-fi that works, a comfortable bed and space for working that doesn't feel corporate – then a hotel bedroom can suit tourists as much as business travellers."
In London, the challenge has arguably been greater: Calderwood has faced the two-pronged mission of giving a story to this forgotten hulk of a site while at the same time embedding his American Ace brand into the local community of the British capital. "Essentially we're darning socks," he says.
The threads that have gone into this particular sock are numerous and largely British; an impressive number aren't just London-based but local to the hotel. Calderwood called on the services of Universal Design Studio, the architecture and interior-design practice founded a decade ago by Ed Barber and Jay Osgerby. uds is based a few minutes' walk from the Ace Hotel London and though the studio had never worked on a hotel before, its impressive catalogue of global retail and exhibition design – together with the team's extensive local knowledge of businesses, creatives and suppliers – chimed with what Calderwood was after.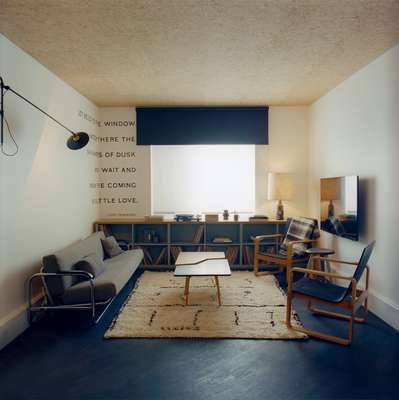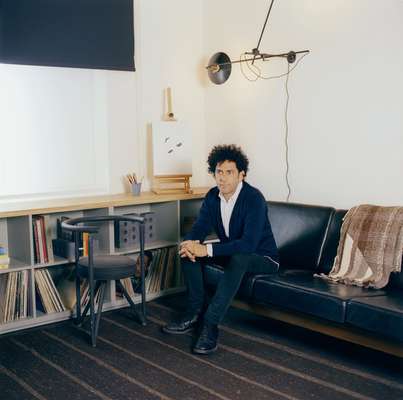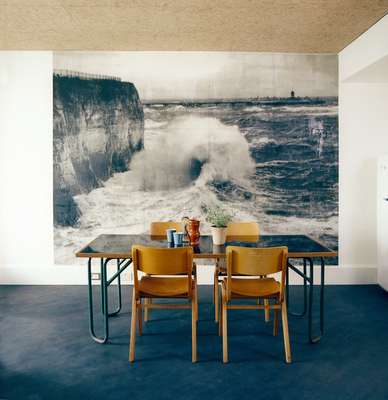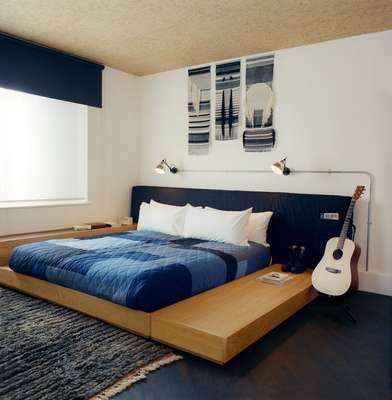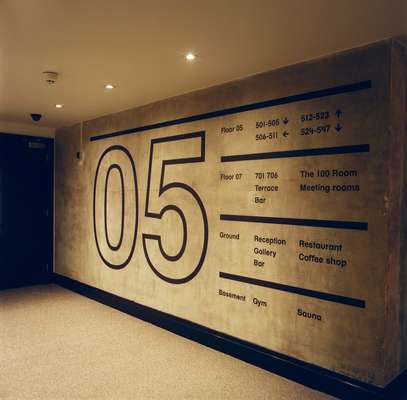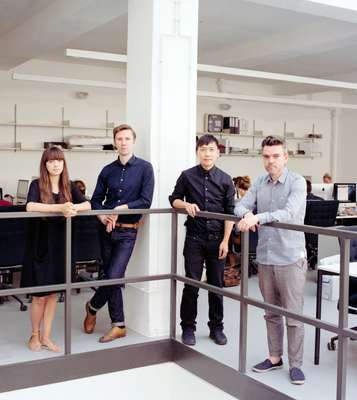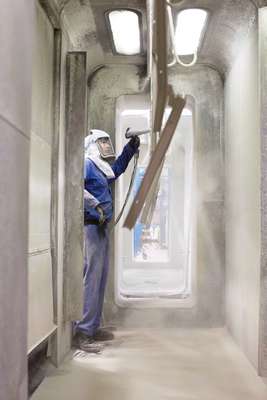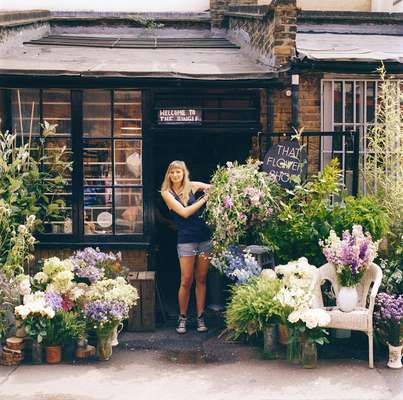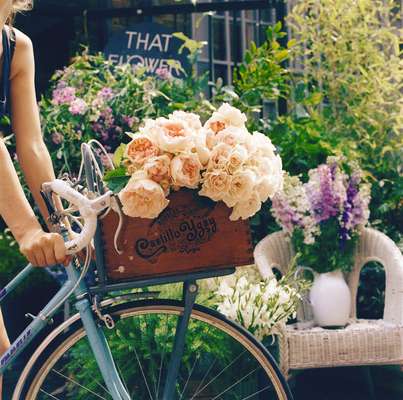 Above all it was the companies' shared desire to resurrect an authentic identity for the buildings that sealed the deal. Calderwood and the team at uds are nothing if not fanatic when it comes to research into the history of a place and establishing a network of specialists, fabricators and contemporary designers who can turn a vision into a reality.
Nowhere will this be more keenly felt in the new Ace Hotel than at street level. A hallmark of the group's hotels is a ground floor area that is as much a public space for the local community as a reception area. Alongside a 100-seat restaurant – to be managed by Pablo Flack and David Waddington of Bistrotheque – there will be a café serving Square Mile coffee, a gallery space, a long communal table for anyone to take a pause, a flower shop run by local florist Hattie Fox and a Lovage juice bar. "I noticed people speeding up over this section of the pavement outside the Crowne Plaza," says Calderwood. "We want to bring them in and give something to the community, not just guests."
Calderwood has given to the community in smaller yet equally significant ways, too. He has enlisted the services of an impressive range of collaborators to design bespoke stationery, coin trays in the bedrooms (Ally Capellino) and umbrellas (Lockwood). There's also a custom-made uniform for the staff, select pieces of which will also be available to buy. Brands involved include shirtmaker Rayner & Sturges, John Smedley knitwear, Hancock capes and Gloverall duffle coats.
Of the furniture that hasn't been sourced from vintage dealers or made to spec by uds, British firms Benchmark and Ercol will feature heavily alongside larger installations by London design stars Philippe Malouin (lighting) and Max Lamb (the restaurant bar). Among the tight-knit fabric of London's creative community, so many of whom have been involved in this project, there is a tremendous feeling of goodwill towards to the hotel. That's not simply because of the commissions it has brought but the fact that there is now a hotel to further stimulate business in the area.
Prior to establishing Ace Hotel, Calderwood was involved in a series of entrepreneurial ventures throughout the US, including Rudy's Barbershop – which first opened in 1993 and now operates 17 shops across the US – and Neverstop, a marketing and event production company whose clients have included Nike and Giorgio Armani.
There's something of the 21st-century patron about Calderwood. He's a man who creates opportunities, not just with a hotel concept that fills a gap in the market for young business travellers but also his "many hands" approach to commissioning. He's modest too, quick to refute this description despite recognising his important role at a time when commissions are scarcer than ever. "Where you stay says much about who you are," he says. "Who wants to stay in a city hotel that isn't connected or engaged with the local areas and communities?"
acehotel.com
1999 The first Ace Hotel opens in Seattle, Washington, a 28-room site in Belltown.
2006 Atelier Ace is launched, the brand's all-encompassing design service.
2007 Following the success of the debut location, the brand opens a hotel in Portland, Oregon.
2009 Ace Hotel New York City opens its doors in a 12-storey building in Midtown. In the same year, the Ace brand takes on traditional resorts with the Ace Hotel & Swim Club in Palm Springs, California.
2013 The group goes international with the hotly anticipated opening of Ace Hotel London Shoreditch; an outpost in downtown LA in a converted cinema is also pencilled in for the end of the year.
---
2.
The building
Universal Design Studio
Responsible for the interior and street-level façade of the hotel, Universal Design Studio immersed itself in research of the site's history and the materials required to bring it to life. The team discovered that there used to be a Frank Matcham-designed theatre on the site: the Shoreditch Empire, which Charlie Chaplin once graced. The theatre was demolished in 1935 and replaced by a cinema, which was subsequently replaced by the original two Crowne Plaza buildings. uds set about unearthing materials that fitted both the heritage and the more industrial aesthetic of the hotel.
"How do you create character in something so anonymous and something local in a property that's so generic?" asks Jason Holley, uds director. "We used the materiality to tell stories and create environments. Detail is key and Ace was the perfect client because it has such a good approach to the production of space."
An intricate composition of hand-laid bricks from Ketley gives character at street level, while the store fronts reference the small, dark traditional shop frontages of the area. The biggest challenge was the extensive façade, which was divided into three: one for each of the buildings. "We thought about uniting it as one but it's too imposing for the streetscape," explains associate Richard McConkey. "We used a palette of materials and finishes to create three different but complementary façades that respond to the gritty street."
universaldesignstudio.com
---
A case in point that materials matter is the use of Crittall steel in the façade windows and ground floor lobby area. Crittall is one of the UK's lesser-known manufacturing success stories. Founded in 1849, Crittall soon became a thriving factory in the village of Silver End and the first company in the world to mass produce windows. Following the post-war housing boom, Crittall windows dressed homes in every corner of the globe and remained a family-run business until the 1960s. After decades of ownership changes, the management bought the company back in 2004 and in 2007 consolidated its manufacturing to Witham in the county of Essex.
Today the factory floor hums with work. Crittall custom makes every frame and has fitted windows everywhere from Universal Studios in LA to social housing projects in Lambeth, London. "Our expertise is thanks to our dedicated team," says Steve Gaylor, head of manufacturing. "Many of the team are second or third-generation workers. Our team of 85 makes about 50,000 windows a year."
On the factory floor, the steel – all from Switzerland and recycled – is transformed into windows of all shapes and sizes. Photos of the buildings that the windows will be fitted in are stuck up in the workstations, too. "The windows aren't the exciting bit: it's the buildings they go into that matter," says Gaylor. "We all take great pride in that."
crittall-windows.co.uk
---
4.
The restaurant bar
Max Lamb
Max Lamb, ingénue of the London design scene, was given the task of designing and making the bar for the restaurant. Lamb had recently started work on his own live/work studio in north London and, in a serendipitous turn, discovered that zinc cladding would make a perfect industrial bar while working on his roof.
Together with family roofing firm Horncastle & Sons half a mile away, Lamb devised his own design. He hand-cut a series of zinc tiles, tacked them to the wooden carcass and soldered the seams to keep the monolith watertight and reference the brickwork uds employed elsewhere in the restaurant interior.
"The whole process has been like working with family," Lamb says of the commission. "Alex and the team at uds have been so generous and working with Horncastle has given me an opportunity to try something completely different and learn so much about a material I'd never used. It might have been outside the remit of what it normally does but we loved the idea of bringing its skills down from roofs and into a space that will be in constant human contact."
maxlamb.org
---
5.
The florist
That Flower Shop
Seeking to bring life to street level, Calderwood struck gold barely 100 metres from the Ace Hotel London site. Hattie Fox, was running a tiny but successful florist in a former farrier outhouse. She was rapidly outgrowing her current space and her approach fitted perfectly with the community spirit that the Ace was after – hence the new street-front studio in the hotel. "I'm not a flowery girl," Fox says. "I like football and drinking pints. I trained as an artist but worked in a florist after studying. I love flowers but I got fed up of people asking for lilies the whole time."
Out of her Holloway flat she began doing flowers for weddings and occasional events using British seasonal varieties. She now employs five people and her flowers, which she sources from growers around Britain, are in hot demand.
thatflowershop.co.uk