Margaret Atwood / Global
Can I have a word?
Canadian author Margaret Atwood is almost as well known for her relentless activism as she is for producing multiple award-winning novels – but it turns out that she is far more enthusiastic about the latter than the former.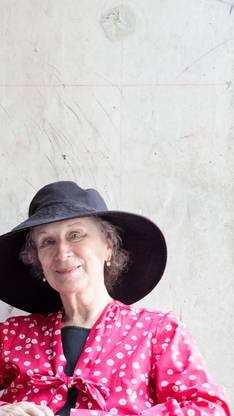 When Toronto mayor Rob Ford and his brother, city councillor Doug Ford, proposed closing public libraries as a cost-saving measure in 2011 they hadn't bargained on Margaret Atwood as an adversary. The author sparred cheekily with the brothers, galvanising broad opposition to the move. The proposal was soon withdrawn and suddenly Toronto was sprayed with "Atwood for mayor" graffiti.
It was vintage Atwood, the dry wit and sense of mischief she often brings to her activism suggesting that she might relish the role of public gadfly. But over coffee at a café near her home in Toronto's Annex neighbourhood Atwood insists the opposite is true. "People think of artists as [socially] committed but that's not it," she says. "You're put in the spokesman's position for a lot of people who can't do it because they have a job, they don't have the time. I think it's deeply annoying. If I had a choice I wouldn't be doing it. It's not my calling, nobody pays me for this stuff that actually takes up a lot of writing time."
Had she been liberated from such obligations it's hard to imagine what more she might have done. During a writing career that has spanned more than 50 years, Atwood has published 14 novels and nine short story collections, as well as poetry, children's books, non- fiction and librettos. Her international reputation was cemented with her 1985 novel The Handmaid's Tale, about a near-future US transformed into a totalitarian Christian theocracy. In 2000, Atwood won the Booker Prize for her historical novel The Blind Assassin.
This autumn she returned with MaddAddam, another speculative fiction that completes the dystopian trilogy of an environmentally engineered future, which began with Oryx and Crake. Her disowning of the sci-fi label has upset some fans of the genre but Atwood has long been firm on the distinction, once telling an interviewer, "Science fiction has monsters and spaceships; speculative fiction could really happen."
Atwood is co-founder of the Canadian chapter of Pen, the literary organisation that campaigns on behalf of persecuted writers worldwide. A Green Party supporter, she sits on the advisory board of Ontario's Pelee Island Bird Observatory. Her advocacy work, on top of being one of the most successful authors in the country, has arguably made her Canada's most prominent public intellectual. Atwood's Twitter feed, which she calls her "little curated radio show", stands at over 400,000 followers.
These days she is a perennial contender on the bookmakers' lists whenever the Nobel Prize literature committee assembles to pick its annual laureate. But Atwood, 73, seems unconcerned with awards for lifetime achievement; she continues to create at a formidable pace. When asked what might account for her prodigious output at a stage when many writers are slowing down, Atwood bristles playfully. "You mean I haven't gotten O-L-D? Is that what you're saying? Well, some people are O-L-D at the age of 25."
Atwood was shaped by Canada's wilderness. Though she was born in Ottawa, much of her early youth was spent in the backwoods of Quebec tagging along with her entomologist father on research trips, formative experiences that nurtured her lifelong interest in science and the environment. It wasn't until she was eight and the family moved to Toronto that Atwood began attending school full-time.
"I seemed to have a taste for all three kinds of brow," she has written of her early reading habits: the high, middle and lowbrow. From her initial love of fantastic tales of the monsters and spaceships variety she progressed to comic books, trashy pulps, 19th-century English and French literature, Shakespeare, Ray Bradbury and Greek mythology. She was writing almost as soon as she'd begun to read; her first stories featured a pair of flying rabbits as protagonists.
After attending the University of Toronto, Atwood was already an award-winning poet at the age of 26. In the Canada of the 1960s, however, it was almost unthinkable to make a living from writing poetry or novels; thanks to the enormous artistic output of its neighbour to the south, it was thought that Canada hardly had much of a culture at all. But through the success of her own writing and her support for fledgling small presses and magazines in the 1970s, Atwood was part of a movement that ignited a debate on the necessity of fostering a homegrown culture.
Atwood experiments with the very technologies and platforms accused of disrupting traditional publishing, from working with Wattpad, a youth-oriented self-publishing website, to collaborating on a serialised zombie novel/fitness app. Understanding the changes afoot might be the secret to her longevity; the challenge of making sense of and playing around with technology helping to sustain her energies. "Have you ever looked at early typewriters?" she says. "Right now we're only at the 'early typewriter' stage of the internet. Every minute someone has a new idea that's interesting. The stuff pours out. There are things coming that I feel I still need to explore."
Lady of letters
Margaret Atwood's CV
1939 Born in Ottawa, Canada
1964 Publishes The Circle Game, her second collection of poetry, which goes on to win the Governor General's award
1969 Publishes first novel, The Edible Woman
1981 Serves one year as chair of Writers' Union of Canada
1985 The Handmaid's Tale is published. Wins Arthur C Clarke award for best science fiction in 1987 and is made into a film in 1990
1994 Awarded France's Chevalier dans l'Ordre des Arts et des Lettres
2000 The Blind Assassin wins the Booker Prize
2006 With partner Graeme Gibson, named honorary president of BirdLife International's Rare Bird Club, a worldwide conservation group 2007 Adapts novella The Penelopiad – a retelling of Homer's The Odyssey – for the stage. The UK's Royal Shakespeare Company stages the premiere performance
2008 Delivers CBC Massey Lecture called "Payback: Debt and the Shadow Side of Wealth", later adapted into a documentary.Receives Spain's Prince of Asturias Award for Letters
2013 Publishes MaddAddam, a work of dystopian speculative fiction