Diplomacy / Global
Diplomacy
Briefing
We meet Indonesia's ambassador to Japan, report on Israel's new "digital embassy" and Seoul embarks on a soft-power offensive.
Putting Yap on the map
Micronesia
Chinese influence in the Pacific is on the rise as the superpower courts the island of Yap in Micronesia. China will offer direct flights to the resort, expected to generate €375,000 a month for the local economy.
---
Ambassador No.21
Youthful endeavour
Indonesian ambassador to Japan — 
MUHAMMAD LUTFI
Muhammad Lutfi remembers the startled looks he got in 2010 when he began his duties as ambassador to Japan. "I would meet people for the first time and they'd say, 'You're the Indonesian ambassador?'" he says. Lutfi, at 40, was the youngest person to head a diplomatic mission for Indonesia in more than half a century.
By then Lutfi was used to remarks about his age. He started an oil-trading firm when he was 24 and by his mid-thirties was chosen by Indonesian president Susilo Bambang Yudhoyono to lead the Investment Coordinating Board. Still, Lutfi's lack of years made him a leftfield choice for the post in Japan. Even his wife expressed surprise. "She told me, 'You're the most undiplomatic person I know,'" he says.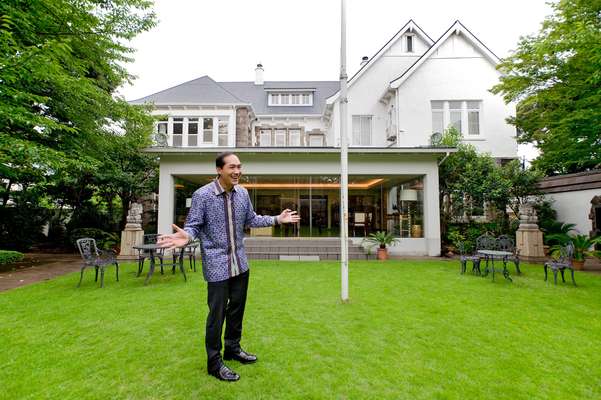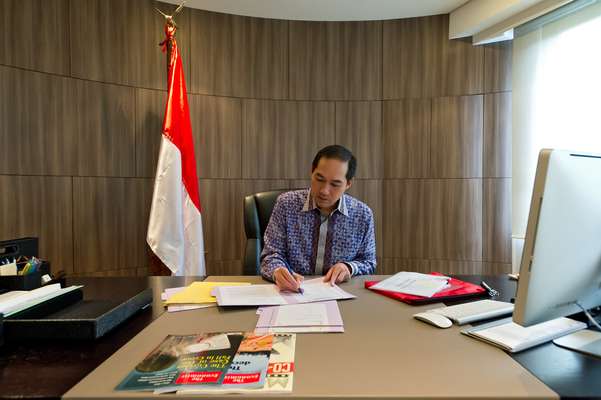 Lutfi's arrival in Tokyo coincided with a willingness on both sides to deepen ties. Indonesia was eager to upgrade its infrastructure with Japanese know-how while Japan saw Indonesia's reforms, fast-growing economy, huge market of young consumers (half of Indonesia's population of 240 million are younger than 30) and expanding middle class as an opportunity for Japanese companies to grow their overseas presence. Japanese investments in Indonesia tripled from about €560m in 2010 to €1.8bn last year; this year's tally could surpass that. Meanwhile, the popularity of Japanese youth culture in Indonesia has fuelled a boom in Japanese language studies among Indonesian students.
One of Lutfi's priorities has been to step up the embassy's political role, which has meant exploring ways for Jakarta and Tokyo to work more closely on regional security and defence. "This is the new dimension of the relationship," he says.
North Korea's sabre-rattling and an increasingly assertive Chinese military have added urgency to these discussions. Lutfi, however, speaks carefully about the shifting power dynamic in Asia. "Ensuring freedom of navigation and upholding the UN Convention on the Law of the Sea are becoming common issues for Japan and Indonesia," he says.
Embassy of Indonesia in Japan
The embassy: Indonesia's embassy occupies two buildings connected by a service hallway. For formal meetings, the ambassador receives guests in a plush chamber of the office wing.
The staff: There are 100 Indonesian and Japanese employees at the embassy.
Challenges: Most Japanese officials aren't comfortable socialising in English but the ambassador doesn't speak Japanese.
---
Web mission
Israel — 
SOCIAL MEDIA
Israel may not have any embassies in the Arabian Gulf but there has long been discreet co-operation on trade and security, especially with Qatar and Dubai. Now Israel has launched a digital embassy, inspired by "the exponential growth of social media in the Arab world and in the GCC [Gulf Co-operation Council] in particular", says Yoram Morad, director of the foreign ministry's department of digital diplomacy. "One day we hope to have real-life embassies in all GCC countries."
For now the English and Arabic channel will host live chats with top Israeli diplomats, tweet Arabic-Jewish recipes and suggest Israeli-made solutions for scorching Gulf summers.
---
Multiple choice
South Korea — 
SURVEY
Seoul's Ministry of Foreign Affairs will canvass the opinions of 10,000 people from all corners of the globe in an effort to improve the country's soft-power diplomacy. Ten countries will be approached, among them Egypt, India, Poland and Vietnam; the US, China, Japan and Russia don't make the list owing to their already close relationships with South Korea. "President Park is engaged in a major effort to promote the image of South Korea abroad, especially its economy and culture," says Christoph Bluth, professor of international studies at the University of Leeds. "The results of the survey will be used to improve that campaign."