Europe / Global
Europe
Briefing
The fight for Hungary's skies, a high-rise revolution in Austria and election watch in Georgia, plus Sweden's integration minister talks about life after the Stockholm riots.
Opened in 2008 at a cost of €1bn, the airport at Ciudad Real in La Mancha is being auctioned for a snip at just €100m. The extravagant airport closed last year with debts of €529m.
---
New lords of the skies
Hungary — 
AVIATION
The dogfight has begun for dominance of the Hungarian skies after the closure of Malev, the state airline last year. Solyom Hungarian Airways, a new carrier, has just started recruiting staff. Emblazoned with the national colours of red, white and green, Solyom, which means "falcon" in Hungarian, is being launched by three local businessmen, including Jozsef Vago, a former head of the National Transport Authority. The trio is backed by investors from Oman and the United Arab Emirates. They could have called on a better branding agency, however; the livery looks somewhat dated.
Solyom aims to be operating six leased Boeing 737-500s by the end of September, 25 jets by the end of 2014 and 50 by 2017. No precise route details have been released yet but it plans to start with routes to major European cities followed by a rapid expansion into the Middle East, North Africa and the former Soviet Union, says Vago. The fleet will have two classes for short-haul flights and three classes for long-haul journeys. Solyom aims to fill the quality gap left by the demise of Malev.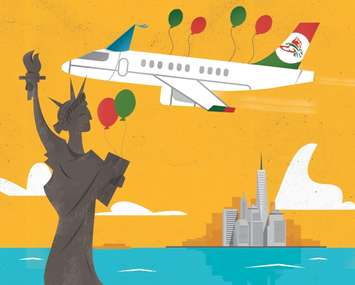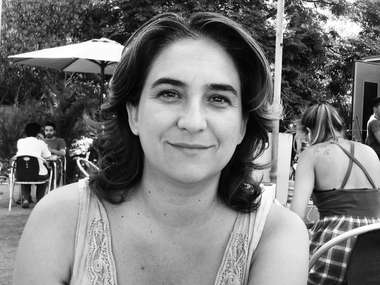 Budget airlines rushed to expand their coverage after the demise of Malev, opening new routes across the region. Ryanair announced new routes to and from Budapest, although later pulled some of them in a row over airport charges. Wizz Air, a Hungary-based carrier headed by Jozsef Varadi, a former ceo of Malev, now flies more than 280 routes from its 17 regional hubs, including Tel Aviv, Baku, Moscow and Dubai.
Wizz Air is confident its fleet of new Airbus A320s can handle any new competitors but Solyom Hungarian Airways could still attract business travellers irritated by Wizz Air's raft of extra charges and, most of all, the hot and crowded tent in which its passengers have to wait before embarking at Budapest airport.
Three destinations Solyom should consider:
01.
New York: A direct flight between Budapest and New York is desperately needed.
02.
St Petersburg: A natural contact point between central Europe and Russia's northern region.
03.
Delhi: Indian entrepreneurs should follow the example of their Chinese counterparts and use Budapest as a gateway to Europe.
Going up
Austria — 
DEVELOPMENT
Vienna's Donau City, a city within a city on the banks of the Danube, is entering a new, vertical phase. The DC Tower 1, one of two skyscrapers by French architect Dominique Perrault, is nearing completion. At 220 metres it will be Austria's tallest building, with a hotel, office spaces and "sky deck". (DC Tower 2, still in the earlier stages of construction, will be about 160 metres tall.) Also on the drawing board is a 500-unit 47-storey apartment complex called Danube Flats, slated to start construction in 2014.
---
Type: Presidential
Date: 27 October
Candidates: Incumbent Mikheil Saakashvili is barred from standing for a third term. David Bakradze will represent Saakashvili's United National Movement Party. Opponents are Nino Burjanadze, who has twice served as acting president, and Giorgi Margvelashvili, carrying the flag of Georgian Dream.
Issues: Georgia has won much praise for its reforms but unemployment remains a problem.
Monocle comment: Georgia could become a thriving dynamo, a chaotic semi-failed state or (once again) a battlefield. The stakes are high.
---
Q&A
Ada Colau
Mortgage Victims Platform (PAH)
Spain
As record unemployment in Spain forces thousands to default on their mortgage payments, a draconian century-old law means evictees must keep paying off their debt even after the bank has seized their properties. The Mortgage Victims Platform (PAH) is campaigning for fairer laws.
What does Spain stand to gain from reforming its mortgage and eviction laws?
Having large sections of society shackled with lifelong debt will do nothing to aid the country's economic recovery. We need more fairness in the system but it's clear that more sweeping democratic changes are in order.
Why are some members of the government critical of you?
After four years of protests, signature gathering and legislative proposals the government has resorted to name-calling – comparing us to ETA and the Nazis – which only serves to highlight their weakness. They're trying to shift the focus but up to 89 per cent of the population supports our efforts.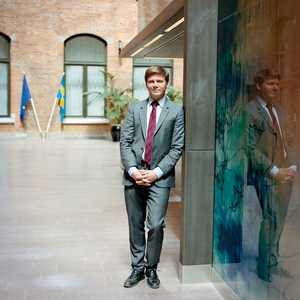 Q&A
Erik Ullenhag
Minister for integration
Sweden
After the riots in Stockholm we ask whether Sweden's liberal image still holds true.
Over six days and six nights of riots in May this year, Sweden's carefully cultivated reputation as a liberal and tolerant nation suffered a heavy blow. Fighting broke out in the Stockholm suburb of Husby following the fatal police-shooting of a 69-year-old Portuguese man. More than 200 cars were set on fire, several police officers injured and dozens of young people arrested.
In the aftermath, many Swedes began to ask whether their country's long history as one of the world's most generous countries in granting asylum to refugees had also resulted in problems, such as segregated cities and high unemployment among migrants, many of whom are from war-torn countries including Iraq, Afghanistan and Somalia. Monocle met Sweden's 41-year-old minister for integration, Erik Ullenhag, in his Stockholm office.
Monocle: Many people were surprised by the riots as Sweden is generally viewed as liberal and tolerant. Is that image untrue?
Erik Ullenhag: A society is almost always more complex than it looks from the outside. Sweden is a great country to live in. But we should be very careful about saying that we're the best because we've got considerable social challenges.
M: Were you surprised?
EU: I was surprised that this happened in Husby because it's a neighbourhood that's been developing in the right direction. The employment rate is around 50 per cent – it's very low but there are other areas in Sweden where it's considerably lower. But I wasn't surprised that it happened. There's a combination of big social problems and criminal individuals who seek a conflict with the police there. I was, however, positively surprised about the fact that what finally made things calm down in Husby was civil society coming together. People were working in the schools, walking the streets at night, creating parents' organisations – there was a strong will to reclaim the neighbourhood.
M: Is there more racism in Sweden than people think?
EU: In international comparisons Sweden stands out as being more positive towards refugees and immigrants. But that doesn't mean that racism and intolerance do not exist. After the last election, when the Sweden Democrats [far-right populists] got into parliament, there was a sense that Sweden has changed. But if you compare the Swedes' attitudes today with what they were 20 years ago, there are more people who are in favour of refugees and immigrants.
M: You say criminals were behind the rioting but wasn't there also an aspect of social injustice and police action?
EU: You can never blame social challenges for throwing a stone or setting a car on fire. I'm not accepting a situation where we say that torching a car is a political statement. You're a very bad spokesman for an area if you set your neighbour's car on fire and think that you're speaking out for that area.
M: In the light of the events in Husby, what action has the government taken?
EU: We're trying to make it easier for people to get simple work: lower the thresholds, possibly introduce lower salaries. There are areas where children grow up and it's normal for the adults in that area to not have a job. I'm working to lower taxes for small firms that employ people living in these areas and we're moving at least one state authority to the outer city to create jobs.
M: How has Sweden succeeded in integrating its immigrants?
EU: If we look at the big immigration we had from 1950 to the 1970s, when people came from Finland, the former Yugoslavia, Turkey, Spain and Greece, nobody asks me how their children and grandchildren have done. We've been very successful with them. But we've got considerable challenges with people who can't speak Swedish and can't find a way into society.
M: Is there a country that you think could serve as an example?
EU: I think Europe needs to learn from older immigration countries, such as the US and Canada. If you live and work in the US, you quickly develop a double identity as a Turkish-American, Chinese-American or Swedish-American. Society's signal should be: if you're here and you've got permission to stay here, we want you to become part of what's Swedish.