Nakashima Woodworker / Global
Family tree
George Nakashima was one of 20th-century America's leading furniture luminaries, until his death in 1990. But far from fading into insignificance, his daughter Mira has carried on the company he founded – and, with it, the family woodwork tradition.
On a late-summer Friday afternoon, two curious photographers are spotted quietly traipsing through the densely forested grounds of Nakashima Woodworker in New Hope, Pennsylvania. "Oh dear," sighs head designer Mira Nakashima, whose father George started to establish the nine-acre furniture-making compound in 1947. "We're only supposed to have visitors on Saturdays."
Located 65km from Philadelphia, Nakashima Woodworker may seem like a stuck-in-time tourist attraction. But this beautiful complex of wooden sheds, workshops, design studios and private homes actually houses a decades-old family business with its eye increasingly and very firmly set on the future.
At once formal yet unexpectedly funny, 71-year-old Mira leads a team of 10 craftsmen here – including some first hired by George himself. She studied architecture at both Harvard and Tokyo's Waseda University, before joining her father's practice in 1970. When the elder Nakashima died two decades later, Mira – by then his chief design assistant – assumed the company's management. "When Dad died, my initial goal was to simply complete our orders and keep the fellows employed," she says. "It's only now that we're beginning to define what Nakashima truly means and finally thinking about what comes next."
From their base in her father's Conoid Studio – whose futuristic concrete shell inspired the Conoid furniture line from 1960 – Mira is quietly taking those next steps. At her side amid the mostly male domain is apprentice designer Miriam Carpenter, a Pennsylvania native and Rhode Island School of Design graduate who joined the studio in 2007. Surrounded by seminal Nakashima pieces, and literally working across from each other, the duo develop new collections while preserving and restoring George's rare – and valuable – originals. Large Nakashima works, for instance, now fetch upwards of $100,000 (€75,000) on the secondary market, while in 2006, The Two Red Roses Foundation paid a record $822,400 (€622,000) for the 1988 redwood burl Arlyn table.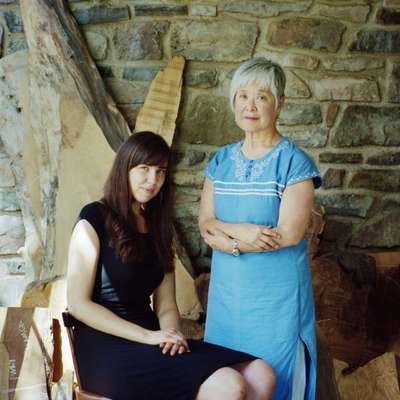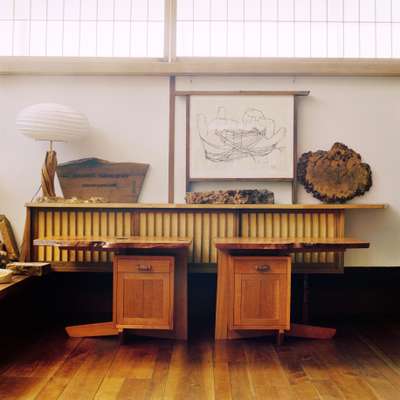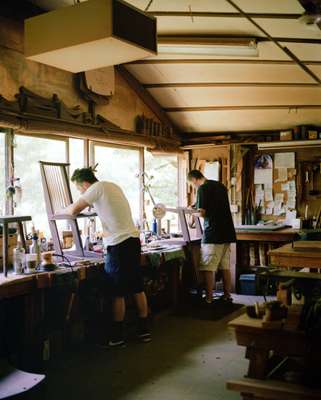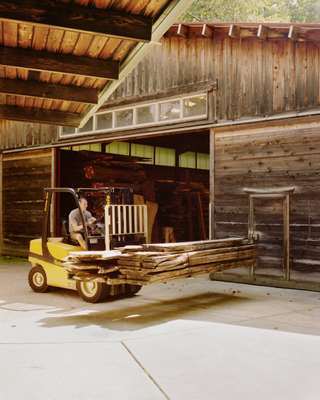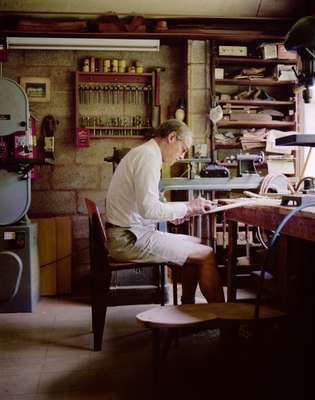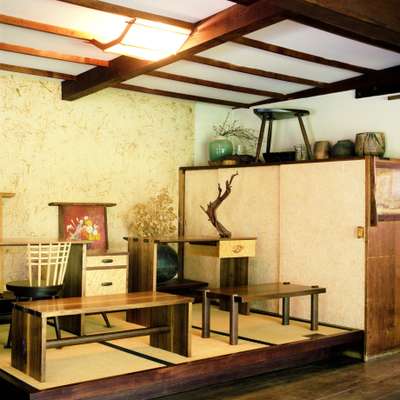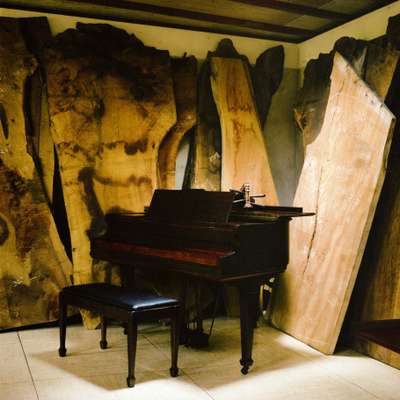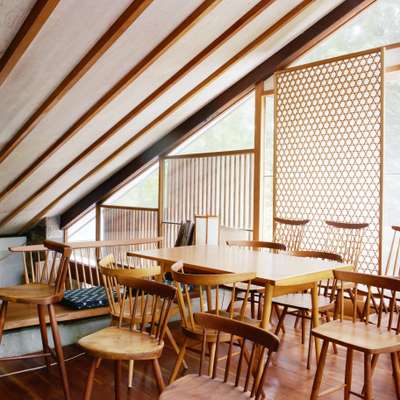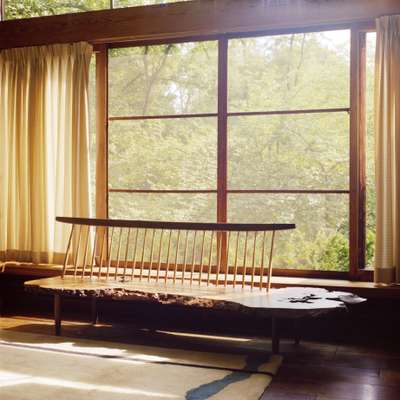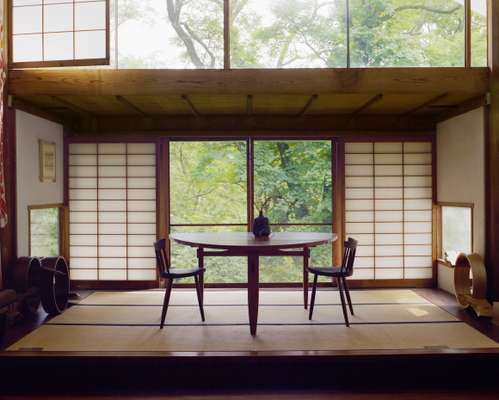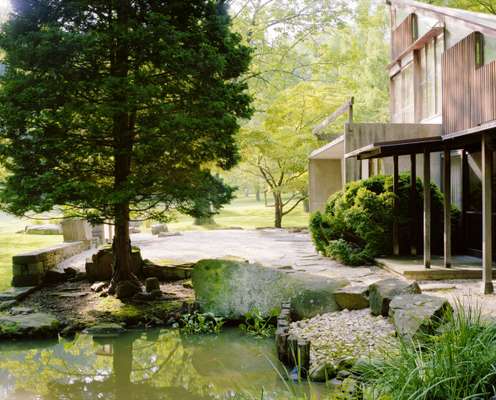 "Since George's death, prices have appreciated by up to 1,000 per cent," says Robert Aibel, owner-director of Philadelphia's Moderne Gallery, which has worked with Nakashima for nearly 25 years.
The appreciation for – and of – George's work propels much of the demand for the studio's newer lines. As in George's day, Nakashima and Carpenter draw proposals by hand, as much for expediency as to document the creative process. "We've made a big push towards establishing a paper trail and recording historical data," says Nakashima Woodworker's general manager John Lutz.
Once completed, each design is matched with planks from either the original lumber storage shed (built between 1956 and 1968) or the larger pole barn completed nearly 30 years later. Although still relatively new to Nakashima, Carpenter is familiar with nearly every walnut, oak or cedar slab, not least because many of them have been photographed and tagged. Strolling through the pole barn, Carpenter points out logs whose wood burling and "free-edges" suit Nakashima's tell-tale aesthetic. "Everything at Nakashima starts with respecting the wood," says Carpenter, a life-long woodworker hired by Mira after dropping off her portfolio on a whim. "Much of the wood here was picked out by George himself."
Whether a Mira newcomer or based on a George original, every furniture commission is fitted and finished by hand – and by no more than two woodworkers. "There's a certain 'You create it, you own it' quality to what we do here," says Lutz, as monocle tours the compound's 1950s-era finishing room. "If something goes wrong, our woodworkers can't hide from their mistakes."
The concrete finishing room is one of a trio of Nakashima workspaces that have become as iconic as the furniture itself. There's the chair department – another conoid-capped structure with a patio sculpture by Bertoia – along with the main workshop, which dates back to 1946. The spaces are spartan, light-filled and, thanks to almost zero machinery, remarkably quiet most of the time.
Most of the work being finished on monocle's watch is intended for Nakashima Woodworkers: An Evolving Legacy, an exhibition of 25 new pieces opening on 20 September at Moderne Gallery in Philadelphia. While rooted in George's 1950s-era drawings, the new works – made from cherry, walnut, olive-wood and English sycamore – are mostly influenced by music, particularly the geometry and mathematical proportions of harmonic principles.
The show will be Mira Nakashima's third at Moderne Gallery and is the first to present pieces co-designed with Carpenter. With three of Mira's four adult children living far from New Hope, the show also reflects the young talent's increasing relevance to the studio's long-term viability. Ranging from burl coffee and end tables to classic conoid benches and chairs, the pieces are steeped in George's historic, iconic vernacular while subtly conveying the studio's future direction. As the exhibition confirms, new Nakashima furniture might vary by base size, joint placement or wood type, but they are always Nakashimas – never a Mira or Miriam design.
"My goal is to create pieces that are as 'simple' a Nakashima as possible," says Carpenter. "Whenever I'm working, I always consider how George's designs might have first looked. I ask myself, 'what would George have done?'"
---
Conoid table Inspired by George Nakashima's futuristic Conoid Studio, this table is notable for its cantilevered base.
Slab coffee table Classic 1940s design, the table's low height refers to traditional Japanese seating styles.
Amoeba tables Simple, tri-legged design dating from the early 1950s.
Mira chair Shaker-inspired three-legged icon dating from around 1950 and designed for Mira by her father. The classic chairs tended to be made with hardwood.
---
Chigaidana Large-scale America black walnut shelving unit in traditional staggered 'Chigaidana' style.
Cantilevered night stand Book-matched cherry cantilevered night stand.
Bench with back A conoid bench made from Scottish Wych elm burl.
Round coffee table Ovoid table made from Italian olive wood with cherry wood 'Simon' base.
End table Claro walnut burr 66cm end table with a newly-designed base.
By George
George Nakashima was born in 1905 to Japanese-American parents and studied at the University of Washington and the Massachusetts Institute of Technology. At his New Hope studio, Nakashima produced a body of work whose aesthetic – most notably his use of butterfly joints and imperfect wood slabs – was rooted in modernism and the Japanese Mingei tradition, sharing a philosophical connection with the Arts and Crafts movement. Nakashima clients ranged from woodwork fans and Knoll to the wealthy Rockefeller and Weston families.
---
Designs for life
Mira Nakashima's CV
1942 Born in Seattle before being incarcerated in an Idaho internment camp for Japanese-Americans
1943 George Nakashima and family move to New Hope, Pennsylvania
1960 Mira studies at Harvard University and Waseda University in Tokyo
1970 Mira returns to New Hope and joins her father's practices
1990 Assumes management of Nakashima Woodworker following the death of her father, George
1998 Organises her first exhibition with Moderne Gallery
2006 Original George Nakashima table is sold for a record $822,400 (€622,000) at Sotheby's
2007 Miriam Carpenter joins Nakashima Woodworker and becomes Mira's assistant designer
2012 Mira Nakashima creates chairs for Philadelphia's Barnes Foundation, renovated by architects Tod Williams and Billie Tsien
2013 Moderne Gallery debuts 'Nakashima Woodworkers: An Evolving Legacy', the first-ever Nakashima Woodworker exhibition featuring new pieces from Mira and Carpenter