New consumers / Global
Fly buys
As the global retail map widens, where do less talked about big spenders such as Kazakhs, Indonesians or Mexicans get their shopping fix? We catch up with the new consumers to find out.
How do you attract the new big spenders, the burgeoning middle classes of nations that perhaps have not been on your brand's radar? OK your chief executive has made sure you have enough Arabic speakers on the hotel's front desk come summer when your Emirati guests switch Abu Dhabi for London SW1. And the manager of the luxury label's swanky branch on Via della Spiga has taught his team to go all out for the Brazilian customers who are known as the ultimate big spenders because of their stratospheric luxury sales taxes back home.
But beyond some language skills and moderate cultural sensitivity, how do you really win over shoppers from Indonesia or Azerbaijan? How do you nicely woo the sophisticated Chinese shopper? And, no, just because it's red and has a dragon painted on the side, it's not enough to shift that sports car.
On a recent trip to New Zealand monocle met a local travel expert who explained who was coming to the country and why some of their attempts to win over wealthy Asians sometimes failed. They had discovered that the rugged and remote countryside, for example, might appeal to your hiking French executive. However, many mainland Chinese visitors thought spooky Hobbit forests were fine to be looked at in sunshine but come night they wanted the hell out of there and would feel happier, thank you, back in the safety of their hotel in Auckland. Same with bungee jumping, that emblem of a daring Kiwi holiday. Many Chinese guests were happy to take pictures of other people leaping off a bridge but suggest that they do the same and they would make it clear you were nuts (and we kind of agree).
Or what about the middle-class Thai travellers who at home in Bangkok have a driver on hand at all times. When they land at Sydney airport, a row of car-hire companies is of no appeal. They need a driver and they need their hotel to have thought of this in advance.
The fact is that many Asian travellers find much of the West a bit grubby, too disorganised, not very luxurious. Brands, hotels, airlines, have to rethink their offers. This starts with the small things: the rise of the Asian traveller, for example, has seen the return of the modest kettle to five-star hotel rooms because guests want a cup of tea well before they depart for the breakfast buffet.
But there are greater impacts too. When the luxury car makers entered the Chinese market they discovered that people quite liked their products but had no intention of driving them – here comes that chauffeur again. So they wanted cars that were longer and looked like old-school prestige sedans. Mercedes, Audi and bmw responded by making cars with extended wheel bases for the Chinese market. Now some of these "China-spec" motors are being sold in other nations on the rise too.
Over the following pages we look at the spending habits and retail desires of shoppers from emerging nations. We have gone beyond the brics states that usually hog the column inches to look at why De Beers is having a fun time in Azerbaijan, how fast-fashion is taking off in Kazakhstan, why package holidays are the way to go for middle-class Malaysians and why Mexicans like a local edge to the luxury world. These are the new consumers, the people whose wealth the global brands want to tap. But first they are going to have to spend some time getting to know what rocks in Jakarta, Baku and Almaty.
---
Travel's changing demographics:
The Chinese are now the biggest-spending tourists in the world, forking out $102bn (€76.8bn) while travelling abroad last year – a gigantic 40 per cent jump over 2011. They've surpassed the former top two, the Germans and Americans, but Russia too has seen a hike in holiday spending in 2012 with a 37 per cent increase. Chinese tourists in particular are driven by an urge to shop and often inspired by films. Thailand, for instance, saw a 93 per cent jump in Chinese tourists earlier this year thanks to the screwball comedy Lost in Thailand. Meanwhile, United Nations World Tourism Organisation (unwto) singled out the UAE, Malaysia, Kuwait, Poland, Philippines, Thailand, Qatar, Ukraine and Colombia as nations showing steady growth and increasingly travel-inclined citizens.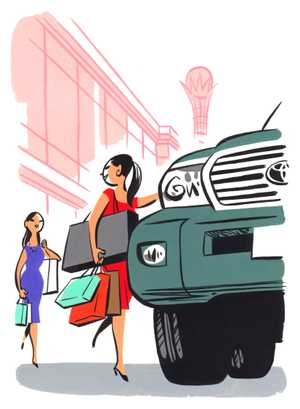 Kazakhstan's consumer culture is expanding like the towering skyline of its otherworldly capital Astana – a Norman Foster vision of hydrocarbon largesse. With its oil and mineral revenue the country outperforms its post-Soviet peers (save Russia) with a 2012 gdp of $196bn (€147bn). In the commercial capital Almaty, consumers are buying into a western lifestyle – dining out and showing off their wealth. There, moneyed citizens alight from Lexuses and Land Cruisers and drink cappuccinos in the downtown cafés and restaurants. Yet the super-affluent elite represents only the top 2 to 5 per cent of the population. There is also a sizeable middle class watching 3D movies at the imax or flying to Turkey for a beach holiday.
Fashion: Light years ahead of its Central Asian neighbours, retail in Kazakhstan is fast evolving. Thanks to rising wages and low taxes, the growing population is ready to spend and malls are rising up from the steppe to meet demand. Last year saw Eva Herzigova cut the ribbon on Esentai in Almaty, home to high-end brands including Gucci, Louis Vuitton and Saks Fifth Avenue. Another five major new shopping centres are expected within the next two years. At Villa Almaty shopping centre the clientele will leave their suvs with valet service to browse Brunello Cucinelli and Giuseppe Zanotti. "The brands are happy to be here because of our love affair with luxury," says retail marketing consultant Sino Alizoda. "Europeans will typically own just one luxury bag. Here, women buy several."
Status: With the oil wealth now flowing, anything seems possible. "Extravagance has become a prevalent consumption trend for society," says Professor Zharmukhamed Zardykhan of kimep University in Almaty. "Visible commodities like cars, jewellery, dresses or mobile devices are an indicator of social status."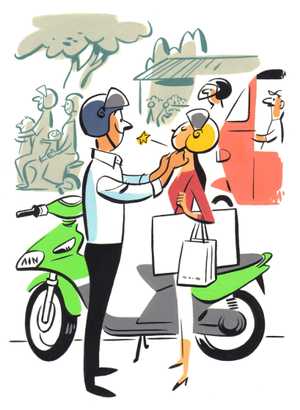 As Southeast Asia's largest economy, Indonesia has emerged as one of the world's hottest consumer markets. The country is in the process of rapid economic transformation and is home to the world's third-largest middle class – an increasingly spend-friendly demographic that is projected to double to 141 million people by 2020.
Transport: In gridlocked Jakarta, motorbikes and scooters rule the roads. Even with improved lifestyles, the typical middle-class Indonesian still chooses to ride a motorbike. It is estimated 80 per cent of households now own motorcycles, while cars cater to only 10 per cent of the population.
Brand-consciousness: Household brands such as Zara and h&m and luxury mainstays such as Roger Vivier and Bottega Veneta are all in high demand among the newly wealthy yet as local brands start to get international recognition, modern Indonesians are staying true to homegrown talent. "There's definitely been a big changing tide," says Chris Kerrigan of The Goods Dept, a Jakarta stop that specialises in local brands.
Food: Indonesian consumers spend nearly 40 per cent of their monthly income on fresh food from local markets. But as convenience stores and supermarkets spring up, shoppers are likely to change where they go.
Media: "A limitless world is opening up with data services and e-commerce as the Indonesian consumer economy continues to grow," says Debnath Guharoy, regional director at Morgan Roy Research. Many of the country's smaller brands' online sales are solely conducted through social media sites.
Travel: Many buy luxury goods abroad to escape high taxes and a limited range in Indonesia, says Erica Ng, retail editor of Worth Global Style Network (WGSN).
Some 60 per cent of Malaysia's population is now considered middle income and by 2015 over half will be under 30 years old. In a changing retail environment, urban dwellers are more forthright and more demanding of the Made In Malaysia brand.
Hospitality: "Guests' expectations have evolved over the years," says Irene Gan, ceo of the Reliance Pacific Group responsible for the popular Avillion Hotel Group. Kuala Lumpur residents are also escaping for the weekend to nearby family-run resorts. "Our weekends are consistently fully booked a month in advance," says Haanim Bamadhaj, who helps run The Dusun, a 12-acre orchard resort with just five houses.
Fashion: Bargain prices, rather than quality, have always been the main selling point of products made in Malaysia. But the rise of flea markets and independent designers is slowly dispelling that notion, says Joyce Wong, a fashion writer. "I see more of the public inclined to spend their money on local designers compared with five years ago."
Service: An at-times brusque attitude towards the customer has long-frustrated Malaysian consumers and some have taken to shaming sellers on social media. Earlier this year an upmarket patisserie was bombarded by over 2,600 messages when they responded rudely to a customer complaint. So why the torrid service culture in the first place? "The nature of all relationships in this country comes from the Malay feudal system," says writer and radio host Kam Raslan. "It doesn't matter if you're Chinese, Malay, whatever. Whoever's beneath you needs to show they're beneath you."
Travel: Budget carriers have become the predominant mode of travel. Abroad they value safety and food, reports show. — jc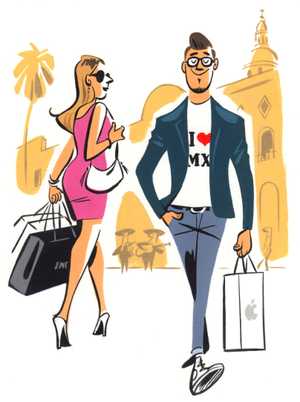 In the late 20th century, as Mexico's leaders opened up the country's economy and political system, Carlos Slim and other well- connected entrepreneurs accumulated billions of dollars while the rest of the country's economy sputtered. Yet since 2010, Mexico has emerged from the global financial crisis as a dynamic and well-managed economy. Modern Mexico is making space for an emerging consumer class, equipped with deep pockets and an indefatigable penchant for comida picante (spicy food).
Travel: Mexicans often travel to shop and middle-class families still make yearly pilgrimages to Texas to stock up on fashion and electronics. Mexican tourists spent $2.7bn (€2.02bn) in southern Texas in 2012, a 13 per cent jump from 2011. Mexicans also venture out to Las Vegas, Orlando and LA as well as New York, London, Paris and Madrid.
Provenance: While many members of the new consumer class are willing to pay a premium for European and US luxury brands, they are also celebrating their own country's heritage by purchasing expensive, locally produced wines, cheeses, tequilas and mezcals. Rodrigo Alcazar, a 30-year-old Mexican economist, explains, "Young professionals [here] have money but they are informed consumers. They are willing to pay for quality."
Design: "Young people with resources want minimalism," says Sergio Mejia, one of Mexico City's leading architects. But there's also a lot of variation in tastes between age groups and neighbourhoods. "People in [the neighbourhood] Polanco are pretentious. They like baroque architecture and try to live, eat and dress like they're in Europe," Mejia says. "In La Roma and La Condesa people are more relaxed. They want neighbourhood life, 1930s European minimalism and New York-style open space," he says. — npf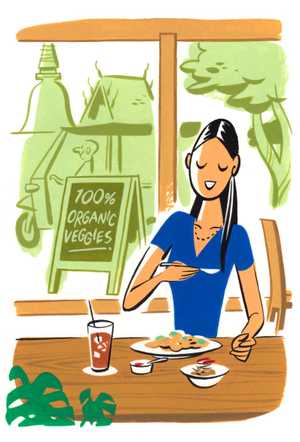 Even as they flock belatedly to online shopping, high-end cosmetics and new sake bars in urban centres, Thailand's strikingly diverse consumers are sending mixed signals. As one of Asia's success stories of 2012, Thailand notched up economic growth of 6.5 per cent after a flood crisis crippled industry in 2011, yet there has been decline in consumer spending, seen in August as Thailand swung into a (mild) recession.
A curious crowd: Thailand has seen a surge in magazine sales and demand for local fashions and art. Barom Bhicharnchitr, an executive with Central Group, Thailand's leading retailer, says younger Thai consumers are becoming more discerning and adventurous. "They are seeking niche labels, vintage clothing and, increasingly creative local Thai designers as well as the big western brands. They now want to create unique looks," he says.
Online boom: Beyond the new crop of stylish, gleaming malls, there is a boom in online shopping, says Christopher Orcutt, an executive at McCann Worldgroup in Bangkok. "This is a key retail story in Thailand – just look at the growth," he says. Nearly 48 per cent of Thai consumers made their first online purchases in the past two years.
Food and drink: The move this year by two of Thailand's leading wine importers to introduce a range of mid and high-end Japanese sakes reflects changing tastes and aspirations among Thailand's affluent classes. "In recent years they have shown a growing taste for foreign tipple, driving a huge increase in wine sales," says Ron Batori, president of Bangkok Beer & Beverages, which has just begun importing high-end Japanese sake. Two million cases were imported last year compared with only around a quarter of that two years ago and just 250,000 in 1998.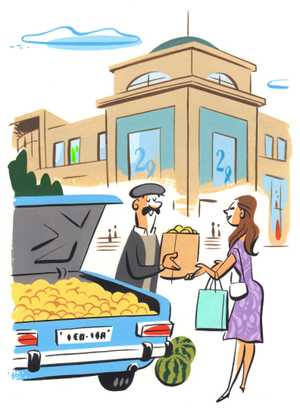 Azerbaijan has emerged from the post-Soviet morass of the South Caucasus states with money in its pocket and a designer handbag on its arm. Last year the Caspian state's economy grew by a relatively steady 3.8 per cent compared with the unsustainable double-digit growth it enjoyed between 2006 and 2010. Buoyed by vast reserves of natural resources, the country's cash-rich elite are a discerning, brand-conscious bunch, although according the World Bank's latest figures, 7.6 per cent of the population remains in poverty.
Largesse: Between 2008 and 2012 the number of credit and debit cards in Azerbaijan rose from 3.6 million to 4.9 million and is expected to rise further as high-end retail imports including diamond traders De Beers (opened this year) and department store Harvey Nichols (opening next) continue to entice the wealthy with places to be seen. Assistant professor at the University of Washington Katy E Pearce explains that this penchant for finery is a socially entrenched one. "In Azerbaijan, a high-status purchase is a socially acceptable way to raise your status.Fashion choices, for instance, are a very easy and visual way to do this."
Online: Azerbaijanis are increasingly switched on to the opportunities of buying online. Between January and July this year sales in the e-commerce market increased nearly 10 per cent on the same period in 2012. Azerbaijan is flexing its fiscal muscles abroad too, contributing to a considerable share of foreigners who visit Istanbul for the city's shopping festival.
Credit: In the first quarter of last year disposable incomes rose 5.5 per cent compared with the same period in 2012. The majority of house, car and appliance purchases were made on borrowed money, according to the Central bank of Azerbaijan.