Eventide Osyter Company / Portland
Lobster spot
If you're in Maine for any amount of time, leaving without tasting a lobster roll is tantamount to sacrilege. Pay homage at the Eventide Oyster Company…
It all started in 2009 at Hugo's, one of Portland's finest restaurants, just after owner Rob Evans won the James Beard award for best chef of the northeast. In the span of a year he would hire the three men who would ultimately give birth to Eventide: Arlin Smith was the first on board, helping out with management; then Andrew Taylor became chef de cuisine; and finally Mike Wiley joined the culinary team.
Under Evans, Hugo's (a dinner-only establishment) was managed in tandem with a restaurant down the street that served sandwiches, shakes and fries. "It made sense to us seeing how the two businesses helped each other," says Wiley, who has since used a similar concept at Eventide. "You save on costs and if you hire young cooks who are eager to learn, they can start at the simpler restaurant."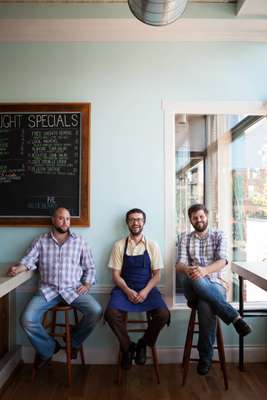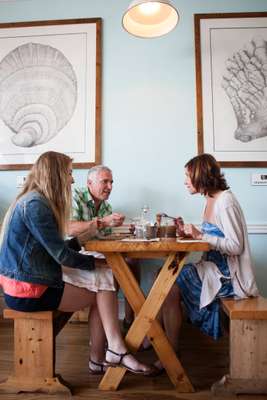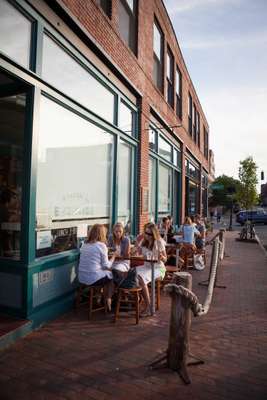 Hugo's stood next to a cookbook shop – one of the best in the world, says Wiley. "It was amazing," he tells us on a sunny morning in Portland. "We'd run out of the restaurant, dip in next door, flip through a cookbook and say, 'Oh, that's right, with agar!' and run back." When the owners of Rabelais Books decided not to renew their lease in March of last year, Smith, Wiley and Taylor (pictured above, left to right) took the opportunity to take it over and buy Hugo's, which Evans had been keen to part with for some time.
Three months later, Eventide Oyster Company opened next to Hugo's on the site of the bookshop. It was decided that Eventide's concept would be more casual than Hugo's (which the new owners vowed to keep unchanged): bar seating, no need for reservations and a menu that revolves around simple dishes. But an unusual set-up guarantees the two restaurants' cohesion: they share a kitchen. "When we first opened, our running joke was from Jaws, when they finally clap eyes on the shark and say, 'We're going to need a bigger boat'," says Wiley. The trio employs a total of 62 people, with the majority working at Eventide, open from 11.00 to midnight seven days a week.
Eventide focuses on seafood. The centrepiece of the space (and the menu) is the massive granite bed of oysters laid out on ice but few dishes rival the lobster roll, a staple of any Mainer's diet. The recipe for this sandwich stuffed with lobster and mayonnaise is traditionally simple but here it veers from convention – at the risk of angering a few locals.
"We're staying true to Maine history but we're also elevating it," says Taylor. Every morning, around 125 lobsters are delivered to the restaurant, a few steps from Casco Bay. Typically they're steamed or boiled but the cooks at Eventide blanch them for one minute, take the raw meat from the shells and use a special oven that combines steam and dry heat. The biggest change to the original recipe, however, is the bread. "Putting a lobster roll on a handmade steamed bun is definitely not tradition," says Taylor, who didn't like the mass-produced aspect of the classic toasted white roll. "They're still soft and sweet," says Smith, "but they're steamed to order so they're like warm pillowy clouds that just melt away."
The recipe, which tastes particularly good with a Bloody Maria, has ruffled feathers on the food scene; Eventide won the Editor's Choice award in website Tasting Table's Lobster Roll Rumble competition this year. It just goes to show that with a sprinkling of innovation, a local snack can become a universal classic.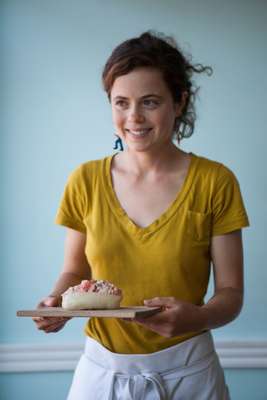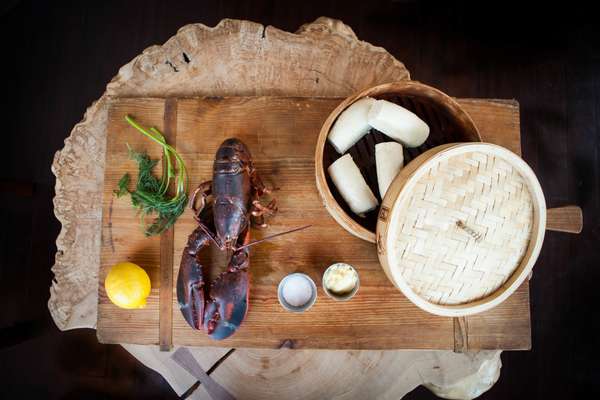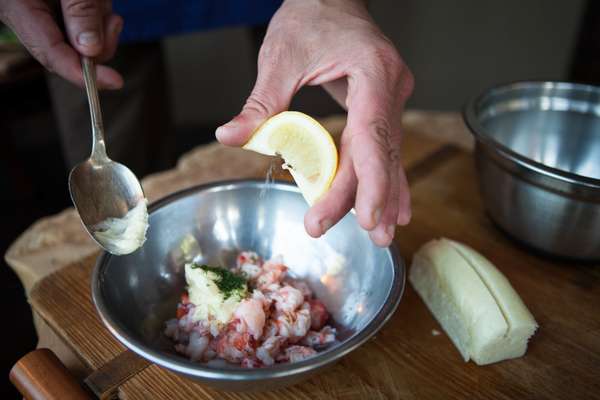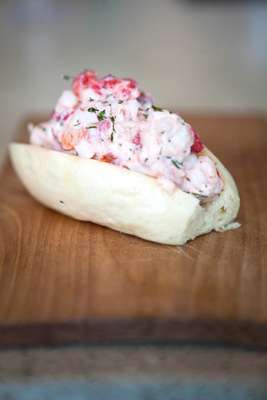 Lobster roll
(Serves 3)
2kg soft-shell lobsters
6 steamed buns (Chinese style)
Pinch of chopped fresh dill
Lemon
Sea salt
3 egg yolks
2 tbsps lemon juice
2 tbsps water
1 tbsp sugar
1 tbsp salt
500ml canola oil
The method
01.
Steam lobsters with sea water for 7 minutes, remove from steamer and chill in refrigerator until easy to handle.
02.
Remove meat from tail and claws and tear by hand into bite-sized pieces.
03.
Steam buns for 3 minutes until warmed through.
04.
For the mayo, mix egg yolks, lemon juice, water, sugar and salt in food processor. With the blade running, add oil in a slow stream at first and a heavier stream once emulsion is stable.
05.
Mix the lobster meat in a bowl with 1 tablespoon of mayo, dill, lemon juice and sea salt to taste.
06.
Heap lobster salad onto warm buns and serve (with additional mayonnaise available for those who want it).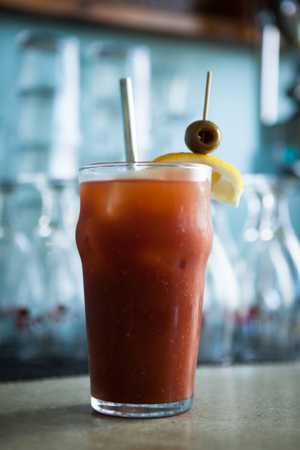 Bloody Maria
(Serves 2)
180ml tequila
440ml tomato juice
20ml fresh lime juice
10ml jalapeño pickle juice
10ml rice-wine vinegar
1½ tsps sugar
1 tsp horseradish
1 tsp Tabasco
½ tsp Worcestershire sauce
Pinch of salt, ground black pepper, onion powder, garlic powder
2 olives
2 slices of lemon, ice
The method
01.
Fill two pint glasses with ice, add 90ml tequila to each.
02.
Mix rest of the ingredients, stir and divide between glasses.
03.
Garnish with skewered olive and slice of lemon.