Electric bikes / Global
Power to the people
Innovative designers and visionary city planners are breathing new life into the much-mocked electric bike – today's power-assisted two-wheelers are hand-crafted, ultra-efficient, lightweight and, most important of all, chic...
Cycling is a simple formula – you get out what you put in. This said, a new generation of travellers are finding they can go further and faster on electric bikes, without breaking a sweat (unless they want to). Although the Chinese market accounts for 90 per cent of global sales while US growth remains modest, picturesque Zürich is a European oasis for an industry expected to be worth €8bn by 2020. The bikes' improving aesthetics, a cycle-savvy city hall and the city's strength-sapping topography are all combining together to help turn e-bikes from a two-wheeled faux pas to a mobility-must in this part of the world.
From boxy runarounds with afterthought motors and weighty batteries, the evolution of electric-bike design over the past five years is also due to increasingly discerning consumers. As older buyers become more design-conscious and the market reaches a younger audience, style as well as substance is coming to the fore.
"Consumers want a modern style or a retro style. They don't want something in between, where no-one's thought about the style," Hans-Jörg Dohrmann, chief executive of Swiss e-bike retailer M-way tells Monocle over coffee. Inside its well-appointed shop on Gotthardstrasse in central Zürich, M-way's young, button-bright workforce attests that e-bikes are no longer the jeered mobility-aid of years gone by but something altogether more fashionable.
Although overall bike sales in Switzerland fell almost 1 per cent last year, sales of the pushbike's electric alternative are gathering pace on Swiss streets. According to VeloSuisse, the association of importers and producers, sales of quicker models rose almost 40 per cent in 2012.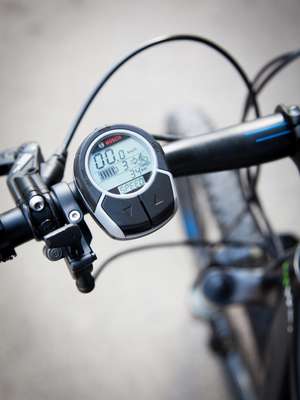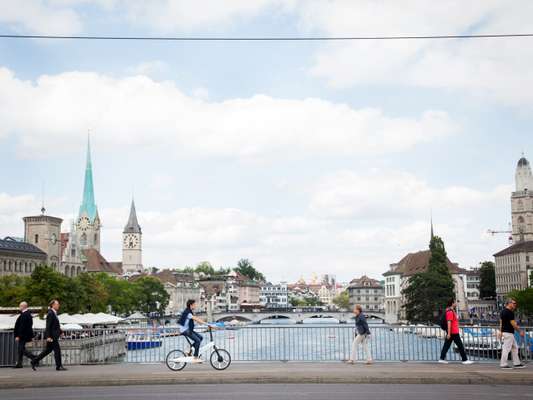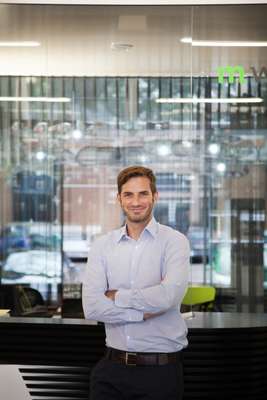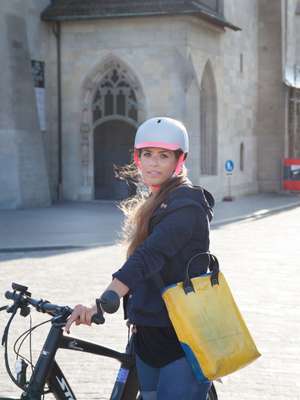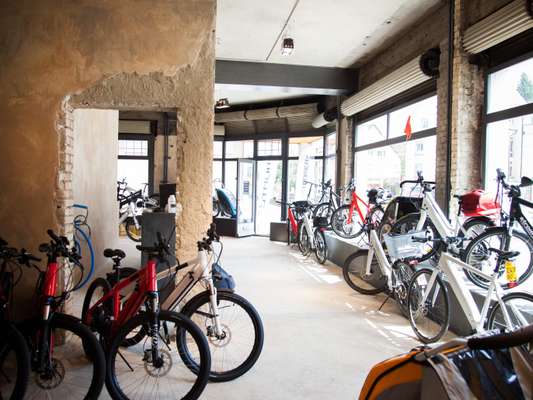 "Ten years ago only a handful of fanatical bike fans were interested," explains Roland Fuchs, the association's spokesman and 20-year veteran of the industry. "Today, e-bikes are sold into every social and professional stratum: older people, sporty people, business people, teachers and farmers. Nearly everybody seems to have an argument to ride an e-bike."
With a charging time of between two and three hours and only a couple of kilos extra weight in the form of a battery, the range of today's models is increasing and offers between 60km and 100km in assisted travel. Although Swiss legislation means you'll need a registration plate, mirrors and a helmet for bikes capable of exceeding 45kph, as well as any bikes with a throttle, pedelecs (electric bikes you pedal as normal but that use their juice to assist you) are Europe's most popular choice. According to Eurostat, pedelecs accounted for 80 per cent of electric bikes sales in Switzerland, Germany, Italy, Holland, Austria and France in 2012.
Working with universities around Switzerland, homegrown bike designers such as Flyer, Stromer and Stöckli are increasingly receptive to the demands of younger buyers, crafting more powerful bikes with integrated motors and longer battery lives. "Five years ago young people wouldn't ride an e-bike because they were horrible to look at," says Jean-Paul Slentner, the store manager of retailer Stromvelo's Zürich branch. He is a Dutch-born cycle enthusiast who moonlights as mechanic for the Swiss national cycle-cross team. "Nowadays, more brands have put the battery in the frame and the motor to the back. Now it looks like a normal bike."
The design of the city as well as of its bikes is making it easier to buy into the trend. Launched in November last year, a €44m cycle scheme from Zürich's urban planning department will work to reduce the city's traffic by 10 percentage points, expand bike lanes and reduce the number of parking spaces for cars by 2025. Even the city's mayor, Corine Mauch, is on board, using her city hall parking space for her distinctive red L-series e-bike from Swiss market-leader Flyer.
Although city officials are optimistic, they are also pragmatic about what it takes to make the city more accessible for electric bikes. "Two thirds of all residents own a bike but only one third use them regularly," says David Weber of the city's economic development department, from a riverside office inside the city's Stadthaus building next-door to the iconic Fraumünster church. "They're afraid of using them because they don't feel comfortable on the roads," he explains. This said, "there's a political will to create more spaces for the bike," Weber insists.
This political will, coupled with an increasingly sophisticated market for well-wrought electric bikes, is democratising the once-ridiculed mode of transport and making tracks that designers and other European cities would do well to follow.
Monocle comment: Some cities are easier to traverse than others and electric bikes are becoming a viable alternative to cars. Zürich is attempting to create a balance between polluting gas-guzzlers and these increasingly good-looking two-wheelers.
---
Despite popularity in China, innovators such as Korean firm Mando Footloose and British designer Gocycle are popular exports. In 2012 there were 180 million e-bikes in China, 390,000 in Japan and 200,000 in Switzerland. Just 80,000 were sold in the US.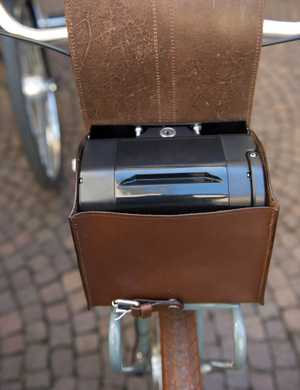 Bike maker 01
Velorapida
Milan
E-bikes' inability to make a good first impression was a problem Milan resident and avid cyclist Ludovico Santasilia (pictured far left) noticed in 2011 when his friend Alberto Bellotti showed up one day riding an expensive model whose design did little to excite.
"You could see the battery at the rear and cables coming out everywhere," says Santasilia. "I thought, why isn't it possible to find a technically advanced bike that is also beautiful to look at?" Soon Santasilia, a PR manager by day, and Bellotti, a property developer, began moonlighting as the owners of Velorapida.
Their goal was to make a next-generation bike with vintage styling that would turn heads and give riders a leg up when pedalling. "We found a father and son that run a bicycle workshop that's been in their family for a century," says Santasilia. "Within a few months they had built our first prototypes to test." The duo came up with a clever way to keep the 2.8kg battery elegantly under wraps: a hand-stitched leather pouch set in front of the handlebars. Santasilia is now stopped daily when riding his Velorapida bike around town. "The best part is when you show them the battery. No one thinks it's electric," he adds.
velorapida.com
Key design elements
01.
Traditional rod braking system relies on levers rather than cables.
02.
Steel frame covered with liquid paint that's lighter and gives a deeper finish than powder coating.
03.
Hand-stitched leather accessories and pouch
Bike maker 02
Faraday
San Francisco
A casual observer would probably have no inkling that the Faraday Porteur is an electric bike. Inspired in part by a delivery cycle dating from the 1940s or 1950s that one of its designers saw on a trip to Stockholm, it has a hint of vintage, with bamboo fenders and a luggage rack at the front. But a battery, computers and over 30 metres of cables are hidden inside the steel frame, and it boasts 24km to 32km of full-assist pedalling. "One of the reasons why cycling is much more popular is because bikes have gone back to a simple, timeless aesthetic," says Faraday founder Adam Vollmer, explaining why the San Francisco-based company chose to keep its technology invisible. "Electric bikes tend to lose that timeless simplicity."
Electric bikes have yet to win widespread popularity in North America and even when it comes to regular bikes, relatively few people use them to commute to work. In San Francisco, for instance, the figure is below 5 per cent, which Vollmer attributes to fear of traffic, hilly terrain and even worries over personal hygiene. "In the US people are unusually concerned about sweat," he says. An electric bike would address at least the latter issues, and perhaps the styling of Faraday's Porteur can help take them mainstream.
Priced at $3,500, the first orders from an initial offering of 200 are due to begin shipping this year. "I didn't start out as an electric bike evangelist," says Vollmer. "But I've seen the potential."
faradaybikes.com
Key design elements
The Porteur is lightweight at 18kg.
Lights turn on automatically and the electric motor is easy to operate. There is one master switch and a single control toggle.
"We built everything the bike needs into the bike," says Vollmer, and that includes a kickstand and the luggage rack.