Service / Global
School of thought
It's the considered and inspired extra touches of service that separate the merely good from the truly great and make bricks-and-mortar retail sing. From suit presses to gift wrapping, valets to clothes repair, Monocle attends to the best in retail hospitality and leaves with some lessons in courtesy.
We've all done it. Wandered into a bookshop, seen the one we wanted, and then headed home and bought it online for half the price. From food to clothes, music to holidays, why would anyone these days go into an actual, physical, bricks-and-mortar shop when it's so much easier – and cheaper – to buy what we want from the comfort of our own homes?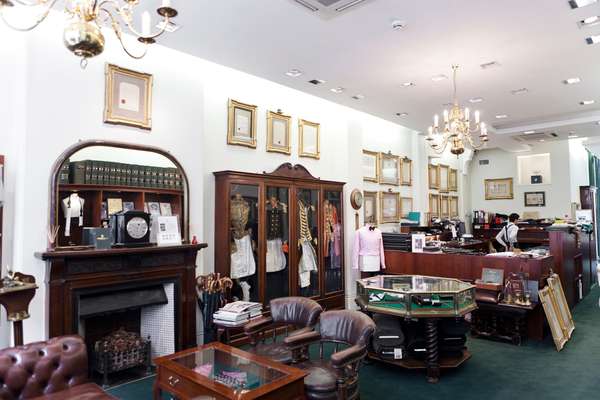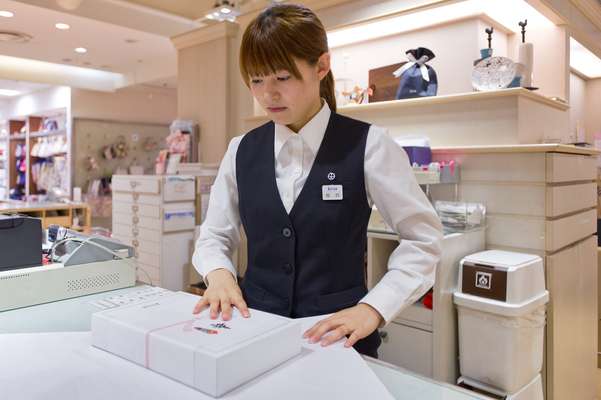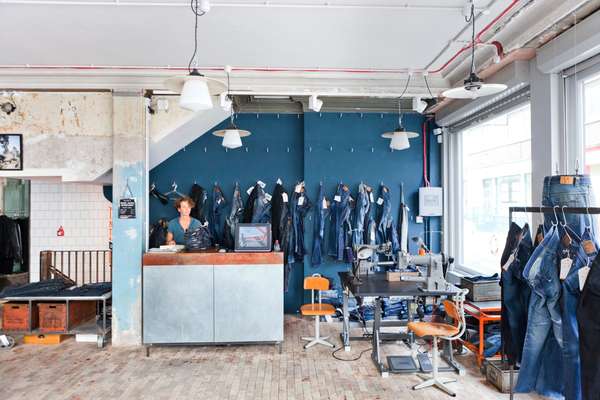 That's why service is so important. The shopkeeper who has been there for 40 years. The assistant who is genuinely enthusiastic about the items she's selling. The owner who will go above and beyond to make sure you get what you want – and will happily welcome you back if you've got a problem. Service is the reason retail still thrives – as these five companies demonstrate.
---
In an economy where consumption represents 60 per cent of GDP, there's no doubt Brazilians are big consumers. Yet as luxury sales develop, Brazil's consumers are unwilling to dig deep without the right service – from personal stylists to baby changing and diligent valets, people expect a high level of attention while they purchase.
Nowhere more so than JK Iguatemi, a bastion of luxury shopping in São Paulo and home to more than 200 stores such as Goyard, Jaeger-LeCoultre and Lanvin. Here, the squad of 18 employees that tend the valet parking lot are trained to park their clientele's expensive cars without touching the wing mirrors or adjusting the seat height – an annoyance for Paulistanos who so often entrust their beloved cars to a stranger.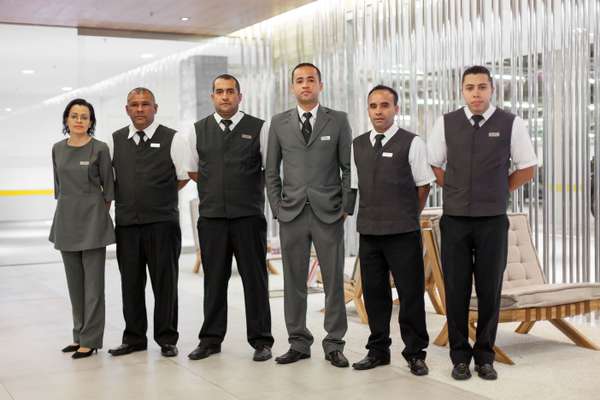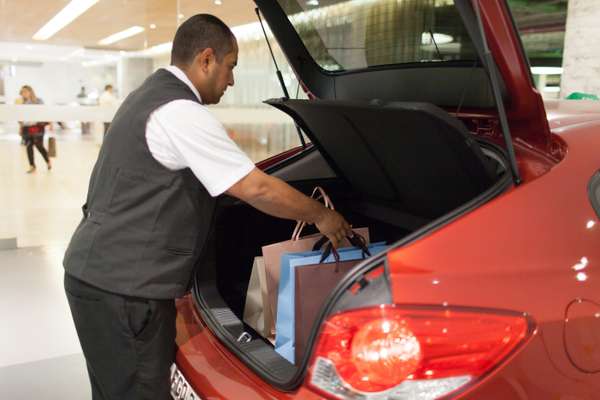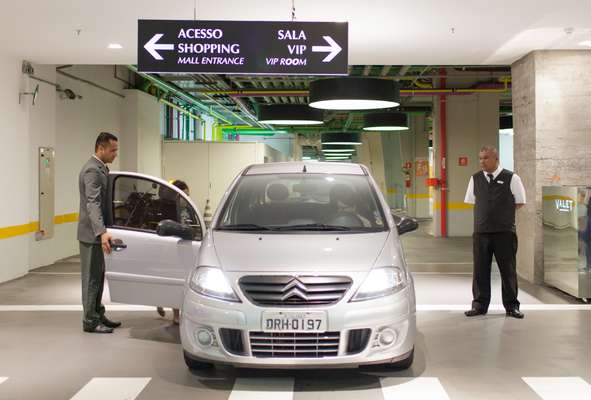 "The goal is to offer the maximum convenience to customers," says Fernando Bonamico, general manager of JK Iguatemi. "Our valets are able to drive all types of cars and are trained to be always available to assist our clients."
Every aspect is designed to make the process of collecting a car seamless. The lot's marble-floored waiting room provides a chic place for customers to while away the time it takes for their car to be delivered. (The price: €5 for the first hour, plus €3 each additional hour.)
Staff are smartly dressed and happy to whisk multiple bags into the trunk, while a complimentary bottle of water and magazine are left in the car. It's the little treats that make all the difference.
jkiguatemi.com.br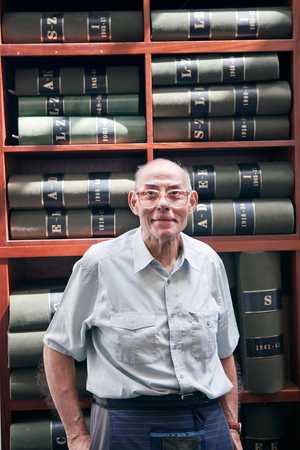 No matter whether your preference is for Japanese, Italian or English tailoring, it is a challenge to look after suits. Dry cleaners all too often ruin them with heavy chemicals and excess heat, creating a dull shine to the cloth. Far better is a good sponge and press every few months.
At Henry Poole, one of the original bespoke tailors on London's Savile Row and the company credited with the invention of the dinner jacket, customers are encouraged to bring clothing back for a clean and press for the lifetime of a suit. Director Craig Featherstone explains that pieces are constructed to curve around the body and flatter the wearer – a quality lost when stamped flat in the industrial presses used by most dry cleaners. "To maintain the character, a little water and steam is used to clean and reshape by hand, getting things rolling where they should be. You then dry it off with a heavy iron to keep the contour."
"A suit can be beautifully made but if you don't have it pressed correctly, it can be ruined," adds Featherstone. "Similarly, an average suit can be pressed into looking a million dollars. It's quite a skill." Indeed, Poole's presser (pictured) has been doing this job for almost 60 years.
Henry Poole has customers bringing in pieces that have been handed down through generations to be pressed into shape or for alterations. "There's no question that the suits are an investment," says Featherstone. "Offering this service along with building an understanding between cutter and client is how you make sure someone will be with you for life."
henrypoole.com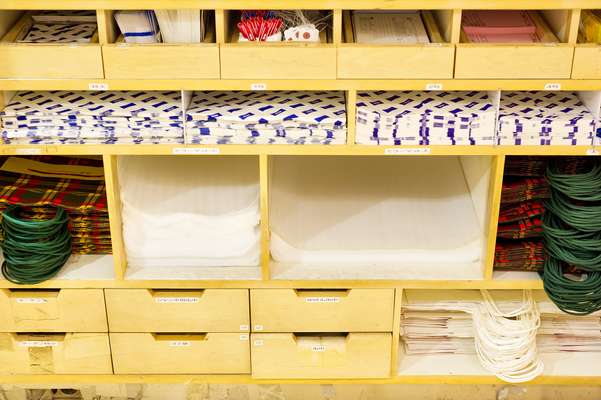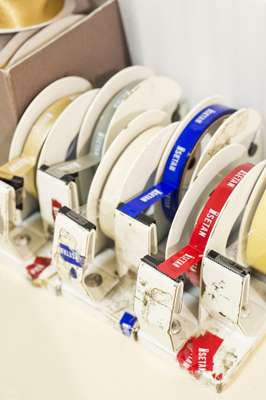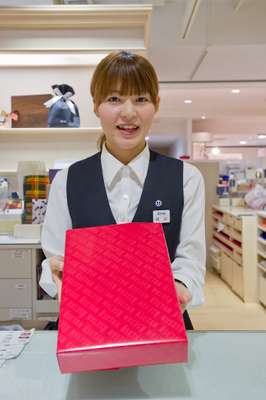 In Japan's retail sector, free gift-wrapping is the norm. And it's not a custom taken lightly. At Mitsukoshi and Isetan, two of the biggest names in the country's department-store business, every new employee is put through a gift-wrapping masterclass: a 90-minute course on basic techniques. "It looks easy but for anyone who has never done this before it can be hard to keep up," says Rei Mori, who heads staff training at Tokyo-based Mitsukoshi-Isetan Group, which owns the shop chain.
The company's basic rules for wrapping are spelled out in a 19-page manual. Staff are told how to pick one of eight sizes of wrapping paper, where to place the box on the sheet, how to fold precise corners and how to tie a bow so the store logo faces right-side up.
The perfect wrapping job? "It's performed quickly, there's no slackness in the paper and there's one small piece of tape bearing the store logo," says Mori. If that seems specific it's because Japan's gift-giving rituals date back centuries. Despite increasing concerns about waste the custom is hardly dying out. "One of the reasons consumers buy gifts at department stores is their purchases come in wrapping paper and a shopping bag with the store's logo," says Mori.
isetan.co.jp mitsukoshi.co.jp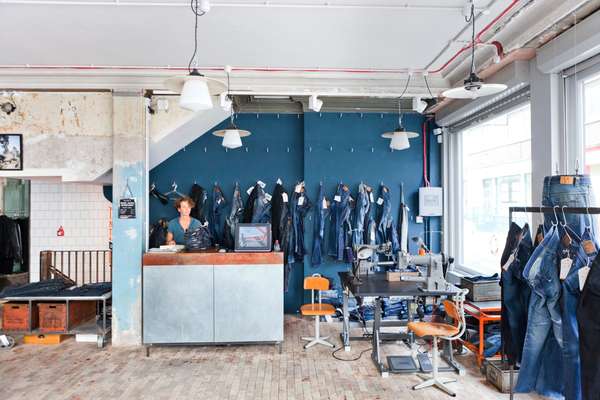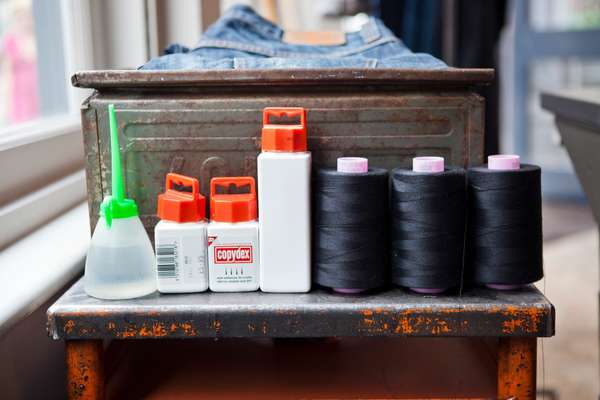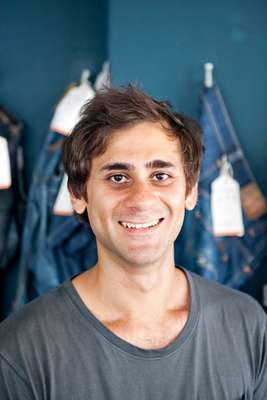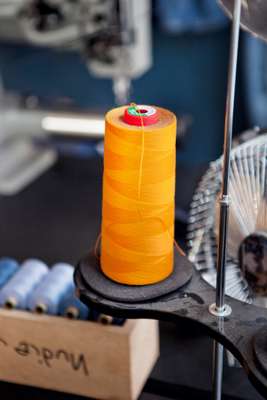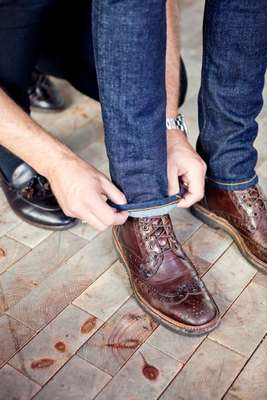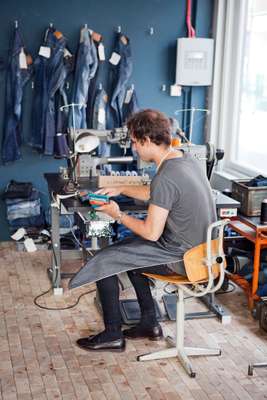 Even since Gothenburg-based Maria Erixon Levin founded Nudie Jeans in 2001, the fashion brand has set out its stall as a purveyor of hardy, responsibly sourced clothing.
Its latest venture takes this transparent ethos to new levels. Launched this summer, its Repair Shop is set over two floors in London's Soho. From a wayward hem to an unsightly tear, the shop gives new life to jeans by offering on-the-spot repairs. "The great thing about the [repair] service is that we can show our customer we don't want anything from them," says shop manager Suleman Butt (above). "We care about them and want to ensure that they can trust in our product."
The space itself embodies the company's commitment to recycling. Designed by Swedish architect Ida Johansen, everything from its exposed Victorian plasterwork to the salvaged lighting and painstakingly laid Swedish pine floor (made of more than 2,000 wooden blocks) sends a strong message about sustainability and the value of products that improve with age and wear.
Manufactured in the Umbria and Marche regions of Italy and also in Ras Jebel, Tunisia, Nudie's jeans are a call to arms for conscious consumption. Its repair service extends this responsible attitude to its customers. "The business is always important, but we would never try to make money in a way that would give us a bad conscience," explains UK account manager Anton Melin. "We have our core business selling jeans and this gives us possibilities to pursue our social projects."
nudiejeans.com