Art Market / Global
Art Market
Briefing
A new gallery for installation artists in Auckland, a post-war art sale in Stockholm and an interview with collector Nicoletta Fiorucci.
Well hung
Installation nation
Auckland
[GALLERY]
Hopkinson Mossman occupies two crisp white rooms in a 1960s warehouse in Auckland's Arch Hill suburb. Co-director Sarah Hopkinson (pictured above left) opened the gallery just three years ago. Since then the space has come to define a young, shifting group of contemporary New Zealand artists with an interest in installations – including Peter Robinson (whose "Acktion" sculpture is shown above right) and Andrew Barber who, as of 18 October, has painted the floor of the gallery in a sort of seascape, accompanied by semaphore flags.
"The timing just felt right for some of the artists that I wanted to work with," says Hopkinson. Key to that is a determinedly international outlook. "There's a way for a New Zealand dealer to be international in a way that hasn't really been done before," she adds.
Hopkinson and the gallery's co-director Danae Mossman – who joined last year after many years at London's White Cube – work in an intensive, collaborative way with a small stable of artists. "We try to help the artists make the work they want to make," says Mossman.
"Everything else fits around that." Hopkinson adds, "It's more like an agent relationship. We're involved in every part of their career."
After Andrew Barber, an exhibition of digital prints by Dane Mitchell will be on display at Hopkinson Mossman from 22 November to 21 December.
hopkinsonmossman.com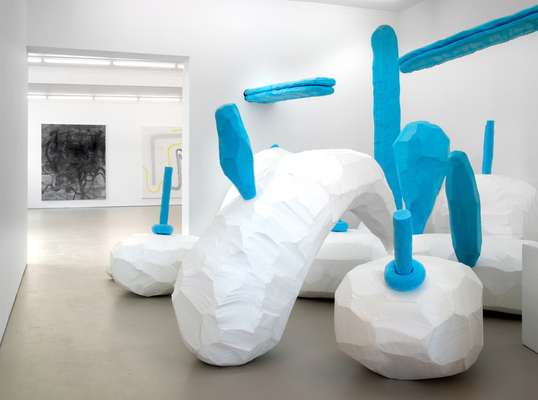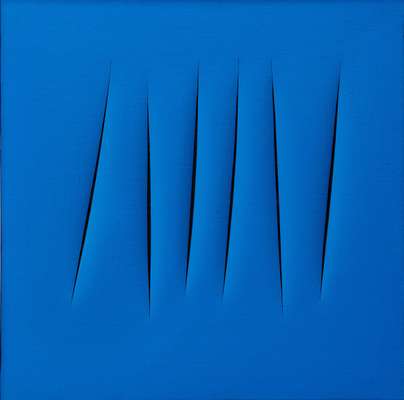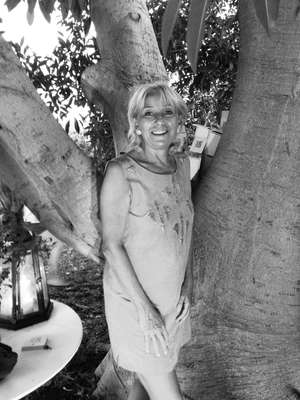 Q&A
Nicoletta Fiorucci
Fiorucci Art Trust
London
Nicoletta Fiorucci, an Italian collector now based in London, is founder of the Fiorucci Art Trust, which promotes contemporary art in locations ranging from the UK to the island of Stromboli, north of Sicily.
What's the role of the Fiorucci Art Trust?
I've been a collector for many years and I could buy, buy, buy but it's not a complete relationship with art. The trust organises a summer of events – Volcano Extravaganza – in Stromboli and supports organisations in London such as Gasworks, Studio Voltaire, Chisenhale Gallery and Serpentine Gallery. This year in Stromboli, Lucy McKenzie curated the summer with Milovan Farronato. The year before it was Nick Mauss. We offer the artist space, travel expenses and food, and don't ask anything in return. All the events are free and open to the public.
Is collecting all about business?
No. I don't think of it as business. I think it's quite an illusion to think the value of a work will increase in the future because someone had a show here or there. These stories around pieces are interesting but they're not reliable. For me, collecting is a way of life and my personality evolves with it – it's my identity.
What inspires that approach?
It's the same as for objects in daily life. We are about to enter into a period where we cannot consume so much because the planet's resources are limited. We have to learn more from experience than physicality.
For artists, performance art is becoming more and more popular as it creates emotional experiences and provokes strong reactions in viewers. If you talk to artists such as Tino Sehgal, who won the Golden Lion at the Venice Biennale, they don't want to merely produce objects. We either listen to their ideas or art just becomes decoration.
fiorucciartrust.com
---
The art of war
Stockholm
[AUCTION]
Stockholms Auktionsverk
12 November
Founded in 1674 by the governor of Stockholm, Baron Claes Rålamb, Stockholms Auktionsverk predates more recognisable names such as Christie's and Sotheby's. On 12 November, the auction house holds its seventh contemporary auction with almost 600 post-Second World War art and design works from around the world.
"The interest in contemporary art has grown these past years," says Sofie Sedvall, Stockholms Auktionsverk's curator of modern art and photography. Last season saw American photographer and director Cindy Sherman's "Untitled Film Still #24", in which she photographs herself personifying the image of the modern city girl, sold for SEK640,000 (€74,111).
Helping draw in art connoisseurs to this month's auction is Italian avant-garde painter Lucio Fontana's "Concetto Spaziale, Attese". Sedvall expects it to fetch up to SEK10m (€1.16m).
auktionsverket.com
"Nelson Mandela"
Hans Gedda, 1990
Gelatin silver photography
Estimate: SEK300,000 (€34,750) to SEK350,000 (€40,535)
"Concetto Spaziale, Attese"
Lucio Fontana, 1968
Waterpaint on canvas
Estimate: SEK8m (€930,000) to SEK10m (€1.16m)