Culture / Global
Culture
Briefing
Music, books, films and exhibitions to watch out for plus an interview with doc maker Sebastian Junger.
Graphic novels
The Encyclopedia of Early Earth
Isabel Greenberg
There's much myth and magic in the pages of this colossal work of illustrated fiction that riffs on the style of the epic: Norse legend, Greek mythology, the Bible, Steinbeck. Taking stories that appear familiar and then giving God the head of a bird might sound like too much Pharaoh-fancying, but Greenberg's words and pictures sparkle with so much arched-eyebrowed wit, we're dissolving the monasteries as we write.
Fiction
Hello Mr Bones/ Goodbye Mr Rat
Patrick McCabe
McCabe is pretty bloody horrible. Here he is, pulling out the nasty stops for a vaguely Halloween-ish double-biller chiller about a thoroughly contemporary couple who unleash absolute evil, and a tale told from the point of view of a deceased IRA bomber watching over his American ex-lover as she travels to Ireland to scatter his ashes. Take a deep breath, go without lunch; enjoy.
Travel
An Armenian Sketchbook
Vasily Grossman
Written two years before his death, Jewish-Russian novelist Grossman's last book is a travel memoir as he journeys through Armenia to edit Rachiya Kochar's war novel. Spontaneous and candid in tone, An Armenian Sketchbook is as much about the host country as it is a self-portrait of a man well aware of his own mortality.
Culture
The View from the Train
Patrick Keiller
Keiller is best known for his Robinson films – those psychogeographic tours with the unseen urban wanderer. This book is a collection of essays from which much of Keiller's creation gets his wonderful shtick on cityscape, politics, architecture and the art of the perambulatory fugue. "The View" marks everyday spaces as worthy of moment and monument beautifully; I just wish Keiller, the world's most lively urban thinker, did more.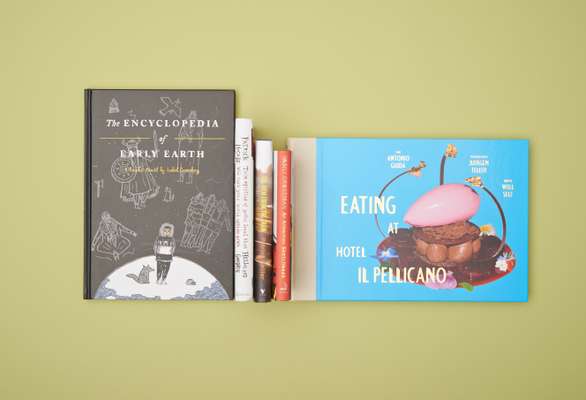 Restaurants
Eating at Hotel Il Pellicano
Juergen Teller/ Will Self
That old joint's plumped its pillows, ironed its napkins and lent two arch chroniclers of wasted glamour keys to its best suites and seats at its groaningest table. Of course it's hagiography, in Self's hungry prologue and Teller's technicolor-porno food snaps, but such a lush treatment of lushness also makes sense: why be ironic all the time? I'd like to see more heiresses slurping negronis poolside but these actual dolcis stay sweet all the same.
---
On record
Sounds from around the world
CATE LE BON's newest and dearest, named MUG MUSEUM for its hominess vibe, is the essence of the season in which it is released: the mellow fruitfulness of autumn is in abundance (despite being cut in ever-summer LA). There's a bittersweetness and an addictive accessibility to these 10 tracks that put you in mind of Karen Dalton or Sandy Denny. This is a classic in waiting.
BACK TO LAND is just what this percussive, rootsy yet psychedelic slice of magpie-eyed wonder from WOODEN SHJIPS sounds like – if, that is, that ground is strewn with lost jewels, lucky-dime guitar picks and exotic tail feathers. Feedback, ancient echo and a lazy Hammond make for a brooding, beautiful, be-fuzzed soundtrack to some sort of late, great American road movie. I love it when a plan comes together: Matthew Caws (of Nada Surf) and Juliana Hatfield (of, well, Juliana Hatfield) – two of the quieter heroes of indie Americana – have high-fived for long enough to make a wonderful thing. As MINOR ALPS, GET THERE is a guitar-driven, hook-laden, his 'n' her's harmony-drenched stormer that's that perfect kind of American record: where plaid meets biker jacket. Bliss.
When is a MIDLAKE not a Midlake? When the former singer and lead songwriter quits. And yet ANTIPHON, new from the Texan four-piece, is a lovely piece of work that lacks a little of the gauzy-prog influence and madrigal magic of the earlier records but gains a rockier edge that might just propel them into, if not the mainstream then the um, midstream.
---
Q&A
Sebastian Junger
Film director
London
War photographer Tim Hetherington died covering the Libyan conflict in 2011. In Which Way Is the Frontline From Here?, Sebastian Junger – who co-directed the documentary Restrepo with Hetherington in 2010 – draws an intimate portrait of the man, the artist and the friend behind the camera.
When and why did you decide to make this film?
I wanted to answer my own questions about why and how Tim died. More importantly, I realised he was no longer around to affect the world in his incredible way and that the next best thing would be for someone to make a film about him so at least that could continue affecting the world in his place. Tim was much more of an artist than he was a hard-news reporter. So I also wanted to give people a glimpse into his working process.
Is making a documentary about a close friend who has died much harder than treating any other topic?
The grieving process has its own pace and I don't think you can slow it down or hurry it. As a war reporter, I'm used to treating very upsetting topics and that means shutting off your emotions completely when needed. So I was able to toggle back and forth between my very real feelings of grief and my professional mindset.
It seems like you also wanted to tell the story of your friendship in the film.
His death got me out of war and, theoretically at least, might have saved my life. I wanted to acknowledge that. Tim never made the decision to stop reporting wars. I think he hoped that at some point in his life he would be able to stop. I was supposed to go on assignment with him in Libya but I had to pull out for personal reasons. Moments after finding out about his death there, I decided that I would not go back at all.