Greenland / Global
Shock and ore
What lies beneath the surface of Greenland could bring enormous wealth to the island. But it threatens both the traditional way of life and the centuries-old link to Denmark.
From the windows of the prime minister's residence, an imposing wooden house in the picturesque colonial harbour of Nuuk, two possible futures for Greenland can be seen. The view from the living room shows large chunks of turquoise ice floating down Nuup Kangerlua, the Nuuk fjord. Boats return home carrying seals, redfish and whale. At Kalaalimineerniarfik – the cutting house – a few blocks away, workers wait for the fishermen and listen to the Sunday church service on the radio. This is traditional Greenland, an economy reliant on fishing and bolstered by Danish aid.
From the back of the house, the new Nuuk skyline, made up of grey and white high-rises dotted seemingly at random along the coast, stands against a majestic backdrop of snowcapped mountains. Beneath those mountains and beyond lie mineral riches and the possibility of a new Greenland.
This vast island of just 57,000 people is at a crossroads. With the ice caps melting, Greenland's once inaccessible natural resources are suddenly attracting investors. Mining and oil could bring great wealth to the island but they could also put the age-old Inuit lifestyle at risk and break the formal link with Denmark.
Aleqa Hammond, Greenland's new prime minister, knows exactly which direction she wants to take the island. Greenland needs independence – and mining. "If we want economic independence from Denmark, our economy can't be based on fisheries alone," she says.
The election in March came down to two interlinked questions: should Greenland allow foreign mining companies to start digging in its ground, and should the companies be forced to pay higher royalties to the local community if they find riches under the ice? Hammond says yes to both – and her country backs her.
In recent years, every Greenlander has come to know that the island, roughly 80 per cent of which is still covered with ice, holds some of the most coveted natural resources in the world. Scientists have identified several major sites that contain valuable rare earth metals, used in computers, flat-screen televisions and smartphones. At least one site contains large quantities of iron ore and off the coast companies are drilling to find oil and gas. While all of these opportunities are currently only just that – opportunities – they are the best chance Greenland has ever had of becoming economically and politically independent from Denmark.
The promise of money is an attractive one in a country that doesn't produce enough of anything to support its population. Greenland, an autonomous country within the kingdom of Denmark, receives an annual subsidy of nearly dkk3.4bn (€456m) from Copenhagen that makes up about half of the government's overall budget.
But while many Greenlanders dream of a wealthy future, a host of problems still remain. With no roads connecting the towns and only small harbours, Greenland is a logistical nightmare – and with a tiny, poorly educated population, it hasn't got the workforce to operate state-of-the-art mines and oil rigs. Workers would have to be brought in from abroad and that would change the nature of this sparsely populated Inuit community.
Hammond has been living in the official residence since March, when she was elected prime minister. Originally from a small fishing village but educated as a teacher in Canada, she considers herself to represent "the new generation of Greenlanders". Her politics is certainly new. She is the first prime minister in the country to have introduced the idea of lifting Greenland's zero-tolerance policy on uranium – a question of crucial importance to Greenland's mining hopes. At one of the major rare earth sites, the metals are mixed with uranium, and unless the ban is lifted, mining companies can't start digging.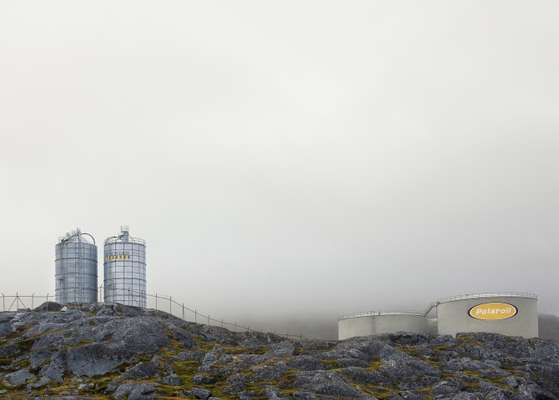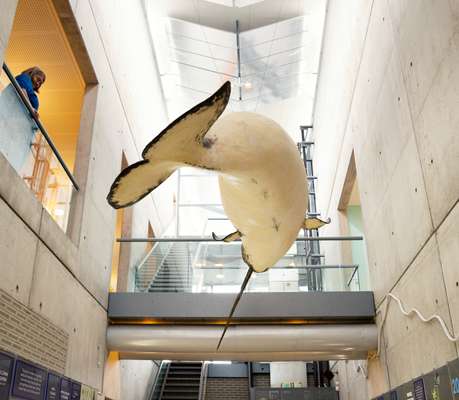 monocle meets the prime minister on a Sunday, when she's just back from a brunch with the family at Nipisa, a restaurant that uses only Greenlandic ingredients in its cooking. It's her last free weekend with her three children before the autumn session kicks off at the Inatsisartut, Greenland's parliament; but her mind is already on her opening speech. "Usually, the prime ministers have addressed the members of the parliament but I'm going to do it differently. I want to address the people. I want to talk about nation building," she says.
Hammond's bullish stance on mining, while popular, has prompted debate throughout the island. Some think lifting the uranium ban is going too far and putting Greenland's unique nature, along with its people, at risk. Others worry that the demand for higher royalties might scare off international mining companies such as London Mining, a UK-based company that has long had plans to open a large iron-ore mine in Isua right at the edge of the ice cap, just 150km northeast of Nuuk.
Hammond disagrees. "Royalties are the natural way to go. Some people say we shouldn't demand so much of the companies if we want their investments. But the owners of these resources are the people of Greenland."
London Mining's financiers have been said to include Chinese investors, which has caused worry among some Greenlanders. Even if the company itself says that it's too early to talk about the nationality of any investors or construction workers, rumours run wild from the southern tip of the island to the iciest north, with locals imagining armies of Chinese workers working in Greenland under Chinese wages and conditions. Hammond believes there is no need for concern.
"We're only 56,000 people. I know half of them by name. If mining companies come here, they will need foreign labour. But whether they're Chinese, Polish or Danish, they need to obey the law. Our labour unions will be included in the wage negotiations," she says.
Hammond herself seems to be more occupied with Denmark's possible involvement in Greenland's new plans. She doesn't want the politicians in Copenhagen standing in the way of lifting the uranium ban. While the autonomous Greenland has the right to decide on almost all its own matters, the Danish government still retains control of foreign affairs, security and the justice system.
"Denmark says that the question of uranium goes under Danish jurisdiction. I say no, it doesn't. All natural resource questions belong to Greenland. I want a further discussion about this. When Denmark says it's a question of defence and security, I want a clearer definition of defence and security," Hammond says.
On the other side of town, in an area that's still under construction, rain has made the ground muddy. TV journalist and activist Jørgen Chemnitz sits in his office, smoking mini-cigars while waiting for the rain to stop before he leaves for the day. Chemnitz, who was born here but moved to Denmark at 13, returned to his roots 10 years ago.
He seems to have brought a bit of hip Copenhagen along with him to Nuuk: while others here decorate their offices with traditional Inuit tools, statuettes and maps of Greenland, Chemnitz has surrounded himself with kilim rugs, rattan armchairs and tasteful black-and-white photographs. Today, he's planning a demonstration for the parliament's opening day, and shows us images he has made on his laptop. They liken Aleqa Hammond to a Duracell rabbit. "She's charismatic and outspoken, but she just goes on and on, never stops," he says.
According to Chemnitz, Hammond has given Greenlanders false hope – both when it comes to future profits and independence. "The new government created panic among the mining companies. If you're about to invest around $2bn [€1.48bn] in a project, you want political stability. But the new government wanted to raise royalties. So the companies said, let's wait and see," Chemnitz says. But while most Greenlanders welcome at least some mining, some of them would rather see all the multinational companies leave. One of them is Aqqaluk Lynge, chairman of the Inuit Circumpolar Council. Gazing towards the mountains outside his office window on the outskirts of Nuuk, he asks, "Would you want to have a uranium mine where you live?"
As he moves his hand across a map of Greenland, Alaska and Canada, he says that fishing and hunting are the Inuits' way of life – and should continue to be. "We're fighting the climate fight and the culture fight. The fishing industry is based on our people, on our knowledge. Knowledge that's been passed on from father to son. If the oil companies arrive, we'll soon be finished. We'll be a minority in our own country. People here have a choice and I think the people should say no," he says.
Sara Olsvig, a local politician who is a member of both the Danish and the Greenlandic parliament, is another critical voice: "The planned uranium mine would be in an area where we do our only sheep herding, our only vegetable growing. And they want to dig an open uranium pit in the middle of that?"
However, she welcomes the project developed by Tanbreez on a site that contains no uranium, just rare earths, saying that Greenland has to find some kind of new income. If the country doesn't reform its welfare system and the fishery-based economy, its budget will be shrinking every year.
"I have a seven-year-old daughter. Of course I want a good school for her. Of course I want a good healthcare system. The key issue is that we do this in the proper manner. Democratically and responsibly towards the environment."
Anyone arriving in Greenland is struck by its beauty. The white snow, the ice that glistens in hues of blue, white and grey, the peculiar patterns in ice-free areas you see from the aeroplane, indicating that there is permafrost hidden underground.
But when you read the local newspapers, it's difficult not to worry for its people. Families with small children are leaving because the school system isn't up to scratch. The amount of sexual assaults is 15 times higher than in Denmark. Average unemployment is 10 per cent. Where will Greenland be in 20 years' time?
Poul Krarup, editor of the local newspaper Sermitsiaq (named after Nuuk's highest mountain) is optimistic. "In 20 years, Greenland will be industrialised. I don't think we'll have oil. But I see a prosperous mining country. I hope more people will move in. I hope we'll have a higher level of education and better infrastructure. I hope we'll be more independent, and that we won't need the subsidies from Denmark any more," he says.
Krarup, who's Danish but moved to Greenland 30 years ago, says the country will be changing no matter what. Its people, while living in remote areas, are in many ways like everyone else in the Western world. "We have people living here and these people want to be part of the modern world."
To Aleqa Hammond, that scenario is exactly as it should be. "This will change us. It will change our labour market and it will change us culturally. We'll be negotiating with new countries. We'll have a new view to the outside world and to ourselves. All this will have a strong effect and we need to be prepared," she says.
There is weekly hand wringing in the Danish media and in parliament about the exploitation of Greenland's minerals. It is understandably galling for the Danes to watch as a former colony – one which consumes billions of kroner of their public money, as it has done for many decades – discovers the riches of Croesus beneath its soil and it's unlikely the Danes will share in the bonanza.
However, the Danes are wracked with post-colonial guilt and reluctant to interfere in internal matters, despite the fact Denmark still controls Greenland's international relations and defence. There are also the environmental issues awakened by the Greenlandic mineral rush: the Danes are vigorous finger-waggers about such matters. Also perhaps, they can't bear to see all that wealth slipping through those same fingers. "China doesn't love you for who you are," the spurned lovers in Denmark warn Greenland. "They just want to use you up and run off with your savings."
Uranium is the latest talking point, a potential by-product of the Kvanefjeld open mine in the south. It is illegal to mine uranium in Greenland but the deposits are of such a scale that they could single-handedly rescue Greenland's economy.In the wake of Fukushima the price of uranium has plummeted. Greenland, and Denmark, are looking closely to see how Japan deals with its nuclear dilemma.
Greenland was discovered by Inuits more than 4,500 years ago. It was colonised by the Danes in 1721 and granted home rule in 1979, later replaced by the Self Rule Act in 2009.
Greenland is the world's largest island but despite the way it looks on the map it is 14 times smaller than Africa. Blame Mercator for that one. Greenland has its own flag and issues its own stamps, featuring – and this won't surprise you – pictures of icebergs and scenes from the country's mining history.
Average life expectancy in Greenland has risen from 50 in the 1950s to 67 today but it's still far below Denmark's 78.The ice cap covers around 80 per cent of Greenland and is up to 3km thick. Greenlanders make their own ice cream and sorbet, using the inland ice. Greenland boasts 14 airports, 37 heliports and seven ports. Not many roads though.
In the far northwest of the island lies Thule, a US airbase kept far away from prying eyes. Around 600 personnel are believed to be based there – a mix of American and Danish.
The base hosts the 12th Space Warning Squadron, a team that operates an early warning system designed to track ballistic missiles launched against the US. Until recently, the Americans pretty much had Greenland to themselves. China's growing mining interest has not gone unnoticed, particularly given China's increased diplomatic presence elsewhere in the Arctic.
With a small population of just over 57,000, 16,000 of whom reside in Nuuk, you might be surprised to find Greenland has such a diverse – and potentially conflicting – group of people making a living there.
The fisherman
The fellow in yellow hoping his industry is going to survive. Half the economy is based on fishing with cod, halibut and salmon among the biggest earners.

The miner
A relatively new arrival on the island; still adjusting to the cold and not looking forward to the dark of winter. Possibly British, maybe Chinese.

The Inuit campaigner
Constantly worried about the possible disappearance of the Inuit way of life and environmental issues. Fishes and hunts, but is not so keen on mining.

The dogsled patrolman
An invasion of Greenland is unlikely, but someone has to patrol an area of 160,000 sq km. The Sirius Sledge Patrol team is made up of 12 men and many huskies.

The independence campaigner
Tends to think the potential influence of foreign mining companies is less paternalistic than the current influence of Denmark.