CBC North / Global
The north lives here
The intrepid team at Canadian radio and TV service CBC North report on everything from whale hunting to minus 40C weather conditions. Monocle braves the harsh terrain to meet them at their headquarters in Yellowknife.
As the plane descends over the sun-glossed surface of Great Slave Lake in September, the scenery of spruces, endless water and rock stretches out for as far as your eyes can see. "Welcome to beautiful Yellowknife!" an overexcited air hostess announces in the midst of the "oohs!" and "ahhs!" of passengers. Less than a month from now and we would have been welcomed by snow and ice.
Set amid Canadian wilderness, 400km below the Arctic circle, Yellowknife is the largest city in the far north of the country. Here winters are harsh, summers alluring yet brief. The 20,000-strong capital of the Northwest Territories (NWT) is mostly made up of miners and government workers. It is also home to the CBC North services.
"Wintertime you can't drive much further north from Yellowknife," says Janice Stein, our host and CBC North managing director, upon our arrival at the station's headquarters on the outskirts of the town. "We only fly up north from here – that's the only way to commute when temperatures fall below minus 40c." She's quick to kill our romanticised expectations of journalists getting around on a husky sledge."And we don't live in igloos," she adds.
CBC North has been in Yellowknife since the late 1950s. Today it covers the area of the three northern territories of Yukon, Northwest Territories and Nunavut and caters to just over 100,000 viewers. CBC North carries daily TV and radio programming in English, French and eight aboriginal languages. Besides the primary production centre in Yellowknife there are additional offices in Yukon's Whitehorse and Nunavut's Iqaluit.
The 1970s purpose-built Yellowknife headquarters are now home to one TV and two radio studios, accommodating a total of 60 full-time staff. On the day of monocle's visit, reporters and producers are working on the editorial floor under colourful Inuit-inspired banners that hang from the ceiling, clearly indicating specific departments: Current Affairs, News, Television.
"The north is a hot spot for career advancement. The advantages of going to a smaller station are that you get to do everything – reporting on breaking stories, writing your own script, producing news bulletins. In the end you get a broad range of experience and expertise," says Stein of her young staff. "Sometimes we receive 50 to 60 applications for one opening – ranging from college graduates to more experienced staff within CBC. Usually these are two to three year-long placements, then reporters either move on or fall in love with the North and stay," adds Stein, who moved to the city in 2011 after spending six years as a managing editor of the CBC office in Newfoundland and Labrador.
"When you come up here there is an opportunity to travel, to explore places you never thought you'd go to," says radio presenter Loren McGinnis, who hails from North Vancouver. "I always wanted to live up north and Yellowknife is still quite accessible." McGinnis's show The Trailbreaker airs every weekday from 06.00 to 08.00 and has covered everything from cultural appropriation to pollution from Alberta's oilsands. "Working here is a bit like being a foreign correspondent: you travel a lot and you work in a multicultural society, both story and language-wise."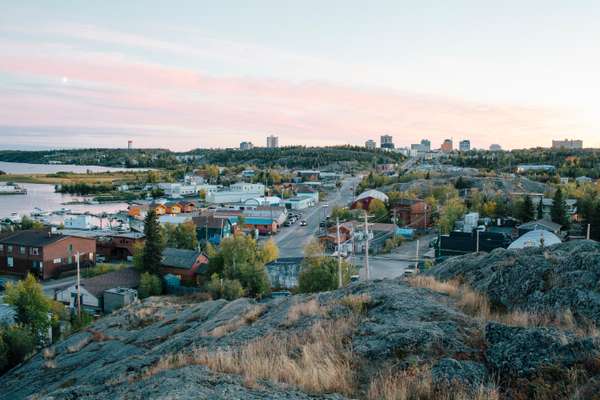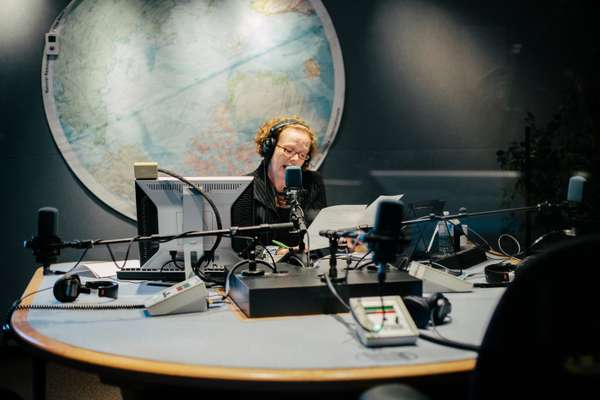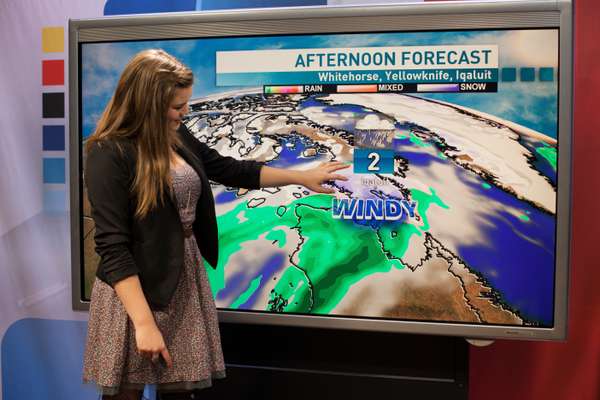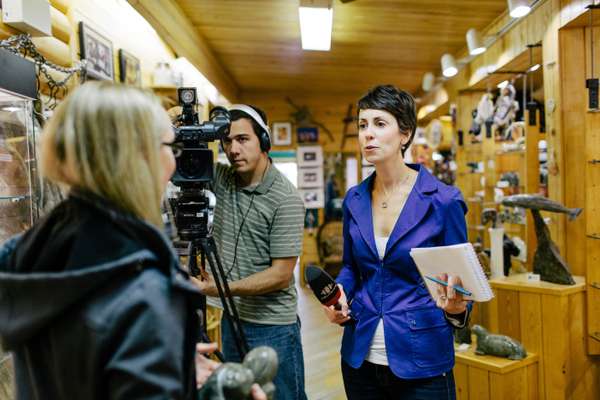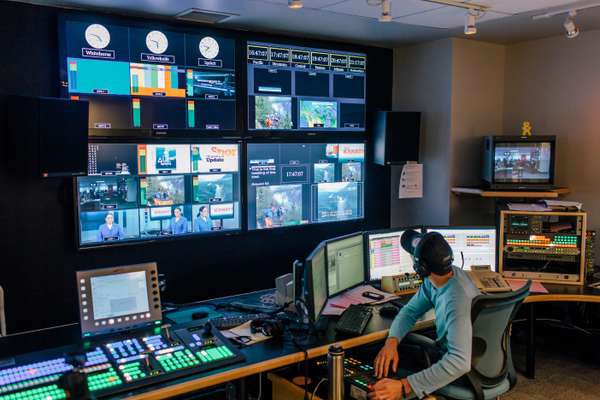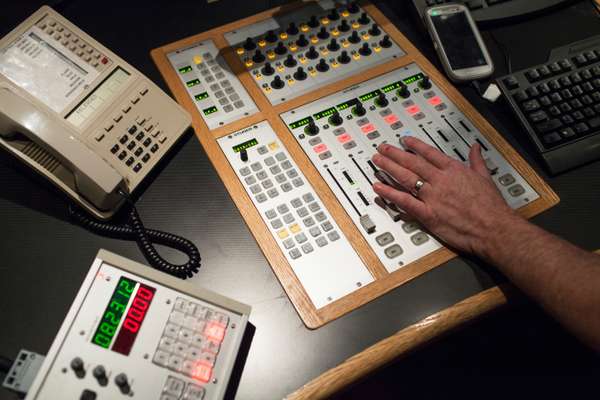 On the TV side, as a part of the larger CBC Television network, CBC North essentially airs the same programming as the main broadcaster with some noteworthy exceptions: the hour-long evening news programme CBC News Northbeat with anchor Randy Henderson and the preceding 30-minute daily newscast in Inuktitut, Igalaaq, presented by Rassi Nashalik. Launched in 1995, they remain the key TV programmes of the northern service. Nashalik herself is considered Yellowknife's broadcasting star – every night she simultaneously side-translates the English script in her mother tongue, Inuktitut.
"The programme comes out more naturally this way and reaches way more aboriginal viewers," says the Ottawa-trained interpreter, who moved to Yellowknife in 1979 to work as a translator for the nwt government. "Igalaaq covers a lot of Inuit stories. Working with the communities is tricky; it takes time to win them over – make them trust you and share things with you."
Quick to prove her point is TV producer Hilary Bird. The Torontonian moved to Yellowknife drawn by the charms of working with the First Nations. "There is a special way of approaching aboriginal communities. You have to meet the chiefs and get their blessing first." In the harsh realities of the Arctic, knowing the traditions and playing by the rules can often save your life, as Bird found out last winter when working on a story about a small community farther north.
"We had set up a camp for the night. Halfway through my interview, I could suddenly hear people screaming 'bear, bear!' Women, kids and the elderly gathered in the middle of the camp, while the men grabbed their guns and formed a protective circle around us," Bird recalls, minutes before the start of Igalaaq.
Lights are up, mics are on. Nashalik takes her spot in front of the cameras for yet another live instalment of Igalaaq. In the next 30 minutes the grid of screens in the studio becomes a rollercoaster of changing backgrounds and scenarios. Images of whale hunting or icebreakers stuck in the Northwest Passage alternate with political discussions about Canada's Arctic sovereignty claims, or a report on the art troves in Yellowknife's Gallery of the Midnight Sun.
Undoubtedly, the office takes its tagline "The North lives here" (an adopted version of cbc's "Canada lives here") very seriously. Journalists here cover all things local – from polar-bear attacks to aboriginal elections. Stories about an elder chasing a moose on snowshoes, a burned-down post office in Fort Good Hope or imminent severe blizzard conditions would all make it into the news segment.
"We have to report for and about the North – this is our main purpose. We deliver not just breaking news but also vital information to the local communities," Bird says. "Wintertime, when temperatures fall to minus 40c, the weather becomes the leading story. Sometimes we get so much snow here that even the snowmobiles won't work. But we have to make it to the office, especially in tough weather conditions; this is when locals need to know what's going on out there the most. In this sense, we see ourselves as community service TV."
Reporting on stories that are thousands of miles away remains a main challenge for the office. Until recently, cbc North operated smaller bureaux and rebroadcasters in the Canadian Arctic, which ensured coverage to a vast majority of communities. Following major budget cuts mandated by cbc last year most of them shut down.
"This could impact our programming. For us, it means adjustments in how we deliver service and in the territory that our journalists can cover," Stein explains. "The changes present a major challenge and we have to adapt in order not to lose presence in those communities."
One of them is Cambridge Bay on Victoria Island in Nunavut. To make up for the closure of the local service, journalist Kate Kyle is now being sent there once a month to follow up on developing stories or gather breaking news. Kyle is among the few reporters here who have also trained as videographers.
With return trips to remote northern communities costing as much as ca$4,000 (€2,900), flying north is clearly cbc North's main expense. Depending on the urgency of the story the reporters usually use commercial flights. However, breaking news requires chartered services, typically provided by local Air Tindi and one of its seven-seater float planes. "We are usually allowed to carry five pieces of luggage at no extra charge including all our shooting gear and personal items," Kyle explains.
Astute packing skills are crucial. Kyle learned it the hard way. "I was on my way to Cambridge Bay on a commercial flight. The thing is that often these double up as cargo flights - carrying food and medical supplies to the communities. So the moment they reach capacity, they'd just leave the remaining bags behind.
This particular time it happened to be all my clothing," recalls the ex-cbc Newfoundland and Labrador reporter. "From then on, I'd always pack a warm sweater, a pair of gloves and underwear in my camera bag that I carry on board with me, and some mascara; after all I'm getting in front of the camera," she adds with a smile.
A multi-day survival course and risk assessment is always in place before tough reporting trips. Stein outlines the ground rules: "When you send your reporters out there in severe blizzard conditions and snowfall warnings you have to make sure they have all the right gear; do they know how to drive a snowmobile, or set up a tent?"
Another working week in Yellowknife is gone when we leave the office on Friday evening. The few remaining staff are wrapping up before joining the rest of the team in The Black Knight Pub, a local watering hole in the city's centre.
"It's the community spirit – this is the amazing thing about Yellowknife," says Bird on her way out. "Things might get tough in the wintertime but we are all in it together."
CBC North
High North headlines
'Yukon buys giant scissors': The Yukon government has purchased a pair of oversized golden scissors for use in ribbon-cutting ceremonies.
'Arctic ice level rebounds from record 2012 low': The amount of ice in the Arctic Ocean shrank this summer to the sixth lowest level.
'First commercial hauler travels Northwest Passage': Danish ship carrying coal entered western end of the Northwest Passage.
'Yukon minister Currie Dixon to visit Fort McMurray': Economic development minister to attend forum in Alberta's oil patch.
"We don't have a daily newspaper here," says CBC North's TV producer Hilary Bird. "CBC strives to somehow fulfil this gap with its daily news bulletin." However, given its small size and remoteness, Yellowknife comes packed with media outlets.
Besides CBC North, also covering the city and the region are CKLB radio station, owned by the Native Communications Society of the Northwest Territories; CJCD radio, the only licensed commercial station in Yellowknife, run by Vista Broadcast Group; and the weekly Northwest Territories News/North newspaper. On the magazine side there is Up Here. Published eight times a year, it covers curious stories from the Northern areas, while its monthly spin-off Up Here Business magazine is dedicated to more entrepreneurial-spirited readers.
Yellowknife is also home to two of History Channel's reality TV hits: Ice Pilots and Ice Road Truckers. Now in its fifth season, Ice Pilots portrays family-run airline Buffalo Airways, while Ice Road Truckers, in its seventh season, follows truck drivers on seasonal routes across the frozen lakes and rivers in Alaska and Canada's Arctic territories. Rumours persist of a big-screen version.