Christmas shopping / Lisbon
Head for the hills
From fashion and homewares to food and gifts, the white city offers a full complement of attractions for the committed consumer and gourmet alike.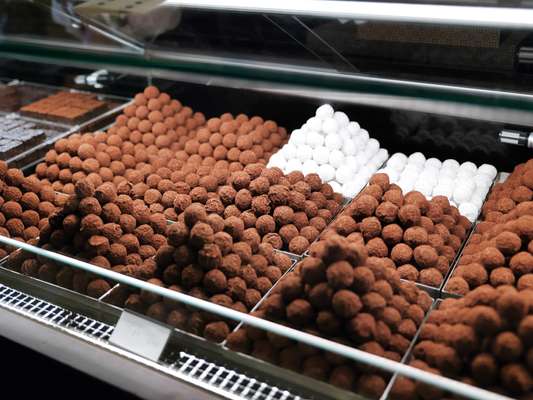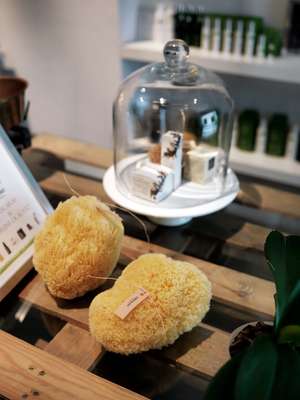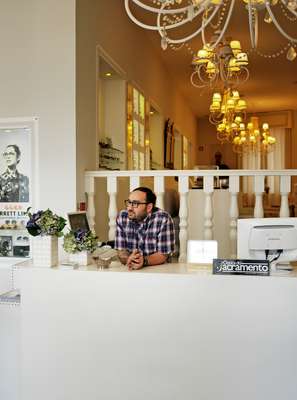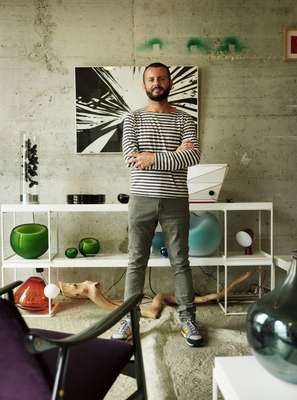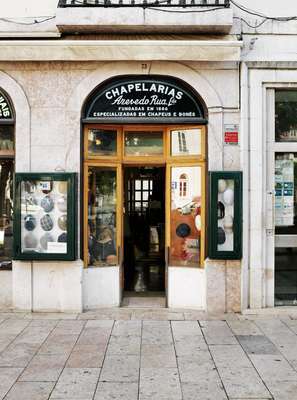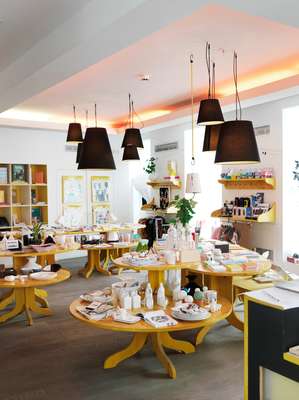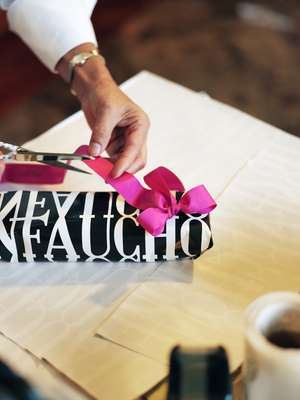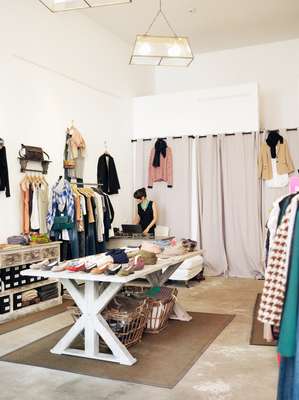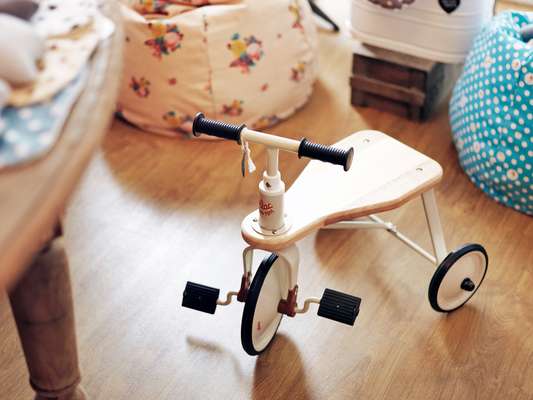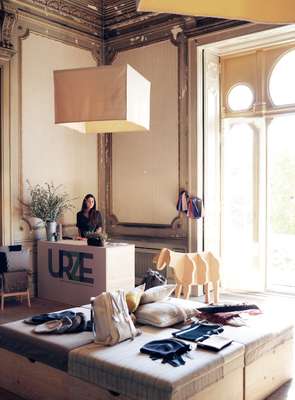 "You better count on an extra bag for your return," reads a sign as you pass through Lisbon's gleaming Portela airport. It's for this reason and many more that we've nominated the Portuguese capital as our one-stop destination to sort out all your Christmas shopping. From old-fashioned shop fronts in Chiado to plucky start-ups in Príncipe Real, retail in the city is confidently bucking the economic trend as savvy entrepreneurs dig in their heels and turn on the charm. Here are some of our choices for a festive shopping spree with something for everyone.
48 hours in Lisbon
The highlights
Room with a view: We recommend a suite with plenty of closet space in this hidden gem of a new opening.
Old-world charm: Head to traditional outfitters Chapelaria Azavedo Rua and the Luvaria Ulisses for hats or gloves. Conserveira de Lisboa also provides a taste of the city's history.
Coffee stop: Open-air kiosks are the perfect pit stop for a pastel de nata (custard tart) or quick caffeine hit. (page 278)
Shopping: Opened this September to foster retail entrepreneurs and budding businesses, the stunning Embaixada shopping centre, located in Príncipe Real, has a mix of great retail propositions.
Cocktails: Entrepreneur Nuno Faria's after-hours haunt Bistro 100 Maneiras is the perfect place to chink a glass after a day on the cobblestones.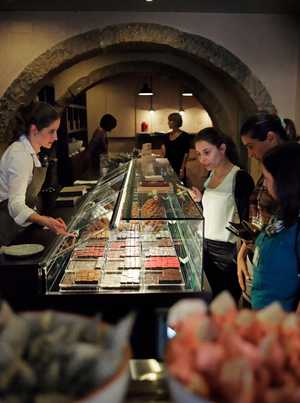 District Chiado and Baixa
01
Chocolataria Equador
Chocolataria
First opened in Porto in 2009 by Celestino Fonseca and Teresa Almeida, this boutique chocolataria is a sweet new addition to Lisbon. With light macarons, colourful bonbons and chocolate lollipops vying for attention, it's the perfect start to any shopping trip. The bold graphic packaging of the handmade chocolate bars make them a superior stocking filler.
+351 222 018 167
---
Organic cosmetic shop Organii was set up in 2009 by sisters Cátia and Rita Curica, united by a shared sensitivity to common chemicals. Stocking 27 like-minded brands, Organii has a loyal roster of suppliers it intends to build on. "We have a close relationship with them," says Rita. The shop's conscientious suppliers include French company La Clarée, London-based John Masters Organics and Irish firm Voya.
organii.pt
---
03
Conserveira de Lisboa
Food
Since 1930 this tinned fish specialist has stocked a cornucopia of canned morsels at its shop amid the faded grandeur of Lisbon's Baixa neighbourhood. Stacked with more than 100 hand-wrapped delicacies including mackerel, sardines, squid and mussels, the family-run firm has recently undergone a subtle rebrand to update its traditional image, courtesy of Lisbon-based studio We Are Boq. "Eighty-three years is a long time but we never let the quality go down and that's the reason we're still here," owner Tiago Cabral Ferreira tells Monocle across the counter over which his grandfather traded.
conserveiradelisboa.pt
---
04
Óptica Do Sacramento
Eyewear
In a space more formal dining room than shop floor, elegant chandeliers light the way through this optician-cum-glasses shop. A short dash from the bustling Rua Garrett, this carefully decorated space was opened four years ago by optician Rui Romão (pictured) and stocks a selection of handmade frames from brands including Garrett Leight, Andy Wolf and Oliver Peoples. "Once you get the good stuff you won't pass anything else on," says Romão. Meanwhile, we have our eye on the Portuguese-made glasses from Paulino Spectacles – the Chiado model is exclusively made for the shop.
opticadosacramento.pt
---
Founded 10 years ago but in its current locale since last June, Arte Assinada is a mainstay for shoppers hunting for interesting homeware. The cavernous interior has a faintly anatomical theme (underscored by the protruding heart sculpture dominating one wall as you enter) and is offset by an array of beautifully crafted gifts from lamps to bikes and furniture.
arteassinada.pt
---
06
Chapelaria Azevedo Rua
Hats
Head and shoulders above the rest for headgear is the Chapelaria Azeveda Rua in the northeastern corner of the Praça Rossio. Brimming with everything from fedoras to porkpies and trilbies to top hats, the grand wooden vitrines showcase international brands such as Borsalino and Stetson. The historic milliner has plied its trade since 1886.
azevedorua.com
---
07
Véronique Boutique
Women's boutique
After seven years in London, seven in Paris and stints at Prada and Marc Jacobs, Véronique Laranjo moved to Lisbon to revisit her Portuguese roots. Véronique Boutique is the result of the decision to stay and since 2009 the pared-down womenswear shop has offered a charming mix of new and vintage clothes, and accessories. "People would rather buy something special," says Laranjo when asked about her decision to buy only three pieces of each item she stocks. Laranjo's delicate edit includes pieces from Orla Kiely, Meteo and Seen by Chloé.
+351 21 195 2299
---
08
Fabrica Features
Stocking fillers
Four floors above the Rua Garrett, this brightly coloured shop showcases the work of interdisciplinary designers under 25 years old. The inspiring space stocks a selection of Portuguese pieces, including a wall of Planeta Tangerina children's books, illustrations from Soma Ideas and Serrote stationery. Celebrating its 20th anniversary next year, Fabrica Features was conceived in Treviso, Italy, by Tibor Kalman and Oliviero Toscani and features an exhibition space for local designers. When Monocle visited, half of the spacious shop floor was devoted to this year's crop of communication design graduates from the University of Lisbon.
fabricafeatures.com
---
"I've always loved architecture and design," says Carla Gonçalves (pictured) who co-founded Espaço Mínimo in 2005. Inside her immaculately kept shop this passion becomes clear. As well as handling interior design projects, including the tastefully sparse interiors of the nearby Véronique Boutique, Gonçalves sells her favourite pieces from all over Europe from manufacturers such as Muunto, Artemide and Normann Copenhagen. For something more original, ask about Gonçalves' own collection – her stunning made-to-measure side tables are available in a range of colours in a choice of teak, birch or oak.
espacominimo.pt
---
Sometimes size matters in retail but diminutive spaces like this traditional glove shop suggests charm is still king on the streets of Lisbon. "Service and quality are still the most important things," says shop manager Carlos Carvalho (pictured) with a smile. Next year he will celebrate his 40th behind the counter of this 4 sq m space and despite the historic landmark, little has changed since the shop opened for business in 1925. Still stocking sought-after mitts from Portugal, France and Italy, the Luvaria offers an array of hand-cut gloves as well as free repairs on loose stitches and lost buttons.
luvariaulisses.com
---
For traditionally made Portuguese rugs, homeware and bedspreads we suggest stopping at the Loja da Burel in Chiado. Founded in 2010 by hoteliers João Tomás and Isabel Costa, Burel's locally sourced wool is made in its revived factory in the Serra da Estrela mountains in the north. Staffed by a team of talented seamstresses the factory offers opportunities for designers to produce and sell their wares in either of Burel's cosy shops. "In the beginning we invited young Portuguese designers to make modern pieces for us. Nowadays the designers come to us," says Costa of the brand's expanding inventory.
burelfactory.com
01
Charcutaria Moy
Food and drink
From cheeses to chorizo and port to preserves this marble-floored delicatessen is a must for a taste of the city. Having moved to its current location in Príncipe Real eight years ago, it is a destination for tea lovers that stocks more than 50 blends. If you're looking for local products, try butter cookies from Casa Velha and maybe a bottle of 30-year-aged Ramos Pinto port.
+351 21 346 7011
---
02
D'ici de et là
Womenswear
This womenswear boutique's tight selection of European clothes and accessories includes scarves from Lovat & Green and Bellerose, and handbags from Beatriz Furest. The shop stocks two of each item and several exclusives to boot. Co-founded in 2010 by Araceli Piqué (pictured), it caters to an increasing number of visitors to the newly fashionable Príncipe Real area.
+351 21 343 1304
---
Hidden down an alley overlooking the busy Avenida da Liberdade, Mini by Luna has been treating children to the finer things in life since opening in summer 2012. From wooden Vilac toys to Bobo Choses socks and Annabel Kern soft furnishings, the shop is stuffed with unique treats to keep kids to the age of nine in knitted cardigans and customised costumes.
+351 21 346 5161
---
Founded by José Luís Barbosa and Leonor Barata, Espaço B on the Rua Dom Pedro V offers a refreshing selection of menswear in a city lacking in that regard. Stocking more than 20 brands, including Comme des Garçons and Sofie D'hoore, the inventory changes monthly and offers unisex gift choices from watches to bags and jackets to books.
espaco-b.com
Breakfast:
Confeitaria Nacional
In business since 1829, Confeitaria Nacional is one of the city's preferred spots in which to try what locals consider the perfect pastry, the pastel de nata (custard tart). Inside the family-run establishment take your sweets and coffee standing at the bar or retreat to the upstairs tea room.
confeitarianacional.com
Best place to grab a coffee:
Quiosques
Shopping can be hard work and between the heavy bags and the city's hills you'll need to take a load off now and again. For a caffeine hit, do as the Lisboetas do and grab an open-air café preto from one of the city's many quiosques (kiosks).
Lunch:
Cantinho do Avillez
Not far from his more upscale eatery, Belcanto, Portuguese chef José Avillez has opened the less formal Cantinho. Try the veal and vegetable risotto, grilled tuna in a sweet-and-sour sauce or a Farinheira sausage with bread and coriander crust. If tables are booked retreat to his pizzeria next door.
cantinhodoavillez.pt
Where to stay:
Memmo Alfama
Something of a hidden gem, this newly opened hotel's unrivalled view of the Tagus river is a sight to behold with a drink in hand. Housed in a late 19th-century courtyard, the space is close to the São Jorge castle and the city's 12th-century cathedral – and just a five-minute taxi ride from shops.
memmoalfama.com
As well as lining the pretty streets of Príncipe Real, several independent Portuguese shops have taken up residence in the grand Palacete Ribeiro da Cunha. Originally built in 1857 the illustrious old Embassy threw open its stately doors as a high-end shopping space in September this year. Here's just some of what's inside...
Portuguese manufacturer Urze resides on the first floor of Embaixada. The sun-dappled space offers a wide range of woollen jackets, bags and throws from local firms Ecolã and Encosta-te a mim, and Belgian-designed offerings from Sennes. Ecolã is a third-generation producer, operating from the rural village of Manteigas in the mountains of northern Portugal since 1925.
+352 96 254 5063
---
"Portuguese music isn't only about about fado, classical or jazz," says Hugo Mariani as he shows Monocle around this jumbled but inviting space in a renovated bedroom at the rear of the Embaixada shopping mall. Stocking a selection of contemporary and classic CDs and records, the shop was started by singer Teresa Lopes Alves to showcase the range and quality of music from throughout Portugal. The welcoming interior is made from salvaged wooden furniture and designed by artist João Mouro. A selection of traditional handmade filigrana jewellery also stands out as a unique stocking filler.
vlarecords.com
Spain may be famous for tapas but its Iberian neighbour is no slouch when it comes to informal dining. At Petiscaria Ideal, patrons sit with their fellow diners and share plates of seafood. Favourites include octopus, fried baby cuttlefish with clams and shrimp omelettes.
+351 21 397 1504
---
Cocktail:
Bistro 100 Maneiras
As the sun sets, 100 Maneiras restaurant-cum-bar is ideal for an apéritif. Pop by after 19.30 to sample head barman Jorge Camilo's signature Smooth and Easy cocktail made with coriander and pineapple. If you're peckish, Sarajevo-born head chef Ljubomir Stanisic's seafood is recommended.
restaurante100maneiras.com