Cape Town / Global
Heritage hero
National icon Gabriel Fagan's home is a testament to his sensitive approach to vernacular architecture. Meet the man whose buildings celebrate the best of Cape Town's people and culture as the city marks its title as World Design Capital.
Throughout a career spanning six decades, 89-year-old Gabriel "Gawie" Fagan has always stuck to his guns. He has been much decorated in South Africa for championing the traditional architecture of Cape Town. Now, with the city celebrating its position as World Design Capital for 2014, it is the ideal time to bring the man who helped define a regional architectural style to the international stage.
"I was probably largely alone in promoting vernacular architecture," he says. "It's so beautiful, it's unthinkable that we lose these things. It's so important to engender a pride in what people have in our villages."
From a simple fisherman's cottage of lime blocks to Cape Town's post-industrial waterfront, Fagan has campaigned against needless demolition and has incorporated local styles and building techniques into his own designs. As such, he's the inventor of a distinct Cape style, which takes the best of what the Portuguese, Dutch and British settlers did, married with his own modern aesthetic.
Gabriel Fagan Architects was set up in 1964 and has been based in the same three-storey building on Cape Town's Bree Street for 20 years. He's worked alongside his wife Gwen since she gave up medicine in the late 1960s to retrain as an architectural historian. In those early days of the practice he was also building his own family home – Die Es. Perhaps no other construction represents the style he has defined better. The house is the happy coming together of modernism and Cape Dutch style and has come to be appreciated as a major work of so-called Regionalist architecture.
Die Es, which appropriately means "the hearth" in Afrikaans, stands in the suburb of Camps Bay close to central Cape Town. The site slopes down from Woodford Avenue to a nature reserve below, full of indigenous flora and fauna. Despite the picturesque location, the weather conditions are harsh, with the afternoon sun beating down from the west and gale-force winds coming in from Table Mountain behind.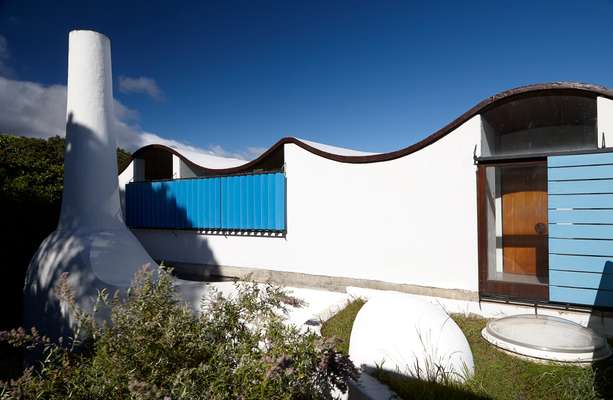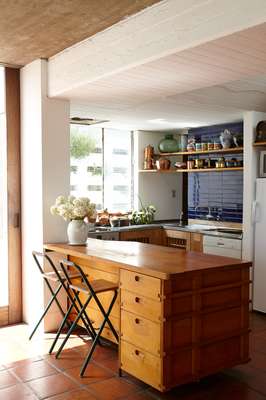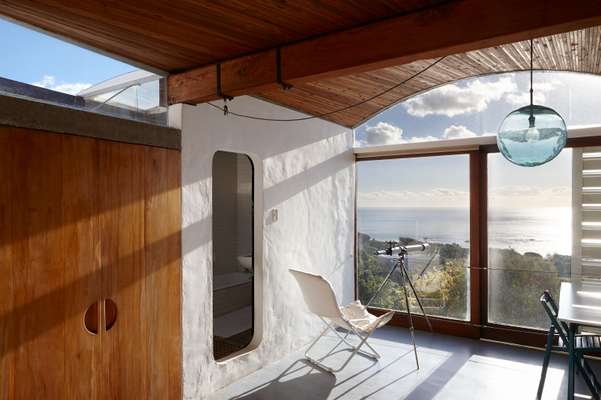 But Die Es can more than cope, with its hefty front door made out of old copper boilers and 400mm-thick brick walls, which store the sun's heat. A rough granite and sandstone floor in the entrance leads down a corridor into a vast, 18m-long dining area, which extends – courtesy of some glass screens – out onto the quarry-tiled patio. In the four bedrooms upstairs there are more glazed screens, each opening onto balconies that face the Atlantic. Even the bathrooms have views, with their skylights framing Table Mountain.
Money was short when the project began, so "we exchanged our Fiat Multipla for a second-hand concrete mixer", recalls Fagan, and the whole family pitched in on the construction, completing Die Es in five years. The home displays sculptural elements typical of the region such as its prominent projecting kitchen chimneys, external staircases and the vaulted roof's wavy edge.
Fagan turned the cellar into a workshop and did all the woodwork and ironwork for the house, and all the nautical-looking yellowwood door and cupboard handles. Fagan and his wife still live here. "The children have moved out and Gwen and I are rattling around in it," he says.
Fagan, who is Cape born and bred, puts his site-specific sensitivities partly down to his first job: a 12-year stint as resident architect of Volkskas Bank in the 1950s and 1960s. In addition to the bank's 200-strong portfolio of properties, he designed 50 new branches in villages across the country, visiting far-flung sites in a Piper Tri-Pacer aeroplane that he piloted himself. And unlike the slick corporate, black-glassed structures of the bank's competitors, "my branches apologised for standing in some of these villages, they were very mild and didn't catch the eye. I tried to blend them in".
He acknowledges that under apartheid the banks had to have separate entrances for white and non-white customers. "Thank goodness those restrictions are gone," he says. After Volkskas Bank, Fagan built up a strong and varied portfolio of his own, combining new builds with more than 200 restoration projects in housing, culture and education.
In South Africa, despite his glorious new builds, he is best known for his restoration work – particularly the Bartolomeu Dias Museum Complex at Mossel Bay. The brief was for a new museum structure but instead Fagan reworked some existing 19th century industrial stone buildings, adding a modern shell and converting an 18th century granary and cottages into shops. Completed in 1989, it has since been proclaimed a National Heritage Site.
Fagan might have spent much of his career as a lone voice trumpeting the beauty and benefits of vernacular architecture but others eventually came round. Fagan explains that he and Gwen are "only working because we really enjoy coming to the office. When we were 16 people I didn't like it.
Now we're eight including the cleaner, I find [it] much more pleasant. Every day we have morning and afternoon tea when we all sit round and chat." He recently designed the single-storey Beaufort West Clinic, about six hours' drive from Cape Town. It will have thick mud walls and a traditional corrugated roof. Building work starts in February.
As Cape Town spends 2014 as World Design Capital, Fagan is cautiously optimistic that his love of traditional building styles and methods is being taken up by the next generation across South Africa. "I'm not teaching at the moment but we have about five schools of architecture," he says. "I think there is a greater appreciation of vernacular architecture."
---
Cape Town is only the fourth city to enjoy the biennial World Design Capital accolade and has earmarked ZAR1m (€74,250) to help fund projects. These initiatives will be themed around bridging historic divides, reconnecting the city in structure and in spirit, rebuilding social and economic inclusion, and sustainable futures.
1925 Born in Rondebosch, Cape Town
1951 Graduated from the University of Pretoria
1952-64 Resident architect for Volkskas Bank
1964 Co-founder of the Vernacular Architecture Society; sets up private practice in Cape Town
1982–2007 Member of the Architectural Heritage Committee, South African Institute of Architects
1989 Awarded the Order for Meritorious Service: Gold (State President's Award)