Heirs to the throne / Global
In the blood
With great power comes great responsibility – and when that power comes from taking over a precious family business the responsibility can be daunting. Not for these heirs though, who have embraced the challenge and are determined to nurture their heritage.
The words "heir" and "heiress" have become dirty words in this day and age. All too often, the children and grandchildren of visionary entrepreneurs reap the benefits of their ancestors' hard work, instead of making their forefathers proud by continuing the family tradition.
Yet, in the design industry at least, there is a host of heirs who are keen to inherit more than just digits in the bank, a seat on the board and a recognisable surname. Here we profile three figures who have stayed in the design studio, taking inspiration from those before them and adding their own personal flair to the family name. This is not a story of nepotism. It's about the new ideas of the next generation.
01
Hans Peter Dinesen
Jels, Denmark
Imagine you are the fifth generation of a 115-year-old family firm with a hard-won global reputation for supplying the most fastidious quality, hand-finished wooden planks used to floor the dining room at Noma, London's Saatchi Gallery, the private homes of notable architects and sundry royal palaces. And not only that but you also share your first name with three of the five heads of your family.
One imagines you would either be inclined to preserve your company in amber out of sheer terror or embark upon a revolution to impose your will. But, wisely, 23-year-old Hans Peter Dinesen is charting a middle course in his new role as art director of the company in question, Dinesen, which is based in the small rural community of Jels in southern Jutland, Denmark.
"Over the past few decades my mother [Heidi Dinesen] and father [Thomas] created a strong clarity for our brand based on these large, wide planks with a minimalist, Nordic aesthetic in our promotional material," says Hans Peter, referring to the mighty oak and Douglas fir planks, up to 15m long and 50cm wide, on which the company built its reputation. "That clarity isn't limiting; it means that we can diversify with the same clarity. Instead of restricting ourselves to one aesthetic I want to emphasise the possibilities of nature, the beauty of imperfection."
This is a veiled reference to the ongoing struggle to educate potential clients as to the beauty of knots in wood. "We need to explain that the knots are branches and the variety they bring is what creates the harmony in a floor, the landscape. We are not just about the €470-per-square-metre planks."
Hans Peter recently completed his studies at Berghs School of Communication in Stockholm and has spent the past 18 months working on a new visual identity for Dinesen together with Norwegian design bureau Heydays. He has also been overseeing three new products: a wooden chair called Knock Down, beehives for gardens and chopping boards – all made from off-cuts from the floor boards.
"I would say 100 per cent of the customers who come here to visit us end up buying our wood," Thomas tells monocle. His son adds: "I see it as my challenge to recreate that same experience digitally so that more people can understand what we do. This is a sensual product. How does the wood smell, what is it like to see these 15-metre planks in real life? I want people to get a sense of where these trees grow in the Black Forest."
That sense lies deep in Hans Peter's dna. "In our family we have always spoken about trees. My first paid job here was weeding the yard when I was 13. It was always me whom my school friends would come to when they needed wood to build a camp." Hans Peter's sense for wood will be enhanced next year when he spends 12 months with the foresters of the Black Forest who supply Dinesen to better understand their work.
Dinesen has grown from seven employees when Thomas took over to 85 today and has recorded a profit every year since the economic crisis of 2008. Hans Peter claims to feel no pressure, "only privilege that I can carry on the legacy of telling people about the infinite variety in nature".
"The most important thing has always been that our customers are satisfied," says his father. "It's important to have an honesty in what we communicate. As long as the values are consistent, then I am happy."
Five generations
Dinesen family CV
1898 'Jels Savvaerk' (Jels Sawmill) founded by Hans Peter Dinesen
1941 Hans Peter's son, Thomas, takes over the firm
1961 Thomas's son, also called Hans Peter, takes over
1964 The first Douglas fir planks produced for Sønderborg Castle
1989 Hans Peter (II)'s son Thomas takes over with his wife Heidi
1993 The company's first project with UK architect John Pawson. He uses Dinesen planks not just for flooring but also for furniture in his home
1998 The company changes its name to Dinesen
2013 Hans Peter officially joins the company as art director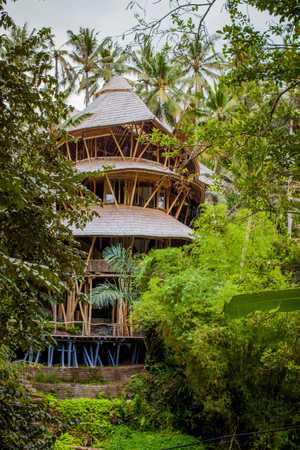 02
Elora Hardy
Bali, Indonesia
Elora Hardy fell in love with the Green School, a pioneering environmental school in Bali, the same way most people did: by watching a video. But in her case the man giving the presentation was her father. "I started crying listening to his talk, it was so amazing," she says. "I wanted to be involved in some way." In 2010 she left her job as a print designer for dkny and moved back to her hometown in Bali to do just that.
Elora's father is the jewellery designer John Hardy, who settled in Indonesia more than 35 years ago. After a successful career, he sold his stake in the company in 2007 to co-found an international private school alongside his wife, Cynthia Hardy, where children take classes in the open air, learn to build with bamboo and cultivate the land, all the while preparing for traditional exams.
This project triggered Elora's interests in turning her father's affairs into a family business. The curvilinear architecture of the Green School is a collaboration between local and international engineers, builders, architects and craftsmen.
When Elora arrived, the team of designers was just starting out on Green Village, a residential project nearby. She first got involved in the interiors – working on the layouts of the rooms, imagining window frames and furniture that would connect with the nature outside.
Within a few months she found herself in charge and established her brand, Ibuku. Today, Green Village is comprised of seven custom-built houses, perched on the terraces of the river valley. They're mostly holiday homes, which owners rent out to Green School parents or visitors. Elora also builds houses off-site.
After more than three years in Bali, Elora says working with her dad makes perfect sense. "He wanted to do something that would be positive for the environment and for the future. So in a way he was doing it for me, and then I showed up and continued it with him."
Building in Bali
Hardy family CV
1975 John Hardy moves to Bali from Canada and later establishes his eponymous jewellery company
1981 Elora Hardy is born in Canada and raised in Bali from aged 5 months to 14 years
1999 John hires Guy Bedarida, a senior designer of haute joaillerie of the Place Vendôme, as head designer
2005 Elora starts working at DKNY
2007 John sells his stake in the company
2008 Green School opens
2010 Elora moves back to Bali and establishes Ibuku
2011 First house at Green Village is finished
2013 Ibuku has built 40 unique structures and will be launching a furniture collection
03
Zanini de Zanine
Rio de Janeiro, Brazil
As the son of Baiano José Zanine Caldas (1918-2001), one of Brazil's most legendary architects and furniture designers, Zanini de Zanine had the best schooling that an apprentice can have: daily contact with a modern-day master.
Zanine was six when his parents separated. At the time, his mother suggested the boy move in with his father, who was then 66. "She knew he wouldn't have long left and, smartly, wanted me to take advantage of this time with him," he says.
Zanine used to spend whole afternoons in his dad's workshop, observing the patriarch execute his furniture commissions. The young lad would use the wood stumps that his father discarded as toys and would accompany him at social events and work meetings outside studio hours, as well as on foreign expeditions.
Zanine would come across the great and the good of Brazilian culture and design, who were all hugely influential on his training. His father's circle included the architect Lúcio Costa, responsible for the construction of Brasília alongside Oscar Niemeyer; "The Girl from Ipanema" composer and musician, Tom Jobim; and the furniture designer Sergio Rodrigues.
"I had the best teachers in the world, without having to leave home," says Zanine, who studied industrial design at the Pontifical Catholic University of Rio de Janeiro. "When I was a teenager I thought about doing international relations because I was dazzled by our trips, but soon I realised that design was already so present in my life that the decision to study the subject was a natural step."
Zanine was in college when his father died, aged 83, in 2001. From that moment, Sergio Rodrigues became a very strong reference to him; Zanine spent a year as an intern in Rodrigues' workshop. Today, aged 35, Zanine pays equal respect to his two masters. "It was Sergio who helped me take the decision to chart an independent path in my career," he says.
Zanine has become one of the most exciting names in a new wave of Brazilian design talent. He has developed pieces in partnership with companies including Cappellini and Slamp and will launch a customised counter sink for the Swiss bathroom manufacturer company Laufen next year. In autumn 2013 the New York gallery Espasso hosted an exhibition of works by both father and son.
Zanine recalls the creative influence of his dad and the effect it has even today on his works, most notably an affectionate relationship with wood. "I grew up full of memories, my father showing me textures, smells, colours and even the warmth of different types of wood."
Zanine currently maintains two workshops in Rio de Janeiro. The most recent opened in 2011 in the city's docklands area and has seven employees. There he creates products on an industrial scale made with materials besides wood. "Few people know but my dad also made products in ceramic and steel," he says.
His first atelier opened in 2003, located in the far west zone of Rio and dedicated to the production of wood pieces. It is in this studio that Zanine evokes the legacy of his masters, developing items with employees who worked with his father for decades. Somehow, the patriarch is still present there.
Father and son
Zanine family CV
1918 José Zanine Caldas born in Belmonte, Bahia
1950 Caldas starts producing wooden chairs
1978 His son Zanini de Zanine is born
2001 Caldas dies aged 83
2002 Zanine finishes his degree in industrial design and releases his first creation, the Triangle table
2004 Zanine sells his first piece (an armchair) to the international market
2012 Zanine wins his first international awards: iF Awards, in Hannover
2013 New York's Espasso showroom pays a tribute to the most celebrated creations of both father and son