Presidential candidate, Ukraine / Ukraine
The Interview Series: Vitali Klitschko
From the boxing ring to parliament, Vitali Klitschko has not followed a conventional career path. Ukraine's opposition politician tells us why he believes you must fight for a better future.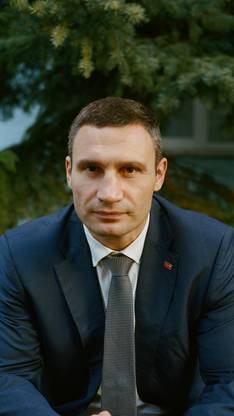 Vitali Klitschko was not always a politician in a suit. His career as a professional boxer in Germany and beyond earned him the nickname Dr Ironfist (he holds a PhD). Together, he and his younger brother Wladimir – also a top boxer – made their name into a successful brand. Today the WBC heavyweight champion is a leading figure in Ukraine's opposition and a probable presidential candidate.
Klitschko, who's now 42, ran for mayor twice, both times unsuccessfully, and was elected to Kiev city council in 2006. In October 2012, his party udar made it into parliament, coming third with 40 seats. As an MP his two big themes have been the fight against corruption and bringing "European living standards" to Ukraine.
That Western outlook is at the heart of Ukraine's most important political and cultural debate – does it see its future as part of Europe or linked to Russia? An Association Agreement with the EU is under discussion, while Russia wants to see Ukraine in its Customs Union.
Ukraine is a far cry from authoritarian Belarus or Vladimir Putin's Russia but democracy under president Viktor Yanukovych is nowhere near perfect. The glow from 2004's Orange Revolution has long since dimmed. Relations with Brussels soured over the imprisonment of former prime minister Yulia Tymoshenko in what many see as a case of selective justice.
Will the 2015 presidential election bring any change? Klitschko is already among the favourites. But in the unpredictable business of Ukrainian politics, many things could change before the election takes place. monocle met Klitschko in Kiev, where he told us about his ambitions for Ukraine.
Monocle: Did the Orange Revolution bring any lasting results?
Vitali Klitschko: It had a good and a bad side. People understood that if they come together they can change a lot. But it left people disappointed because many politicians who promised change did not keep their word.
M: Former president Viktor Yushchenko has lost public support and ex-PM Yulia Tymoshenko is in jail. What went wrong?
VK: They both made the biggest mistake: they started fighting each other. And the result – Yanukovych is president.
M: Why did you get involved in politics?
VK: I remember the day Ukraine became independent. I was 20, now I am over 40. It was like one second – time goes so fast. If we wait, the next 20 years will go by. We have a choice to wait or to fight for the better future of our country. I know better than anyone: no fight, no win.
M: In boxing you are fighting on your own but politics requires a team. Is your party, UDAR, a one-man show?
VK: In sport you only see the fighter, but it's teamwork. Without a good team you will never be the best. In boxing you have to work with the best coach, the best lawyer, the best manager, the best doctor. Exactly the same principle applies in politics.
M: What lessons do your years in Germany offer for Ukraine?
VK: It's very important to know where we're going. If we can apply something from the German model of development in Ukraine, it will be excellent. We have to take the best from the experience of other countries, suitable for Ukraine.
M: You have spoken out against corruption in Ukraine.
VK: Corruption is Ukraine's main enemy; we must destroy it. It's really painful to hear that Ukraine is the most corrupt country in Europe.
M: You are a leading supporter of closer relations between Ukraine and the EU.
VK: President Yanukovych said recently that "we live between two monsters" – Russia and Europe. He looks left and right and, for him, they are both bad. But I am certain that the European model is the right one for Ukraine.
M: How can Ukraine's establishment be convinced?
VK: They want to freeze the situation in Ukraine because today's system is perfect for making their money. But it is not appropriate for Ukrainian citizens.
M: What would you say to Russia?
VK: We would still be good friends. We have to develop good relations with our neighbours, but based on national interest and equal partnership.
M: What sort of president does Ukraine need?
VK: It's very important to have the people's support. That is why I am touring Ukraine, presenting my programme. Every investor has to understand his investments are protected in our country.
M: Are you worried the authorities might try to stop you from running somehow?
VK: Of course; I am an enemy. Ukrainian politics is like a fight with no rules. They are trying everything to take me out of the presidential election. I am the biggest danger for the people in power right now.
M: What is the biggest challenge Ukraine will face in 2014?
VK: Right now, we need to sign the EU Association Agreement; that is the start of a long process that we will try and complete as quickly as possible.
M: How would you like to be remembered?
VK: As President Kennedy said, "Ask not what your country can do for you, ask what you can do for your country." I have a vision. I know what European living standards mean and I am sure we can achieve them quickly. After all, Ukraine is Europe.