Poul Erik Tøjner / Global
Arty food
When Knud W Jensen, founder of the Louisiana Museum of Modern Art died in 2000, successor Poul Erik Tøjner moved into his beachfront office, a former boat lacquery crammed with vintage Danish design. After initial doubts, today Tøjner worships his sea view and invites us to lunch, a classic yet modern take on the Danish smørrebrød.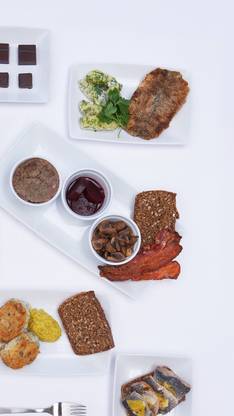 "You must think that I'm either mad or a complete workaholic to choose my office as the setting for my last meal. If this really were my last meal, there is no doubt I would have it here rather than at some fancy restaurant. I'm on the road 100 days of the year, and even though I enjoy a good meal, I find going to restaurants stressful and disappointing.
I usually end up walking around a city like Brussels late at night dreaming of a nice meal but being unable to decide which restaurant to pick; and once I've chosen one, I often think to myself almost immediately: shit, that's not what I had in mind!
When I travel around the world preparing exhibitions for Louisiana, I spend most of my time in artificial, busy environments – ones where people talk about image and status, price fixing and value estimations. My office is the antidote to all that. It originally belonged to a boat lacquerer and has the ambience of a home rather than an office, not to mention being a great example of Danish vernacular architecture. It is the perfect setting for lunch – you can smell and hear the ocean – the office is only eight metres away from the water and sits at the same level as the horizon. It's all about the elements here and that is very reassuring.
Right now we are showing a retrospective of Richard Avedon's work. Avedon's approach is closely connected to the museum's permanent collection and ambition to show art that comments on humanity. A lot of people have seen his photographs but they don't know the man. We experienced the same thing with our Arne Jacobsen exhibition. My challenge is to begin with something people are familiar with and then show them something new, much in the same way a chef may approach his menu.
I think the same goes for this update on the smørrebrød and food in general. There are two fundamental experiences with food that I like. One is when you experience a completely new and convincing take on something you already know, like the smørrebrød. That's a strange feeling – surprise and recognition at the same time. The second is when you experience something completely new. You don't know what it is, it tastes fantastic and you just want to do a culinary autopsy right away. But I don't consider food as art. It's a discipline, which is all about precision – in preparation and eating.
Lunch in these surroundings is really compelling – sitting on the edge of Øresund stirs up powerful emotions and memories – all the things befitting a final meal, but it would hardly be complete without my wife and my kids. I'm sure they'd all be pretty sad if they knew the reason for the lunch, though! Somehow it wouldn't feel right for us to eat anything but good Danish food. Not that I eat this modern smørrebrød that often, but even at the very end of my life I hope I would still want to be challenged and surprised by a fresh take on the old."
louisiana.dk