Museo Jumex / Global
Double vision
The arrival of the new Museo Jumex in Mexico City sees it sitting side-by-side with an earlier philanthropic art pile, the Museo Soumaya. Is the city big enough for both?
On the arty-party opening weekend for the Museo Jumex you still had to ask Mexico City's cab drivers for the Museo Soumaya. Owned by the telecoms magnate Carlos Slim, the richest man in the world, the museum is the local landmark in this formerly light-industrial outskirt of the well-off, historically Jewish, gallery-sporting Polanco neighbourhood. Its new neighbour, Museo Jumex – funded by the heir to a fruit-juice fortune Eugenio López Alonso – is still a pretender, at least in terms of the shout-and-point negotiations of taxi travel. In fact, in those terms alone: on an artistic and architectural level the two buildings, the collections they enclose and, it seems, their intentions and involvement with the city in which they sit, are poles – no, planets – apart.
Patrick Charpenel, the Museo Jumex's director (by the way, jugo, Spanish for juice + Mexico = Jumex) has moved from the original, extant Galleria Jumex exhibition space located among the vats and pulp extractors of the Jumex factory off the dust-blown highway in Ecatepec de Morelos to this brand new, purpose-built eyeball pleaser designed by David Chipperfield and built in Travertine stone from Veracruz. "It's a Mexican building," says Charpenel, as his eyes follow Fred Sandback's subtle works in string and rope heavenwards in the top-floor gallery. Up here are the ceiling-wide skylights that allow for an always naturally lit space.
Down in the lower level the floor is a-stripe with two dozen types of marble laid side-by-side; a Martin Creed work – the only permanent piece on display – commissioned for the space and a Neapolitan ice cream of myriad semi-precious possibility. In between is the heart of the museum, what the rangy and enthusiastic Charpenel disarmingly describes as, "what Jumex has been collecting all these years".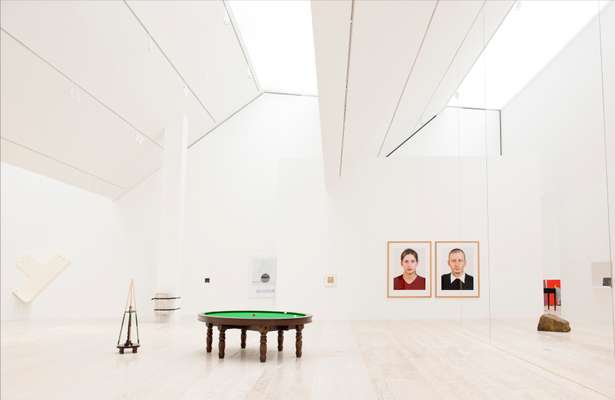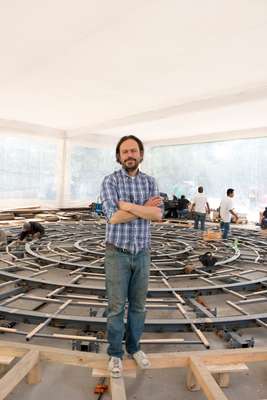 How did he choose what to hang? "We're sending many different signals to our audience – hopefully they show openness and a desire to collaborate," says Charpenel of his top-floor show that picks from a selection from 2,800 works in the Jumex collection. The show features wittily interactive sculpture ranging from Gabriel Orozco's hustler-hassling joke billiard table and Maurizio Cattelan's bike-powered lamps to some fine, if not definitive, works by big names – Koons, Hirst, Richard Prince. Outside, one of Mexico's most respected art sons, Damián Ortega, is putting the finishing touches to "Cosmogonía Doméstica", a mechanical galaxy of household implements. Like much of the intention of the museum, it is "international but based in Mexico and supporting Mexican artists", according to Charpenel. The mix is there to see: this is undoubtedly a museum with international ambitions and a world-class collection set in city that boasts more museums than any other in the world (fact fans).
Some of the buzzwords of the contemporary art world are offered, such as "collaboration", "engagement", "community", but Charpenel and his team do indeed want discussions and debates in the museum, performances in the lobby, conferences in the café. Why not? The opening shows are unashamed to flash their grey matter. Beneath the survey show is a floor devoted to the work, writings and ephemera of the late performance and installation artist James Lee Byars, a co-production with New York's exacting MoMA PS1. There's his "The Chair for the Philosophy of Question" in its womb-ish kasbah and, frankly, some lovely big gold balls and some tiny, even lovelier ones that seem to weigh heavier in the memory than in situ, but it's a show that will challenge and hopefully, after a bit of a read of the curator's notes and a squint into the cases, enthral visitors.
That's not to say, though, that Jumex are a po-faced bunch; that they don't want to let it all hang out come opening night. The launch party was a star-studded, turbo-charged affair (Jumex parties are the stuff of Mexican legend) that glinted with the great, good and sometimes very bad of the art world.
Party aside, inviting the outside in isn't just some sort of community outreach initiative dreamed up by the long arm of the artist, either. David Chipperfield's building knows where it is, in the often very temperate capital city of Mexico ("We used climate as a clue," he says). The windows are large and let the light in, the doorways are big and let the breeze in, there are inside/outside spaces, terraces for meeting and looking, the café can be a mostly exterior affair if it so chooses. "We used this classic Mexican stone," says Chipperfield during opening afternoon. "We wanted to make a Mexican building, use outside space; you want it to belong and have a certain civic presence." Chipperfield's museum is certainly doing a service to the odd plot in which it sits: a slightly ungainly triangle trapped by an arterial road on one side and a vestige of the area's industrial past, a railway track along which (very) occasionally shunts a goods train. The engine is almost like an ironic post-industrial installation, comedic in how it jars with its prospect, surrounded by two new museums and the mirrored high-rises of multinational HQs. Chipperfield seems a bit less amused at the thing choo-chooing naively around his museum like some sort of mechanical big game bumbling to a watering hole. "We were a bit hemmed in," he says, "but it's important to have good space; you want art rooms in the end."
And bringing the inside out? That's not such an easy thing but you could say that the Museo Jumex shows the curatorial and social intentions of the enterprise in Chipperfield's building, an emphatically calm and considered face to the world. It feels like the only thing in miles that's been there for years and it's been there for none. Only time will tell if it's to be considered timeless but it seems like a graceful place of contemplation from some golden age next to the brash exterior and time-share interior of Slim's museum, on what turns out to be the wrong side of those funny old railway tracks. If you go to one you'll go to the other and that must be some of the thinking of the Jumex people: for all the reported awfulness of the Soumaya's collection and presentation, it is popular with folk. Imagine if they swung by our place… seems a sensible line of thought. "Museums here are not a competitive scene but I do like places that assume a position," says Charpenel, fresh from a stint on Cattelan's bike-powered generator. "They're no just places to show your trophies."
As for taxis? "Museo Jumex" should soon trip off the tongue. That or "the other place" might work just fine.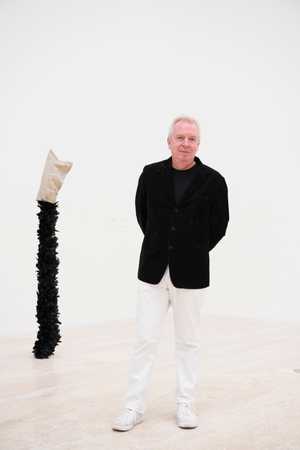 Art vs design
David Chipperfield
"You never have a blank canvas. When you're building a museum the important thing is to think about the art – you want art rooms. If you only had to come up in the middle of a room somewhere and pop up like a rabbit into a top-lit space with white walls and wooden floors that would be fine – but you can't. Sometimes in the desperation to get people in, you can lose that static moment of standing and looking at what's on the walls. Luckily that wasn't the case here.
Jumex is not a building I would have done anywhere else. You want to let the art speak for itself but at the same time if it's too quiet people say it's boring. However, it doesn't need to be spectacular for people to like it. Luckily plenty of people in the art world are quite discerning."