Regaining paradise / Global
Expo 70: Going for gold
Once Queensland's answer to Las Vegas, the gold coast's 1950s architecture fell victim to drastic redevelopment. Now there are efforts to revive its fortunes.
Southward bound on the main drag, the jutted high-rise skyline of Surfers Paradise petering away in the rear view mirror, the pervading architecture of Australia's Gold Coast begins to reveal a softer, more romantic history. Mid-century, Vegas-style motels adorned with exquisite scripted signage, pepper the strip in cheerful tones of pastel pinks, blues and yellows. Drifting past the "Ocean Blue" and "Tropicana" on a balmy summer's afternoon, the mind conjures a languid vignette of how these now low-budget rentals may have looked in the resort city's "Playground of the Pacific" heyday. monocle is admiring architecture with graphic designer Andrew Suggit, who has spent the past four years documenting the postcard past of the Gold Coast – a coastal city on subtropical Queensland's southeastern tip, visited by some 12 million tourists each year. Suggit's creative venture, the Golden Sans Project, has seen him wandering much of the 57km-long stretch of sun-drenched coastline, photographing iconic signage that still clings to the surviving hotels and residences of a more idealistic era.
"There is a sign in Burleigh Heads, in the centre of the Gold Coast, which pretty much epitomises the whole Golden Sans project," says Suggit, whose online photography archive has won him praise from typographers and traditionalists alike. "It has been pounded by the sun for years but in two deteriorated, beautifully scripted words, 'Surf Apartments', it says everything about what the Gold Coast was. It was summer holidays and hopes and dreams and getting away – it was just this healthy fun and family-orientated lifestyle." Culturally and physically the Gold Coast is a disjointed city, strung together by a series of old coastal towns gradually meeting through greenfield developments. For more than half a century the seaside strip has also been one of Australia's fastest-growing regional centres and while its half-a-million residents will vouch for the quality of life they enjoy, their connection to the city's heritage is a somewhat different story. If the place has one cohesive historical element, it might be the haste in which property developers have dismantled and rebuilt it to suit both the times and the tourists whose business the city relies on. From the day bulldozers sank into coastal swampland in the 1960s to form a maze of Florida-inspired island developments, preservation has often been sacrificed in favour of progress.
Suggit couldn't have picked a better spot to discuss this cloudy past than the Mermaid Beach Surf Club, which overlooks the sandy surf beach off Hedges Avenue. As the sun dips down and the hazy pink and purple reflections bouncing across the Pacific darken, we turn to survey the contrasting mansions on a street known proudly by locals as Millionaire's Mile.
"The redevelopment has escalated again in the past two or three years since the economy has improved," Suggit says. "They've always been pulling the classic buildings down but it is starting to really motor on now and there is nothing anyone can do about it." One tasteful weekend retreat, breaking stride from the questionable Mediterranean-style mansions of Hedges Avenue, belongs to a "bushie" from nearby country town Toowoomba. On a Saturday afternoon the home's owner, Peter Strong, is watering the lawn – his head wisely protected from the harsh Queensland sun by a wide-brimmed Akubra hat. His beautifully kept, soft-peach-coloured 1953 beach bungalow is one of the purest examples of a vintage Gold Coast architectural aesthetic – referencing a mid-century modern Californian feel with a splash of sun-drenched Australiana. The property echoes a cheery theme that runs through the Gold Coast's remaining properties of the era – fibrous cement sheet (or fibro) buildings characterised by skillion roofs, elaborately patterned concrete brick walls and generous shaded porches. The Strong bungalow stands out with its futuristic roofline. Its simple fibro and brick elements have shrugged off both the corroding sea air and considerable offers from developers.
"Before the economic crash we'd have developers, estate agents and passers-by knocking on our door every weekend wanting to buy the place," says Strong. "One night we were sitting on the patio having a beer and a developer who'd been out on the piss tried to cut us a very generous cheque, then and there." By generous, Strong may well have been talking millions; in recent years the value of some of the mansions on the strip rocketed into the tens of millions, with small beachfront blocks being swept up for massive sums.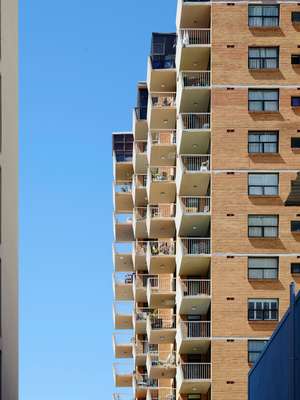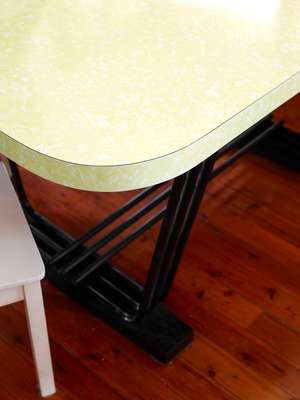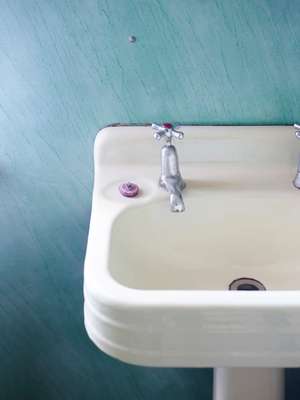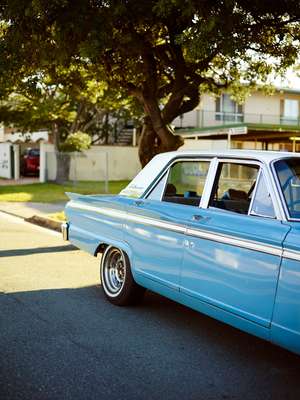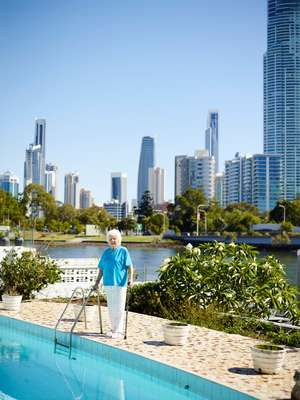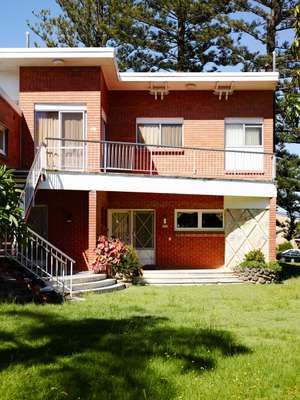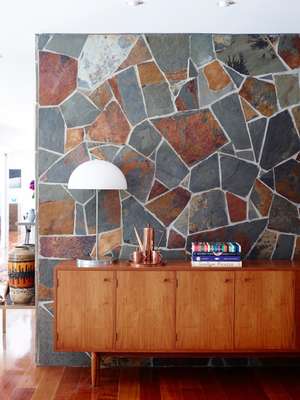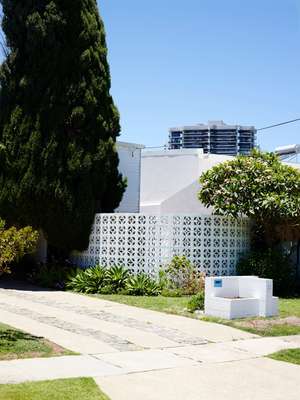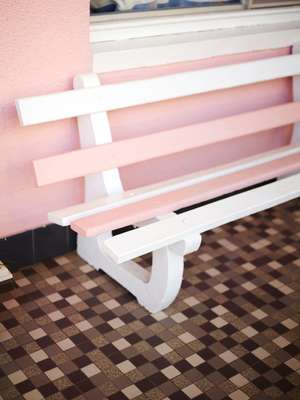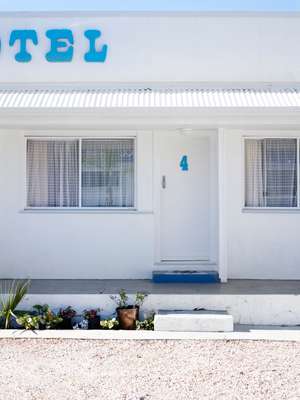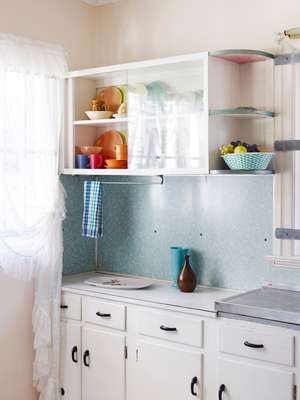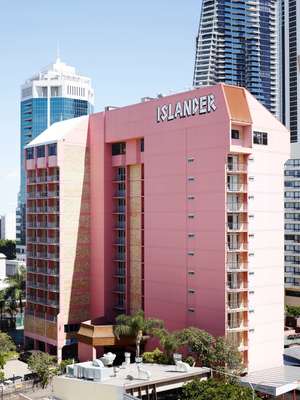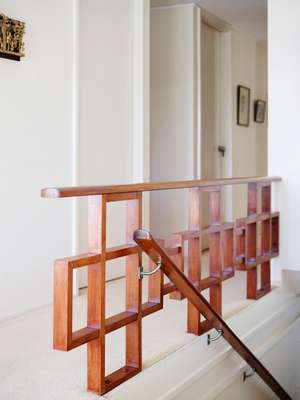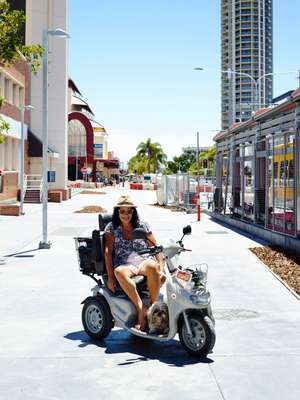 The upward spiral of the value of Gold Coast properties, which continued almost unabatedly from the 1950s to 2007, was the result of a distant enterprising dream of celebrity politician Sir Bruce Small. Small took the city's mayorship in 1967, in what can only be described as a retirement project, after becoming a millionaire growing his Malvern Star bicycle brand in Melbourne and then developing the Gold Coast's first canal ways. Shortly after Small's election victory a tropical cyclone, Dinah, mauled the city and its pristine surf beaches for 10 days, wiping out much of its significant infrastructure. Small, a resourceful character, used this catastrophe as a catalyst to mount one of the most successful tourism public relations blitzes in Australia's history and the nation paused to rally behind their battered resort playground.
Ken Newton, Small's media man during these dynamic years of growth for the Gold Coast, recalls the nation's top airline and motor industry executives leaving meetings teary-eyed and ready to move mountains to save the destination. "He was a PR man's dream," says Newton, who now owns a nice piece of northern Gold Coast suburb Paradise Point, after a successful career in PR for property developers. "You could take Bruce Small anywhere and shove him in a room full of media, and he just sprouted the Gold Coast. If he didn't know a statistic he would just make it up – it didn't matter. He was a bit of a bastard but he was great."
On the back of the 1960s campaign's success, Small toured Asia Pacific with a troupe of "meter maids" – gold bikini-clad local beauties, who still to this day drop coins into parking meters along the busy tourist spots of the Gold Coast. Together they sold an Americanised dream of a sun-kissed destination promising pleasure, prosperity and Small's favourite description for his city – "paradise".
Paradise City is the jewel in the crown of Bruce Small's Gold Coast, an exotically themed 1960s development of man-made islands a stone's throw from the high-rise metropolis resort of Surfers Paradise. A Paradise City resident with fond memories of Bruce Small is Betty Hobson, now 90, who has lived in her beautifully designed waterfront family home since it was built in 1962. Poolside with monocle, the nimble retiree, who still ducks out most afternoons to a nearby casino, is flicking through the original This is Paradise City proposal from Bruce Small Enterprises. The document describes the development as a "modern Venice, being built for a modern civilisation", offering both seclusion from – but still easy access to – the "gaiety and glitter of the golden strip". "We had some parties alright," she says. "They'd all be in the pool, some of them with their clothes on and some of them with their clothes off."
Hobson's property, the one remaining original residence on the luxurious Amalfi Drive, is now an architectural relic with beautiful features including a curved, patterned besa brick wall that casts magnificent shadows over an enclosed garden. Inside there's a geometric, rich-maple staircase bannister and some incredible, classic sixties-style tiling. While its glorious vintage sheen remains intact, the days of unlocked doors and barefoot strolls into Surfers Paradise are long gone. "I've been broken into so many times I can't count," Hobson says.
Besides a major organised-crime problem, which caused the Queensland premier to bring in tough legislation to outlaw motorcycle gangs state-wide, in 2014 the Gold Coast faces a race against time to prepare for its hosting of the 2018 Commonwealth Games. Unlike the Bruce Small days, citizens aren't quite banding together to support what will be Australia's biggest international event this decade. Dubbed "a city of sporting failures" by commentators, its national-league soccer and basketball franchises came and went in a matter of years and its biggest sporting drawcard – national rugby league side, the Gold Coast Titans – narrowly avoided liquidation in 2012. In spite of this sordid sporting past, the government and enterprising developers are ploughing ahead with some of the Gold Coast's grandest schemes yet. Highlights include a au$580m (€386m) luxury-brand-toting shopping centre and a au$1.2bn (€800m) light-rail system, which has temporarily turned the tourist strip into a catastrophic building site. Also announced is the Cultural Precinct, designed by Melbourne's arm Architecture – whose celebrated work includes the playfully imaginative Perth Arena.
Government and Games aside, the hottest prospects for reimagining a city struggling to form a modern identity are coming from the Gold Coast's emerging creative class. Over the past few years a number of entrepreneurs have attempted to re-establish some authenticity in their city, rolling out small businesses with a flair and style that's more agreeable with the Gold Coast's idealistic heyday. Co Spaces, a shared workspace for freelancers and small businesses based in Southport on the coast's northern tip, has set-up shop in a repurposed 1920s Ambulance Station. The business has worked with local architects Burling Brown to carefully recreate the beautiful original façade, which was trashed in favour of a split-faced block and screen wall in the 1970s. Co Spaces owner Ben Howe says that while the creative communities of Melbourne and Sydney often view the Gold Coast as a cultural abyss, emerging restaurants and retail outlets are seizing the opportunity to take inspiration from the city's lively, somewhat quirky past and create something lasting and beautiful. "People are crying out for interesting and exciting creative ventures," he says.
"I've watched friends start up new bars and restaurants, such as The Cambus Wallace, styled in the fashion of a 19th-century ship that wrecked off the coast. They have been packed out since their opening night. People are a lot more sophisticated and open to new ideas here than outsiders think."
As monocle winds down its exploration of the Gold Coast we are introduced to promising local artist Anna Carey. She is considerably more upbeat about her hometown than many of our previous guides as she escorts us around the remaining 1950s and 1960s beach shacks and motels of southern Gold Coast suburb, Palm Beach. The heritage of these now ramshackle buildings has played a defining role in her practice. Her work involves recreating miniature versions of these beacons of the past, not through real points of reference but rather by channelling the memories of her childhood into the pieces.
"I read somewhere that the place you grew up in will always be there in your mind, and that is the way you will always perceive a place or a building – even if it has been altered over time," she explains. "Our history is built on leisure, imagination and fantasy and the old architecture here expresses that. With these houses we haven't looked to the motherland, we literally looked out across the ocean to America. I grew up in an old house and everything around me was built in a style that is now disappearing. I felt a sense of loss and I was kind of nostalgic for those buildings. Even the surviving buildings I found were changing so quickly that there was no reference point so I just had to let my imagination create how it would be or should be."