Chart your course / Global
Object lessons
Whether it is an urban hub for artisan furniture-makers, a man-made island opening up as a design destination, a studio nestled in a woodland haven, France's celebration of all things graphic or Hong Kong's new claim as the place to buy, Monocle reveals some daring pockets of inspiration.
01
The forest
Portland, Oregon
Where to go it alone
In 10 years at Schoolhouse Electric, the Portland-based lighting and home goods firm, 38-year-old Michelle Steinback (pictured) had two significant roles: acting as both design director of lighting and vice-president of marketing. Last spring, she left in search of a better work/life balance. "With three children, I'd always had a nanny," she says. "I was missing so much."
At the same time, she also found a beguiling but dilapidated mid-century house, in which the proverbial good bones competed with rot and mice. The location, however, was quite something: a nook of Portland suburbia that immediately abuts a densely wooded forest. Generous windows and decks along the house's back open onto a park filled with moss-clad trees, ferns, creeks and trails. "The place was a mess. Much of it had to be stripped to the studs," she says, "but as soon as I saw the forest, I knew it was the right place."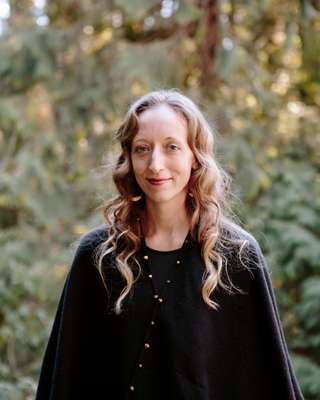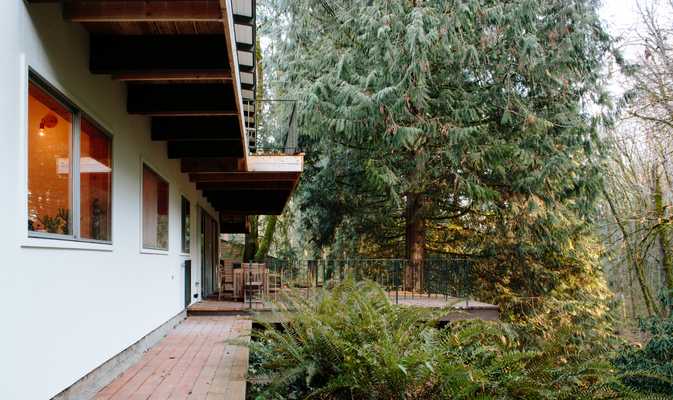 The retrofit process highlighted another feature: its walls had dozens of places for lighting sconces. Steinback began designing and building her own elegantly spare and often angular fixtures, expressing an aesthetic more indebted to European modernism than her Americana-steeped work for Schoolhouse. By November 2013, her diy efforts became a company. When it came to naming this new venture, Steinback looked no further than through her back windows.
"The company was born out of this house," she says. "And when I look outside, what do I see? Cedar and moss." Cedar & Moss found itself flooded with orders from the beginning. Steinback created a studio/assembly line in her basement, with workbenches lit by dappled forest sunshine and a patina-dying operation sharing space with the family washing machine. She was the sole investor, owner, designer, manager, production specialist and shipping worker until she made her first hire in December last year.
So far the new brand deftly combines the designer's sharp, clean modernist influences with those of the idyllic Oregon forest that surrounds her, all sword ferns and gnarled trees. The first Cedar & Moss look-book, shot in and around Steinback's home, mixes images of her brass creations with close-ups of the woody environment just outside her door. As her new company grows, Steinback hopes it embodies a similar balance.
"The most exciting prospect is the chance to create a really great working life, not just for me but for my future staff," she says. "What's it all about, if not your family, your health and your life? This is the perfect spot for it."
cedarandmoss.com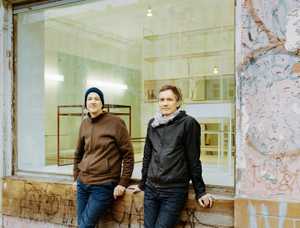 02
Danziger Strasse
Berlin
Where to set up a furniture studio
Danziger Strasse, a broad, busy artery running through Berlin's otherwise fancy Prenzlauer Berg district, seems ungentrifiable. But among the video stores and döner joints, a handful of artisans are busy designing and making beautiful, functional things. Within two blocks of the street's eastern edge, three quirky furniture-makers have formed a mini-hub of customised home design. But you have to look twice to notice.
"Some of my neighbours don't even know I'm here," says designer Mariusz Malecki, who runs furniture brand Studio Ziben (pictured left, top) in a spacious yet inconspicuous store that he came across in 2009; rent was low and the space was perfect, so he quickly settled in. Malecki comes from Pozen, Poland, where his younger brother, a carpenter, still fabricates the pieces to order; business has been booming since the beginning.
Up and across the street, Neue Tische ("new tables" in German) occupies an equally unostentatious storefront, where ultra-minimal tables are stacked on display. Co-owners Frank Skupin and Mathis Burandt (pictured left), who both trained as architects, started their firm after designing a five-metre long table for an interior architecture project a few years ago.
Like Studio Ziben, Neue Tische moved onto Danziger Strasse for both the reasonable rent and proximity to the area's well-heeled clientele. While it might still cut a hodge-podge appearance it's the place to go for those wanting absolutely personal (and personable) service and unique, made-to-measure furniture. The street's design veteran, Stephan Knauf of Plan4 (pictured left, second from top), whose solid-wood tables are pared-down bestsellers, says: "Other streets around here sell homeware that's like 'ready-to-wear' clothing. On Danziger you get the tailored, customised products."
studio-ziben.de; neue-tische.de; plan4.eu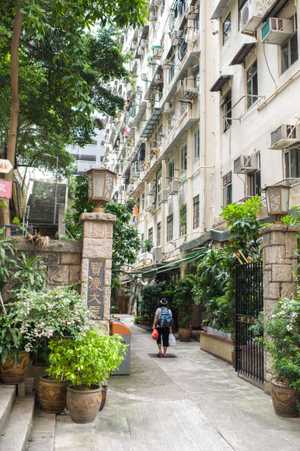 03
Tai Ping Shan
Hong Kong
The design retail neighbourhood to keep an eye on
Having transformed two old, traditional shop houses on Tai Ping Shan into simple and tasteful luxury apartment buildings, Helen Lindma (pictured top, middle) in was among the first to realise the area's promise. "There's a real charm to this neighbourhood," she says. "It attracts a young, creative community and that's not always easy to find in Hong Kong." With more foot traffic heading to the quiet streets around Tai Ping Shan and Po Hing Fong, Lindman has opened a café on the ground floor of her most recent refurbishment. Just opposite the new spot sits an Aesop store and the Australian company's regional office.
Set back from Hong Kong's bustling Central district – on peaceful, tree-lined streets that begin to ascend one of the city's many steep peaks – is a tranquil neighbourhood filled with independent cafés, stores and design workshops.
"In four years, Hong Kong's neighbourhoods have changed to feel like miniature versions of cities in Europe or the US. This area – Tai Ping Shan – and Sheung Wan has been swept up. It's a very good area to develop," says Alexis Holm, who opened a studio and storefront on Square Street with fellow Swede David Ericsson (both pictured above, right) in 2009. With Holm focused on his Gram show line and Ericsson working on Void watches, the duo's space sells both and houses a workshop for their leather goods. Alongside established galleries such as Sin Sin Fine Art (run by one of the neighbourhood's most familiar faces, Sin Sin Man) newer design shops have popped up.
At Fungus Workshop, two married couples produce handmade leather pieces in the shop and studio space, and they also offer daily classes to budding leatherworkers. Just down the road on Po Hing Fong street, Joanne Pereira's Eclectic Cool shop carries accessories from Another Country, homeware from Fog Linen Work and furniture from Hay. With a new escalator planned to connect Po Hing Fong to Mid-Levels, some locals are dubious about what will be left of their secluded neighbourhood but it seems certain it will continue to grow as a hub for the city's creative class.
04
La Fête du  Graphisme
Paris
The design festival to watch
"Look at the outskirts of any French town or the trucks you pass on the motorway – they're hideous," says Michel Bouvet (pictured), co-founder of France's first ever festival dedicated to graphic design, the Fête du Graphisme, kicking off in early 2014. "Poor design results in social exclusionism; thoughtful design improves lives."
Bouvet, an internationally acclaimed graphic designer, has worked with peer Stéphane Tanguy and Pierre Grand, director of cultural events company Artevia, to give birth to the festival, which aims to "democratise design" in France, and seems set to be a game-changer. The project has received the endorsement of the French State via the Ministry of Culture and Communication – another first in France.
But it's not just the French graphic design industry that this festival is hoping to jump-start but also Paris's new thriving cultural district. Many of the exhibitions take place at the Docks located across the river from Bercy. The Fête du Graphisme should help secure the docks area as a throbbing hub and encourage lorries on the French autoroutes to up their game in the process.
05
Papirøen
Copenhagen
The next design district
It is arguably the most desirable piece of undeveloped real estate in Copenhagen. Papirøen, or "The Paper Island", a 23,000 sq m man-made island, lies on the city's harbour front between restaurant Noma and the opera house and close to the Danish architecture school. Until recently its 1960s warehouses were used to store paper but now Papirøen is transforming into a pop-up village where furniture, fashion, design and architecture firms are all taking up residence.
"Everybody thinks these old industrial buildings are ugly but I see huge charm in them," says Klaus Kastbjerg (pictured left, above), the commercial property developer charged with bringing life to the island by the land's owner, Copenhagen Council. "Before the whole thing gets redeveloped in 2017, we wanted to create something interesting by inviting creative companies to move in."
Danish furniture and lighting brand &tradition will be one of the island's most prominent tenants. It is selecting products for one of the larger warehouses and plans to fill it with smaller "houses" representing other leading Danish interior and design companies such as Dinesen wood and textile firm Kvadrat.
"It will be a showcase for our products but we also want it to be a creative showroom for businesses that share an affinity with us," says Martin Kornbek Hansen (pictured left, bottom) of &tradition.
Already in place is Cobe Architects, who has taken a 1,000 sq m studio with gallery and exhibition space. The fashion industry is moving in too: designer Henrik Vibskov has relocated his studio there and opened a café. Calvin Klein and Tommy Hilfiger have also set up their country HQs here.
"The island is the crown jewel of Copenhagen," says Kastbjerg. "The council would like to build housing and a cultural centre here but for now we want to have some fun with it."