Suzuhana / Obuse
Perfect host
Norikazu Suzuki wants his restaurant to be home to good food and good times.
Suzuhana is located on a quiet lane in one of the more remote corners of rural Japan but despite its off-the-map location it has a lofty aim: to attract customers for life. "We encourage families to come here to celebrate all their life achievements: the birth of a baby, when they start school and later college and eventually when they marry and have their own children," says owner Norikazu Suzuki.
As it was only six years ago that Suzuki opened the restaurant in his hometown of Obuse (home to the Masuichi Kyakuden inn, see issue 30) in central Japan's Nagano region, it may take a while for his ambitions to come to fruition. That said, it's not off to a bad start, with its high-quality cuisine and atmospheric setting already attracting repeat visitors from across the country.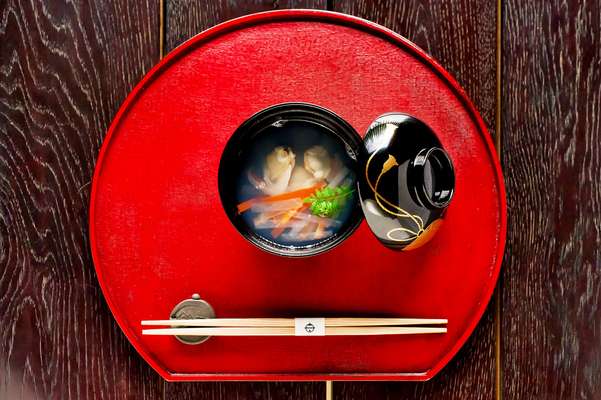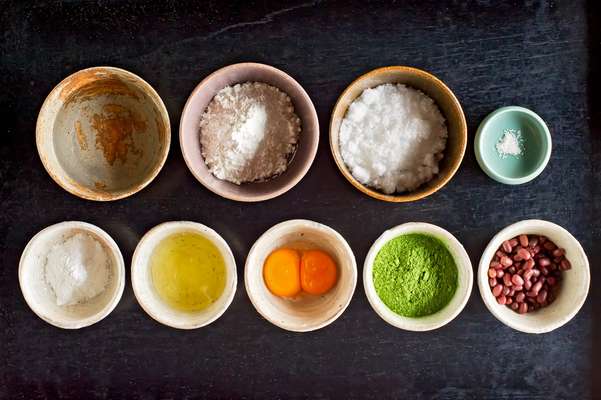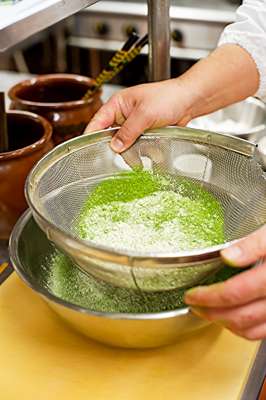 Traditional noren curtains flutter beneath a rustic roof at the entrance of Suzuhana, bringing to mind an old farmhouse. "The building is actually new," says Suzuki. "I asked the designer [Eiji Mitooka] to make it look old – like it had been here for a long time and would stay here for at least another 100 years."
The food, of course, takes centre stage. "The concept of the cuisine is casual kaiseki: multi-course dining," says Suzuki, who learned his trade during seven years working as chef at Obuse's Club restaurant.
Every meal comprises the same traditional elements – two appetisers, a soup, sashimi, a meat or fish dish, cooked vegetables, rice, miso soup, dessert and green tea – served one by one on delicately painted ceramics and lacquerware. Each dish is artfully presented, from a delicate green leaf of the sanshou plant placed with chopsticks to float on the surface of a clear soup to a prettily tied strand of yuzu rind on top of a prawn dumpling.
With a menu that changes monthly, the food is seasonal and local: Suzuki rises at 04.30 and drives to the fish market in Niigata three times a week to bid for the best catches. And chestnuts, for which Obuse is famed, feature heavily in the dishes in a variety of forms, from infused rice to creamy puddings.
Suzuki is keen to make a name for Suzuhana. "Kyoto is already famous for its vegetables but we're trying to compete and create our own tradition of Obuse vegetables," he says. After a bowl of his clam soup on a cold afternoon, followed by a moist green-tea cake, we're confident that his customers' children – not to mention their children – will be eating here for many years to come.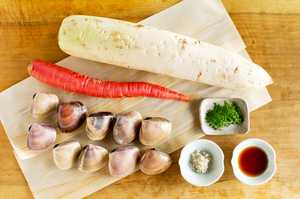 'Hamaguri no ushio jiru'/Clam soup
Serves 3
9 clams
1 white radish
1 carrot
10cm square piece of kelp
3 pepper leaves
Corn starch
Dash of light soy sauce
Splash of sake (optional)
Salt to taste
The method
Place clams in a pot, cover with cold water, add a slice of kelp and cook over a medium heat.

When all clams are fully open, remove from pan and place in a small container of cold water to prevent from drying. Retain boiled clam water.

Cut the carrot and radish into narrow strips and boil separately for 3 minutes.

Remove clams from shells and dry on a towel. Using chopsticks, coat each one in a layer of cornstarch powder to preserve texture and flavour.

Strain the boiled clam water through a sieve and paper towel. Spoon a small amount of broth into pan, add clams and boil briefly.

Transfer clams into bowls and place vegetables on top. Add salt, soy sauce and sake to the broth, bring to boil and pour over the clams and vegetables. Place pepper leaf on surface. Serve.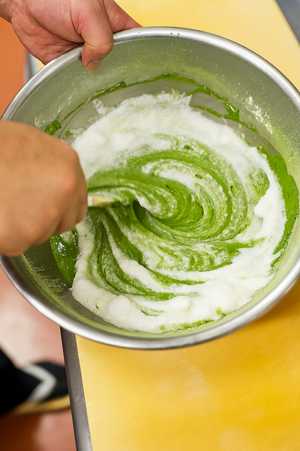 Steamed green-tea cake
Serves 6
20g green-tea powder
150g sugar
200g flour
15g baking powder
2 eggs
30g red beans ('azuki' if possible)
180ml water
Pinch of salt
The method
Sieve flour and green-tea powder into a large bowl. In a separate bowl, whisk the two egg yolks with water. In a third bowl, gently whisk the egg whites until very stiff.

Add sugar to the egg yolks and water then whisk. Fold and mix into the flour, then fold the whisked egg whites into the mixture.

Spoon into paper cups. Sprinkle beans onto the surface of each cake. Steam for 10 minutes. Serve.