Three Aoyama / Tokyo
The art of simplicity
When luxury cosmetics brand Three decided to open a shop, spa and restaurant in central Aoyama, it needed a space that would echo its understated image yet stand out from the crowd. We meet the team behind the evolving brand.
Masahiro and Mao Harada of Mount Fuji Architects Studio had a challenge on their hands when they were commissioned to create a new shop, spa and restaurant for Japanese skincare and cosmetics brand, Three. How could a brand known for its minimalist packaging and emphasis on sourcing the best natural ingredients be represented by a building in the middle of busy Aoyama? "The rhythm of Tokyo is so fast," says Masahiro. "It's always evolving. We wanted to create a neutral space. Somewhere you could walk into, start to relax and let your senses function."
They set up the store at the back of an open courtyard as far from the street as possible and positioned the front of the restaurant so it faced away from passing pedestrians. "It's the opposite of the way most commercial buildings are designed, with everything up front," says Masahiro. "Keeping the feeling of emptiness was a key part of the concept. So, if anything, we reduced the amount of design."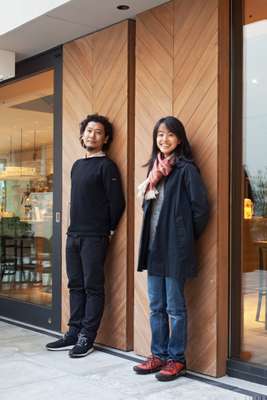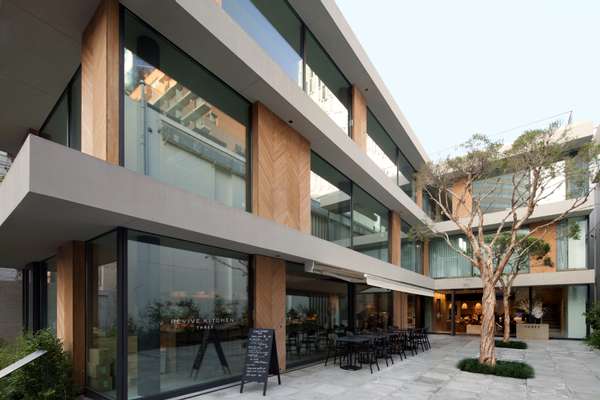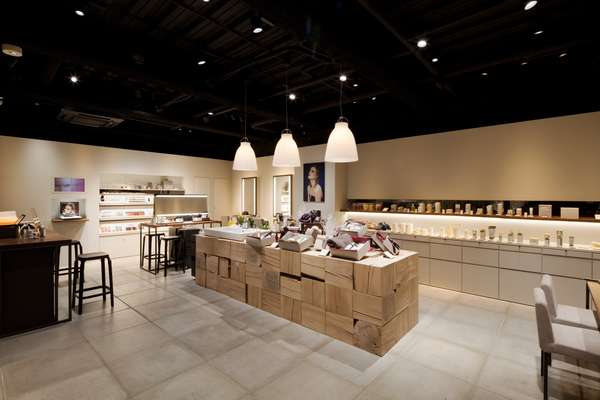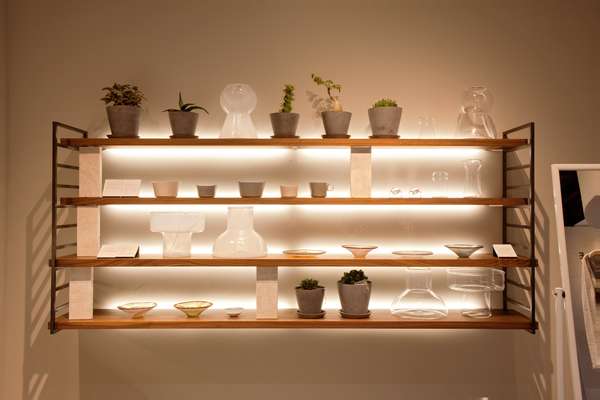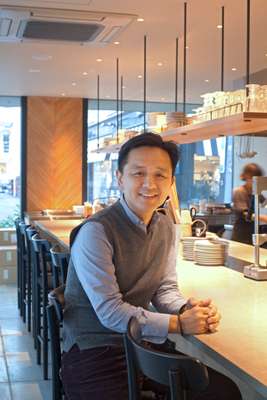 The main display area in the shop is made from raw hunks of Japanese bunaco wood from Gifu. Other tables are made from compressed earth and Okinawan travertine– "materials that breathe", says Mao. The tall doors are made from hinoki (cypress) arranged in a herringbone pattern. The architects didn't want anything too polished either, even if it runs counter to the high standards of Japanese construction. "If you live in Tokyo you're surrounded by design all the time," says Masahiro. "It's refreshing to have a space that isn't 100 per cent controlled. If you leave it to Japanese builders they will finish everything perfectly. We had to make sure they left some rough edges."
The Haradas were suggested for the project by Masaki Yokokawa, whose company, Welcome, coordinated Three's transition from the department store beauty hall to the streets of Tokyo. Yokokawa and project manager Miho Kaneuchi worked with Three for a year before an architect or location were even found. Yokokawa, whose company also runs the restaurant, came up with the idea of a super-healthy café serving raw food, gluten-free dishes and cold-pressed juices, prepared by chef Keiko Hosoi (who used to work at Yokokawa's restaurant, House). Open from 07.00, Revive Kitchen is a unique proposition in a city that has every other culinary option covered.
Three has offered a fresh, almost austere, perspective since its launch in 2009. It is the brainchild of Yasushi Ishibashi, a 40-year veteran of the beauty business who was headhunted by the cosmetics giant Pola Orbis to create a premium Japanese brand that could be sold all over the world.
Ishibashi knew what he wanted the brand to be: distinctively Japanese and a combination of the best of nature and technology, neither purely organic nor wholly chemical. "There are already 50 or 60 brands in Japanese department stores," he says. "We had to be different from all the others."
Ishibashi put together a crack team: a New York-based Japanese make-up artist for the cosmetics, an essential oils expert from Tokyo for the skin and body products and Oki Sato of design firm Nendo for the packaging. With its glass bottles, grey colour scheme and super-clean font, it sits perfectly with the brand's eco-meets-science identity. "The glass has a touch of Japanese wabi-sabi," he says. "And it feels good – most companies don't use real glass."
Ishibashi is not one to sit behind a desk. He travels all over Japan, sourcing raw materials, which include clay from Okinawa and yuzu citrus from Kochi. Three is the only brand in the world to use Japanese tea seed oil – overlooked by many for being too expensive. "Three is about more than external beauty," says Mao. "It's about health and relaxation. We wanted the architecture to match that." Ishibashi hopes to see Three making ¥10bn (€71m) a year in time for the Tokyo Olympics in 2020. Thailand was the first overseas location and top department stores in London, Paris and New York are queuing up to sell the brand. "The offers are there," says Ishibashi. "As soon as we're ready, we can go."
threecosmetics.com
Mount Fuji Architects Studio
The Haradas' CV
1973 Masahiro is born in Shizuoka prefecture
1976 Mao is born in Kanagawa prefecture
1997 Masahiro graduates from Shibaura Institute of Technology
1999 Mao graduates from Shibaura Institute of Technology
2004 The couple establish Mount Fuji Architects Studio
Projects:
2006 M3/KG residence, Meguro, Tokyo
2007 Sakura office and residence, Tokyo
2009 Tree House, Tokyo
2011 Valley, residence, Shizuoka
2011 Geo Metria, residence, Kanagawa
2012 The 3rd Burger, Tokyo
2013 Shore House, Kanagawa
2013 Three Aoyama
Yasushi Ishibashi
When Satoshi Suzuki, president of beauty company Pola Orbis, proposed the creation of a new brand, Yasushi Ishibashi unveiled Acro in January 2008. Three was launched in 2009.
Masaki Yokokawa
Yokokawa founded George's Furniture Co (now known as Welcome) in 2000. He went on to launch design store Cibone, Dean & Deluca in Japan, Souvenir from Tokyo in The National Art Centre, Tokyo, and a bistro called House. Most recently he opened lifestyle store, Today's Special.
Oki Sato
Sato created the original packaging for Three and set the template for Three's in-house designers. Born in Toronto, Sato founded award-winning design studio Nendo in Tokyo in 2002.