Report / Comoros
Troubled waters
Enduring the sort of political turmoil that inspires movies, Comoros is also burdened with a colonial legacy that is driving thousands to their deaths as they search for a better life. Monocle visits this uneasy paradise to see what the future holds.
Comoros' brief independence saga reads like Quentin Tarantino with a touch of Woody Allen: at least 20 military coups in 36 years, two murdered presidents, an 11-year reign by a French mercenary king and courtship by Iran. Its three islands, flyspecks between Mozambique and Madagascar in the Indian Ocean, live on emigrant remittances, foreign aid and untracked cash from selling bogus passports to Gulf emirs.
In April 2013, yet another putsch attempt linked to a shadowy Frenchman barely made the news. It was just the Comoros. Now this forgotten footnote of global affairs faces mounting tragedy. Mayotte, the archipelago's fourth island, is an overseas département as French as Hawaii is American. As such it is a half-open backdoor into the European Union and Comoros islanders are drowning en masse trying to reach it.
World attention focuses on the Mediterranean as 1,500 boat people die each year trying to reach Europe from North Africa. Yet the perilous passage to Mayotte from Comoros may well take a higher toll. No one can count victims let alone rescue them in a country without a single coast-guard patrol vessel.
"It's insane but we do it anyway," one jobless young man told me on the Comorian island of Anjouan, recounting his three midnight runs in an open kwassa kwassa, jammed to the gunwales. Each time, the boat turned back to elude capture.
Fishermen named their 9-metre flat-bottom open boats after a Congolese dance, with undulating movements like waves on an angry sea. Now kwassa also refers to the clandestine boatlift. The 80km trip from Anjouan to Mayotte should take five hours but evasive action can quadruple the time. Many passengers are pregnant women who want their children to be born French. They include Asians, mainland Africans and others sneaking into Europe the hard way.
"If I can raise another €500 I'll try it again," the young man says, asking for anonymity in case he makes it. "Sure, I might die. If gendarmes catch me I'll be locked up and sent back, broke. But there is nothing for me here."
Some fortunes are stashed abroad but most of Comoros' 800,000 inhabitants barely scrape by. More than 200,000 Comorians live in metropolitan France, and families depend heavily on them. Until 1994, they travelled freely to Mayotte. Now long lines form at the French consulate for hard-to-get visas.
In September, President Ikililou Dhoinine brought the crisis to the UN General Assembly. "To date," he says, "this visa has meant death for close to 10,000 of my compatriots in the waters between our islands and Mayotte, the world's biggest marine cemetery."
All four islands are Sunni Muslim, settled over centuries by the same ethnic blend from the African coast, the Middle East and South Asia. France colonised them in the mid-1800s. In 1974, Mayotte – then a placid territory of 40,000 inhabitants redolent of cloves, vanilla and ylang-ylang – voted to remain French. The others formed the Union of the Comoros but fought among themselves. By the 1990s, fleeing Comorians spiked Mayotte's population above 100,000. Today, visa notwithstanding, it is near 250,000, including 70,000-plus illegal boat people.
The Maore, Mayotte people, were asked in 2009 if they wanted to be France's 101st département; 99 per cent did. The French island is only 40km from Comoros at the nearest point, but the distance might as well be measured in light years. Comoros' per capita gdp, around €730 a year, is one-ninth of Mayotte's. In Moroni, the capital, crude fishing boats cluster on the rubbish-strewn beach by a sunken freighter. In Mamoudzou, Mayotte, the yacht club is crowded with power cruisers, white sloops and tourist charters. On Comorian TV, imams preach for hours; when folk dances lighten things, men and women stay separate. Mayotte's many channels, relayed from Paris, run to porn and ads with nudity.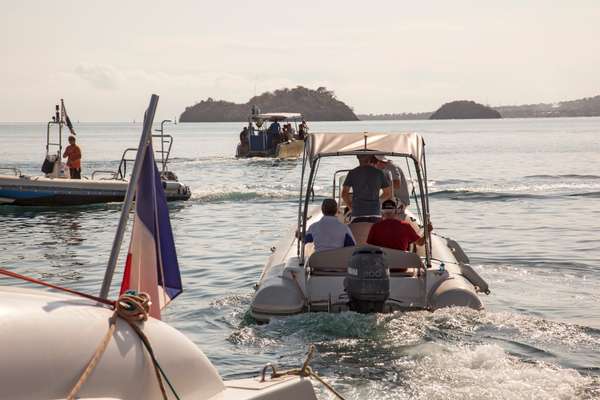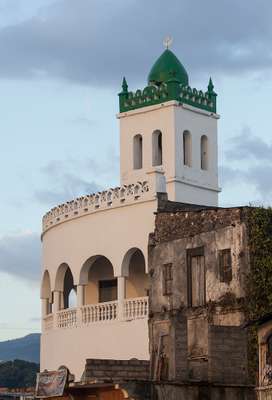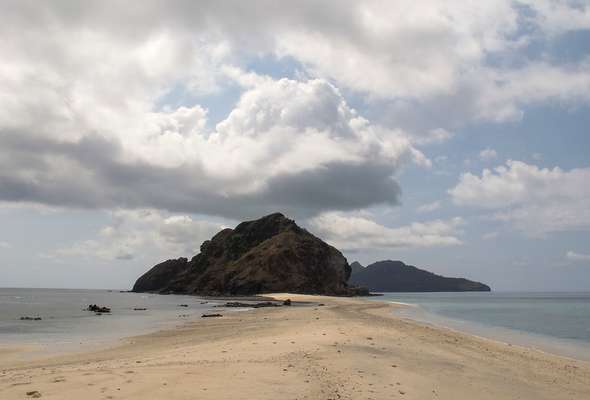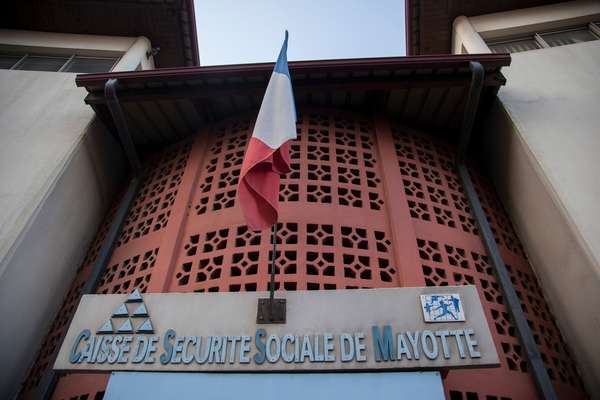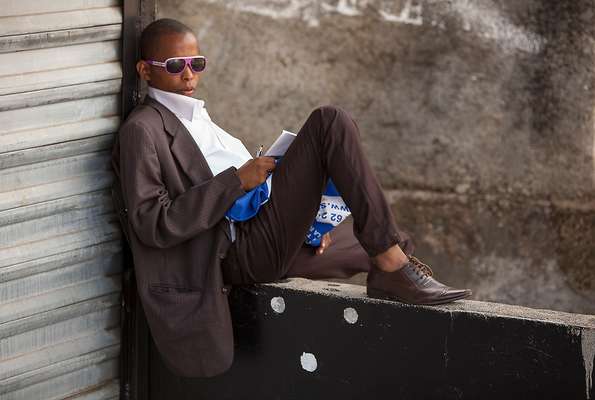 In Comoros, I watch passengers stream off the Mayotte ferry, staggering under loads of kitchen mixers, TV sets and disposable nappies for poor cousins. One young man stands out, with trendy hair and Parisian-cool garb, a prodigal son home for a visit. He survived the crossing five years earlier and hid in the hills, working odd jobs. "I got lucky, and friends helped me get legalised," he tells me. Now he's a couturier with a bank account, Social Security and an embossed booklet that lets him hop a plane to Paris, then just about anywhere in Europe.
To an ex-empire on which the sun still never sets, watching its past glory fading fast, the Tricolore flying over far-flung Mayotte should be a source of pride. Diners sip Chablis on flower-splashed terraces awaiting perfectly sauced rock lobster and airlifted white asparagus. As dolphins cavort off coral reefs and perfumed breezes riffle coconut palms, the place seems paradisiacal.
But as paradises go, it is deeply troubled. Mayotte is such an expensive, embarrassing handful that authorities are reluctant to talk about it. Official unemployment tops 25 per cent. Crippling strikes, stone-throwing protests and crime have forced many metropolitan Frenchmen to catch that flight back to Paris. Mamoudzou is oddly sullen. Visitors in Comoros can walk safely anywhere at night dripping with cameras. Not in Mayotte. "The break-ins and thievery are beyond belief," one restaurateur told me.
It is getting worse. As of 1 January, islanders lost their exemption from property taxes and extra levies required by the EU. Authorities expect trouble when this sinks in. Even civil servants from France went on strike because Paris decided to tax their benefits.
France spends €60m a year just on clandestine immigration. Bases bristle with satellite gear to guide coast guard vessels and aircraft, elite gendarmes rotate in on brief tours, staying in high-priced hotels. Thousands of nurses, teachers and civil servants earn double pay with home leave to Europe. Public works, social benefits and the rest add up fast. In Paris, a Ministry of Overseas Territories spokesman declined to estimate a total. It likely surpasses €1bn.
There is a serious image problem. Visiting legislators found Comorians crammed into cells, at twice the capacity, awaiting deportation. Police crack down hard. Near a beach hotel where vacationers eat Michelin-class meals, I watch a half-dozen burly cops in fatigues frogmarch a hapless youth into a van.
A complex symbiosis links Comoros with France. Despite his UN rhetoric, President Dhoinine did not bring up Mayotte on an earlier visit to Paris. Instead he reminded French president François Hollande of the historic friendship and asked for more aid.
At the outset, Comorians voted convincingly for independence. Now, interviews suggest, most would welcome a do-over. A poster in Moroni proclaims: "Mayotte belongs to the Comoros forever." Nearby, banks and offices surround the main square: Place de France. Many Frenchmen would be happy to see the whole archipelago cut loose.
As Hollande seeks a new approach to Africa, the islands are a nagging remnant of what was known as "France-Afrique". Murky manoeuvres from within Elysées Palace held sway over colonies freed since 1960. Simple intrigue was often enough to change troublesome regimes. Bases in Africa kept order. Then there were mercenaries – les affreux. The sobriquet, hard to translate, means "terrible tinged with terrifying". Some were too rough-edged even for the Foreign Legion. Many were what they liked to be called, soldiers of fortune. As it was never clear who paid them, they offered plausible deniability.
The most infamous was Bob Denard, for whom the term "larger than life" was an understatement. After a military stint, frustrated with his job delivering refrigerators in France, he answered a newspaper ad. Soon after, he led a scorched-earth campaign from Angola to the Congo. Dashing, burly and mustachioed, Denard commanded fierce loyalty.
In 1975, months after Comoros' independence, Denard toppled president Ahmed Abdallah. A quirky leftist, Ali Soilih, took power and made a shambles of the place. Soilih torched all official documents. He lowered the voting age to 14, chose a cabinet of semi-literates and allowed uniformed young toughs to terrorise and torture at will. Seven coup attempts in three years fed his paranoia.
When a witch doctor said a man with a dog would kill him, Soilih ordered the death of every canine in the islands. One morning in 1978, as he awoke in bed with two women, Denard burst through the door accompanied by a large black Alsatian shepherd. Two days later, Soilih was killed in mysterious circumstances. Abdallah, now allied with Denard, became president once again.
Denard headed Abdallah's presidential guard as minister of defence. In essence, he and his mercenaries ran the country for the next 11 years. He married a Muslim woman and settled on a farm. Relations with France improved markedly. Abdallah chafed under the mercenaries but needed protection from his restive army. In 1989, he feared troops would mutiny and asked Denard to disarm them. Someone started shooting and Abdallah was killed. The details remain a mystery but Denard was close by. French paratroops hurried in to evacuate him to South Africa.
In 1995, Denard was back again. His men seized power easily. By then, with the Soviet threat gone, France no longer needed its antennae atop Mount Karthala, Comoros' 2,400-metre-high volcano. Keen to avoid another mercenary farce, French forces stormed in but this time brought Denard to France. After a prison stretch, he died peacefully at home in 2007. He was 78.
After the mercenaries left and France pulled back, Iran made a run on Comoros. It was an ideal spot for outward-looking Islamic power seeking influence in the Indian Ocean and southern Africa. For a while, it seemed as if Comoros was growing as close to Iran as Cuba had been to the Soviet Union.
Ahmed Abdallah Sambi was elected president in 2006 in the country's first peaceful transfer of power. Though Sunni, he studied at Qom and wore a turban. Comorians called him the Ayatollah. He brought in Iranians to train the army at a base in Anjouan and to fortify his presidential guard. Teachers and imams made regular visits. An Iranian Red Crescent centre opened just outside the Moroni's busiest hotel.
Mahmoud Ahmadinejad twice sent a plane to bring Sambi to Tehran. They exchanged fiery speeches denouncing French post-colonial attitudes. Comoros opened an embassy in Tehran. Relations cooled a bit after Dhoinine took office in 2011. But in 2013, the president told Iran's visiting foreign minister he wanted to strengthen ties. Vice-president Nuroddin Borhan flew to Iran for President Hassan Rouhani's inauguration. He reopened the Comoros' trade centre in Tehran, urging an "effective and favourable" presence in Comoros.
At one time it seemed that tourism might flourish in Comoros. A South African chain ran the 181-room La Galawa resort hotel and casino near the airport. Tourists flew in daily from Johannesburg to take advantage but were ultimately thwarted by religious leaders objecting to gambling and general sinfulness.
Now tourism barely exists. Moroni was built like Zanzibar, a jewel of gleaming white buildings with carved doors, ironwork balconies and high windows that line the waterfront, and meander uphill into an impossible maze. Tiled minarets still glisten in the sun but the old quarter is going fast.
People give scant thought to a past dating back to Islamic traders and scholars who began arriving a millennium ago. Mould blackens fissured walls. Tin sheets cover collapsed roofs. Beautifully hewn stones go into groundfill for new houses. I ask Said Bacar, the 74-year-old traditional chief of Moroni, if the city might be restored. "It is over," he says. Still, the old society thrives. Young men save for a week-long grand marriage. A groom showers his bride with gifts, including a kilo of gold. Families feed hundreds. Men gather in embroidered robes to pray and party. Women, in fine cover-all dress, do the same – separately and out of sight. Then life returns to normal, behind closed doors on darkened streets.
Comoros is hardly short of characters for that Quentin Tarantino/Woody Allen script. One afternoon at the Retaj Moroni Hotel, I have a beer with a freelance security contractor who is drumming up business. He and his two cohorts, a man-mountain Slav and a skinny Latino, protect commercial vessels from Somali pirates. A shadowy South African cooks up oil and mining deals. Others scurry away or give vague answers when engaged in conversation.
Three government agents corner me in the lobby. One, in a brown uniform, shields a paper with data about me, apparently from Google. I had been followed for days. A police officer in blue, fingering handcuffs, asks odd questions. He wants my fax number. When I say I hadn't used a fax in years, he says, "What was your number when you had one?" A third man in plainclothes takes notes. But I am not sure why. He writes with the empty tube from an ex-Bic pen, and it leaves no trace on his notepad.
Tuna schools in Comoros' waters and fishing could bring in serious income but with no cold storage on shore or government help, those open kwassa kwassa cannot supply even the local demand. Instead Comoros leases rights to European fleets for less than €730,000 a year, and their nets devastate fishing close to shore. With Qatari investment, a Sri Lankan company is building a large fleet and processing plants to export fish to the Middle East and beyond. If it goes according to plan, it would create 5,000 jobs.
A World Bank report in 2013 on ease of opening a business ranked Comoros as 168th. An earlier study said it takes an average of 504 days to settle a legal dispute. Data is difficult to pin down in what is politely called the informal sector – and much is stolen.