Cavour / Dubai
Aboard brand Italy
The Italian fleet's newest flagship, 'Cavour', is on an unusual mission. The privately funded aircraft carrier is travelling more than 34,000km to Africa and the Middle East to promote Italian industry and to show it comes from a country on the move. Monocle jumps aboard.
From his perch on the bridge, Captain Francesco Milazzo makes out the Dubai skyline in the late-morning haze. Burj Khalifa, the world's tallest skyscraper, looms over the landscape – a glaring symbol of the emirate's economic power. Its architecture holds the Italian naval officer's attention only for a moment before his gaze shifts back to his ship – the 27,000-tonne aircraft carrier, Cavour, which is now moored in the city's port. Below, the flight deck is abuzz. However, in place of a roaring jet engine or helicopter rotor, there's the deep throaty purr of a Maserati motor.
Welcome to diplomacy in the 21st century. Where once major powers used their navies to project strength and force others to toe the line – Commodore Perry's black ships opening Japan to trade by gunpoint come to mind – countries are now finding less intimidating ways to wield their military might. One use has been to drum up business for their nation's manufacturers. It's no surprise to learn then that the Maserati that has attracted Milazzo's ear and the capital ship it now sits on are in the middle of a goodwill tour to fly the flag and, more importantly, flaunt the "Made in Italy" label.
For Milazzo, a 27-year-veteran of the navy, the newest flagship of the Italian fleet is a point of pride. "Few nations in the world are able to deploy aircraft carriers, let alone build them. Even the UK, with its proud naval tradition, is currently without one," he says, tapping the wood detailing on the ship's starboard bridge wing. "Ninety-five per cent of what you see here is made in Italy from materials supplied by Italian firms."
Milazzo's statement is more impressive when one considers that rising super-power China has a single carrier, the Liaoning – a modified Soviet-era ship laid down in the 1980s – while fellow-bric Brazil launches fighter jets off a flat-top that was originally commissioned half a century ago by France.
The morning monocle arrives aboard the Cavour, officers from the United Arab Emirates Navy are being given a tour. In the ship's spacious hangar, which has room for 12 troop-carrying helicopters or eight AV-8B Harrier II fighter jets, temporary stands display Italian products from defence giant Finmeccanica and firearm-maker Beretta. Next to a mock-up of a torpedo, Fincantieri – the shipyard that made Cavour a reality – has set out a model of its latest frigate. There's even a nod to the country's design industry, with clear plastic chairs from furniture brand Kartell to accommodate guests.
The display booths are part of a promotional campaign the Cavour and its 800-odd crew are taking part in along with three support ships that together comprise Italy's 30th Naval Group. The five-month mission will see the fleet call on ports in 19 countries, starting with resource-rich Arab states in the Persian Gulf that have upped defence spending in recent years. The carrier group then steams south to Africa for stops stretching from Mombasa to Casablanca before returning via Gibraltar to its base in Taranto.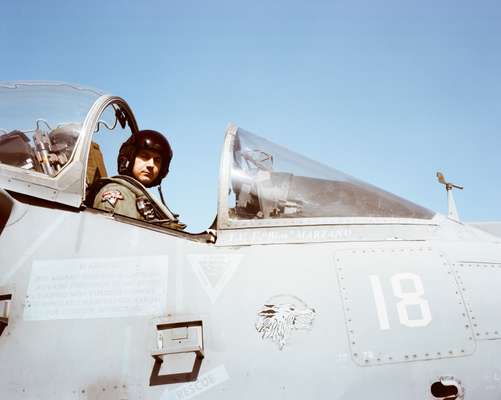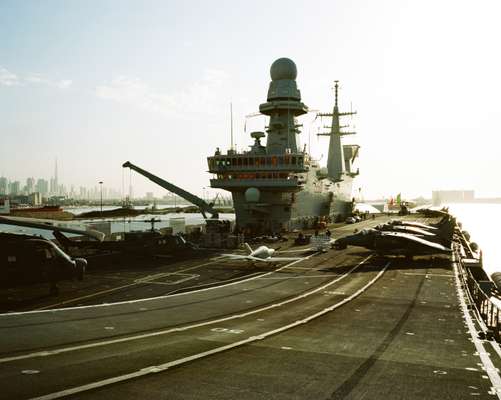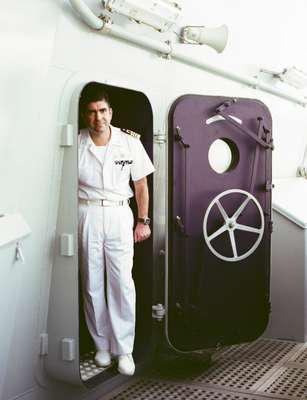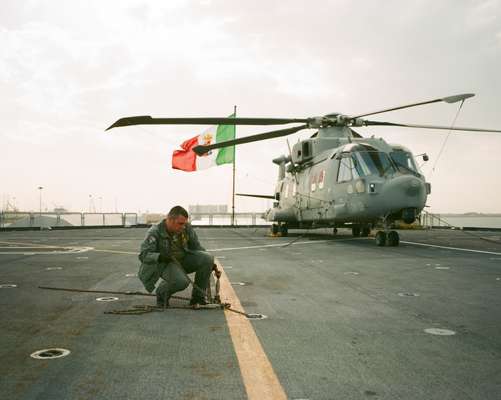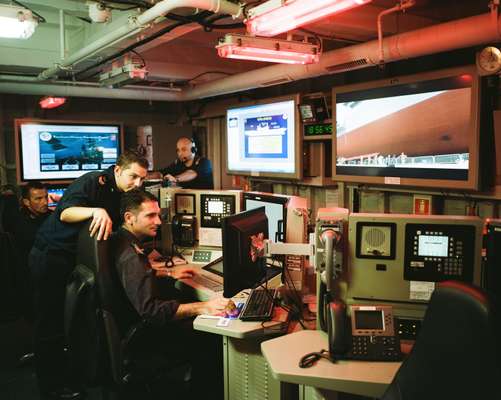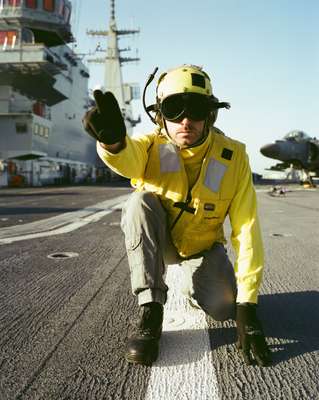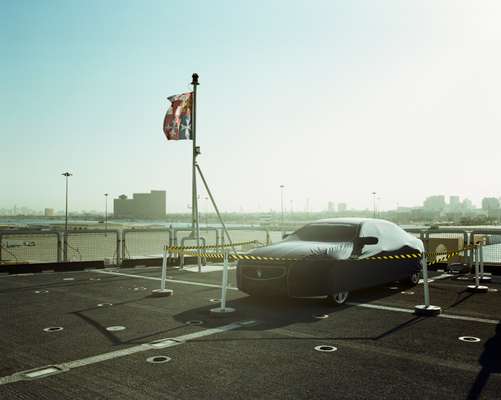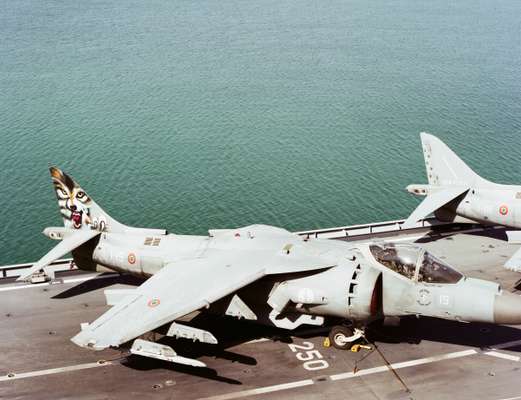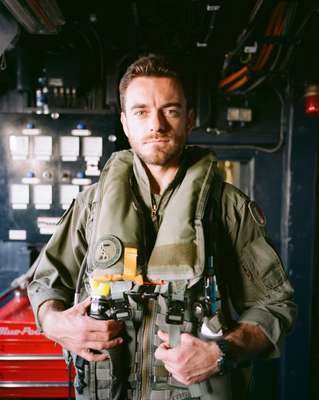 The floating trade mission has a feel-good codename, "A Country on the Move", and officials have used a fair amount of Italian flair to show off the country's manufacturing prowess – not all of it military. The week-long visit to Dubai is also being used to exhibit the Maseratis brought in by a local dealership, while an earlier stop in Abu Dhabi saw a flashy evening gala on board that featured a multi-million euro Lamborghini roadster, haute couture dresses and an appearance by the captain of Italy's 2006 World Cup-winning football team.
The mobile trade fair isn't cheap – it costs €200,000 a day to operate the Cavour – but a sizeable chunk of the tab to cover fuel and expenses on the 34,000km trip is being footed by Italian firms. Given the country's €2trn public debt, it's welcome news for taxpayers. Since the onset of the financial crisis, cash-strapped Italy has been forced to trim billions of euros from its military budget and cut troop numbers.
Fellow Nato members are also scaling back spending, with governments now looking to programmes that deliver more bang for the buck. Milazzo's predecessors in the 1990s anticipated such a need when plans were drawn up to replace the Garibaldi, Italy's ageing conventional carrier. The Cavour features access ramps on the side and aft to load vehicles into its 134 metre-long hangar, including 60-tonne Italian-made Ariete battle tanks or earth-moving machinery.
Its ability to take on supplies and trucks with ease combined with its detachment of helicopters makes it suitable for humanitarian operations. The carrier regularly takes part in exercises with the country's civil protection agency to prepare for natural disasters (a tsunami in the Mediterranean and an eruption of Mount Vesuvius are two scenarios) where the ship could be used as a floating command centre and first-aid station.
"It's an asset not only for the navy but for the country," says Milazzo. "From our base, we can reach any part of the Italian peninsula in 24 hours." The ship's first mission saw it dispatched to Haiti to provide assistance after the catastrophic earthquake of 2010. Aboard was sailor Andrea Virgili, a mechanic who works on the ship's eh101 helicopters. "We could already help when we were 400km offshore by sending in assistance by air. Then in port we offloaded a field hospital. This ship is built for more than combat."
Despite being at sea for months, Virgili doesn't mind the monotony. For servicemen, there are courtesy phones in the ship's labyrinth of corridors that let enlisted personnel call family back home. Socialising happens at meal times when crew rotate work-shifts. In galleys, sailors queue to tuck into a menu that is decidedly Italian: antipasti of parma ham and chunks of parmigiano reggiano followed by pasta carbonara, salad and fruit for dessert. To combat homesickness there's also a pizza maker.
To distinguish between the ranks, the officer's mess uses plates and bowls while servicemen line up to get helpings portioned out onto old-fashioned metal trays. Dining halls are less dreary with wood-panelling and TVs tuned to Italian news channels. "It's not like the old days when mess halls were dark and industrial looking. It feels more like eating on a cruise ship," says first class petty officer Donato Mancini.
Other Italian rituals on board include the post-meal espresso, with shots pulled by sailors doubling as baristas at one of the several coffee bars. Some venture out for a cigarette at the one site where smoking is allowed – an open-air section in the bow that houses the mooring lines. Health-conscious types have the gym, which is frequented by the ship's detachment of marines. They lift weights to loud music and burn calories on futuristic treadmills supplied by Italian brand Technogym.
One who worries about crew well-being is Lieutenant Luca Filaferro, the ship's medical officer. His windowless infirmary sits on a deck just above the waterline but inside resembles a hospital wing one might encounter on land. Five doctors oversee two operating rooms, CT scanner and X-ray machines, a pharmacy and a lab for blood work.
Now quiet, the 32-bed facility will be busy when the Cavour docks in a series of African ports. Together with a contingent from the Italian Red Cross, staff will perform 300 operations to repair cleft lips and other facial deformities on children for an international charity. "We can perform most medical procedures here on the ship so it's obviously a big plus," says Filaferro, who steps into an elevator outfitted with stretchers used to bring the injured down from the flight deck after rescues at sea.
The mix of hard and soft power on the Cavour is perhaps best exemplified by the work of pilot Riccardo Ferri. Flying his Merlin helicopter with co-pilot Carmela Carbonara – since 2000, Italian women have been allowed to enrol in the armed forces – he's had to hover over container ships navigating at full steam through choppy waters to whisk injured merchant seamen to safety, and practised fast-roping exercises to lower assault teams into hostile territory.
For air support, Ferri relies on Fabio Marzano, call-sign "Bias". The lieutenant and his Wolves squadron fly Harrier II jets on the Cavour, taking off with help from the elevated ramp positioned at the front of the flight deck. Though his flight suit is standard military green – one used by the US – the procurement process goes both ways: the 9mm Beretta sidearm he uses is also issued to members of the US armed forces.
Marzano's jet and other movements in the air and on the sea are monitored from the operations room inside the ship. The carrier's nerve centre is lined with gun-metal grey workstations where crew monitor a screen showing merchant marine traffic in the Indian Ocean. One notices a rectangular void on the map off the Somali coast – a place pirates congregate and where the Cavour is soon headed.
None of the officers look too worried, however. They seem more concerned with casting off on time, which depends on the harbour pilot first manoeuvring into port another impressive example of Italian shipbuilding, the 100,000-tonne passenger ship Costa Fortuna.