Asia / Global
Asia
Briefing
The no-holds-barred motorcade of the Sultan of Brunei, the debate over "real" Japanese food and the Italy-Korea scientific partnership celebrates its 30th birthday.
Me and my motorcade no.44
King of the runway
Brunei
[SULTAN HASSANAL BOLKIAH]
The leader of oil-rich Brunei Darussalam, Sultan Hassanal Bolkiah is one of the world's wealthiest monarchs, worth an estimated €15bn. His lavish spending sprees are no secret: since he inherited the throne and a rule-by-decree government in 1967, he has accumulated thousands of exotic, one-of-a-kind cars and motorcycles – Bugatti Veyrons, Ferraris and Koenigseggs – along with a few aeroplanes and helicopters.
You would expect a man with such a huge private fortune to be wary of crowds. Not Bolkiah. Known among Bruneians as HM (His Majesty), he has made a point of getting out to meet locals, making weekly visits for Friday prayers at mosques. On these trips he prefers to be his own driver – ideally in his Mercedes-Benz g55 amg. When driving isn't an option, he hops aboard one of three Black Hawk uh-60 helicopters at his disposal, often taking the controls for part of the journey. For formal events or his birthday, Bolkiah goes with one of the many cars in his Rolls-Royce collection – typically a black Phantom VI limousine.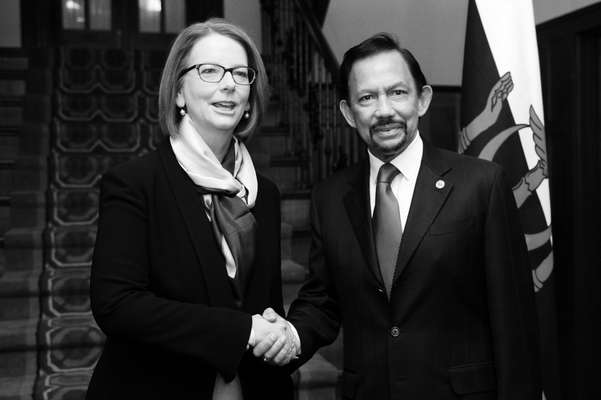 Brunei's wealth – seventh globally in terms of gdp per capita – gives the sultan access to the world's most powerful leaders. When a diplomatic visit involves a long-haul flight, he sits in the cockpit of his Boeing 747-430. He flew this jet to Washington last March and on another trip he surprised his Indian hosts by landing the plane in Delhi. If he wants a break from flying, the aircraft's cabin – with its bed, dining room and gold-plated,Lalique crystal interior – isn't a bad alternative.
---
Economy
A stellar performance by the Japanese stock market in 2013 notwithstanding, the jury is still out on the long-term viability of prime minister Shinzo Abe's economic strategy. So there was relief all round when the imf upgraded Japan's growth outlook for 2014 and the economic element in Abe's keynote speech at Davos – the first by a Japanese leader – was well received.
Politics
Abe is in a position of strength; the opposition has rarely been weaker and there is no obligation to call an election before 2016. But Abe's pro-nuclear energy policy is unpopular and he will be out of step with public opinion if he presses ahead with plans to restart Japan's idle reactors this year.
Diplomacy
Under intense pressure from China over the Senkaku Islands for much of last year, Shinzo Abe kept a cool head until December when he visited Yasukuni Shrine, the resting place of 2.5 million Japanese war dead (among them 14 Class A war criminals). This provoked the predictable ire of China and Korea, and the disapproval of the US.
---
Despite newly planted olive groves in Rajasthan, more than a third of India's runaway demand for olive oil is still supplied by Italy. Olive oil has recently taken off in India as a health food.
---
Pole to pole
South Korea
[SCIENCE]
The Italy-Korea scientific partnership is entering the second year of its funding drive. Their 30-year collaboration straddles the globe with their research and they currently run projects at both Poles. In the Arctic, they are measuring gases in the permafrost and turbulence in the polar sky. In the Antarctic, meanwhile, Korean and Italian scientists make regular forays in search of lunar meteorites. As of this coming austral summer, expeditions will depart from Korea's almost-built Jang Bogo base in Terra Nova Bay. But bilateralism has its practical limits: any meteorites they find are diplomatically split in half.
---
National taste
Japan
[FOOD]
Japan's publicity machine has shifted up a gear since 'washoku' – traditional Japanese cuisine – made it onto Unesco's Intangible Cultural Heritage list last December. One problem: not everyone agrees on what 'washoku' is. The Ministry of Agriculture, Forestry and Fisheries defines it as anything tied to traditional Japanese food culture. But what about imports such as ramen and tempura that are now standard Japanese fare? The debate has helped 'Washoku no Shirarezaru Sekai' ("The Unknown World of Japanese Cuisine") – a book by Yoshiki Tsuji, president of the Tsuji Culinary Institute in Osaka – break into Amazon Japan's top-10 list of best-selling food books.