Fashion / Global
Fashion
Briefing
Outfits, brands, designers and retailers with an Italian flavour.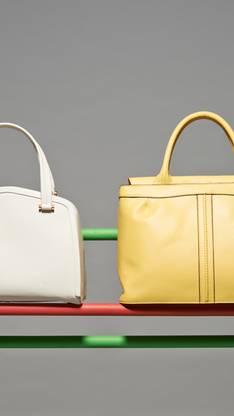 Top trunks
Bergamo
[EVIN BEACHWEAR]
Evin Beachwear was first dreamed up in the summer of 2012 when Bergamo-born Luca Damiano needed a beach getaway from his accountancy job. He finally quit in 2013 and spent the year crafting the perfect pair of swimming trunks, which launched this January. Inspired by happy childhood holidays on the Aeolie islands in the south – Evin was the name of a family boat – Damiano designs his shorts to "transmit a relaxing way of life". Every decision focuses on comfort without scrimping on style: the water-resistant polyester fabric is treated for softness and labels are ultrasonically cut to eliminate rough edges.
evin-beachwear.com
---
Tailor made
Milan
[SARTORIA DILETTO]
In 2012 a tailor at Rome's leading suit maker Caraceni set out on his own and founded Sartoria Diletto in Milan. "I wanted to create a young sartoria that's international and open-minded to guarantee a future for this historical craft," says 30-year-old owner Andrea Diletto (pictured). Everyone in his five-man team is under 35 in an industry where the average age is between 60 and 70. Diletto's service includes flying to wherever clients are to fit into their busy schedules.
Each suit is cut from natural materials supplied by firms such as Ermenegildo Zegna, and requires 33 measurements, three fittings and 120 hours of hand stitching.
sartoriadiletto.it
---
Pick of the best
Milan
[CAMERA BUYER]
Pressures of fast fashion and ecommerce sales inspired the creation of Camera Italiana Buyer Moda in 2000, a non-profit retail association that elects and helps to promote the most prestigious Italian multi-brand stores. "The decision is made in an official assembly that takes place twice a year," says general secretary Alberto Salesi.
"We receive about 10 requests a month." There are about 115 shops on the list, including Russo in Capri, Biffi in Florence and Pupi Solari in Milan. Each retailer gets a plaque engraved with "The Best Shops" for their storefront. Salesi explains the advantages that come with the award: "Retailers can have free entries to the fairs, direct invites to fashion shows, special prices in hotels and free courses for their staff."
camerabuyer.it
---
Butterfly effect
Rome
[STELLA JEAN]
Rome native Stella Jean's spring/summer collection draws on her Haitian-Creole heritage. Since launching her brand in 2011, Jean has created kaleidoscopes of bursting colours. This jacket, made from waxed printed cotton, is inspired by butterfly prints and "must be worn with a touch of irony, as it is designed for a woman who is a 'spirit frequent-flyer'," Jean says.
stellajean.it
---
East meets West
Milan, Tokyo
[MARNI X PORTER]
Italian fashion label Marni has yet again dressed Japanese bag maker Porter's range of bags, wallets and pouches, this time around in green and grey geometric shapes. The latest collaboration harnesses the brands' respective strengths – the sturdy polyester material and gold clasps are manufactured in Japan, shipped to Milan for printing and leather-zip fitting before returning to Porter for assembling. The fruits of this intercontinental partnership are rolling out in four phases: they released the second instalment in February featuring a new bag (pictured) and backpack after a successful Christmas launch.
marni.com, yoshidakaban.com
---
City space
Milan
[GOLDEN GOOSE]
Venetian designers Francesca Rinaldo and Alessandro Gallo planted their first Golden Goose Deluxe Brand flagship shop in Milan's Brera district last October.
The 200 sq m retail space carries their footwear, clothing and accessories aimed at city-living men, women and children. The team designed the shop floor, including a wall of glass shelving to display shoes. The moveable racks and wooden pedestals are frequently rearranged to create new experiences for returning customers. It's all part of the first building block in a global expansion strategy that will see shops opening in Paris, Tokyo and New York.
goldengoosedeluxebrand.it
---
Not to be sniffed at
Milan
[MASSIMO ALBA]
Handkerchiefs have long been a mainstay in Milan-based designer Massimo Alba's collections, and there's nothing better to brighten up your breast as we head into spring. This year there are three sets to choose from, each with its own theme: phrases, symbols and images. Alba's commitment to the humble hanky goes back to his childhood, when those used by his father made an impression on him: "His were huge and white, with white embroidered initials. The creases left by the iron made perfect geometric designs," says Alba. "I still remember the texture, weight and fragrance."
massimoalba.com
---
Family ties
Naples
[E. MARINELLA]
E. Marinella first opened in Naples in 1914 and the original 20 sq m shop remains unaltered. Its ties have long been a symbol of Italian elegance – often given as gifts by Italian heads of state and diplomats. These seven-fold ties are made with English silk but their production is characteristically Italian. Owner Maurizio Marinella has turned his grandfather's venture into an global brand.
marinellanapoli.it
---
Geometric jacket
Penne, Abruzzo
[BRIONI]
A key component in Brioni's leisure-driven spring/summer 2014 collection, this blouson jacket is made of grey suede strips that are woven over each other in order to create a striking geometric pattern. The bomber is topped off with knitted collar, cuffs and hem. Not one to be worn in spring showers.
brioni.com