10 areas of excellence / Italy
Maestros of the universe
Its cuisine is known the world over and everyone aspires to drive Italian-designed cars. Here are 10 areas in which, economic woes notwithstanding, Italy leads the way.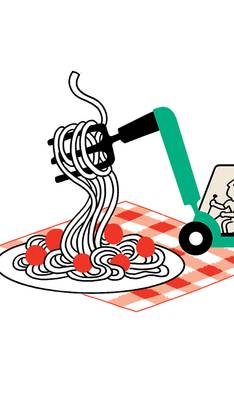 Assailed by political scandals and economic crisis over the past few years, Italy's standing in the business world has taken a bit of a beating. But while Italy may be slipping from being Europe's second-biggest manufacturer to being its third (thanks to growth in the UK), it remains a country employing millions of workers – many highly skilled – in the manufacture of specialist or luxury items. And unlike some countries where businesses are built to be sold, Italian families tend to pass their enterprises onto the next generation.
From specialist farming equipment to fine fabrics, Italy still holds a top spot in the world of commerce and, as home to some of history's most important art and architecture as well as many of today's most powerful design houses, its position as a global cultural leader is also looking secure.
---
1.
Diaspora and soft power
Spreading it around
Few countries have produced emigrants who so faithfully spread their culture as Italy. Travel around Sydney, São Paulo or New York and you won't have to go far to find Italians and their descendents proud to promote their heritage in films, restaurants and design studios. Whether it's a jar of pesto in our kitchen or an object we use daily, Italy has produced, exported and promoted its people and products better than arguably any other nation.
---
2.
Family business
Winning the generation game
In an era when many family firms are seeing their younger generations quit or sell out, Italy is leading the way by keeping it in the family. The most recent report published by the Associazione Italiana della Aziende Familiari, a network of Italian family businesses, shows that these companies employed just under one in three employees of Italian firms and accounted for 82 per cent of the country's businesses.
---
3.
Textiles
Material benefits
Despite the threat from cheap production in more recently industrialized countries, Italy's textile industry still has a reputation for high quality. Italy has spent centuries perfecting textile and yarn production. Last year, LVMH paid €2bn for an 80 per cent stake in Loro Piana, a family owned company that has been trading wools and textiles for three centuries. Then there's Cotonificio Albini, the leader in cotton shirting (watch out for a forthcoming Monocle film on the company).
---
4.
Engineering products – agricultural equipment
Farming it out
From rotary hoes and power harrows to specialist hazelnut harvesters and machines designed to cultivate biomass for renewable energy, Italy engineers some of the most diverse agricultural equipment in the world. With last year's sales of Italian farm machinery valued at more than €7bn, manufacturers have their eyes on the US.
---
5.
Automobile design
Driving the economy
Italy has produced some of the most celebrated car designers of the modern era. Designers such as Giorgetto Giugiaro, who started the Studi Italiani Realizzazione in Turin, were responsible for everything from the Fiat Punto to the Lotus Esprit.
Having fought its way back to making profit last year, Turin design giant Pininfarina has diversified its operation to cope with changing times. It started out as a coachbuilder in 1930 and the company closed its car manufacturing plants a few years ago to focus all its energy on design. With iconic Italian designs such as the 1960s Alfa Romeo Spider and the 1980s Ferrari Testarossa under the belt, the family-owned company has now turned to the buoyant Chinese market. It opened an office in Shanghai's automotive district in 2010 and China is now an important market for Paninfarina.
---
Spend an afternoon in any Italian town or city and come rain or shine, you'll see more sunglasses worn than at a tropical beach resort. It's no secret that Italians love their eyewear and the industry is an important one for the Made in Italy brand. "Luxottica is an Italian company by origin and being Italian is a key value to the corporation," says Andrea Guerra, CEO of the Luxottica Group, the world's largest eyewear company, which is headquartered in Milan with six factories operating in Italy and saw over €7bn in net sales over 2013. For Guerra, emerging markets in Latin America and Asia will be a focus for the company, a trend seen across the Italian eyewear market in general. In 2013, Luxottica's exports to emerging markets increased by 20 per cent, with 30 per cent growth in China and Brazil and 10 per cent in Mexico.
---
7.
Art conservation and restoration
Steady hands, steady income
Home to some of the world's most important (and dilapidated) pieces of art history and antiquity, it is no surprise that two of the best schools for art conservation and restoration are on Italian soil. Established in 1939, the Istituto Superiore per la Conservazione ed il Restauro in Rome has been a leading training ground for the world's young restorers. Along with the Opificio delle Pietre Dure in Florence, the school is run by the Italian Ministry of Cultural Heritage, which maintains a strict entry process for both. Admission to the five-year long diploma is by a publicly announced competition that includes drawing and aptitude tests as well as an examination in both art history and basic natural sciences. But, once admitted, students are almost guaranteed a prestigious career restoring art works and buildings from China to Afghanistan.
---
8.
Football
Kicking above its weight
Italian football has had a tough time of late. Trailing the German, English and Spanish leagues in terms of viewer numbers and revenue, Serie A has had to battle its way out of the 2006 Calciopoli match-fixing scandal and reignite the faith of their passionate fans. But Italian clubs have won more UEFA titles than those from any other country and few stadiums can claim the same atmosphere as Milan's San Siro. Home to both AC Milan and FC Internazionale Milano, the stadium, otherwise known as "La Scala of Football", regularly seats around 50,000 fans for each game. And with Italian coaches leading teams in countries such as China, Russia and Spain, it looks like Italy's methodical and complex approach to the beautiful game will be spreading.
---
9.
Design shows and exhibitions
Bringing the world to Italy
Whether you own a menswear shop in Seoul or you're a young product designer from Rotterdam, the place to buy and sell your wares is Italy. From Pitti Immagine's long calendar of tradeshows in Florence (see page 166), showcasing everything from fragrance and food to textiles, menswear and children's clothing, to Milan's Salone del Mobile show for furniture and the much-documented biannual fashion weeks, Italy is home to a globally attended design show or exhibition almost every month. "Fashion and design contribute significantly to the Italian economy," says Raffaello Napoleone, CEO of Pitti Immagine. "They are one of the key drivers of research, creativity and innovation. Internationally, they are one of the crucial factors for the image of our country." According to the Camera Nazionale della Moda, Italy's chief fashion body, 2014 turnover for clothing and accessories will reach over €62bn, with 76 per cent of sales heading abroad.
---
No list of Italy's areas of excellence would be complete without food. Specialist ingredients such as buffalo mozzarella and prosciutto, plates of pasta and pizza eaten in nearly every country in the world – Italy's contribution to global gastronomy is hard to beat. And it's the most basic of Italian foods that has been one of the country's most reliable exports. Last year, Italy exported nearly 2 million tonnes of pasta. While the biggest consumers of fusilli, spaghetti and other shapes made from a durum wheat mix are still Europe and the US, pasta's versatility has caught on in other parts of the world. "We are seeing rapid growth in regions where pasta is currently consumed the least," says Raffaello Ragaglini, the secretary general of the International Pasta Organisation. "Consumers in Asia Pacific, the Middle East and Africa are opening up to pasta as a delicious and affordable food."