My last meal / Milan
Rossana Orlandi
Italy's 'capa' of the design world, Rossana Orlandi, feels most like herself when she's at the dinner table. Over lunch, she tells us why.
"First of all, I don't like the idea of choosing my last meal. That's the reason I came here today with the corno [horn amulet] and the cornuto [the horns symbolised by a hand gesture]. I am very superstitious so the corno is my ideal companion. Still, at Larte I feel wonderful, I'm at ease, the food is amazing and the idea behind the restaurant – a collaboration of some of Italy's best high-end companies – is stupendous.
I adore eating. I love being at the table. To me, it's an important moment to come together – a convivial moment – it's the time when you are most yourself; the time when you can fully enjoy people. I adore simple food that respects the ingredients it's made with – I love dishes that make good use of herbs and elevate their basic flavours. The more a dish is simple and flavourful, the more I appreciate it. I'm very curious when it comes to eating. I like to go to cheap restaurants sometimes because you eat more authentic food and often you eat very well. I'm a big fan of tripe, which is really a poor man's dish in classic Italian cuisine, and I adore cassoulet – another humble dish made with pork and cabbage, and served with polenta.
I opened a charming little restaurant next to my gallery in Milan – Pane e Acqua. I did it because it is absolutely necessary to have a place where you can welcome clients. You work, you live – and food is at the heart of all of it. It's our space, with our flavours, our warmth, our way of being. Something that brings me pleasure is to feel at home, especially with a chef on hand.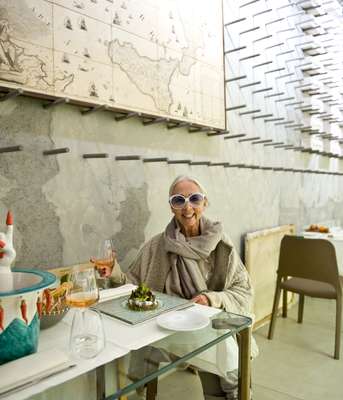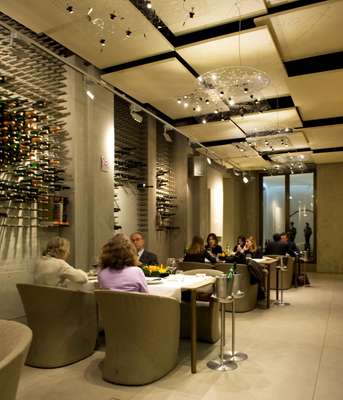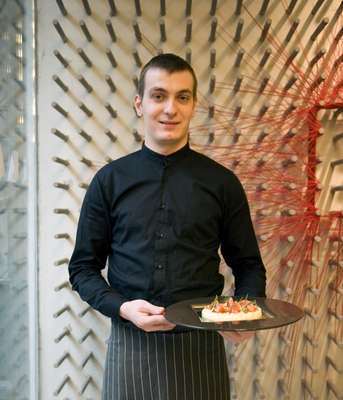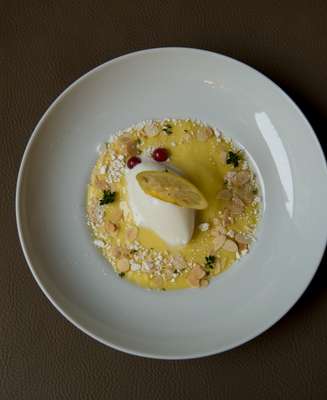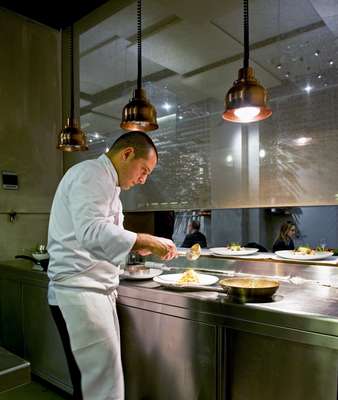 To inaugurate the gallery, I organised an exhibit entitled Tabula Rara – the first of four editions. We invited friends, artists, designers, fashion people and regular people to create artistic visions of dinner tables. There was a table made of make-up and one made out of a bed. There were so many creative ideas.
My feeling is that food is eaten first with the eyes. Even if the food is simple – just a nice slice of salami – but the table is set up in a certain manner, it is an incredible joy; it's like a warm embrace. Another thing that is very important to me is the atmosphere. Atmosphere is created by people. If everything is done with a smile, with love, it's wonderful.
My first memory related to food is that I couldn't wait to grow up so I wouldn't have to eat spinach soup anymore. I wanted to eat chicken wings like my brothers. But my first truly pleasurable memory of food – I was married already – was a lunch with my husband, a very difficult person who spends little time at the table. We spent four hours in a French restaurant and we were disappointed when it came to an end. It was marvellous – an old house in the countryside near Verona and plate after plate of food. We could have stayed there forever.
I'm not jealous of anyone or anything – everything people do or have makes me happy – but I do really envy people who are good in the kitchen. To make a dish well is not difficult; the difficult part is to enjoy making the dish. Cooking gives me a stiff neck – too much nervous tension. I'm capable of burning boiling water. Fortunately my husband believes that chefs are dangerous people because they know how to handle fire and knives.
The meal, for me, is truly the moment when people enjoy life – there's conversation, there's intimacy, you're more yourself. It can be a tête-à-tête, it can be a friendly dinner, but it's always distinct from the rest of the day. When you speak from behind a desk, you're not the same as when you speak at the table. Being at the table brings out your human side."
To eat: Macelleria Gaicobbe pancetta; Mezzi paccheri pasta with aubergine, tomatoes and provolone del Monaco cheese; Silver garfish with bitter Neopolitan spinach, prawns and smoked provolona cheese; Lemon crème anglaise with almond biscotti and ricotta gelato.
To drink: Franciacorta Bellavista; Espresso illy.
After many years of creating textiles for the fashion industry, Rossana Orlandi opened her eponymous space in 2002 with the aim of hosting new talents in design. She has since opened the restaurant Pane e Acqua in an adjacent ex-tobacco shop as well as an outpost of the gallery in Sardinia. During Salone del Mobile in Milan, designers flock to her space to check out the latest trends and rising stars – all selected by Orlandi.
Larte was opened in 2013 by 12 companies from Altagamma – an association of upmarket firms in Italy. A Neapolitan and Caprese inspired menu is paired with foodstuffs and furnishings from the restaurant's partners – plus rotating art exhibits.
Recipe: Half paccheri with aubergine, tomatoes and provolone del Monaco cheese
Ingredients
320g mezzi paccheri pasta
50g extra virgin olive oil
1 clove of garlic, unpeeled
1 bunch of basil
1 chilli pepper
500g Piennolo tomatoes
Salt and pepper as needed
200g fried aubergine
120g provolone del Monaco cheese
The method
Fry the garlic in oil with the peel on, adding the chilli pepper and basil when fragrant.
Quarter tomatoes and add to the pan.
Add salt and pepper and cook on a high flame for 10 minutes.
Cook the pasta in salted water and drain when it becomes al dente.
Add the tomato sauce then the aubergine and more basil, both chopped, and top with slivers of the provolone cheese.