Santoni / Global
Stepping forward
It's a skill that requires great precision and care, so it's no surprise Santoni's shoemaking apprentices can take six years to learn the trade. Master shoemaker Silvano Sollini reveals his pride in passing on the craft to a younger generation.
In the corner of a workshop in the lowlands between the two hilltop cities of Macerata and Corridonia, in Italy's Marche region, 23-year-old Matteo Valle stoops over a vice that holds a beechwood shoe last and cautiously sands its toe. He glances up to register the approval of his master, Silvano Sollini. "Matteo, when you touch a last you must touch it totally, not just the left or the right," he says as he shades a crimson line to correct his apprentice's work. "Otherwise you lose the proportion.
Observe the silhouette. It's about movement, harmony." Sollini – who began shoemaking at the age of nine and took his first job at 13 – is an attentive, patient but firm teacher. Wearing a crisp blue shirt, white overalls and beige wingtip brogues, the white-haired veteran takes position at the vice to show his charge how it's done. Valle silently watches his quick, confident motion as he uses putty and a fine roll of sandpaper to adjust the last's shape. "This piece of wood is a sculpture," Sollini says.
"It's about trying to create the perfect balance. Everything that happens here, to the last, will be critical to the shoemaking process – to comfort, to design, to proportion. This wooden model will be scanned and then reproduced perhaps hundreds of times [in plastic] and used for a production run."
As master shoemaker and technical manager at Santoni shoes, Sollini is one of the most experienced artisans in the factory. His attention to detail is key to the success of Santoni, a brand founded 40 years ago by Andrea Santoni in a workshop in Corridonia's industrial area. Today the company has a presence in 70 countries, turns over €50m a year and employs more than 400 artisans on this site using traditional shoe-making techniques to create double monks, Derbys and classic brogues as well as women's footwear in an adjoining factory.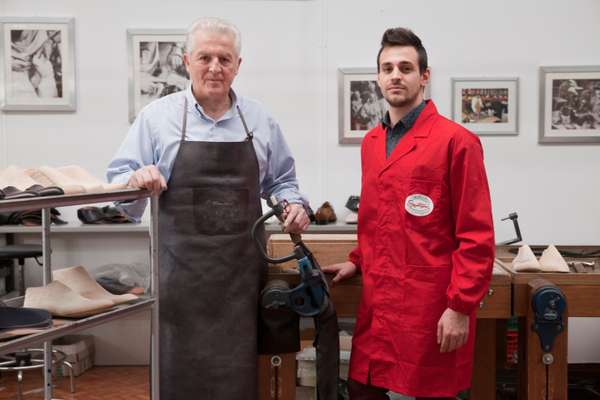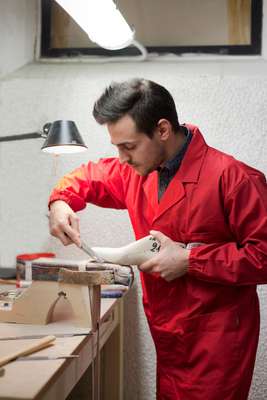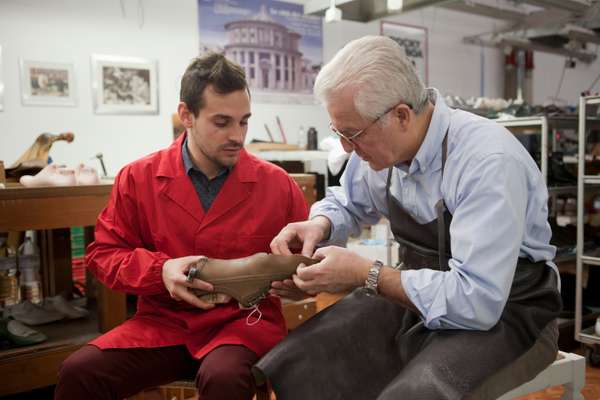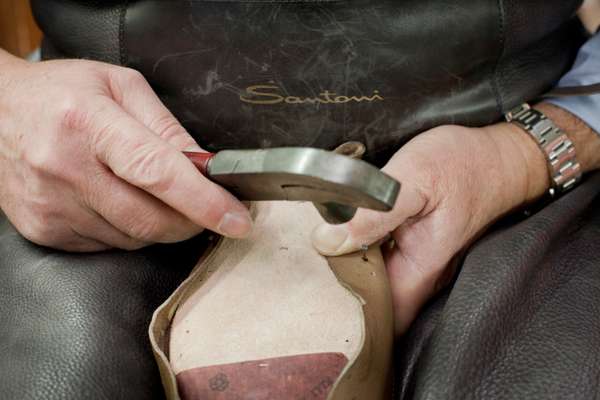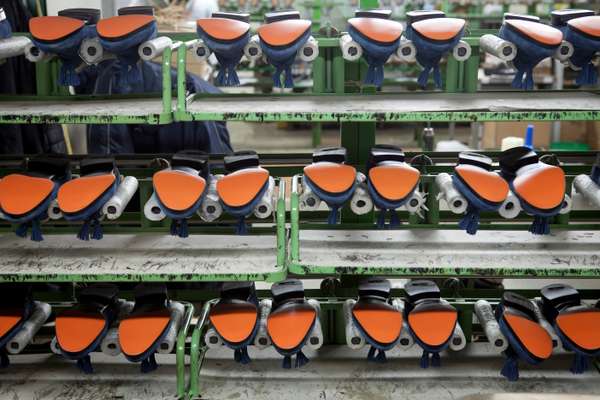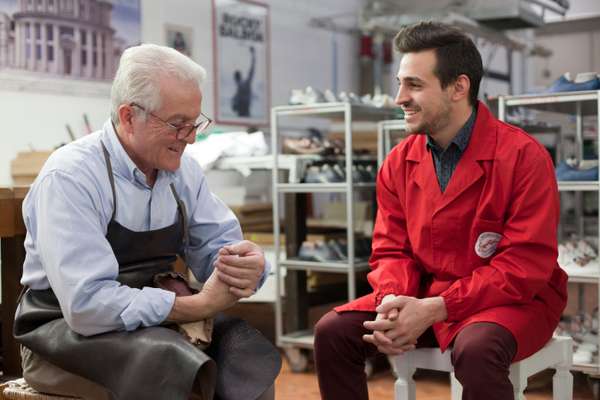 Giuseppe Santoni, who took over from his father as ceo in 1990, encourages collaboration between young and old. "It's the combination of tradition and innovation," he tells monocle. "It makes us different."
Despite the scale of the business, nothing here is automated. The artisans work from 08.00 to 18.00 with two hours for lunch – much as they did when the factory opened its doors in the 1970s. "Nowadays the world is moving so fast," says Sollini, "Here, time is not a problem – it is a value. Matteo will need not months but years to gain the experience he needs. He will have to be patient."
Valle too understands the pace of his chosen profession. He studied at a local technical college and joined Santoni as a trainee in the design office. It quickly became clear he had what it takes to become an artisan and Santoni transferred him to the factory floor to undertake an apprenticeship that will last up to six years. "At the beginning I was quite scared," he says.
"Now I'm experiencing the importance of the craft, I am convinced I will go on with passion. My father is in the industry and my grandfather was one of the most experienced artisans in the region. I feel I have the aptitude for the job. We have this important shoe district here; we are very proud of this."
Taking on an inexperienced junior was a big responsibility for Sollini. The two spend half of every day together at different stages of production, from last-making to assembling a final shoe. Valle knows he's in good company. "Silvano is a simple and authentic person," he says as his teacher shows him how to hand cut leather from a single calf hide. "As a teacher he can be very firm. Most of the time he is fun. I am lucky because he always tells me everything about his experiences, interesting episodes and challenges he has faced in his life."
Seated on a small stool, Sollini demonstrates how to stretch and fasten soft brown leather over a last to make a classic Oxford. Then he picks up a handful of small nails and pops them in his mouth. "This is how we do it in the business," he says through a mouth full of nails. "It's easier, you see. Your hands are free." Valle's eyes widen but he then sits down to mimic his master with a tack between his teeth.
There is camaraderie between the two, yet Sollini also extends a grandfatherly care to the spritely junior. "In this time of crisis for Italy it's important for young people to be able to develop skills. It's about social development. Matteo has the right hand, the right eye but also the passion to be a talented shoemaker, an important person in product development at Santoni."
For Sollini, transferring his trade to an enthusiastic young novice is a tonic. "It is the best thing that can happen to an experienced man," he tells monocle when Valle is out of sight. "A young person is a challenge. I am older – I could stay at home but I feel I must pass on my craft."