Expo April 2014 / Tokyo
Expo 72: Blooms or bust
Tokyo's Tsukiji fish market might be the city's must-see for tourists but it's the Japanese capital's flower market that's a thing of beauty and big business.
"It can be very stressful," says Miyuki Kobayashi. "I feel quite emotional if I lose out, particularly if I see a competitor's number flash up. You have to keep your mind focused though." Kobayashi is not talking about sporting defeat but the trials of participating in Tokyo's biggest flower auction, where five million flowers can be traded in a single day. Fellow florist Nicolai Bergmann, a Dane who has made Tokyo his home, agrees. "I get a kick out of the auction but it's like a casino." The promise of a bargain is intoxicating but the pressure is intense, with hundreds of buyers glued to computer screens while auctioneers are shouting over each other and waving bunches of sweet peas and branches of cherry blossom. Between the lightning speed of business, the noise and the bone-chilling cold, it calls for nerves of steel. And it's only 07.15.
The auction is held in Ota flower market in a purpose-built hangar close to Tokyo's port district. The second-largest flower market in the world, Ota opened for business in 1990, consolidating what had been a fragmented sales network. Today there are still a handful of smaller markets in Tokyo – and dozens of regional markets around Japan – but Ota dominates. Last year annual trade at the market rose by 5.1 per cent to reach just under ¥50bn (€357m) – or nearly one billion flowers and pot plants. The action is split between two auction houses, Ota Floriculture Auction and Flower Auction Japan, which are the conduit for everything that comes through the market. They run adjacent cut-flower auctions three mornings a week and supply to all the wholesalers in the market. Ultimately, everyone who comes to the market is buying from either or from both.
Market hours can be gruelling, particularly in the winter. Flowers arrive throughout the night and the wholesale shops are up and running by 04.30. By the time the live auction starts at 07.00, the market day is half over. Bergmann arrives at 05.00 to comb his favourite suppliers for obscure flowers and foliage he won't find at auction. Timing is critical and Bergmann is a decisive shopper. After nearly 15 years he knows exactly where to find what he wants: the fragrant Japanese roses, the oversized Okinawan bean pods, the rare varieties of carnations sold in quantities so small they'd never make it to a European market. Today he is picking up tawny-coloured ranunculi, black kale and feathery tulips. "They'll all be gone in a couple of hours," he says.
With five shops, a floristry school, café, interiors shop and a contract business arranging flowers for hotels, Bergmann can be buying 20,000 to 30,000 stems a day and spends around ¥10m (€71,300) a month. He always has a handful of staff at the live auction and a couple more to get the flowers out of the market. "If I need 1,000 roses I might pre-buy 500 – and pay 60 per cent more – then buy the rest at auction," he says. "It depends on the day." Florists need to have a quick mathematical brain as well as a creative eye.
Some 1,600 florists and wholesalers are registered to bid in auctions at Ota market and several hundred will be present. Buyers can also bid via the internet, following events on webcam. At the Ota Floriculture auction, eight different lots are on offer at any one time and each sale is over in a matter of seconds. It is unlike any other auction in Japan: a combination of an old Tokyo street market and a hi-tech trading floor. Purchases are barcoded, sent backstage on a high-speed conveyor belt and prepped for collection.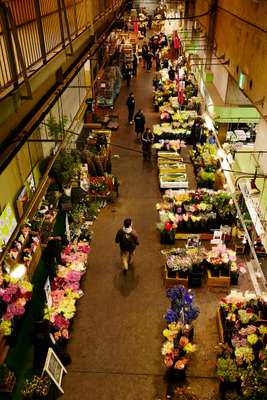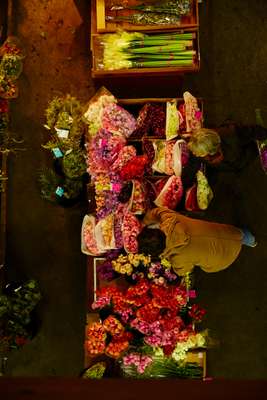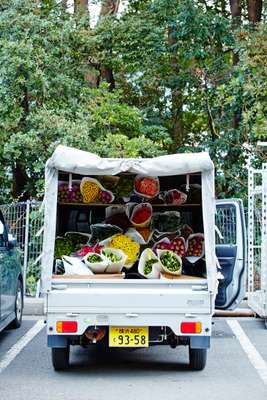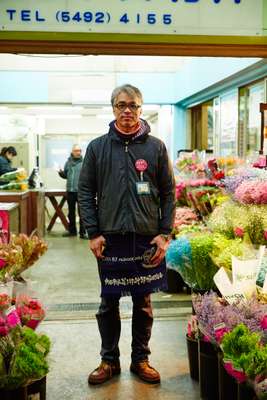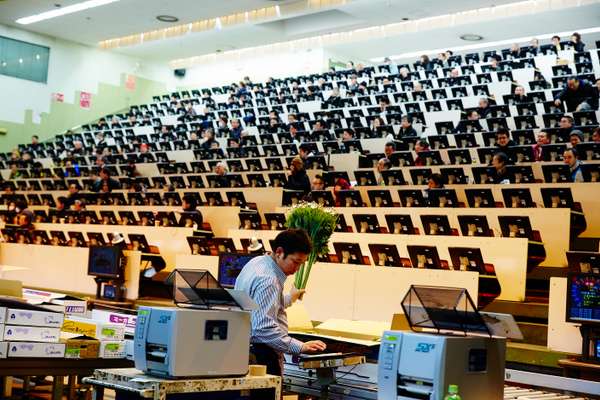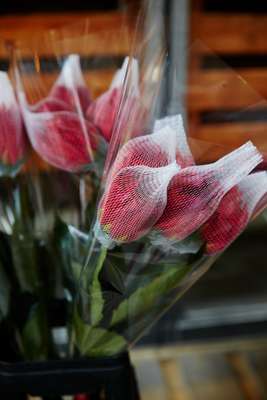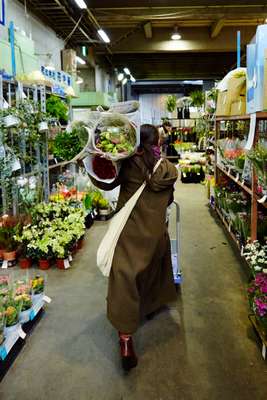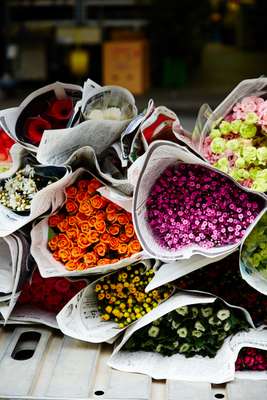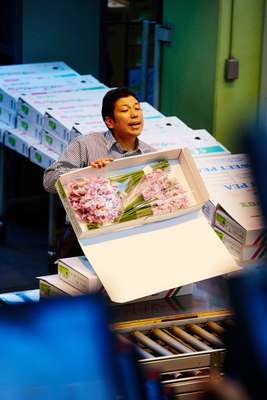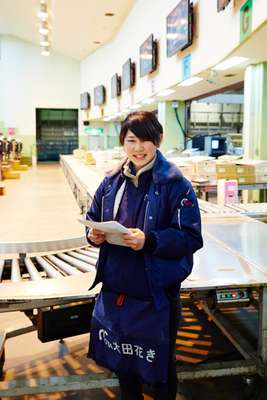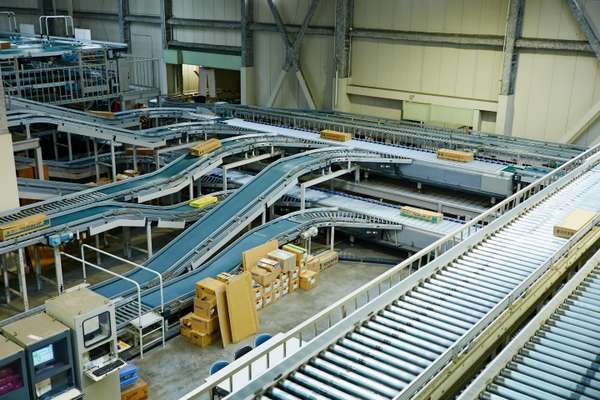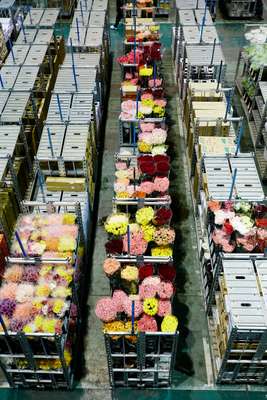 The man responsible for bringing the Japanese flower market into the digital age is Nobuo Isomura, ceo of Ota Floriculture, whose father ran a flower market and who has been in the business for more than 40 years. "Japan has a long history of flower growing," he says. "It has very distinct seasons and a particular taste for flowering trees, such as cherry blossoms and autumn leaves. It also has a culture of ikebana (flower arranging) that is centuries old." Lyricism aside, it's also a business worth investing in. The flower industry was worth ¥905bn (€6.45bn) in Japan in 2012 with 67,000 growers and 39,000 flower shops.
Isomura is an unlikely-looking revolutionary but he has transformed the way flowers are sold in Japan. His two big changes were to introduce electronic bidding and to switch to what is known as a Dutch auction – a rapid style where prices start high and drop until someone puts in a bid. To the uninitiated it looks like the auctioneers simply hold up the goods and shout until someone takes the bait. Isomura, who has 131 licensed auctioneers on his books, says that some are better than others at this fine art.
"A good auctioneer understands the balance between supply and demand – he isn't greedy," says Isomura. "He might have got a high price for roses the same time last year but maybe conditions this year are different. Someone who can't read the atmosphere – we say kuki yomenai – won't get the best price." Isomura puts an emphasis on personal relationships and works closely with growers to develop new varieties that might take off on the market. "It goes back to the days when flower companies would have a sales division and a seed division – the two always went hand in hand," he says. The company also has its own research institute, carefully scrutinising sales figures to see which flower is selling best at any moment in the year.
Hiroshi Takemasa is Ota Floriculture's manager of unique products. It's his job to predict the next big thing. What he is working on now is too secret to reveal but he can point to past successes, such as the ubiquitous plus-size dahlias that didn't exist in the market until Japan put them there. "Growers here know how to make a finished product," he says. "Look at orchids. The growers physically control the way the flowers grow so they're all facing the same way. It's like bonsai." Trends in flowers are as fickle as any in fashion. Five years ago it was all about being cool, sharp and "modern". Now a more eco-inspired, meadow-fresh style – champêtre – is in vogue, all tangled greenery, parsley, sedum, peas and green bellflowers.
"Things have got bigger in the past 10 years – big hydrangeas, big dahlias," says Gotaro Fuwa, president of Plants Partner – one of the biggest wholesalers in the market and a major player in the wedding business. Miyuki Kobayashi buys an exceptionally broad range for her shop, Fuga – anything from tropical flowers for fashion shoots to singular blooms for ikebana practitioners. She says that native Australian flowers are selling well. In keeping with the style for all things natural, Japanese yamadori – which roughly translates as "mountain foliage" – is also popular.
Chrysanthemums – Japan's funeral flower – never go out of fashion. Nor do roses. "They're basic, like flour for a baker," says Bergmann. Plants Partner might buy 3,500 cases of flowers worth ¥13m (€92,600) in a single day and a quarter of those will be roses. Bright orchids are still the standard gift for a new business.
"Japanese people love flowers to be fresh and seasonal," says Kobayashi. "They like things at the very beginning of the season and even before it starts. Everyone wants cherry blossoms for restaurants and parties but by the time cherries are flowering in Tokyo, we're moving onto the next thing." "Customers are also very sensitive to quality," she says. "They're particular about the shape of the flower and they'll complain if there's a mark on the leaf or the flowers are too open." Japanese orchids are transported and sold with their flowers carefully wrapped in paper; one damaged petal and an otherwise perfect orchid will be in the bargain bin. The year has its peaks and troughs: graduation season in March is good, as is December for Christmas and New Year. In spite of strenuous efforts by the industry, Japanese customers cannot be persuaded that Valentine's Day is a good time to buy flowers, preferring to give chocolate instead. The Tokyo market is known for its diversity and there are flowers and greenery from all over Japan and around the world. At Ota Floriculture the ratio of domestic to imported flowers sold is roughly 80/20. "Japan is a dream greenhouse," says Bergmann. "It's 3,000km long, skinny and mountainous. And there are perfect roads all the way." When the weather turns cold, sub-tropical Okinawa becomes more important; in the summer when it's too hot elsewhere, northern regions such as Tohoku and Hokkaido come into their own.
Wholesaler Chuo Kaki stocks flowers from 30 different countries but focuses on flowers from Japan. "Japanese growers tend to make a wide variety of flowers in small quantities," says sales manager Takatoshi Nakaya. "They have particular tastes and loyal fans. You can see how carefully the flowers are grown and picked." He holds up a bunch of soft pink Waltz roses grown in Saga prefecture in the far west of Japan, which command a higher price than the fragrance-free imported roses that are farmed in the tens of thousands. Wholesalers like Chuo Kaki take an active role in looking for new ideas. Nakaya has travelled all over the world visiting flower markets in Europe and talking to growers around Asia. "It's a world florists don't see," he says.
Further along the market shopping alley is Hanshin Flower Support, which specialises in unusual flowers – often familiar varieties in fresh sizes and colours. Buckets are filled with jumbo ranunculi from Miyazaki, tiny tulips from Niigata, blowsy dahlias from Yamagata and long-stemmed pansies that only one grower supplies. "They're easier to work into an arrangement than regular pansies," says buyer Chika Sakata. Hanshin's team works closely with Flower Spirit – a small nursery in Nagano, which has won awards for its pioneering flowers. Even wholesale, these flowers aren't cheap. "Japanese pay attention to quality," says Sakata. "If something's good they'll pay for it. People who come here understand the value."
The wholesalers keep brutal hours. Nakaya works for 16 hours straight on auction days; Fuwa was up at 02.00. "It can be competitive between the wholesalers," says Kiminori Hirata of Hanshin Flower Support. "But we work together too. If one seller runs out of something they need, they'll buy it from another seller." By midday the shops are shuttered, the auction rooms are deserted and buyers are loading up trucks. Kobayashi is heading back to Aoyama for a busy day in the shop. Bergmann too. "On my way home I'm already thinking about arrangements," he says. "I'm eager to get things into water."
"My passion for this place is thinking about the grower who takes 10 stems in his little van and how they end up here in Tokyo. No other developed country thinks it's worth doing things that small. It's unique in that way."