EuroShop / Düsseldorf
High street revival
If the atmosphere at the EuroShop trade fair was anything to go by, the death of bricks-and-mortar retail has been greatly exaggerated. In fact, the noises coming out of the retail extravaganza suggested that shops are rising to the challenge of their would-be online usurpers.
Every three years the global retail industry descends upon the pleasant Rhineland city of Düsseldorf for the EuroShop trade fair. This February was the biggest in the fair's 48-year history with 2,200 exhibitors spread out across 16 aircraft-hangar-sized halls and a colossal 200,000 sq m of exhibition space.
It is a battlefield. The big players, all vying for pre-eminence, display their size and might with enormous stalls that cover vast areas of floor space and tower up into the rafters. Smaller independents jostle for the remaining space and try to lure visitors away with eye-catching installations that are often no less impressive. Animal statues – the bigger the better – are a popular ploy; a three-metre-tall green giraffe and an overgrown red bulldog were two of the more attention-grabbing beasts.
This year exhibitors from 57 countries were in triumphant mood. There was a universal feeling that the threat posed to bricks-and-mortar stores by online retail – one that has been so pronounced in recent years – will be overcome. EuroShop 2014 was a show of strength for an industry that has been on the ropes for years.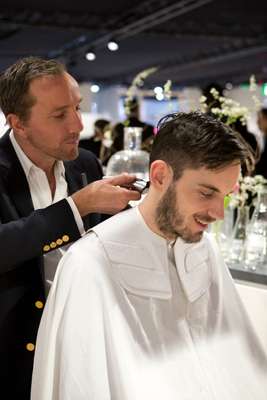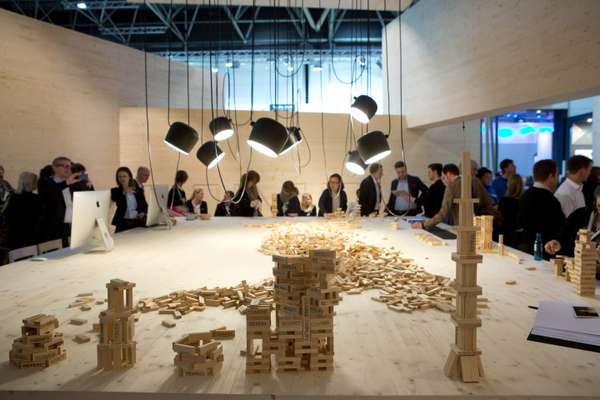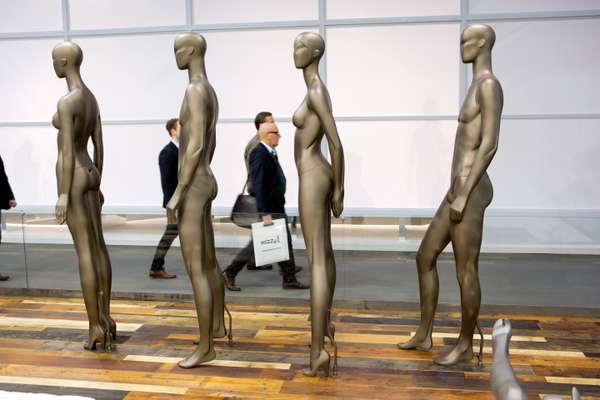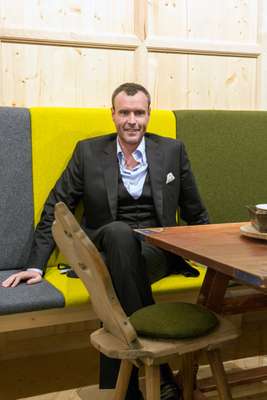 Elke Moebius, the director of the fair, believes the industry is more robust as a consequence. "E-commerce is putting pressure on bricks-and-mortar stores and that is good because they need to focus on their usps and what they are good at – atmosphere, emotion and service, for example," she says. "These are things e-commerce cannot give."
The stall constructed by Schweitzer, a leading store-design and shop-fitting company (see issue 71) based in Naturns, Italy, embodied this sentiment. The design was all about amplifying the visitor's experience. An imposing structure covering 850 sq m over two levels, the space was a provocation to Schweitzer's competitors and its customers.
Dubbed Department Store 3.0, the booth was closed on two sides with shop windows that only allowed passers-by to see in rather than gain immediate access. The entrance was not to be found on the main thoroughfare but round the back of the booth, so that visitors had to put in some effort to find it for themselves. Once inside they were rewarded with excellent service and some classic department-store glamour; the best hairdresser in Switzerland, for instance, was set up in one corner offering a free trim. "We want to show retailers what is possible," says ceo Bernhard Schweitzer.
The firm's owner is also unfazed by the putative threat of e-commerce. "For us, [online retail] provides a great opportunity," he says. "It shows our clients that they have to reinvent themselves, have to come up with much better ideas with much more innovation." In retail lighting design the unstoppable march of led continued apace this year. Ansorg, one of the biggest brands in the specially designated Lighting Designers' Zone, set the trend by only using led lights on its stall, for example. However, as some of the other lighting designers present demonstrated, technology alone does not equate to innovation.
"Technology is no longer the driving force in the industry," says Andreas Wieser from Tyrolean outfit Prolicht. "I strongly believe that it is how you apply the leds and how you create atmosphere by using technology that will be the future of lighting." At the Prolicht stall, which housed a miniature bakery, leds with a golden coating were used to create a warm yet distinctively sharp glow. "For us the technology is an enabler," says Wieser. "We use it to do something beautiful."
EuroShop isn't solely about beauty and design, though. In fact, the vast majority of the exhibitors are there to showcase functional solutions to retailers' needs. For instance, Vision Fashion Mannequins, a company based in Monza just outside Milan, makes customised mannequins from fibreglass and plastic with magnetic joints that allow retailers to swap parts and strike the perfect pose. Other brands exhibited the very latest trends in shopping-trolley design or simple but effective shelving units.
If there was a theme unifying all the retailers at EuroShop it was that brands are thinking more about creating a unique shopping experience for their customers. Philipp Beck, ceo of Atelier 522, a boutique design outfit based near Lake Constance at the foot of the Alps, believes that a store should have its own identity. "If your store is in Berlin, it has to have something special for Berlin," he says. "If it's in Zürich, it has to have a bit of Zürich's identity."
Bigger brands are in no doubt that this emphasis on character and unique attributes is essential for the future of the retail industry. Schweitzer, whose company designs stores for huge retailers such as Waitrose in the UK and department store Le Bon Marché in Paris, continues the theme. "Live retail has to get back its soul," he says. "In the future, the most successful companies really will be those able to create soul."
Guido Mamczur
Managing director, D'Art Design Gruppe
D'Art Design Gruppe was set up in 1991 and is on the outskirts of Düsseldorf. One of the leading agencies for brand communication and interior design in Germany, it also has an office in Seoul.
What does the shop of the future look like?
One future theme in retail is authenticity. It is about creating real moments. Brands are strong leaders but they have to be tangible.
What have you seen that has changed your outlook on retail design?
When we opened our Seoul office I found out that South Koreans cannot sign a contract – they need their own stamp. So in Seoul there are lots of small shops offering these stamps – a product and an expression of a cultural moment.