Report / Xi'an
New dynasty
The historic city of Xi'an may be best known for its ancient walls and Terracotta Army but it's becoming a global business hub too. Monocle takes a tour, visiting an industrial park where a high-speed railway is being constructed and also the bustling Hi-Tech Development Zone.
Located in the geographic heart of China, Xi'an is a city better known for its past than for the promise of its future. In its fortified old city, cars and scooters swarm around a plaza overlooked by a 14th-century Ming Dynasty bell tower. But, over the past decade, this city of 8.5 million people has undergone something of a transformation. Home to around 100 universities and colleges, some strategic rail and road links and an airport with growing international connections, Xi'an is becoming an important hub for companies seeking to capitalise on China's inland economy.
Landing at Xi'an Xianyang International Airport, it's not easy to get a lay of the land. Shrouded in smog, the city's location between the Qinling Mountains and Wei River in Shaanxi province is hidden from sight. Yet this historic starting point of the ancient Silk Road is now a key part of China's western development. This is partly down to its infrastructure: served by nine major motorways and the busy Longhai Railway that runs from China's east coast to Lanzhou in the west, Xi'an will be a stop on the high-speed railway being built alongside the Longhai to be complete in its entirety by 2017. "We're landlocked but I want Xi'an to be known as a port city," says Li Xiang, secretary for the working committee of the Xi'an International Trade and Logistics Park, as he tells monocle about plans to create an inland port in the city. "There's nothing to hold us back from being a global business hub."
Li has high hopes for the sprawling industrial park that occupies a 44.6 sq km site to the northeast of the city. Since 2008, when the park was founded, city officials have been busy rolling out an ambitious masterplan. While much of it is still in the making, a large-scale container park, which opened in 2010, sees shipments marked with Evergreen, Maersk and even Walmart arrive by train. Once the high-speed passenger rail line is complete, the Longhai Railway will be used exclusively for cargo. "The train will change how goods move between China and Europe," says Li Zhao, an officer at the administration committee for the park as well as the dean of the West Modern Logistics Development and Research Institute. "By boat it takes up to 50 days to move goods from Xi'an to Rotterdam. By rail it will take just 15."
Driving about an hour out of the centre, heading north on the Jingkun Expressway, a large, bronze sculpture of a fighter plane signals the turn off to Yanliang Aviation City – one of the first parts of Xi'an to open up to international investment and manufacturing. At lunchtime, nearly everyone in the streets is wearing the smart navy uniform of Xi'an's Aircraft Industry (Group) Company (XAC) – a subsidiary of the state-owned Aviation Industry Corporation of China, which has been in this district since 1958. Having worked with Boeing and Airbus since the 1980s, when China's economy began to open up to the rest of the world, XAC has one of the most established international manufacturing alliances in Xi'an. "Building relationships with all aircraft companies is a process," says Wu Zhipeng, director of their international cooperation division. "We began by making smaller parts for Boeing. As our skill set and capacity grew, we specialised. We are now global experts in wing and fin technology."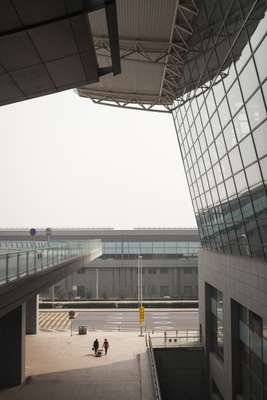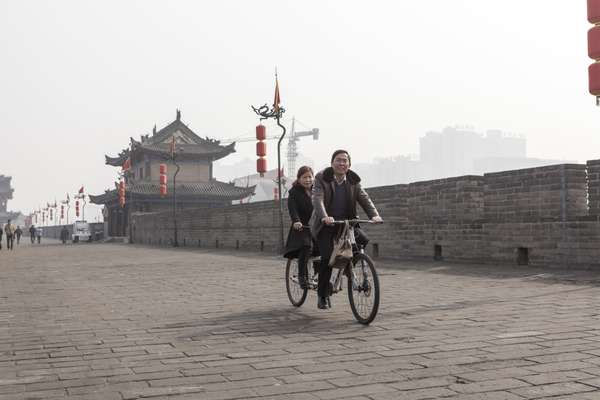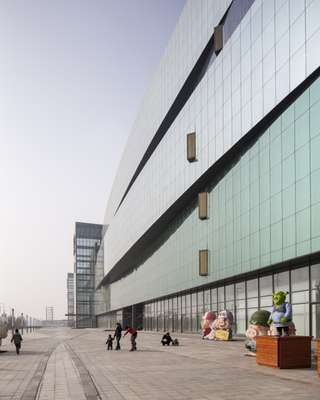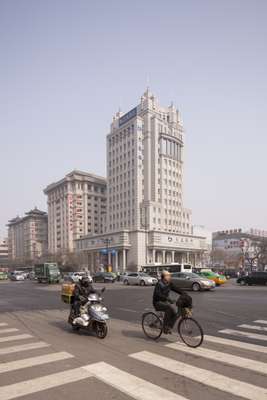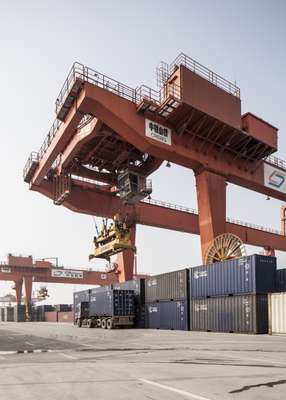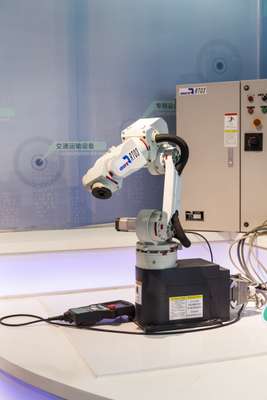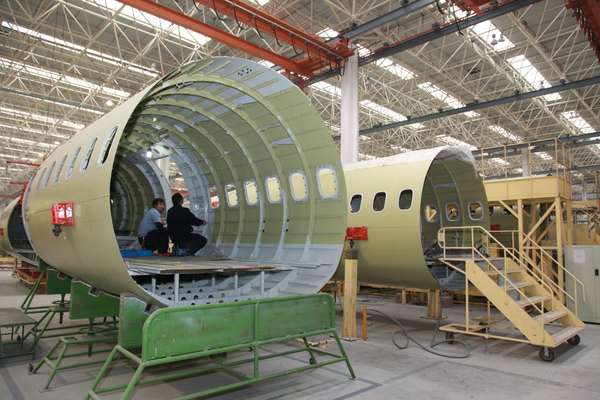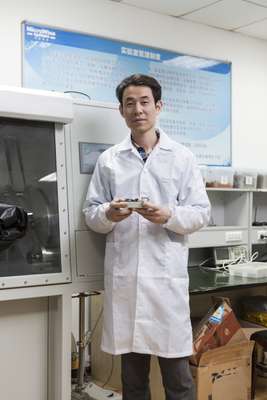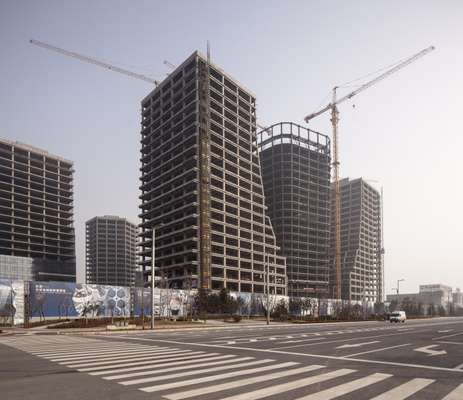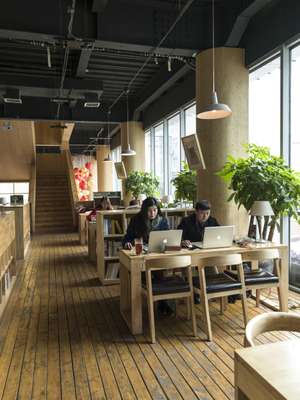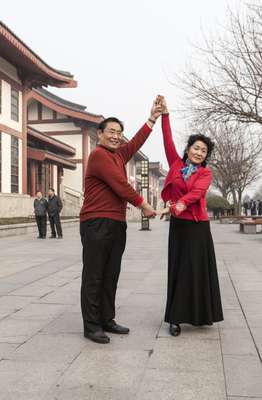 In the bright and clean factory dedicated to international work, Boeing 737 vertical fins and 747-8 inboard flaps (which XAC is the sole supplier for) sit alongside body sections for Italy's Alenia Aermacchi atr72. For Wu, XAC's international work is about constant growth. "In terms of aerospace development it's not just about China getting better. When you grow as an industry, everyone benefits. We learn a lot from Boeing and Airbus; it's a win-win relationship."
New international investment is predominantly focused in the southwest of the city. Founded in 1991, the Xi'an Hi-tech Development Zone (XHTZ) was one of the first such zones in China and it remains among the country's most successful. In 2012 Samsung made the largest foreign investment into western China with $7bn (€5.1bn) spent on a factory producing nand memory chips in XHTZ.
Soon a second phase of investment will be underway, creating a complete Samsung City including an adjacent international school, which will cater to the 100,000 Koreans and their families who are predicted to move to Xi'an in the next five years. Last year GE purchased a 15 per cent stake in Xi'an's XD Electric, and Johnson & Johnson will build a new facility in the XHTZ – the company's largest single investment in China to date.
"After 20 years of impressive growth, Xi'an is a key driver of innovation, economic growth and talent development in the region," says Jesse Wu, chairman of Johnson & Johnson China. "Our new site will be the supply-chain hub of innovation for emerging markets."
But, for those in charge, XHTZ isn't simply about attracting large-scale foreign business; it's also about changing the entrepreneurial mindset of Xi'an locals. "One of the most important contributions we've made is setting up a good environment for young people to start businesses here," says Chen Hui, XHTZ's charismatic deputy director general, in perfect English. "There are 22 business incubators in the area and more than 1,500 companies in the incubator scheme. Ninety per cent of these entrepreneurs are from the local area."
Among these smaller businesses is Microwise Systems, a company of 80 employees that takes up nearly two floors in a building in XHTZ's start-up park. Young engineers in lab coats fiddle with small boxes while technology specialists monitor screens of constantly-changing numbers. Founded in 2007, Microwise specialises in equipment to monitor the environment around cultural artefacts and artworks. With more than 3,000 years of history on their doorstep (Microwise products can be found monitoring the Terracotta Army), Xi'an is the perfect place for them to be.
It's not just tech companies that are choosing to set up in the XHTZ. Just around the corner from the Shangri-la – the first hotel that opened in the zone – are examples of small businesses offering a contrast to much of XHTZ's modernity. "This area was farmland only a few years ago," says He Li, the editor of Local magazine and part of the team behind a three-storey café, bookstore and gallery that occupies a significant street frontage just off one of XHTZ's main tree-lined boulevards. "It's important for me to support contemporary art and culture here in a city where traditional art still dominates."
Nearby, the three-storey brick building that houses the Zuoyouke restaurant and boutique hotel is a stark contrast to the high-rise glass towers that surround it. "I wanted to recreate the experience of how it used to be here," says owner Li Jian Sen. "As the city develops so fast, it's important to hold onto something from the past. There are definitely more foreigners coming to Xi'an but I don't think we can say that we're an international city yet."
A few kilometres away the French, Canadians and Belgians of Xi'an that regularly gather at Australian Bart Janowski's Belgian Bar – just inside the old city's south gate – concur. Life in Xi'an is getting easier for non-locals but it's not quite there yet. Producing sales of 885bn yuan (€106bn) in 2013, the businesses that make up the XHTZ are predicted to grow by 30 per cent this year. But those in power such as Chen are not blind to the challenges that the zone faces. Among them is improving what Chen calls the city's "internationalisation infrastructure".
"Xi'an is a city famous for its terracotta but not for its economy. The majority of foreign travellers only stay here a night or two. It's not yet a city that all expatriates want to have their families in, which makes it hard for international schools to develop. This takes time and doesn't always go to plan. But compared to 10 years ago things have changed greatly and we hope to lead globalisation for Shaanxi province from here in Xi'an."