Surf architecture / Sydney
The new wave
Australia's surf-lifesaving clubs offer essential services such as plucking stricken swimmers from waters around the nation's coast. In Sydney, a new clubhouse is celebrating the best of Australian beach culture and arrives just as surf spots across the nation are getting smart about architecture.
Five years ago, South African architect Neil Durbach was swimming at a beach in his adopted hometown of Sydney when he was swept away by a current. "I thought that was it," he says. "I wasn't going to make it." As the pull got stronger and the swells grew, Durbach began to wave his arms. Almost out of nowhere, help arrived. "This guy came out, picked me up and put me on the shore," Durbach says. The rescue ended with typical Australian nonchalance. "I'll see you around," the man said. "Be careful."
The unnamed hero was a member of a peculiarly Australian institution; a surf-lifesaving club. There are 311 of these groups dotted around the country's coastline, each with the aim of providing volunteer lifeguards at popular swimming spots. Durbach has such gratitude for the organisation that when his practice, Durbach Block Jaggers, was approached to design a new headquarters for the North Bondi Surf Life Saving Club, one of Australia's oldest, he jumped at the opportunity. "It was a way of repaying something because I actually felt like I was close to dying," he says.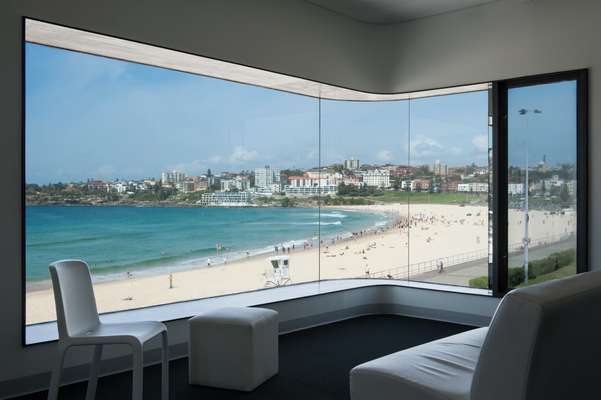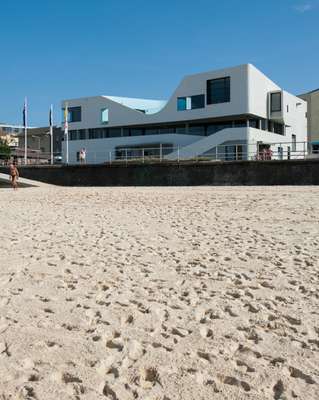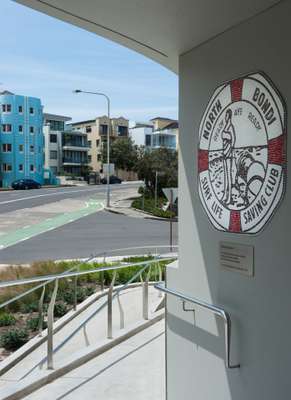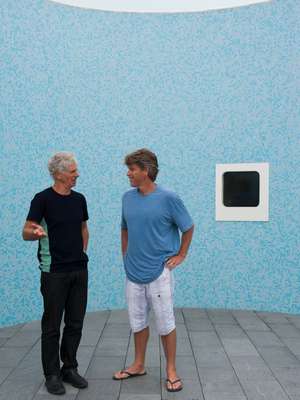 Opened in September last year, its muscular four-level design personifies a growing number of clubhouses that have departed from the glass façades and beach sheds of the past three decades. This new aesthetic has been spurred by a flurry of federal grants relating to coastal safety, including au$500,000 (€320,000) for North Bondi.
Durbach Block Jaggers' structure is a return to the sturdy constructions of the 1930s and 1940s exemplified by the art deco clubs at Cronulla and Coogee Beach in Sydney. "They are strong masonry buildings with smaller cut outs in them," says Peter Colquhoun, a Sydney architect who helped design the building in association with Durbach Block Jaggers. "This is a development on that idea."
Colquhoun's family has lived near North Bondi Surf Life Saving Club for generations and he has been an active member for almost 30 years. "Surfing is a religion in Australia," he says. "So I've always thought that surf clubs need to be our churches." It's not just a metaphor; a single pared-down gargoyle on the building pays homage to Le Corbusier's chapel in Ronchamp and the shimmering vitrified tile exterior is like a subdued version of Gaudi's mosaics at La Sagrada Família. This pale, shell-like lining protects against salty winds and is responsible for the building's nickname: "the block of nougat".
The club's 2,000 members needed their new au$6.8m (€4.8m) home constructed in under 13 months, as to only miss one summer of patrol. Their brief demanded storage for boards, first-aid facilities and changing rooms. The building balances these functions with unusually detailed flourishes. The top-floor viewing platform is lined with blue tiles and sculpted to give the sensation of an encompassing wave. Lower down is the Hall of Champions, a skylit foyer lined with photos from the club's 108-year history. Most interestingly, each window is a different shape. "It's that Japanese idea of the way you frame views as being very important," says Durbach.
As for whether the building repays Durbach's debt to the surf-lifesaving fraternity, Colquhoun is reticent to say. "You can never really repay these life- savers for their services," he says. "But if there is something that can make their job of saving lives easier, this building goes closer than any other that's ever been designed."
durbachblockjaggers.com
---
Seaford Life Saving Club
Victoria
Robert Simeoni, the architect for Melbourne's Seaford Life Saving Club, chose hardwoods so that it will age gracefully and the design ensures it won't leave a footprint on the dunes if it needs to be removed.
seafordlsc.com.au

Devonport Surf Life Saving Club
Tasmania
The aluminium skin of this newly opened clubhouse simulates the motion of a crashing wave while skylights create a light show in the interior at sunset. Tasmanian architect, Jaws, has paired polished concrete floors and plywood ceilings to give a balance of durability and warmth.
jawsarchitects.com

Garie Beach Surf Life Saving Club
New South Wales
The clubhouse at Garie Beach, in a national park on the outskirts of south Sydney, started life as a student project. The drawings were eventually picked up by Sydney architects Daryl Jackson and Robin Dyke, who helped create this inconspicuous design that merges with the surrounding wilderness.
djrd.com.au