Park Towers / Bogotá
Towering above it
In the centre of Bogotá stands late Colombian architect Rogelio Salmona's striking Park Towers – a 1970s residential development that blends harmoniously with its mountainous surroundings and serves as a unique public space for all to enjoy.
Framed against a backdrop of forested mountains and sitting above Bogotá's bullfighting ring, the three red-brick high-rise apartment blocks known as Las Torres del Parque, or Park Towers, are instantly identifiable. Residents will tell you with zealous conviction that Park Towers, is the best and only place to live in downtown Bogotá.
Completed in 1970, the late renowned Colombian architect Rogelio Salmona conceived Park Towers as affordable housing for middle-class families. Born in 1929 in Paris to a Spanish father and a French mother, Salmona and his Jewish family moved to Bogotá in 1934 where he grew up. Salmona fled political violence in Colombia and went back to Paris where he worked as a draftsman in the atelier of Le Corbusier. On his return to Colombia in 1957 Salmona designed many buildings that have become national landmarks including the Virgilio Barco public library in Bogotá and Colombia's national archive building. But it was his Park Towers creation, bankrolled by state bank funds, that brought Salmona international acclaim and the residences became a catalyst for the redevelopment of Bogotá's gritty city centre.
"If there was an architect from abroad who was visiting Bogotá and had only three hours to see the city's architecture, I'd show them Park Towers," says architect Enrique Uribe, who has lived in the development with his family for the past 23 years. "Salmona achieved harmony and integration with the environment.
He respected the landscape and valued the mountains. The curves of the building are open to, and integrate with, the surrounding environment. It's not just three tower blocks plonked without any thought and filled with people, like what you see being built across the city these days. If it wasn't for Salmona's liberal, social vision we wouldn't have this architectural emblem."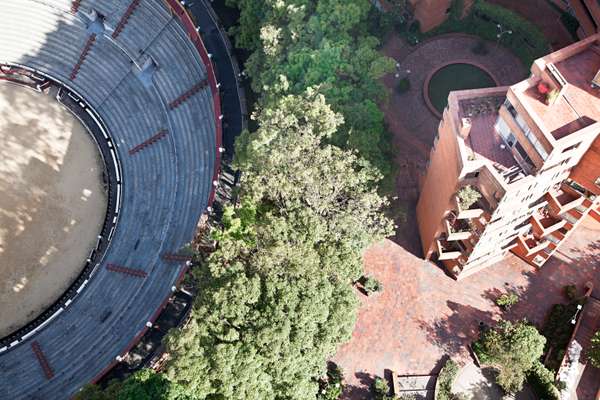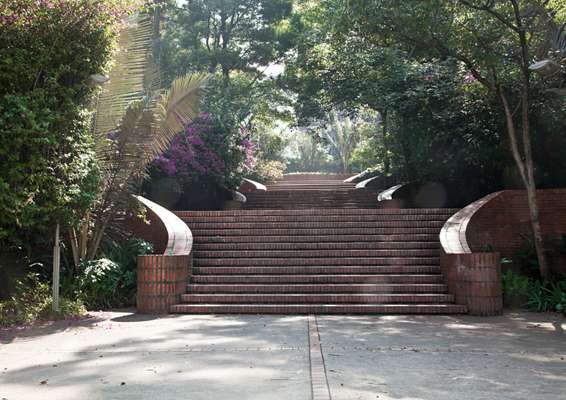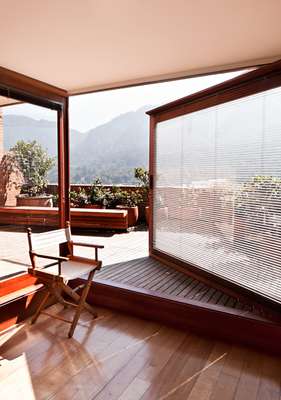 What's arguably the most impressive part of Salmona's liberal vision for Park Towers was the idea of creating public space and architecture for everyone to be able to enjoy and walk through. Salmona, who lived in one of the towers during his final decades – where his widow still lives – once said his intention was to create a sense of interaction among residents by "creating a building through public space as a generator of public space".
In a city where most middle and upper-class people live in gated communities protected by armed guards, Park Towers is a rare integration of residential and public space without divisions.
Around the blocks is a series of seamless pathways and stairs, cutting through the clogged roads that connect with Bogotá's 7th Street – one of the city's main thoroughfares – down below. As such, the development joins together with the rest of the city and Bogotá's other landmarks along the way, including the Santamaría bullring, planetarium and Independence Park with its soaring wax palm trees. Walking along the pathways, rubbing shoulders with students and businessmen, is like strolling through a botanical garden.
It's one of the reasons why many residents have lived in the buildings for more than 20 years and why homes are immediately snapped up, starting at €150,000 for an unmodernised three-bed apartment.
Salmona's three towers, named A to C, are not standardised brick structures. Each tower has a different height and shape, with the middle A tower as the highest, rising to 32 floors. The other two stand either side, rising to 17 and 25 floors respectively, and have stair-like features on one side where apartments open onto stacked terraces. The influence of Moorish architecture on Salmona's work can be seen in Park Towers with its interlocking geometric brickwork and secluded fountain spaces on the common grounds. There are nearly 300 apartments in Park Towers, ranging from 130 to 170 sq m in floor space and housing some 1,500 families, all with prized views of Bogotá.
The most common type of residence is 130 sq m, which includes a tiny hallway leading onto a kitchen, living room, maid's room, bathroom and small rectangular balcony. Upstairs are three compact bedrooms and two bathrooms. On the top floors of each tower are penthouses spread over three floors with terrace gardens giving spectacular city vistas.
"The apartments are very versatile and each is different. Many owners have rearranged the original layout to suit their tastes and needs," Uribe says. On the grounds of Park Towers there's a café, an art gallery, a butcher, an architect's firm and a kindergarten.
Residents say it's a particular type of Bogotano who chooses to live in Park Towers. Bogotá is a divided city, split between the rich north and poor south. For those living in the affluent neighbourhoods of the city's north, downtown is still synonymous with decay and high levels of crime. Park Tower residents will proudly tell you they aren't afraid of the city centre, something that sets them apart from other Bogotanos.
"Park Towers isn't a homogenous community. It's a diverse group ranging from artists with red hair to bankers, which is what makes living here special and creates a diverse community," says Cecilia María Vélez, a university rector who's been living in Park Towers since 1988. "But the common denominator among people living here is that we share a love of the city centre. We all appreciate it and believe the real part of a city is its centre."
Resident 01
Cecilia María Vélez
University rector
Vélez was Colombia's education minister from 2002 to 2010 and has lived in Park Towers for 26 years. She's been living in a triplex penthouse on the 32nd floor since 2000. "For my work the central location is excellent as the ministry, government buildings and university are all nearby. I go to work against the traffic," says Vélez, who is now rector of Bogotá's Jorge Tadeo Lozano University.
In the mornings, rays of Andean sun shine through her top-floor study, which opens out onto a wood-decked terrace. "When sitting at my desk in the study, all I can see is the green mountains. That's rare to find in the middle of a city. It's like being in the countryside."
She got rid of the maid's room to extend the living room, while upstairs she installed a walk-in closet and extra lighting in the bathroom. "I admire Salmona but what he didn't pay attention to was the kitchens and bathrooms, which are dark and narrow," she says.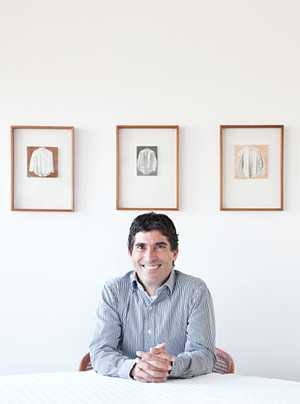 Resident 02
Juan Camilo Sierra
Manager of cultural centre
When he was eight years old, Juan Camilo Sierra was one of the first groups of 30 families who moved into Park Towers. "I grew up here. We were the pioneers. What's peculiar is that the first families who moved in were all single mothers, either divorced or widowed," he says. Forty-four years later Sierra is still here. He has hopped between towers and bought this three-bedroom flat in 2000.
"The people living here are like an urban tribe," says Sierra, who heads Bogotá's Gabriel García Márquez Cultural Centre – a development by Mexico's Economic Culture Fund and housed in a building designed by Salmona. Sierra's light and minimalist apartment on the 30th floor boasts majestic 180-degree city views, with lush mountains to the right and Bogotá's colonial quarter to the left. "If you're lucky, on a bright day you can see the snow-capped mountains on the horizon. And the sunsets are beautiful," says Sierra.
Like many residents, Sierra knocked down the walls of the maid's room to extend the living room space. His home has the original square-shaped parquet floor. There's also a fine collection of Colombian art including a black-and-white-crayon portrait of himself by the late Colombian artist Luis Caballero and drawings by the sought-after contemporary local artist Mateo López.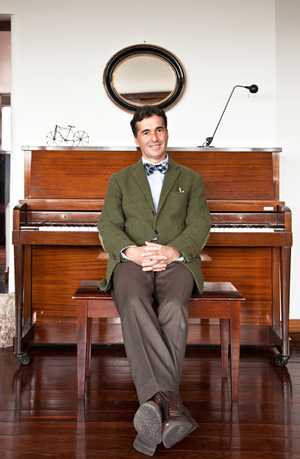 Resident 03
Enrique Uribe and wife Françoise Bardon
Architect and charity worker
"This isn't the kind of place where it's easy to have an affair," architect Enrique Uribe says, tongue in cheek, as he winks to his French wife. "It would be impossible to have an affair here because the owners of the nine flats on this floor haven't changed in the time since we arrived 23 years ago and the same porters have been here for decades. Everyone knows everyone. It's a village."
Jokes about affairs aside, the tight-knit community at Park Towers "helps keep the buildings safe", Uribe says. Uribe and Bardon, who have three children, love the eclectic mix of people in Park Towers. "There are penniless poets living here, judges and even politicians under house arrest," he says. On the walls are paintings by the late Colombian artist Lorenzo Jaramillo. One of the couple's most prized possessions is a black ink sketch of Park Towers by Rogelio Salmona, which the architect dedicated to them.
The couple moved into Park Towers in 1991 and have no intention of leaving. "We still get friends phoning us to say as soon as you decide to move out let us know immediately so we can have first offer on the apartment," Uribe says.