Trent University / Ontario
Campus visionary
When Ron Thom was commissioned to design a university in Peterborough 50 years ago, his unique artistic approach set him apart from his Canadian peers – and hasn't been topped since. Monocle takes a tour around campus.
A two-hour drive north of Toronto, through the seemingly endless forests of maple and beech trees of Central Ontario, we find ourselves amid the concrete realm of one of Canada's most striking architectural estates. Sitting on the banks of the Otonabee river, Trent University quietly reveals itself, a perfectly orchestrated meeting of natural scenery and modern planning. On one side sits the Bata Library with its four-storey façade majestically made up of vertical bastions. Across the main square is the campus centrepiece, the Champlain College. Its bell tower protrudes above the rest of the site, with its aggregate-rubble walls stoically reflecting in the icy waters of the river. A steel plate on one of the pillars reads: "In honour of Ron J Thom (1923-1986), Master Planning Architect".
In 1963 the British Columbia-born architect was commissioned to create the master plan for a new liberal arts university, consisting of 12 study buildings and student dorms. The blueprints were done in May 1964. Before he was engaged in this project, Thom had masterminded a large handle of landmarks across Canada, including the University of Toronto's Massey College and the Electra Building in Vancouver – the 21-floor-high headquarters of the BC Electric Company. But it is Trent University that remains his magnus opus, although the construction – and perhaps Thom himself – remains largely unknown away from Canada's shores. As the school celebrates its 50th anniversary this year there has been a renewed app-reciation of what the architect achieved before his untimely death from alcoholism in 1986, and how he helped shape the face of architecture in Canada today.
The campus and Thom's legacy are being revisited with the nationwide travelling exhibition Ron Thom and the Allied Arts. After launching at the West Vancouver Museum and a two-month stint at Toronto's Gardiner Museum, it will soon be heading to Trent University. Curated by Vancouverite Adele Weder, the show explores the diversity of Thom's work in its full complexity of relations between landscape, building and interior design.
"Trent is a perfect example of how Thom saw architecture as a continuum in which the allied arts are integrated into the architecture with a fine level of craftsmanship," says Weder, comparing the campus to a giant sculpture park where Gothic architecture was rendered by a modernist with an appreciation for Brutalism.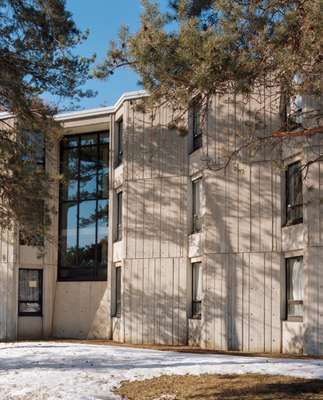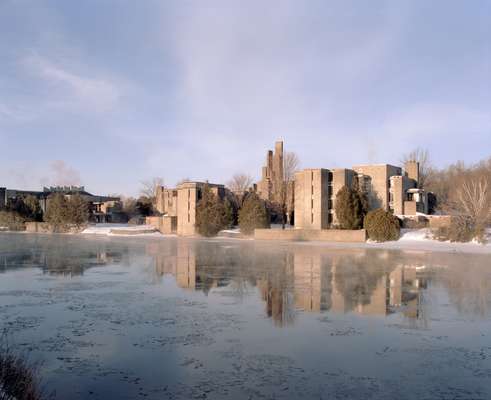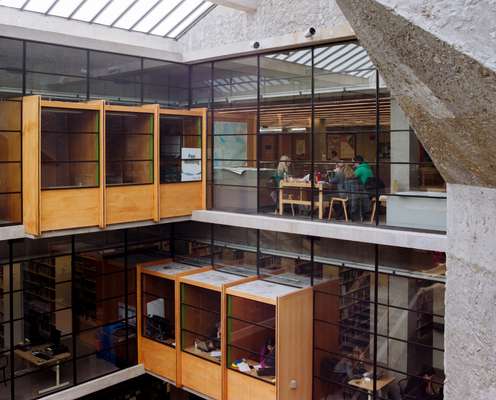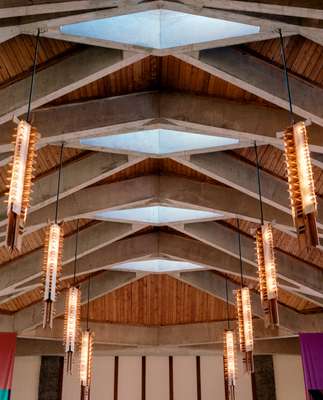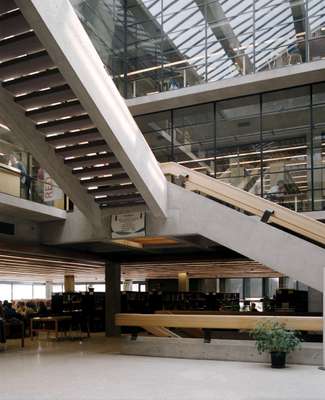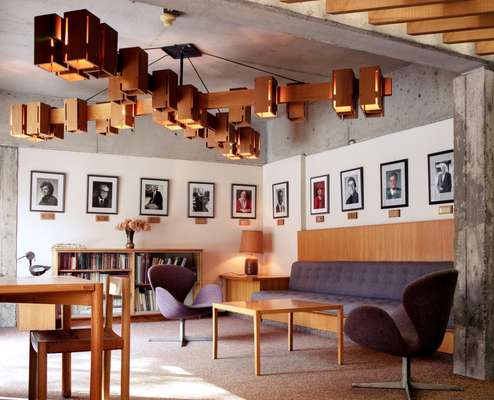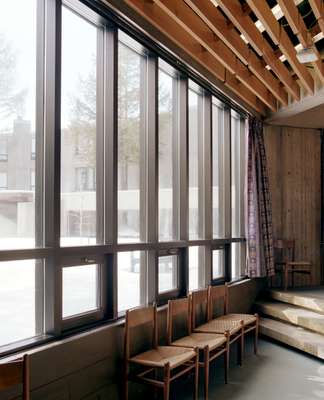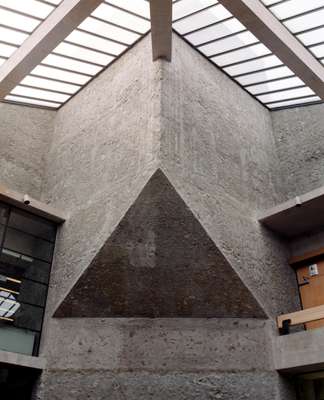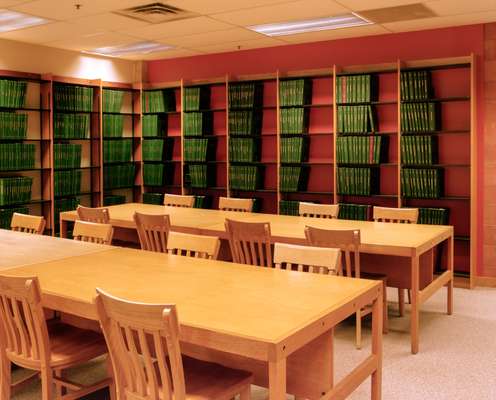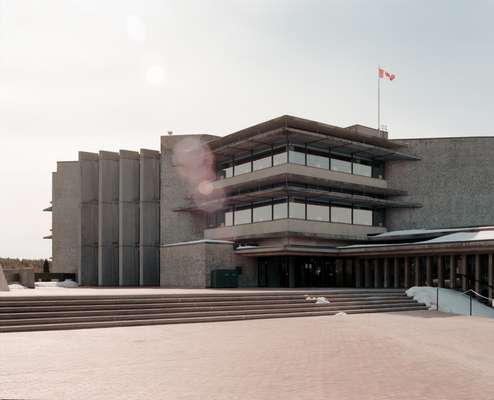 Given a hefty budget of CA$70m (€46m) and 6 sq km of land in the wilderness just outside the small industrial town of Peterborough, Thom drew inspiration from the self-contained campuses of Cambridge and Oxford for the site's layout. The construction technique chosen for Champlain, however, was similar to the one used by Eero Saarinen at Yale University: local rocks and rubble were mixed with concrete to intensify the connection between the building and its surroundings. He also looked east for inspiration. The adjacent Lady Eaton College, with its lower structure and large windows looking inwards to a wide courtyard, channels Thom's soft spot for classic Japanese aesthetics. This was an affinity he developed with his first residential projects on the West Coast, where the Asian influences are also seen in the horizontal lines and hipped roofs with the overhanging eaves of the façades.
It's an artful blend. "As you walk through Trent's campus, you feel like you've crept through a hole in the universe where some benevolent dictator has mandated that all architecture should be rendered as art," says Weder. This is perhaps no coincidence. Thom actually lacked any formal architectural training. He instead attended the Vancouver School of Art and studied under avant-garde painter and draftsman BC Binning. This is what many believe freed him to create his own unique taste and escape the dogma of the International Style – the modern-age movement with its love of steel and glass that much of the world was still gripped by long after the 1920s and 1930s. Thom preferred to stick to wood, stone and concrete.
"His arts education made a crucial difference," Weder says. "First, because he didn't get caught up in the cult of Le Corbusier that many architecture schools were steeped in; and secondly because he approached architecture from the inside out. For him, function followed form and he had no problem incorporating a design element for its purely aesthetic purpose. In many ways, Ron Thom rem-ained an artist who used architecture as his medium."
But it's not just Thom's artistic spirit that sets him apart from many of his peers: he was also committed to being involved in all aspects of his projects. Not only the structure of the buildings but all furniture and interior details. At Trent University, everything from the remarkable ceiling of Champlain's Great Hall and the signature wooden chandeliers of Lady Eaton College right down to the ceramic lamp bases and ashtrays were all done to Thom's precise specifications.
"Very much in the spirit of Frank Lloyd Wright, this overall approach gave the entire campus a unified look and feel; a sense that the campus residence was truly an authentic home for the students," Weder says. Today, scattered across the campus are original Falkenberg armchairs, Muller & Stewart custom-designed coffee tables and Arne Jacobsen Swan chairs. Some of Thom's own red-oak tables can still be found under the generous skylights of Trent, offering a counterpoint to the rigid concrete and adding warmth and undeniable individuality to the university.
"For my father, there was one certain way to get things done and that was the right way, and he'd just stick to it," says Thom's son Adam of his father's rather stubborn conviction when envisioning a new project. An architect in his own right, today Adam runs practice Agathom with his wife Katja Aga Sachse. He was only 14 when his father died but he still remembers the drawing table in their living room that Thom was rigorously using up until the end.
And it wasn't just his son that Thom senior had an influence upon. As Trent University enters its sixth decade, the architect's audacity remains a source of inspiration to Canadians practising today. Among the emerging younger firms on the West Coast that are heavily influenced by Thom is Public Design, which created the design for the exhibition. The multidisciplinary practice recently worked on projects at the University of British Columbia, creating rhythm and textures that smoothly blend in the street's morphology, including the new rugby club and the interior design for the culture centre originally built by another mid-century luminary from Thom's era, Arthur Erickson.
Still, the architectural industry of Canada today remains shy on the international platform. The lead-up to the Montreal Expo 1967 marked a high point of confidence for architecture in the country but little has been built in the past 50 years that competes with Thom's occ-asionally nutty vision. Reflecting on the bravura of Thom – a man who took pleasure in designing independently of the rest of the world and who used the unique scenery of Canada as an origin point for his designs – might help alter this.
"What architects and their clients urgently need to learn or relearn from Thom is how to transform historical archetypes and create the same sense of organic unity that he championed," says Weder. "You don't need big and flashy starchitecture to make a statement; the most powerful architecture is often that which blends into the landscape and reveals itself slowly."
---
Academically, Trent University remains overshadowed by Ontario's other educational stars such as University of Toronto, Carlton and Waterloo. The liberal arts university is home to about 8,000 undergraduates and 250 academic staff. Popular for its environmental, indigenous studies and science courses, it is the choice for local students from Peterborough and surrounding towns. It's perfect if you're looking for a secluded university away from the city and it offers generous scholarships and bursaries to new students. Yann Martel, the writer of Life of Pi, studied philosophy at Trent back in 1984.