Common Ground / Global
Comfort food
Twins Joshua and Caleb Ng felt Hong Kong was lacking laid-back LA-style cafés so they set up Common Ground, a café/shop which serves dishes that may be simple but are prepared to perfection.
Finding a peaceful café that serves a good cup of coffee, a tasty burger or simple salad and a wide selection of independent magazines might not be a hard task in cities such as Sydney, New York or London. But in Hong Kong, where western food can be overpriced and where quiet neighbourhoods are hard to come by, a meal at Common Ground is a rare treat.
"We knew we had to do a place that served comfort food," says Joshua Ng who runs the restaurant with his twin brother Caleb. "Hong Kong lacks simple food; even something as basic as avocado toast is often done wrong. I want Hongkongers to know that good food can be simple."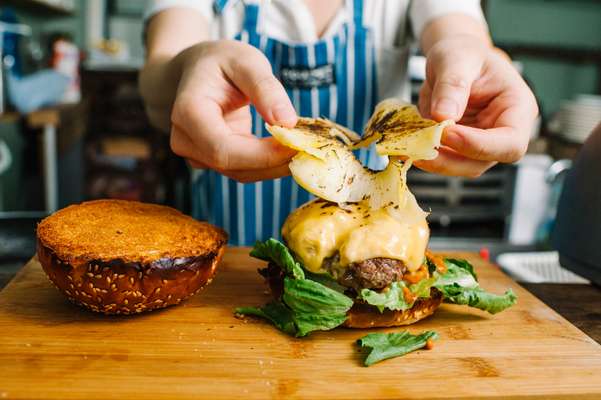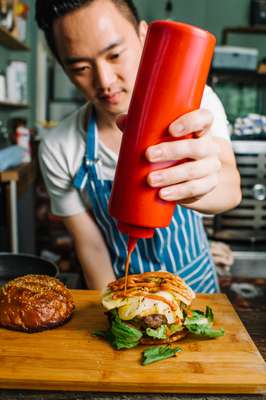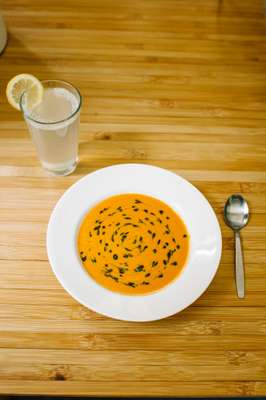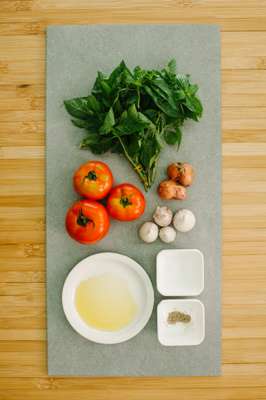 Tucked away on a set of stairs that connects Hong Kong's busy Soho district to the residential Mid-Levels, Common Ground's glass front can open up in warmer months. The 1945 building is in an old neighbourhood where the pace of life is relaxed. "We went to university in Los Angeles and we miss finding chilled-out cafés where you can spend a whole day reading a book," says Joshua. "We wanted to create a similar environment here, as it's hard to find in Hong Kong."
Common Ground was originally founded in 2012 by Sean and Elias Lam, another set of brothers, who ran the space as a design studio and shop. "The customers always wanted to hang out and have drinks so they decided to start a café," says Caleb. Having started out by importing wine from the Napa Valley and pairing it with dishes they would cook at private kitchen events, the Ng twins joined forces with the Lams. In early 2013 the four turned Common Ground into a café that still maintains a small retail offering on the side, selling everything from local hand-crafted jewellery to watches from Belgian label Komono.
The menu features classic burgers, scrambled eggs and simple soups. The coffee is made from three different beans, all roasted in Hong Kong. "Originally I used Ethiopian and Indonesian beans but it was quite acidic so I added Colombian beans to add chocolate to the taste," says Joshua. The café's famous burger patty is made fresh each day, mixing local beef with US beef (and a touch of soy sauce) to add depth to the flavour.
Common Ground is a hit with local Hongkongers as well as the large expatriate population. "We want to add on some more Chinese elements," says Caleb. "Something like traditional Hong Kong milk tea. We want to make our café like the store name – it's a common ground; both groups can exchange stories here."
Tomato soup
Serves 2
Ingredients
800g tomatoes 56g fresh basil leaves
178g extra virgin olive oil
2g black pepper
4g salt
5g garlic, sliced
18g shallots, sliced
The method
Cut tomatoes in half. Combine all ingredients in a vacuum-seal bag (but leave some basil and 100g of olive oil for later).

Vacuum pack ingredients. Place in a 27C water bath for 10 minutes.

Drain contents into a blender and blend on a high speed for 2 minutes.

Prepare basil oil garnish by blanching for 45 seconds then put in cold water.

Blend basil leaves with 100g of olive oil to form a puree. Drizzle on top of the soup.
California burger
Serves 1
Ingredients
For the patty
500g minced beef
1 large free-range egg
1/2 red onion, finely sliced
8g sea salt
5g black pepper, freshly ground
10g oatmeal
For the burger
1 fresh burger bun
1 slice cheddar cheese
110g burger patty
1 slice pineapple
2-3 slice lettuce leaves
The method
Mix patty ingredients by hand until they're evenly combined.

Preheat the oven to 200C for 5 minutes. Slice the bun in half and place in the oven. Cook for 3 to 4 minutes.

Place burger on a hot frying pan and flip it every 15 seconds for 3 minutes. Put cheese on the burger and allow to melt for 20 seconds with the heat off.

Grill the pineapple with a blow torch.

Place the bottom half of a bun on a plate. Add the lettuce, then the burger and cheese and the pineapple slice. Place the other half of the bun on top. Add ketchup, mustard and thousand-island sauce to taste and serve.