Defence / Global
Defence
Briefing
Kosovo wants its own army, India wants to build its own weapons and the countries considering joining Nato.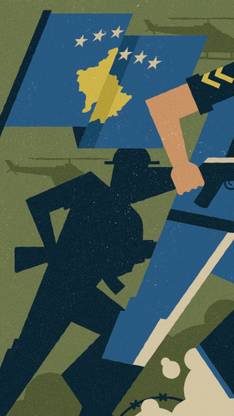 You and whose army?
Kosovo
[military]
A few countries, protected from potential predators by isolation or obscurity, rub along without armies. Kosovo, however, appears discontent to keep in the company of Andorra, Costa Rica, Liechtenstein and Iceland, among others. The landlocked Balkan nation intends to create a 5,000-strong national army with a reserve of a further 3,000 troops. The nucleus of this military will be an upgraded incarnation of Kosovo's current lightly equipped, 2,500-strong Kosovo Security Force – essentially a paramilitary police unit.
Kosovo's lack of standing military seems counter-intuitive. The country's independence was, after all, substantially won by an army – the Kosovo Liberation Army (kla). The kla was one of the most successful guerilla outfits ever to take the field; it began its armed campaign by blowing up a few Yugoslavian police stations in February 1996 and three years later effectively had nato serving as its airforce as Kosovo was bombed free of Serbian dominance. kla veterans provide the core of independent Kosovo's government. Prime minister Hashim Thaçi is a former kla commander, as is defence minister Agim Çeku.
"As things stand," says Tim Judah, who has written a number of books about the Balkans, "Kosovo doesn't defend its own security – Nato does. But this also has symbolic importance – Kosovo wants to enter Nato's Partnership For Peace and inch towards joining. But the budget is only €65m, which won't buy them much."
This will not be a popular move in Serbia – one of 86 countries yet to accept Kosovo's independence. "They will be cross about it," says Judah, "but there's not much they can do about it."
Dormant and disbanded European militias
Kosovo Liberation Army Principal victors of the 1999 war; Kosovo's government is significantly comprised of kla veterans.
Provisional Irish Republican Army Concluded its armed campaign in 2005.
Ulster Defence Association ira's approximate Protestant/Loyalist counterpart. Disarmed in 2010.
Euskadi Ta Askatasuna Dwindling Basque nationalists. Offered to begin decommissioning weapons in February.
Revolutionary Organisation 17 November Greek Marxist hardliners. Wrapped up by a series of trials in 2003.
---
Join the club
Global
[defence]
The crisis in Ukraine has focused attention on the thorny issue of Nato membership. While Ukraine is unlikely to join any time soon, Russia's decision to annex Crimea has led other countries to consider their position:
Finland Prime Minister Jyrki Katainen says his country should not rule out membership but many of his compatriots are thought to be against.
Sweden Another Nordic nation that has previously chosen to stay outside the alliance. In recent weeks ministers have publicly floated the idea of joining.
Georgia Former president Mikheil Saakashvili was keen; the rest of Nato less so. Georgia, now under new leadership, is unlikely to attempt to sign up any time soon.
---
Drone defence
US
[military]
In recent years the US has been at the forefront of developing and deploying military drones but now it seems the US Army is just as concerned about defending itself against attacks by unmanned weapons systems.
The military's succinctly named Aviation and Missile Research, Development, and Engineering Chapter (AMRDEC) has called for US defence contractors to help them identify systems that can spot and destroy drones.
The biggest challenge facing the AMRDEC may be financial – the technology is out there already but the costs are prohibitive, particularly given budget cuts in Washington DC.
---
Q&A
Manoj Joshi
Observer Research Foundation
New Delhi
India is the world's largest arms importer, buying around 70 per cent of its weapons from other countries. This year alone India is set to spend $11bn (€8bn) on foreign arms. When will the country be able to build enough of its own? Manoj Joshi is a distinguished fellow at the Observer Research Foundation in New Delhi, specialising in defence and security.
Q: Why does India import more arms than anyone else?
A: It is essentially a dysfunctional system. The government controls both R&D and the manufacturers but the links between the two are poor. In 1995 the government made a promise to reduce dependency on imports from 70 per to 30 per cent – but today, it still imports roughly 70 per cent of its weapons.
Q: What is stopping the government from making reforms?
A: There are a lot of interested parties, a lot of people who benefit from the industry remaining import-dependent. The trade unions, for example, are very strong. But there is also a lot of money to be made from setting up trade agreements and from importing Russian planes and armoured vehicles. It is not simply incompetence – incompetence and corruption go hand in hand.
Q: Are you optimistic about the future of the industry?
A: I am, largely because the situation now is so dire. Everyone is fed up and a lot of people are pushing for change. The Ministry of Defence still says it doesn't want outsiders to get control over arms but nobody buys this anymore. The private sector is also putting pressure on the government to liberalise the industry and contracts are starting to go to private companies – Pipavav Shipyard in Gujarat, for instance, has started making off-shore patrol vessels. But this is not yet enough.